Iron is an essential mineral that supports healthy red blood cell production and the transportation of oxygen throughout the body. Fortunately if you're on a carefully planned plant-based diet, there are plenty of healthy, iron-rich foods to help you meet your nutritional needs.
But even those of us with the best of intentions often find ourselves relying on quick meals and less-healthy snacks to get by in a pinch. That's where a high quality vegan iron supplement comes in.
At a Glance:
How Much Iron Do I Need?
The recommended daily amount of iron for most adults eating a mixed diet of animal-based and plant-based foods is 8mg for men, and 18mg for women (1).
According to Ansley Hill, RDN, LD, plant-based sources of iron (non-heme) are more difficult for the body to absorb that animal-based sources (heme), so those on a vegan or strict vegetarian diet will want to aim for 1.8 times the recommended daily amounts to make up for the reduced bioavailability of plant-based iron sources.
Taking too much iron can be harmful, so we recommend consulting a physician to help you make the best choice for your situation. If you conclude that you may benefit from an iron supplement, you can go wrong with any of the options below.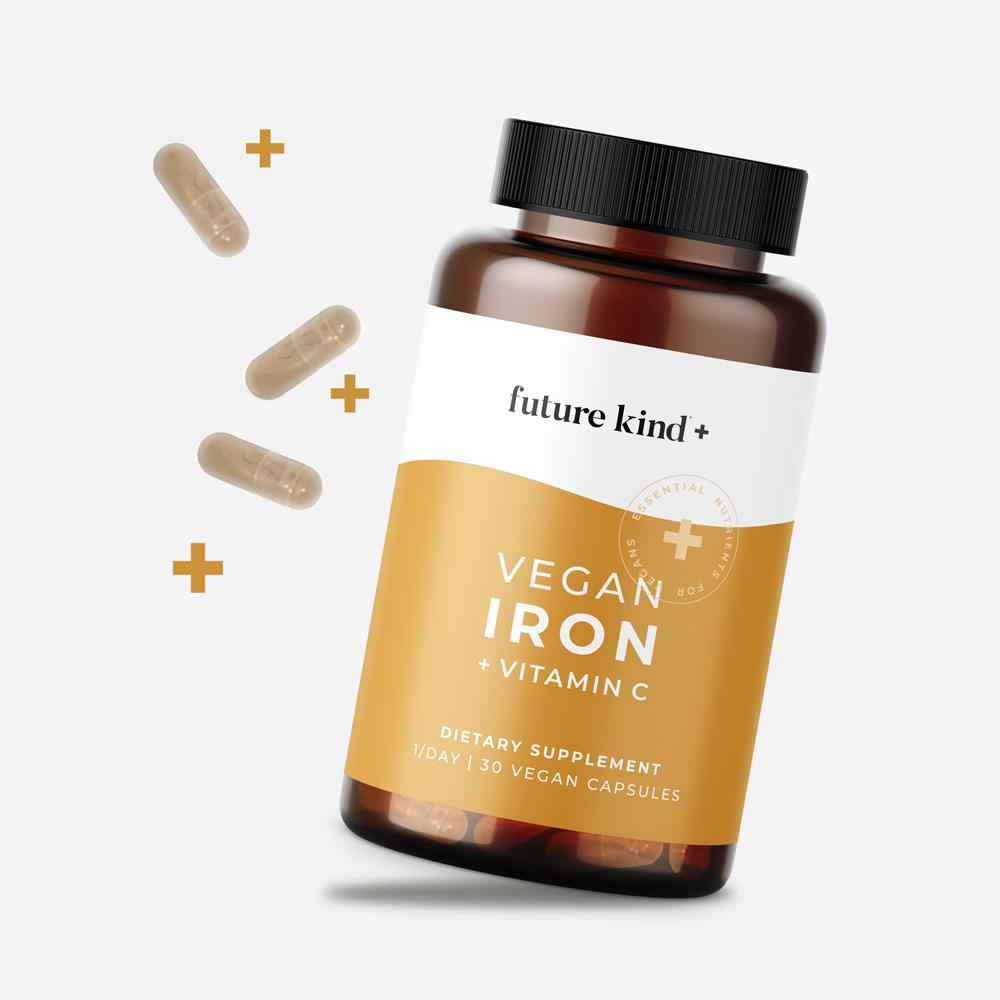 This high-quality iron supplement offers 18mg of non-GMO chelated form of Iron (ferrous bisglycinate) called Ferrochel® combined with 50mg of whole-food Vitamin C made from Acerola Cherry, a combination designed to improve your body's absorption of non-heme iron.
Future Kind claims to use only the cleanest 100% vegan and cruelty-free ingredients, with science & environmental sustainability at the core of all their products. We're also big fans of Future Kind's Essential Vegan Multivitamin, so consider that option if you think a multivitamin might be right for you. Enter promo code "BEKIND10" to receive 10% off of your first order.
Like our number one choice, this iron supplement from MegaFood uses the addition of whole food ingredients to increase iron absorption and help support blood cell health. In addition to 26mg of iron per serving, this supplement also contains vitamin C from oranges, folate from broccoli, b12, and beetroot.
This supplement is certified vegan and can be taken any time of day, even on an empty stomach, without causing nausea or constipation.
VegLife's iron supplement contains 25mg of iron along with additional nutrients to help with absorption, such as vitamin C, folate, and B12 from cyanocobalamin. VegLife is a 100% vegan brand and all of their products are third-party Vegan Certified. The company claims to focus on the unique dietary needs of vegetarians and vegans.
This product contains ferrous fumarate, a gentle form of iron to support vegan and vegetarian diets, and customers report lower instances of nausea and constipation.
The Garden of Life Vitamin Code Raw Iron Supplement combines 22mg of raw iron with a long list of whole food cofactors to assist in maximum iron absorption and utilization. Like all Garden of Life products, you can count on the quality and purity of this product and know that you are getting far more benefits than you would with your typical supplement.
This product is vegan certified, gentle on the stomach, and contains the added vitamins B12, C, and folate to aid in iron absorption and to help maintain a healthy system.
If you are looking for something that's a little more straightforward and only contains a few ingredients, then PlantFusion's Complete Iron supplement is perfect for you. In addition to 25mg of iron per serving, this product only contains added B12 and folate to aid in iron utilization and a short list of cellulose and silica ingredients used to create the capsule.
This vegan supplement also contains patented Ferrochel Chelated Iron which is made to be easier to digest, though it is still recommended to be taken with meals.
This iron supplement is specifically for those people who like to treat themselves while doing the body a little good. This iron gummy vitamin by BeLive makes getting all your essential vitamins and minerals a cinch by combining them with 10mg of iron in this tasty multi-vitamin iron chew.
This gummy contains no gelatin and is vegan-friendly. It includes a long list of vitamins and minerals like C & A, B Complex, Zinc and is gentle on the stomach.
If you think taking a full-spectrum multivitamin might be helpful for you, check some of the great multivitamin options for vegans and vegetarians.
Do Vegans Really Need an Iron Supplement?
With these great vegetarian and vegan iron supplements readily available, the hardest part for you may be determining if you truly need one.
While the average plant-based diet rich in leafy greens and legumes will supply plenty of iron for the average person, there are some factors that may contribute to you needing to supplement with iron, such as:
Having been previously diagnosed with anemia
Eating a vegetarian diet that includes a lot of low-iron foods such as cheese and butter
Being pregnant or trying to become pregnant
Being a menstruating woman who struggles to ingest higher iron amounts through diet
Eating a diet that does not include plenty of iron-rich foods
Frequently feeling fatigued or weak
Eating a diet that consists largely of frozen or processed meals rather than fresh fair
If any of these factors apply to you or you are otherwise concerned about your iron intake, it is worth talking to your doctor about adding an iron supplement to your routine. A simple blood test can help determine your current levels and help you get a better idea of the amount and type of supplement you should be taking.
Of course, if you do need to supplement with iron, always make sure to check your labels for vegan and vegetarian compatibility. Or, if you want to save some time, pick up any of the great options we've reviewed above.