Here at clean green simple we aim to keep you, our dedicated followers and welcomed newcomers up to date on all our previous year's posts. We've performed some small edits to content and rankings, always with you in mind!
When you eat a vegan diet, it can be difficult to find a decent multivitamin. After all, it's not uncommon to find animal products in vitamin and mineral supplements. This might include ingredients like gelatin, magnesium stearate (from pork), caprylic acid (from cow, sheep, or goat's milk), and carmine (from beetles) just to name a few.
But thankfully, it is possible to find a good multivitamin without animal-derived ingredients. To help you out, we've searched the web for the best vegan multivitamins of 2023, below.
What to Look for in a Vegan Multivitamin Supplement
When shopping for a vegan multivitamin supplement, one of the most important things to consider is the dosage of each nutrient, according to registered dietitian Lauren Panoff, MPH, RD. Let's take vitamin B12, for example. Does your multivitamin meet your B12 needs — or will you need a separate supplement? At the same time, you'll want to make sure that your multi doesn't lead to an excess intake of any nutrients when taken with other supplements.
Another factor to review is the form of your multivitamin's ingredients, notes Panoff. For instance, does it have cholecalciferol or ergocalciferol? Does it have algae-derived omega-3? It's also wise to examine the "reputation and longevity of the brand, as well as third-party testing from organizations like USP, ConsumerLab, and NSF International," suggests Panoff. This will ensure that your multivitamin is a safe and high-quality product.
Our Top Picks
We've rounded up 12 of the best vegan multivitamins, according to ratings, customer reviews, and diversity of plant ingredients. Plus, many of these multivitamins are gluten-free and soy-free, so they're ideal for a wide range of dietary restrictions.
When Ritual founder Kat Schneider was pregnant and couldn't find a vitamin brand she trusted, she decided to build her own. The result is a no-nonsense, science-backed multivitamin for women that contains the nutrients you need, in bioavailable forms your body can use.
Customers love that the capsules are easy to swallow, easy on the stomach, and taste and smell like mint. Ritual offers a full range of specially formulated options for kids, prenatal, postnatal, 50+, and men. All are available as a convenient subscription service with free delivery that you can cancel at any time.
Future Kind is a relatively new product that claims to be the world's first essential vegan multivitamin specifically made for vegan and plant-based diets. And we think they're onto something.
While the standard American diet (SAD) is typically lacking in key nutrients like vitamin C, E, potassium, and magnesium, most vegans and vegetarians don't have those deficiencies (because plants!). Plant-based diets tend to be lower in vitamin B12, D, and Omega-3, so that's what Future Kind offers in their Essential Vegan Multivitamin—nothing more, nothing less.
Fans of this vitamin report less fatigue, improved mood, and enhanced concentration. All that combined with a great citrus scent makes this an excellent choice for your daily multivitamin regimen. Enter promo code "BEKIND10" to receive 10% off of your first order.
Future Kind also offers an alternative Multi-Vitamin called, Complete. Here's a link directly to that product if you're seeking a more comprehensive product to include Probiotics. Future Kind Complete Multivitamin.
Things have changed a lot since the multivitamin was invented in the 1940s. We spend hours each day on screens, exposing our eyes to blue light from our devices and UV rays. We face threats to our immune systems, environmental pollution stresses our hair and skin, and most farming soil has been depleted of key nutrients.
Ora's Modern Multi claims to have clinically-researched levels of carotenoids to help protect vision and eye health and cognitive function.  Each serving provides adequate levels of zinc, Vitamin D3, and selenium (in their most bioavailable forms) to support a healthy immune system.† 200% of your daily requirement of biotin (plus a full range of B vitamins from organic quinoa sprouts) supports healthy skin and hair. And they include choline to support cognitive performance and a positive outlook.
Hippo7's Vegan Complete is specifically formulated to enhance plant-based diets. In fact, the company's name is a nod to the the hippopotamus, those large, lovely herbivores that grow to tremendous size on a completely plant-based diet.
The Vegan Complete offers seven essential vitamins, minerals, and nutrients that are often missing in plant-based meals, including Iodine, Iron, Zinc, Calcium, Vitamin D, the methylcobalamin form of B12, and omega-3s (DHA+EPA) derived from algae. And for additional peace of mind, the company offers a 30-day, no-questions-asked, money-back guarantee.
Wholier is a brand that offers "consciously crafted" products, including a multi specifically designed for plant-based diets. The supplement contains a range of nutrients, including vitamin D3 and omega-3 (DHA and EPA) from algae sources, vitamin K2 from fermented chickpeas, and the methylcobalamin form of B12. Other noteworthy ingredients include spirulina, MCT oil, and bergamot oil, which gives the supplement a pleasant citrus flavor.
If you tend to feel nauseous after taking supplements, you won't have that issue with this multi. It's packaged in a delayed-release capsule, which prevents queasiness (even if your stomach is empty!) and improves absorption of vitamins and minerals.
For those who are eco-conscious, Wholier's multivitamin comes in glass bottles. The brand also provides compostable refills, making it easy to follow a daily vitamin routine while reducing your carbon footprint.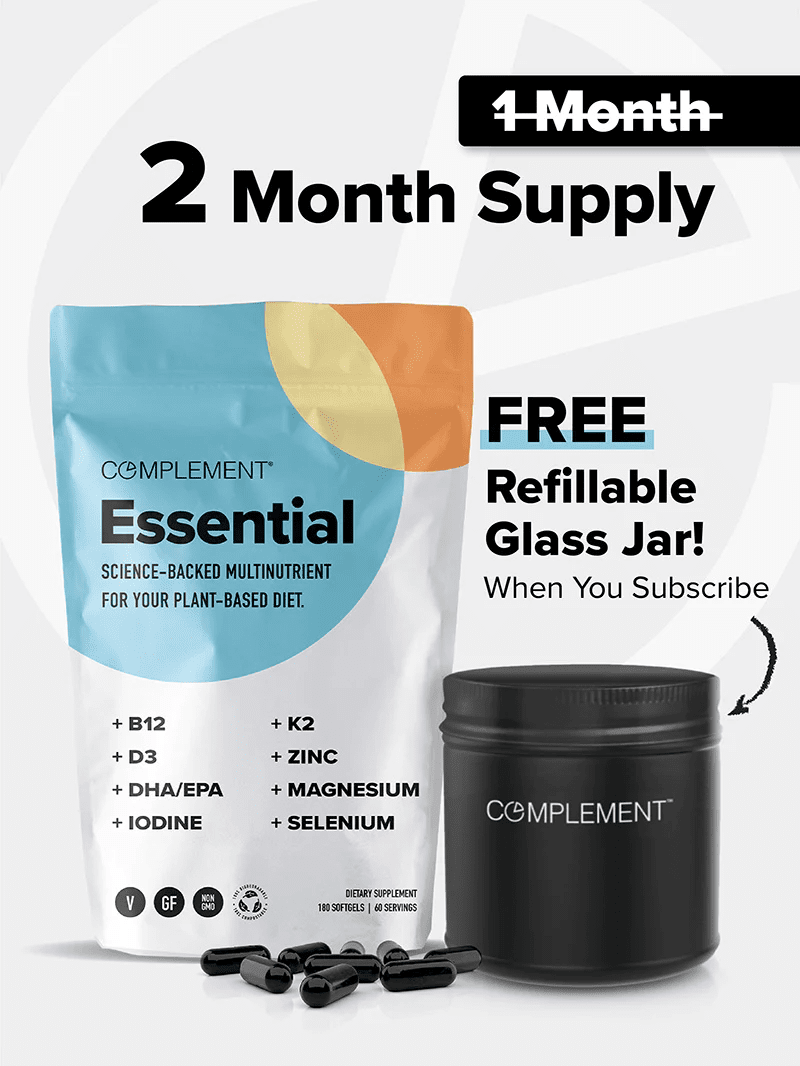 The Complement Plus Essential Vegan Nutrients offers a cocktail of essential nutrients every plant-based eater needs. This includes vitamins B12, K2, D3, and omega-3s (DHA and EPA) sourced from algal oil instead of fish. As a bonus, algal oil also offers other good-for-you nutrients like carotenoids and chlorophyll.
The vegan multivitamin, which is packaged in a eco-friendly bag with a free glass storage bottle, is third-party tested to ensure safety and quality. It's also free of soy, gluten, nuts, yeast, MSG, artificial ingredients, and genetically modified organisms.
Do you want to avoid swallowing pills altogether? MaryRuth's produces a popular plant-based vegan liquid multivitamin that lets you fuel up on essential nutrients with convenience and ease. In addition to the raspberry, MaryRuth's also offers flavors like Fruit Punch and Elderberry, as well as gummies, sprays, and children's vitamins.
The product has received extremely high praise from customers who have experienced marked improvements in the appearance of skin, hair, and nails, not to mention boosted mood and energy.
The Supplements Studio Whole Food Multivitamin Plus is another great vegan multivitamin option that contains more than just vitamins. Providing complete multi-system support, this GMP certified supplement contains a 3-strain probiotic, CoQ10, Omega-3, Omega-6, and Turmeric, in addition to 25 vitamins and minerals derived from organic fruit and vegetable blends.
Customers report measurably improved blood work, mental clarity, and energy.
If you're looking for a great all-around, budget-friendly multivitamin that happens to be vegan, you'll be happy with Deva's popular once-daily multivitamin & mineral supplement. It provides 100% of the recommended daily amount of the antioxidant vitamins C and E, as well as vitamin D and most of the B-complex vitamins. It's enriched with green whole foods, vegetable powders, and an herbal blend.
For folks who have trouble swallowing pills, Deva also offers a tiny tablet version. Not only are they easier to swallow, but small tablets are also more travel-friendly, as they can comfortably fit in pill cases.
If you're searching for a multi-tasking vegan supplement, look no further than Abundant Earth's Whole Food Multivitamin. In addition to essential vitamins and minerals, it also includes digestive enzymes and three strains of probiotics to support healthy digestion. It even has a mushroom blend!
And as an added bonus for vegans, this is one of the only multivitamins we found that contains the methylcobalamin form of B12, which is known for superior bioavailability.
Established in 1971, Country Life is a reputable brand that many vegans have relied up for years to ensure you're filling any gaps in terms of nutrition. This multivitamin and mineral complex includes B12 (as well as the coenzyme B vitamins), Iron, and amino acids.
Trusted as this multi is, we do have to point out that the pills have a pretty strong smell and the cap is difficult to open. Still, it's a solid choice with a single formulation for men and women—one less bottle to take up space.
NATURELO's whole food vitamin features a powerful combination of vitamins, minerals, and organic fruit and veggie blends. It also has a digestive enzyme & probiotic blend, and features whole food plant based antioxidants. Reviewers consistently report increased energy and improved sense of well being after using this product.
NATURELO also offers specific formulations for women, men, and women over 50, as well as whole-food gummies for adults, so check out their other products if this one doesn't quite hit the mark.
---
While these are some of the best vegan multivitamins on the market, don't forget that the best supplement is one that works for you. Remember, everyone's body is different, and we all have different requirements and needs.
Vegan Multivitamin Buyer's Guide
A balanced vegan diet is naturally packed with vitamins, minerals, and other essential nutrients. But in order to meet all your daily nutrient requirements, you'll need to take certain supplements. Here are the specific nutrients that are of most concern when following a vegan lifestyle.
Vitamin B12
According to Panoff, vitamin B12 is the most important dietary supplement for vegans. The reason? The essential vitamin is primarily found in animal sources, including meat, dairy, and eggs (1). What's more, "there are no reliable plant-based B12 sources," says Panoff. And while some foods (like certain plant milks and nutritional yeast) are fortified with B12, taking a supplement is the best way to avoid a deficiency.
On that note, a vitamin B12 deficiency can cause fatigue, neuropathy (nerve damage), and anemia, explains Panoff. It can also increase levels of homocysteine, an amino acid, as B12 is needed to convert homocysteine into other compounds (2). High homocysteine levels "may increase the risk for heart disease, stroke, and cognitive decline," says Panoff. Over time, "severe deficiency can lead to permanent nerve damage, blindness, deafness, and dementia." On the flipside, B12 is generally safe in large amounts, as it's a water-soluble vitamin. In other words, excess amounts are excreted via the urine (3). "Still, high-dose supplements always come with some degree of risk, so it's best to take an appropriate dose," according to Panoff.
Oral vitamin B12 is available in two forms: natural (methylcobalamin) and synthetic (cyanocobalamin). Either form is appropriate, says Panoff, but some studies suggest that you should take adenosylcobalamin (another form of B12) when taking methylcobalamin. Meanwhile, "cyanocobalamin can be converted to natural forms methylcobalamin and adenosylcobalamin," says Panoff. Also, cyanocobalamin may be absorbed better, while methylcobalamin may be better retained. But despite their differences, both forms can help prevent a B12 deficiency when following a vegan diet, according to Panoff.
Most adults need at least 2.4 micrograms of B12 per day, she adds. "However, for optimal absorption, it's best to take high-dose B12 multiple times a week or split your daily dose into multiple administrations." Your doctor can determine how much B12 you need by performing a blood test.
Vitamin D
Whether or not you follow a vegan diet, it's a good idea to take a vitamin D supplement. For starters, there aren't many foods that contain the nutrient. Most of these foods are also animal products (think: egg yolk and sardines) (4), making it even harder for vegans to get enough. According to Panoff, UV-treated mushrooms, many plant milks, and orange juice are fortified with vitamin D, but these are unlikely to provide enough to meet your needs. And while sunlight can trigger vitamin D synthesis in your skin, this isn't a reliable source; many people don't get enough sun exposure to begin with. This may be due to myriad factors, including lifestyle, change of seasons, and having a darker complexion (5).
The symptoms of a vitamin D deficiency can be difficult to notice but may include fatigue, bone pain, muscle weakness, frequent illnesses, mood changes, and feeling down. "Long-term [deficiency] can lead to skeletal/muscular issues, osteopenia, osteoporosis, immune problems, and a higher risk for chronic diseases," shares Panoff. A vitamin D toxicity can be just as harmful, as the nutrient is fat-soluble; this means it can accumulate in your tissues and cause health problems.
The best form is cholecalciferol (D3), which is derived from algae sources, says Panoff. Keep in mind that most D3 on the market is made from lanolin (a wax that comes from sheep wool), so be sure to look for one that's plant-derived. There's also vitamin D2, which is always vegan, but it's not absorbed as well.
"For most adults, 600 to 1,000 IU per day is a good maintenance dose," shares Panoff. "However, it's best to get a blood test to make sure you aren't deficient." If you have a deficiency, you may need a higher dose — up to 4,000 IU — which should only be taken under medical supervision.
Omega-3 Fatty Acids
If you follow a vegan diet, it's wise to take omega-3 fatty acid supplements, says Panoff. As a "good" fat, omega-3 is essential for brain health and cognitive function, as well as cardiovascular health (6). The best sources of omega-3 — specifically, eicosapentaenoic acid (EPA) and docosahexaenoic acid (DHA) — are fatty fish and seafood, but you can get ALA (a precursor for EPA and DHA) from flax, chia, and hemp seeds, notes Panoff. The catch? The conversion rate of ALA to EPA/DHA is very low, so it shouldn't be relied on for your omega-3 needs. That's where supplemental EPA/DHA from algae comes in.
Without enough omega-3 fats, you may experience stiff joints, mood changes, depression, and dry skin and/or eyes, shares Panoff. A long-term deficiency may increase the risk of dementia. Meanwhile, high doses of 2 to 15 grams of EPA/DHA per day may increase bleeding and reduce immune system function. That being said, the recommended dose is "1,600 milligrams ALA for adult men [and] 1,100 milligrams ALA for adult women per day from foods, if possible," shares Panoff. It's also worth considering taking an additional supplement of "200 to 300 milligrams of DHA per day, which may also provide some EPA," she says.
Iron
"Overall, plant-based eaters have lower iron stores than omnivores, but this isn't necessarily a problem," explains Panoff. In fact, you might not even need an iron supplement if your diet is high in iron-rich foods. Examples of vegan sources include lentils, beans, spinach, tempeh, edamame, tofu, tomatoes, Swiss chard, and iron-fortified cereals like Grape Nuts. The exception is if you're a plant-based athlete or menstruating person. In this case, you may have higher iron requirements and therefore need a supplement.
It's worth noting that plants contain non-heme iron, a less absorbable form of the mineral. (Animal sources contain heme iron, which is better absorbed by the body). You can improve non-heme iron absorption by combining it vitamin C, a nutrient that enhances the process. Examples of vitamin C-rich foods include green leafy vegetables, citrus fruits, and berries (7). Avoiding consuming calcium supplements, tea, and/or coffee close to meals can also benefit non-heme iron absorption, notes Panoff.
Since iron is needed to help your blood cells carry oxygen, low levels can make it difficult for your body to get enough oxygen-rich blood. This can lead to anemia, which causes symptoms like tiredness, weakness, dizziness, headaches, and an irregular heartbeat (8). Iron deficiency may also cause pale skin (in people with lighter complexions), poor appetite, inflammation, and brittle nails. If left untreated, it can lead to heart problems, says Panoff. Iron toxicity can be just as dangerous, as it can lead to organ damage.
If you choose to take a supplement or multivitamin with iron, pick one that contains ferrous iron, says Panoff. The daily recommended dose for adult men and women is 8 and 18 milligrams, respectively. Post-menopausal individuals will need 8 milligrams a day. You might need higher doses to treat a deficiency, but again, this should only be done under medical supervision, according to Panoff.
Calcium
Although it's possible to meet your calcium needs through a balanced diet, you'll need to pay attention to the exact source, says Panoff. Plant-based options include "high-calcium, low-oxalate leafy greens, [such as] turnip greens, mustard greens, kale, bok choy, and collards," she shares. (Side note: Oxalates are compounds that can interfere with calcium absorption.) Other calcium plant sources include fortified plant milk, calcium-set tofu, and figs.
Considering calcium is crucial for bone health, a low intake can increase your risk of bone fractures and osteoporosis. This is especially true if you're post-menopausal, as the body generally absorbs less calcium after menopause (9). Likewise, calcium toxicity can cause issues, including kidney and heart problems, says Panoff. These side effects can become life-threatening over time.
The best sources of calcium are whole foods, but if you're not getting much from food, you can take a supplement. Choose calcium citrate for best absorption, suggests Panoff, and aim for 300 milligrams per day. You'll also want to make sure you're getting enough vitamin D, as it's necessary for proper calcium absorption (4).
Zinc
According to Panoff, "vegans tend to meet [their] zinc needs." Plant sources include oatmeal, tofu, nuts, seeds, beans, lentils, peas, tempeh, broccoli, and miso. However, it can be difficult to absorb zinc from plants due to the phytates in some zinc-containing foods. Phytates are compounds that may reduce the absorption of certain minerals, including zinc (10).
Zinc is an essential nutrient for healthy immunity (11). Thus, if you're not getting enough zinc, you may experience impaired wound healing and more frequent colds and illnesses, says Panoff. In contrast, taking "too much zinc can cause nausea, diarrhea, headaches, and suppressed immunity," she adds.
Your doctor might recommend a zinc supplement if you're frequently battling colds. If so, Panoff recommends zinc gluconate or zinc citrate, which are well-absorbed by the body. The recommended daily dose is 11 milligrams for men and 8 milligrams for women, according to Panoff.
Iodine
Iodine is crucial for healthy thyroid function, regardless of your diet. You can also usually get enough from food, according to Panoff. Plant sources include seaweed, sea vegetables, some breads and cereals, as well as iodized salt. A low intake of iodine can lead to hypothyroidism or goiter, aka an enlarged thyroid gland (12). Taking too much can also lead to hypothyroidism, or in some cases, hyperthyroidism, says Panoff.
The daily recommendation for adults is 150 micrograms — but again, you can typically meet your needs via food. If your doctor gives you the green light for an iodine supplement (or a multivitamin with iodine), look for potassium iodine.
These nutrients are part of any good daily multi — vegan or otherwise. Vitamin B12, vitamin D, and zinc are especially important, though the best multivitamin for you depends on your exact diet and needs.
Another nutrient of concern is protein, but you can get plenty of it from plant foods. Examples include tofu, tempeh, beans, and quinoa. However, if you'd like to supplement your diet, there are many quality vegan protein powders to choose from.
Vegan Multivitamin FAQ
Understandably, navigating the world of vegan multivitamins can be overwhelming. That's why we've gathered the most common questions you might have about taking multivitamins, below. We've also provided answers to help you make the most informed decision about your health and supplement routine.
Do vegans really need to take a daily multivitamin? Can't you meet all nutrient requirements through diet alone?
"You don't necessarily have to take a daily multivitamin, but you do need to supplement somehow. So, if you don't want a multi, you can [take] individual nutrients instead," says Panoff. For vegan diets, this should include vitamin B12, vitamin D, and omega-3 fatty acids. You can also take iodine, iron, and/or zinc if you don't get enough from food, says Panoff. Talk to your doctor to determine which ones you need.
Aren't all vitamins vegan?
No, all vitamin supplements are not vegan. According to Panoff, a common non-vegan ingredient is gelatin, which is used in gummy vitamins and some gel capsules. (Some multi-vitamins might use pectin, which is vegan.) Other non-vegan ingredients include lanolin from sheep's wool and DHA/EPA from fish. The latter is found in supplements containing omega-3 fats, though you can look for algae-based versions instead.
Are plant-based vitamins better? 
"Some whole foods vitamins may be better absorbed than synthetic versions, though generally, the difference is not statistically significant," explains Panoff. "One nutrient that may be better to get from a whole food source is folate (versus synthetic folic acid) as some studies suggest high folic acid intake may result in high levels of unmetabolized folic acid in the body, which can mask B12 deficiency."

"The bottom line is to choose a supplement that meets your needs and fits your budget," says Panoff.
Is it safe to take a daily multivitamin?
Yes, it's safe to take a multivitamin every day. "Multivitamins are designed to help meet micronutrient needs without overdosing, as [it] can be riskier if you're taking individual nutrients," shares Panoff. "However, if [you're] relying on a multi to meet B12 needs, make sure it contains enough — or consider taking it in two half-doses per day for optimal absorption."
What kinds of improvements can I expect?
"A multivitamin shouldn't be relied upon to fix health [or] nutrient concerns, but rather to support overall health and complement a healthy diet," says Panoff. That said, if you have a diagnosed health condition (like a deficiency in a certain nutrient), taking a multivitamin may not address the issue. In this case, you might need a higher dose of the nutrient for a short period under medical supervision, Panoff adds.
Do kids need to take a multivitamin? 
"It's common for kids to go through periods of selective eating or have a less varied diet than adults," explains Panoff. So, as long as you're focusing on B12 and omega-3 fats on their own, a kids multivitamin may help address other micronutrient concerns. "Alternatively, you may supplement kids individually with things like B12, vitamin D, iron, iodine, and omega-3s," says Panoff. As always, your child's doctor is the best person to determine the appropriate dose and frequency.
Can men and women take the same multivitamin?
Generally speaking, yes. But some nutrient recommendations differ between men and women, as well as between age groups. "For instance, women have higher iron needs due to menstruation, [while] men may not need to take supplemental iron if they get enough in their diet," says Panoff. You'll also need different multivitamins if you're pregnant or breastfeeding.
Ultimately, it's best to take a multivitamin that's targeted toward your gender, age, and current health status. For example, the brand Ritual creates unique formulations for men, women, and individuals over age 50.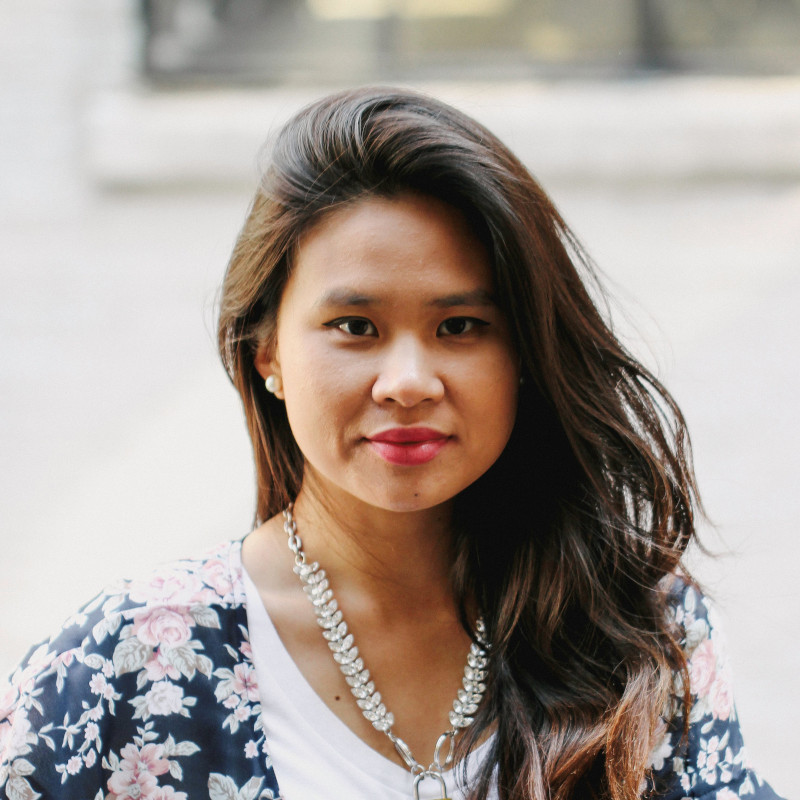 About the Author
Kirsten Nunez is a journalist who focuses on healthy food and cooking. Her vegan and plant-based recipes have appeared on VegNews, eHow, Shape, and more. When she's not creating vegan recipes for Clean Green Simple, you can find her experimenting in the kitchen and sharing plant-based meals with friends and family. More articles by Kirsten.