There's nothing better than pulling a fresh cherry tomato off the vine and popping it in your mouth. That burst of tangy sweetness and full flavor make these little beauties a treat all on their own. But if you've been growing your own cherry tomatoes all summer or are just lucky enough to have a great hookup at the farmer's market, it's nice to have a variety of options when it comes to consuming your harvest.
For those ready to experience all the great ways cherry tomatoes can be incorporated into cooking, here are 13 of our favorite recipes.
1. Fregola Pasta with Cherry Tomatoes and Basil
Vegan | Total time: 25 minutes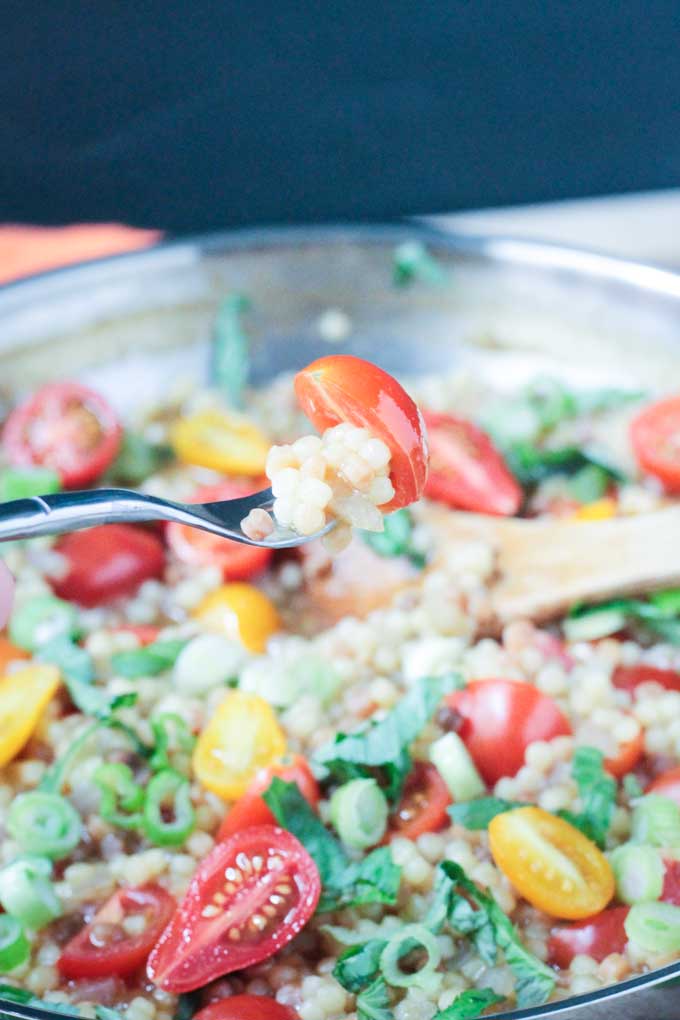 First up is this rich fregola pasta dish that's bursting with flavor but still a cinch to throw together. For this recipe, you'll need just seven ingredients including the unique, rounded pasta, basal, and, of course, cherry tomatoes. Best of all, this is a one-pot meal that will take under half an hour to cook, making it a great, healthy choice for weeknight dinners.
2. Roasted Tomato Jam Crostini
Vegan | Total time: 30 minutes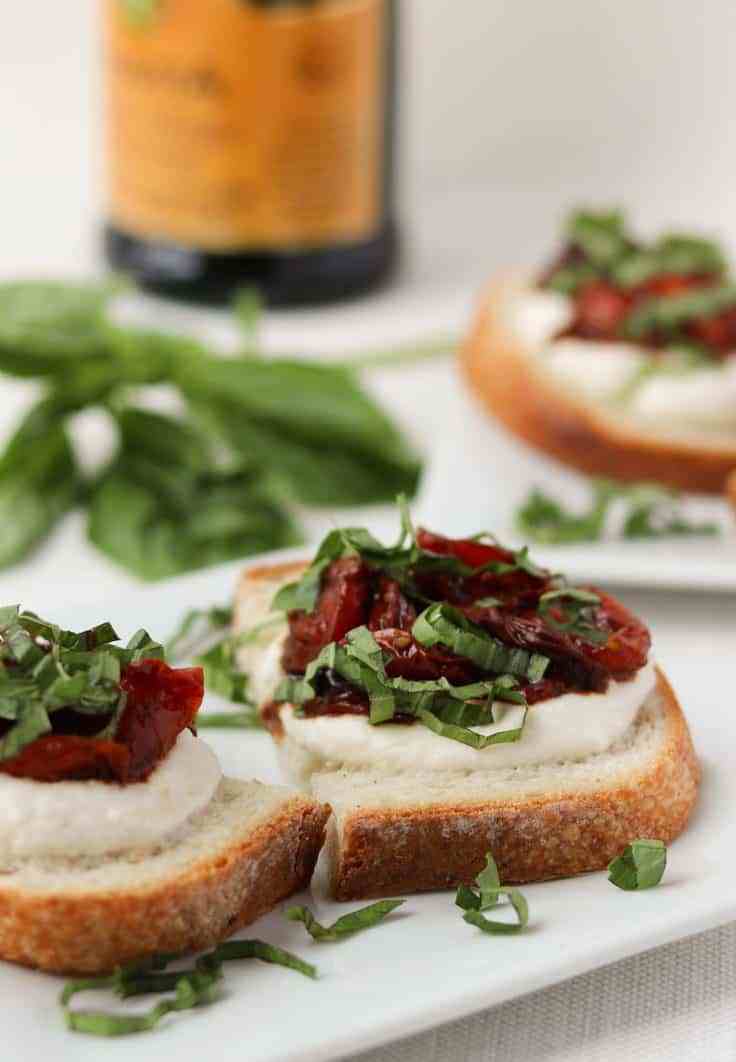 Didn't know cherry tomatoes could be used to make jam? Well, this roasted tomato jam and baked crostini recipe is here to enlighten you! The oven-roasted tomatoes are paired with a reduced vinegar base for an explosion of flavor that is nicely tamed when it's served over a creamy vegan spread and crispy crostini. Perfect for entertaining and for summer picnics.
3. Cherry Tomato Salad
Vegan | Total time: 20 minutes
If you love the flavor of a fresh cherry tomato straight off the vine, this simple cherry tomato salad is for you. The cherries are served raw in a light, slightly sweet vinegar dressing with finely chopped basil and parsley to really bring out the flavors. It's quick and easy to make and perfect for Sunday brunch or as a decadent side to any meal.
4. Low Carb Cherry Tomato Zucchini Noodles
Vegan | Total time: 30 minutes
If you are looking for a delectable low-carb meal, we've got the perfect quick dinner option for you. This cherry tomato and zucchini noodle (or zoodle, if you will) recipe is perfect for summer days when you don't want to feel bogged down by a heavy meal. And at 30 minutes total cook time, it's also a great option for busy weeknights or weekend lunches.
5. Vegan Roasted Cherry Tomato Pasta Sauce
Vegan | Total time: 40 minutes
Whether you are a zoodle lover or a fan of traditional hearty wheat noodles, you are going to fall in love with this super-easy roasted cherry tomato pasta sauce. This savory sauce combines the sweet tang of cherry tomatoes with the bitter richness of garlic for a very Italian flavor that's perfect for a wide range of pasta dinners. You'll want to have this on hand at all times.
6. White Bean Salad with Cherry Tomatoes
Vegan | Total time: 15 minutes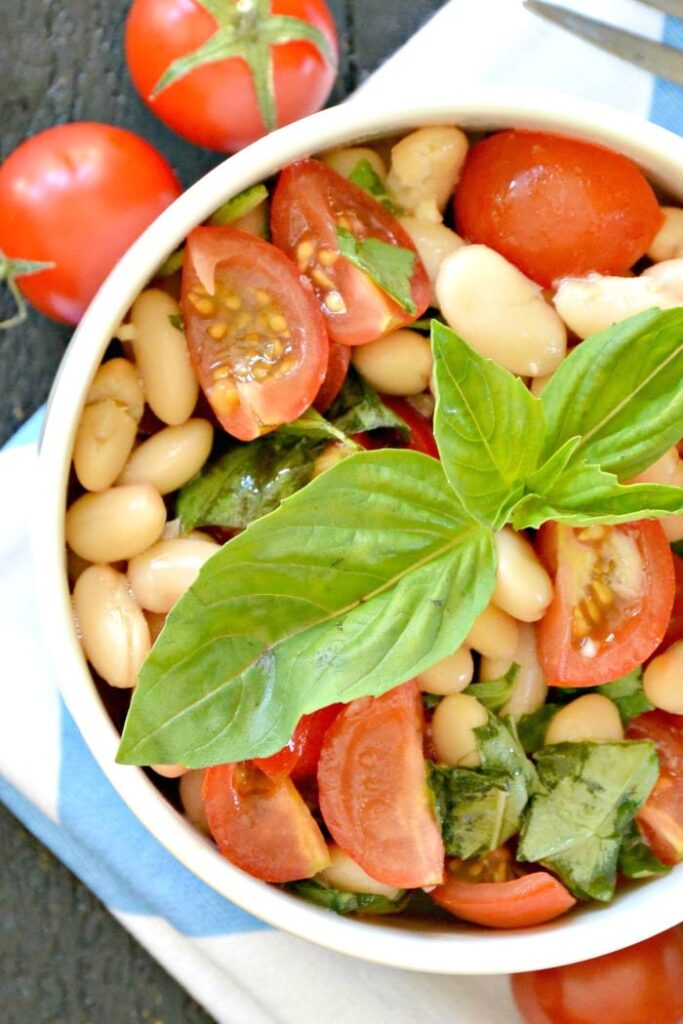 Short on time and missing a lunch? This super-quick, no-cook white bean salad is perfect for those times when you want a flavorful, healthy meal in a hurry. Simply add canned white beans, cherry tomatoes, garlic, and some homemade Mediterranean dressing to a bowl, and you've got a meal that's both satisfying and bursting with flavor.
7. Roasted Cherry Tomato and Garlic Orzo
Vegan | Total time: 25 minutes
Fresh cherry tomatoes are amazing, but roasted cherries drizzled with olive oil and sauteed garlic? That's a flavor combo that's hard to beat and it's what you'll find in this delicious roasted cherry tomato and garlic orzo. The sharpness of the tomatoes and garlic mixes nicely with the more mild, earthy flavors of the orzo pasta. This quick and savory recipe is the perfect end to any day.
8. Goat's Cheese Tart with Cherry Tomatoes
Vegetarian | Total time: 35 minutes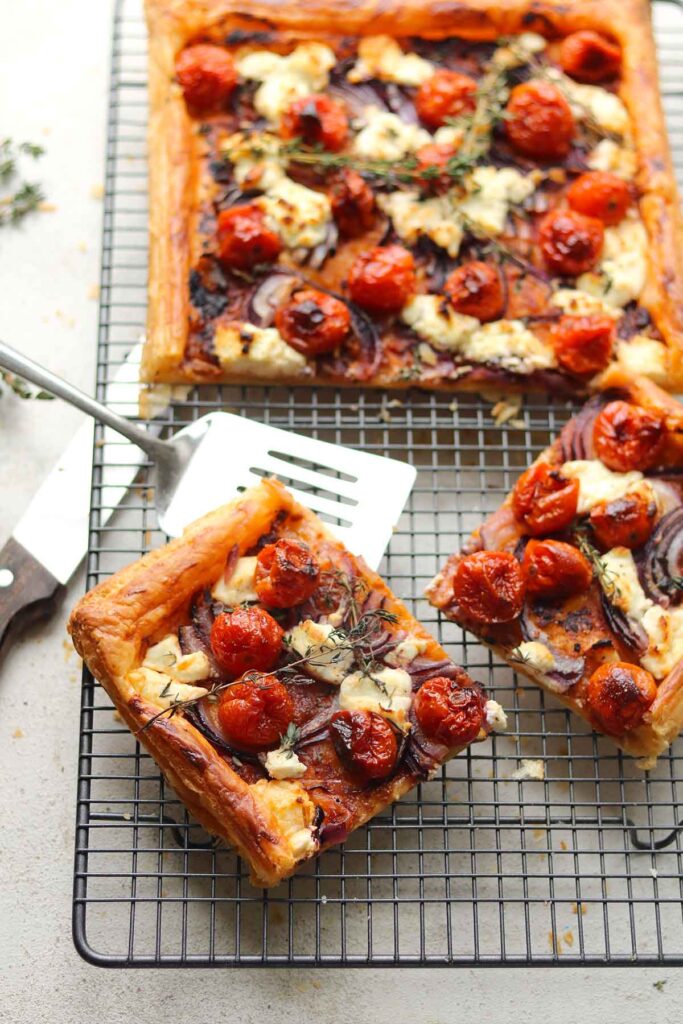 If you are looking for something a little different, this goat cheese and cherry tomato tart has you covered. The combination of light, airy puff pastry with creamy goat cheese and acidic tomatoes is amazing. And it's all brought together with a smattering of caramelized onions and a base of red pesto. Try this in place of pizza for your next Friday night in!
9. Slow Roasted Cherry Tomatoes Preserved in Olive Oil
Vegan | Total time: 3 hours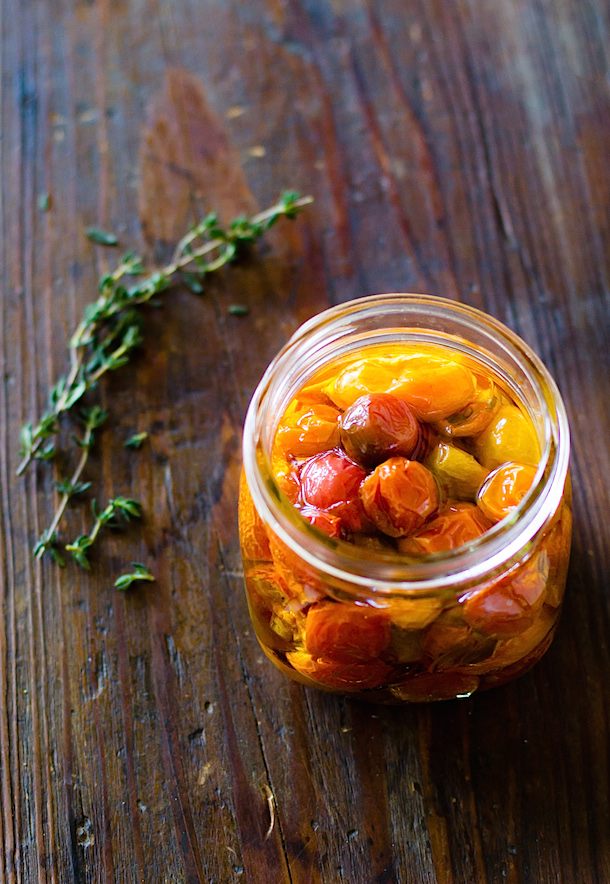 If you've spent all summer growing your own cherry tomatoes, the last thing you want to see is any of those ripe beauties go to waste. One use for all those extras, other than a traditional red sauce, is to preserve them in olive oil. This slow-roasted cherry tomato preserve recipe is absolutely delightful on a toasted baguette with a little soft cheese or vegan creme cheese spread.
10. Blistered Tomato Pasta
Vegetarian | Total time: 20 minutes
This simple blistered tomato pasta dish comes together in no time but that doesn't mean it's lacking in the flavor department. Sauteed cherry or grape tomatoes, garlic, and arugula combine for a hearty meal perfect for any time of year. And, you can easily transform this dish into a simple vegan weeknight dinner by substituting vegan parmesan.
11. Lion's Mane Mushroom in Cherry Tomato Sauce
Vegan | Total time: 35 minutes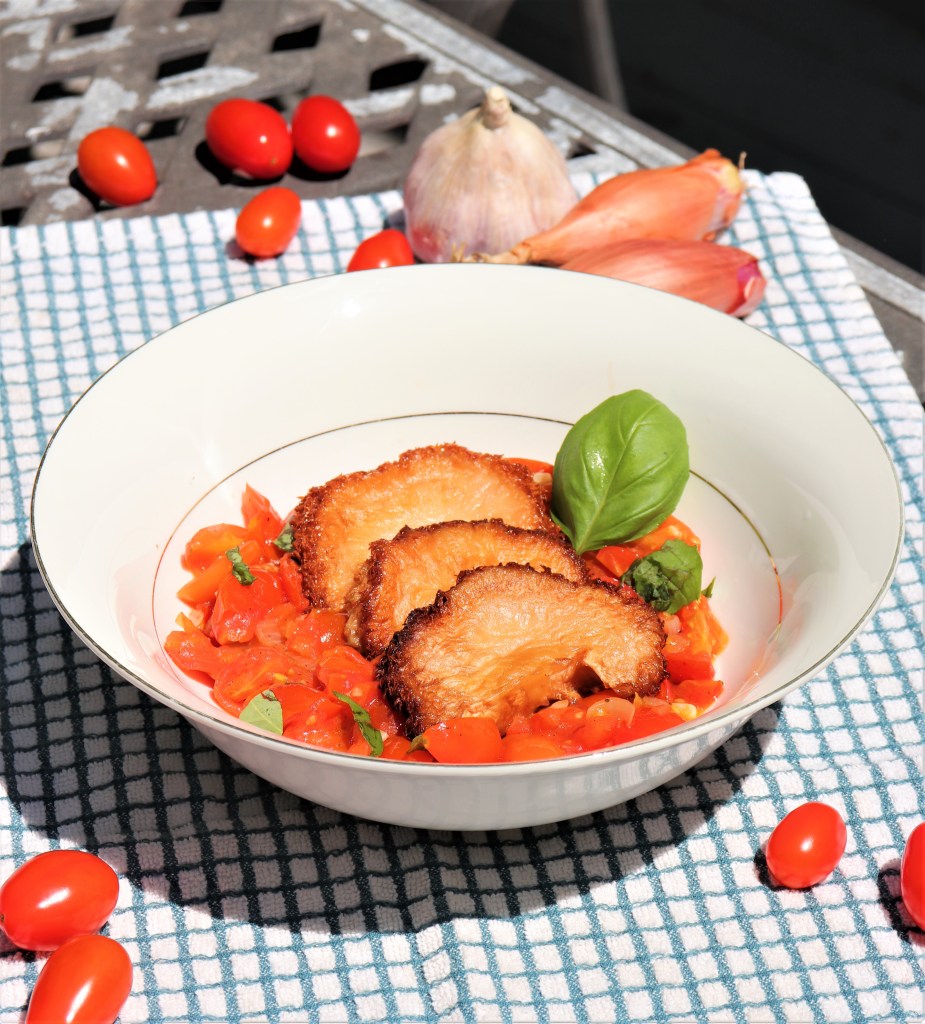 Feeling adventurous? This unique lion's mane mushroom recipe offers a distinctive taste and texture for those hoping to leave their culinary comfort zone. If you also want to leave your literal comfort zone, you can even forage for this bizarre-looking fungus in American hardwood forests. The protein-packed centerpiece is highlighted nicely with aromatic cherry tomatoes that also help to make this recipe feel a bit more familiar.
12. Savory Tomato Cobbler with Whole Grain Yogurt Biscuits
Vegetarian | Total time: 50 minutes
This delectable savory tomato cobbler recipe takes advantage of the natural sweetness that cherry tomatoes possess. The tomatoes are roasted to the point of blistering and mixed with intense flavors like onion, garlic, and thyme to create a deeply sweet but tangy backdrop to the overtly sweet honey-yogurt biscuits. This one will take some extra effort, but it's a fantastically elegant way to spend a Saturday night.
13. Cherry Tomato Sauce
Vegan | Total time: 50 minutes
Last but not least is another great cherry tomato-based sauce to help you use up all of those end-of-season fruits. This sauce is hearty, chunky, and perfect for the coming winter. It utilizes your typical tomato sauce staples like onion, garlic, and Italian herbs, but also incorporates some plant milk to really up the creaminess factor. Best of all, it's made ready to freeze so you can continue to enjoy your harvest all winter long.
Roasted Cherry Tomato Pasta
This simple cherry tomato pasta recipe is a great way to use up excess of cherry tomatoes from your garden harvest or satisfy your craving if you just can't get enough of these tasty veggies.
Click stars below to rate, or leave a full review in the comments
Print
Pin Recipe
Ingredients
1

shallot

sliced thin

¼

cup

extra virgin olive oil

2

pounds

cherry tomatoes

halved

3

garlic cloves

1

tbsp

balsamic vinegar

½

tsp

sea salt

¼

tsp

pepper

¼

tsp

red pepper flakes

1

pound

pasta

we used spaghetti

¼

fresh basil

chopped
Instructions
Heat oven to 350 degrees. Toss shallot with a teaspoon of olive oil in a bowl. In a separate bowl, toss cherry tomatoes with remaining olive oil, garlic, balsamic vinegar, salt, pepper, and red pepper flakes.

Spread the tomato mixture on a baking sheet or pan, and scatter the shallots evenly over the tomatoes. Roast in the oven for approximately 35 minutes, until you see the cherry tomatoes begin to shrivel and the shallots begin to brown. Remove tomatoes from the oven and allow to cool for 10 minutes.

Prepare pasta according to package directions and drain. Serve the pasta on a plate or bowl and top with the roasted cherry tomatoes. Sprinkle with chopped basil. Top with regular or vegan parmesan cheese (optional).
Nutrition
Calories:
133
kcal
|
Carbohydrates:
12
g
|
Protein:
3
g
|
Fat:
9
g
|
Saturated Fat:
1
g
|
Polyunsaturated Fat:
1
g
|
Monounsaturated Fat:
7
g
|
Sodium:
609
mg
|
Potassium:
606
mg
|
Fiber:
2
g
|
Sugar:
8
g
|
Vitamin A:
1093
IU
|
Vitamin C:
41
mg
|
Calcium:
32
mg
|
Iron:
2
mg