I am naturally strawberry blonde, which means my hair is sort of dirty blonde with a slight red tint to it. But sometimes I like to punch up the red and make it a little more vibrant. The only problem is I don't really like to use most commercial hair dyes since they are full of all sorts of chemicals – plus at least for red, they don't even usually work all that well!
Fortunately I came across this company called Light Mountain Naturals, which makes an amazing line of hair dyes. My favorite thing is that their red color has exactly one ingredient: lawsonia inermis leaf, also known as henna. Even henna dyes at the health food store usually sneak in a few other ingredients whose names I don't understand, so this is amazing! They also have a full chart of other shades and colors, all made with natural ingredients. (I found their dye at a local store, but you can order online – I've done that twice now and they ship quickly)
It's a little bit different as far as application – it's pretty much like a mud pack for your hair. It comes in a powder and you just have to mix it with a few cups of hot water. The one thing they are pretty adamant about is not to use any metal bowls or spoons or anything when mixing it, I think it cause a chemical reaction that messes with the dye.
Once you mix it, it turns into an (admittedly slightly yuck-looking) paste, with the consistency of cottage cheese:
It goes on relatively easily, and you should definitely wear the included gloves but I don't find that it stains any more than any other dye I've used – and if it gets on stuff it seems to wash out pretty easily as long as you catch it quickly.
You can then wrap your head in aluminum or plastic to make sure it doesn't get on anything and go about your business. They say you can leave it in for up to two hours – I've left it in for anywhere between 30 minutes to 2 hours and it does get a little darker if you leave it in longer, but 30 minutes is what I did for the first time, and the before and after photo below: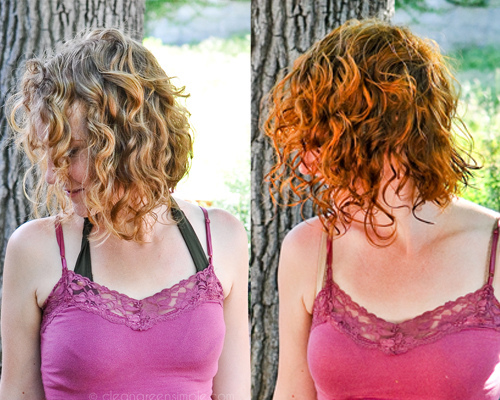 Pictures are always hard to get color exactly right but these seem fairly close to what I saw in real life – my hair definitely got redder, but still had natural variations in tone and wasn't crazy fire-engine red. Just a nice vibrant boost! (Observant readers may notice another difference between these and my "about" pictures – I chopped off about 16 inches of hair! I'm loving it. And I use about a third as much hair product as before so that's eco friendly, right?)
Has anyone else tried any of the other colors at Light Mountain Naturals? I've only done the red, but they have brown and black and a full line designed to cover gray, so hopefully they have what you're looking for as well! The next thing I want to try is natural blonde highlights with lemon juice or something like that – has anyone gone blonde without bleach?