What you eat in the morning will influence your appetite throughout the day. Specifically, when you eat a filling breakfast, you'll be more likely to make mindful choices for snack, lunch, and dinner.
Likewise, if you eat something that lacks sustenance and essential nutrients, you'll be more likely to feel ravenous come mid-day. This will increase your chances of reaching for high-calorie, nutrient-poor foods later on.
The key is to focus on satiating nutrients like complex carbs, fiber, good fats, and plant protein. These nutrients will keep hunger at bay while fueling your body with the energy it needs.
Need some inspo? We've got your back. Check out these 15 delicious vegan breakfast ideas for weight loss.
1. Overnight Oats with Almond Milk
Vegan | Total time: 6 hours 5 minutes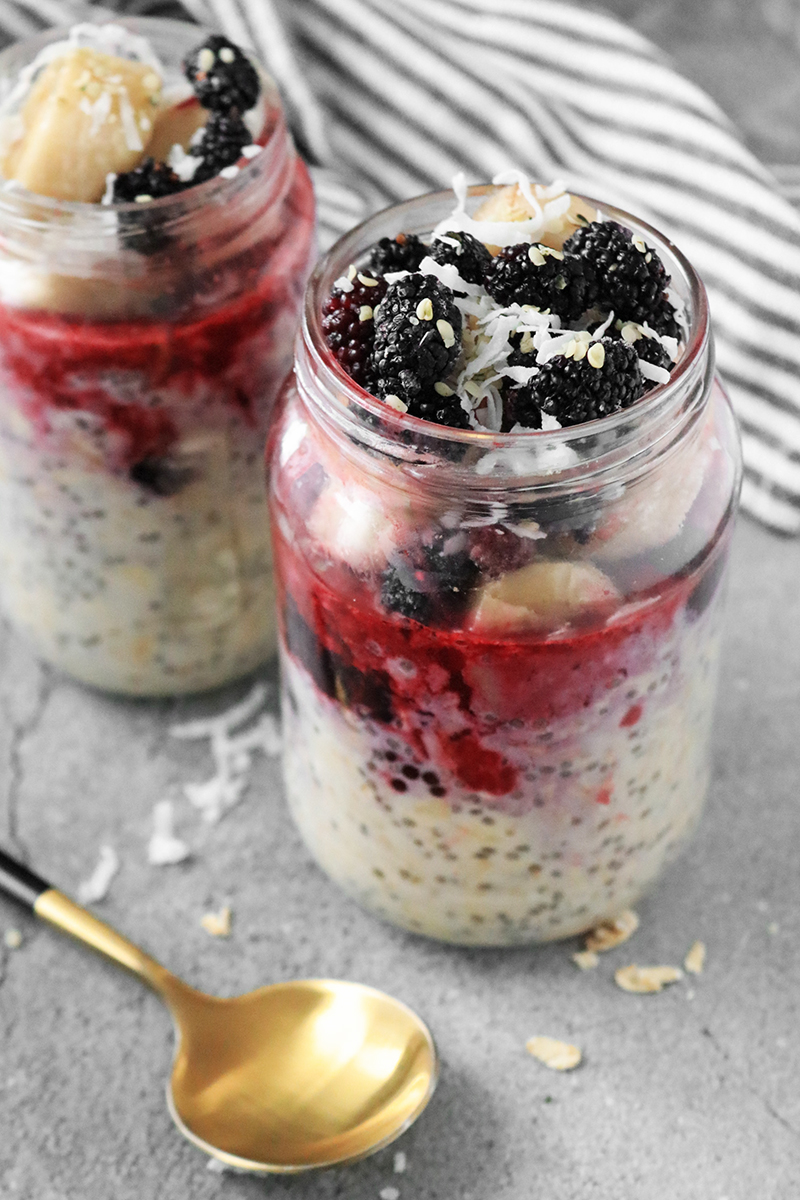 For a quick and easy breakfast, make a batch of overnight oats with almond milk. The fiber-rich oats will ward off hunger while giving you enough energy to power through the day (or workout). For even more fiber and extra protein, mix in fruits, nut butter, and chia seeds.
2. Vegan Flaxseed Pancakes
Vegan | Total time: 25 minutes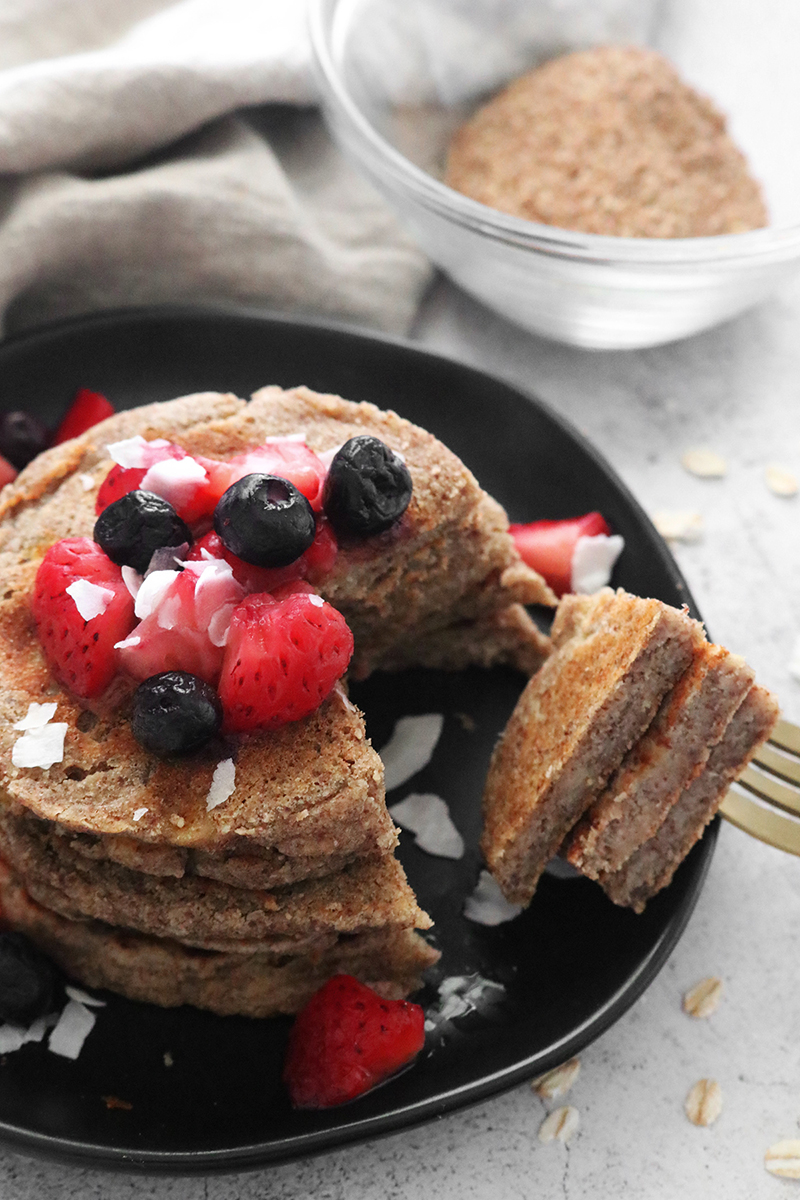 For another way to fill up oats, make these vegan flaxseed pancakes. The recipe calls for homemade oat flour and bananas, along with a flax meal "egg." Flax is rich in filling fiber, protein, and beneficial omega-3 fatty acids. (BTW: Just be sure to follow the best practices for storing flax!)
3. No-Bake Carrot Cake Protein Bars
Vegan, Gluten-free | Total time: 1 hour 20 minutes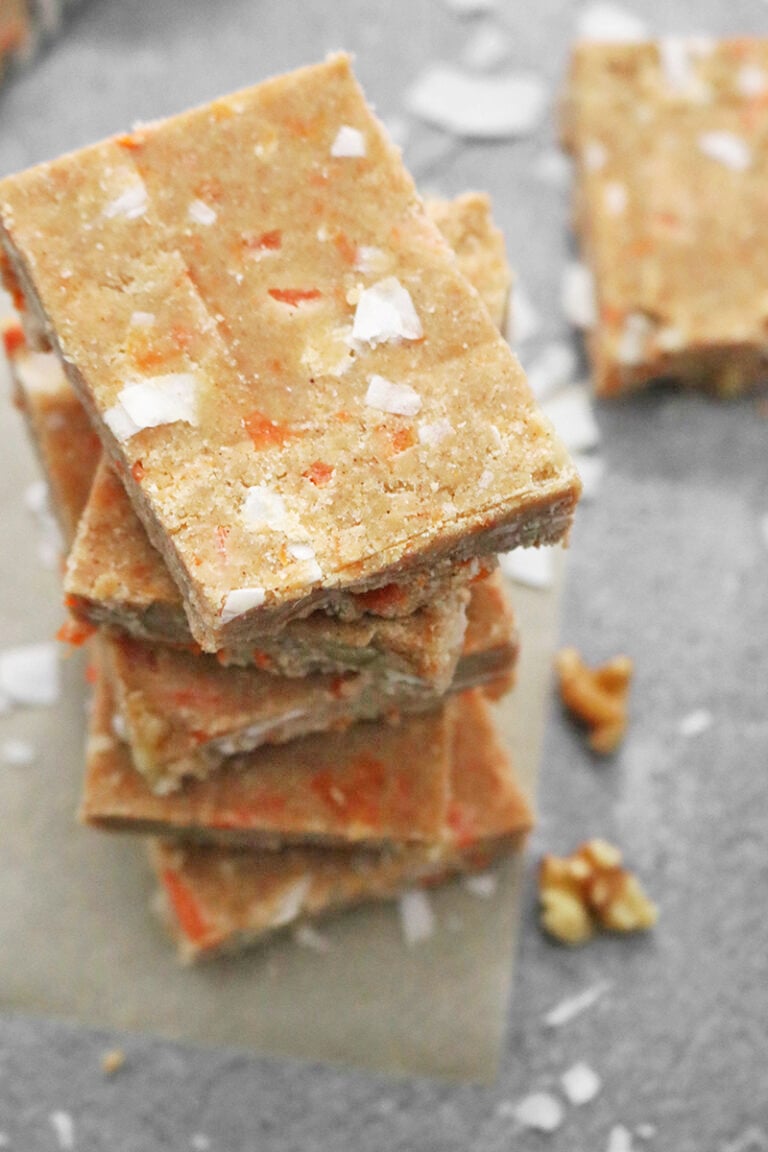 If you're trying to lose weight, you may be tempted to reach for protein bars. The only problem? Many store-bought versions are teeming with added sugar—and are expensive to boot, too. Instead, try these no-bake carrot cake protein bars for a satisfying (and budget-friendly) vegan protein bar.
4. Fudgy Protein Brownies
Vegan, gluten-free | Total time: 45 minutes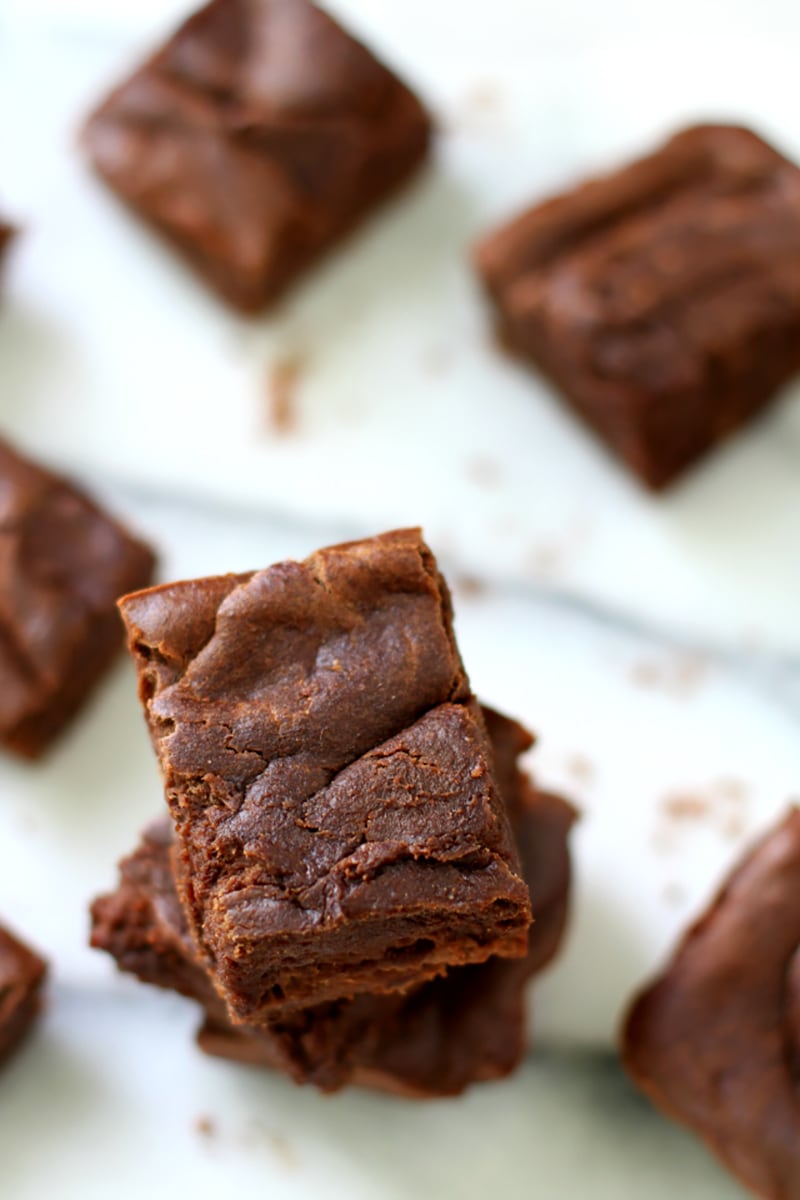 Wait… brownies for breakfast? Yes, really! These four-ingredient fudgy protein brownies are made with a base of banana (which has fiber) and nut butter (which has protein and healthy fats). The result is a nutritious, filling treat that works well for breakfast, dessert, or all of the above.
5. Easy Vegan Protein Pancakes
Vegan | Total time: 25 minutes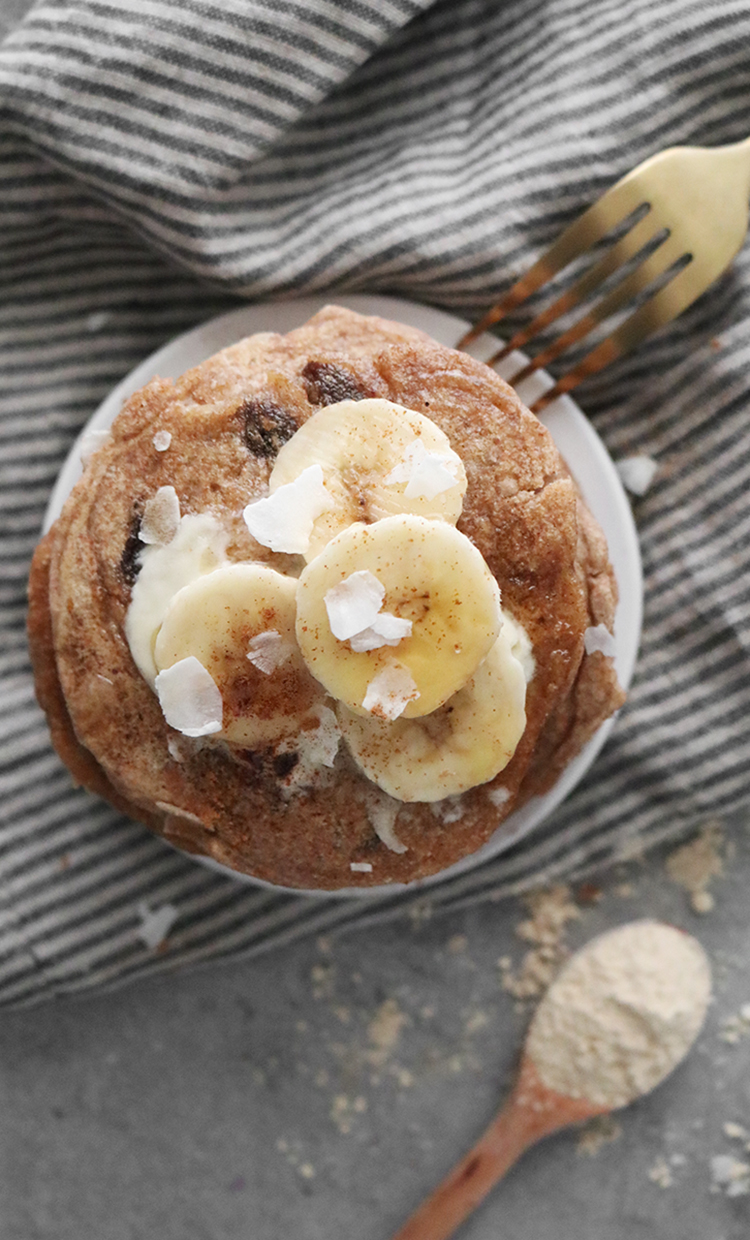 If you prefer more traditional pancakes, try these easy vegan protein pancakes with whole wheat flour. Thanks to the generous dose of protein powder, these pancakes can help boost your protein intake first thing in the morning.
6. Chickpea Breakfast Burrito Bowls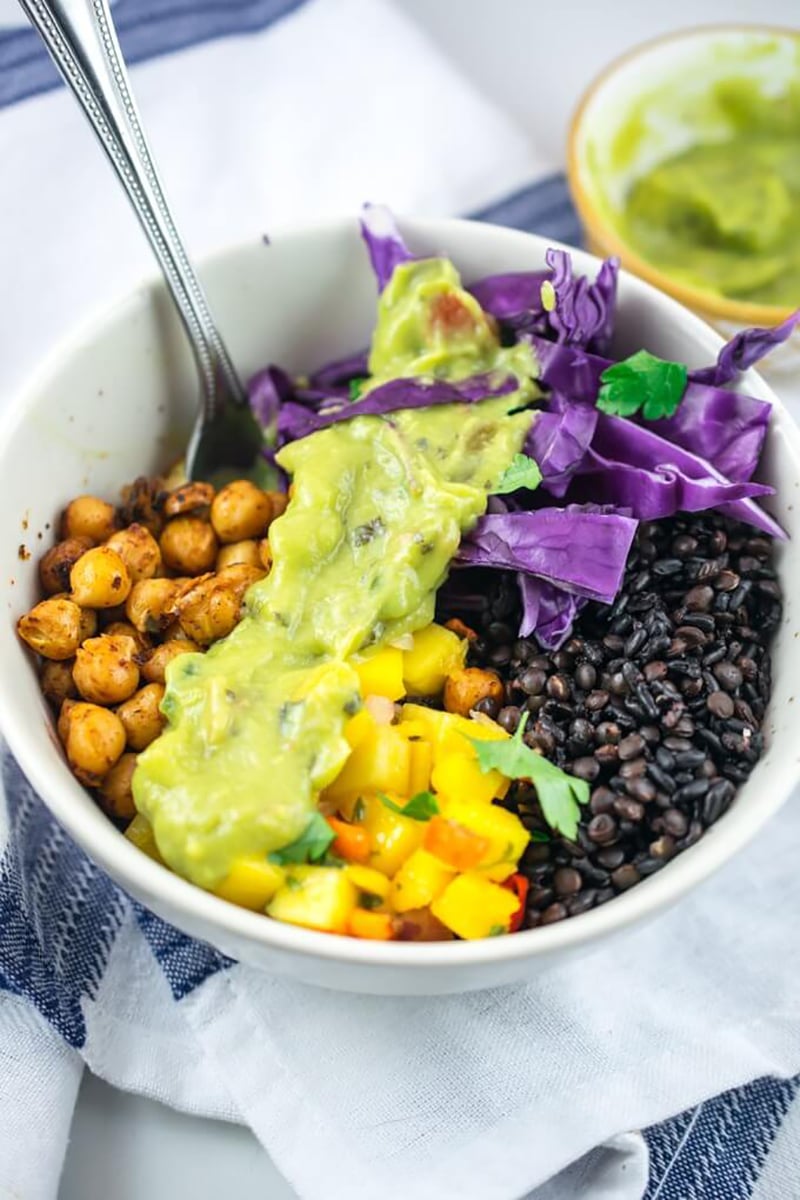 Fans of savory breakfasts, this chickpea breakfast burrito bowl is for you. The chickpeas offer high-quality plant protein and fiber, while the ancient grain rice blend provides complex carbs. (You can also use quinoa or brown rice.) Together, these nutrients will keep you satiated all day long.
7. Oatmeal Chocolate Chip Bars
Vegan | Total time: 45 minutes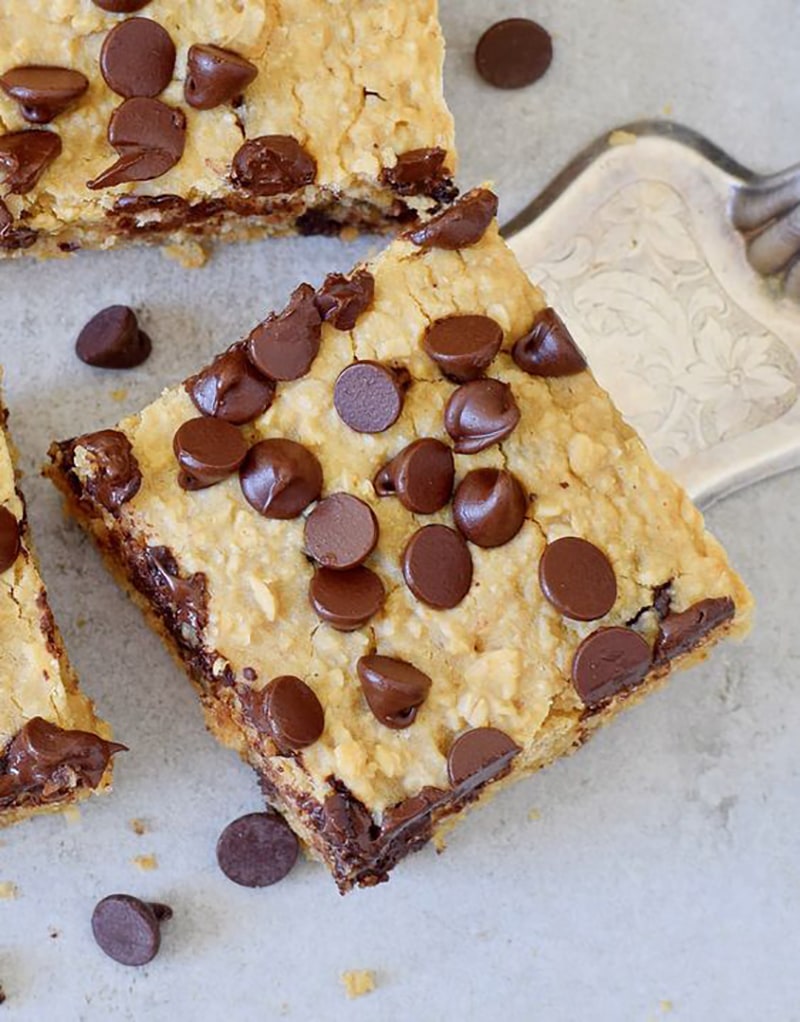 Oats are at it again in these oatmeal chocolate chip bars. The best part? They're made with nut butter and chickpeas, so you'll get a filling helping of plant protein with every bite. Eat them as breakfast on the go or in between meals when you need something to tide you over.
8. High Protein Vegan Breakfast Burrito
Vegan, Gluten-free | Total time: 40 minutes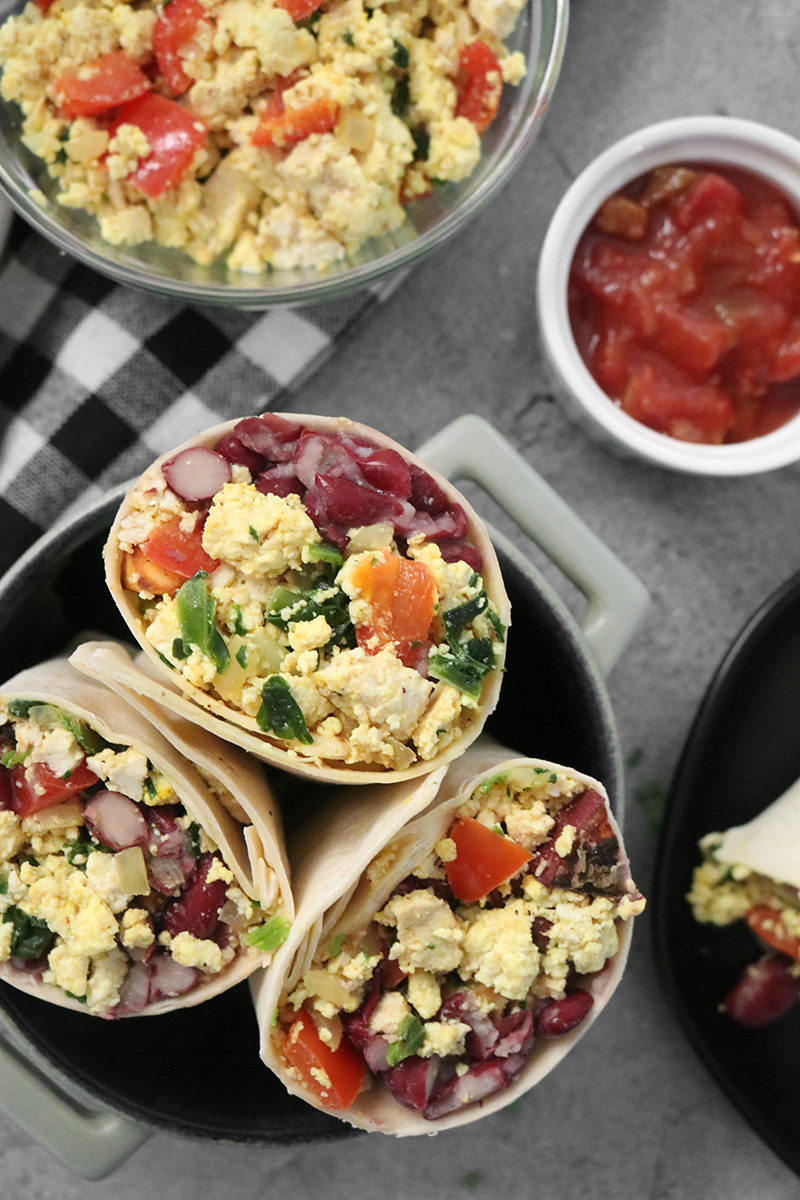 Contrary to popular belief, it's possible to enjoy a high protein vegan breakfast burrito without the animal ingredients. The secret is to use tofu and kidney beans, two vegan ingredients that are packed with hunger-busting plant protein.
9. Peanut Butter Protein Balls
Vegan | Total time: 35 minutes
With just eight ingredients and 10 minutes of prep, these peanut butter protein balls make for the perfect easy grab-n-go breakfast. They're also naturally sweetened with medjool dates and maple syrup, so you can satisfy your sweet tooth while ditching the refined and added sugars.
10. Easy Vegan Protein Cookies
Vegan | Total time: 25 minutes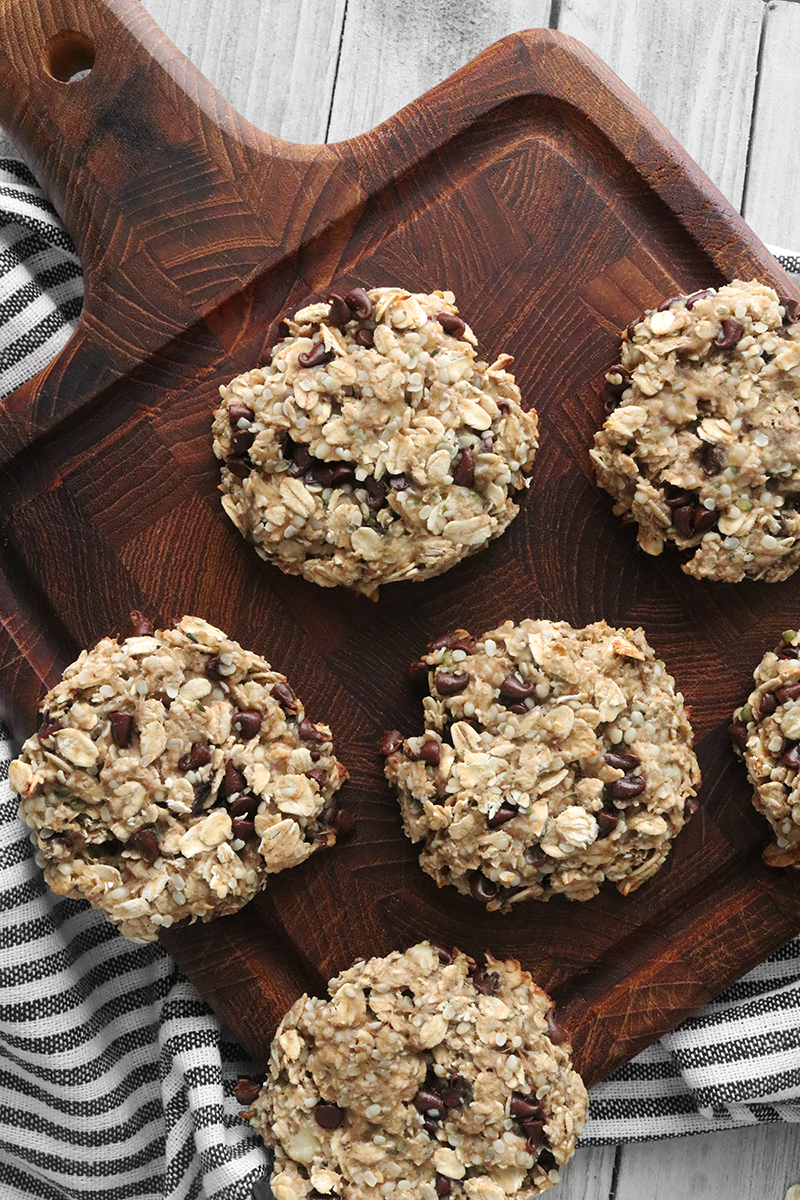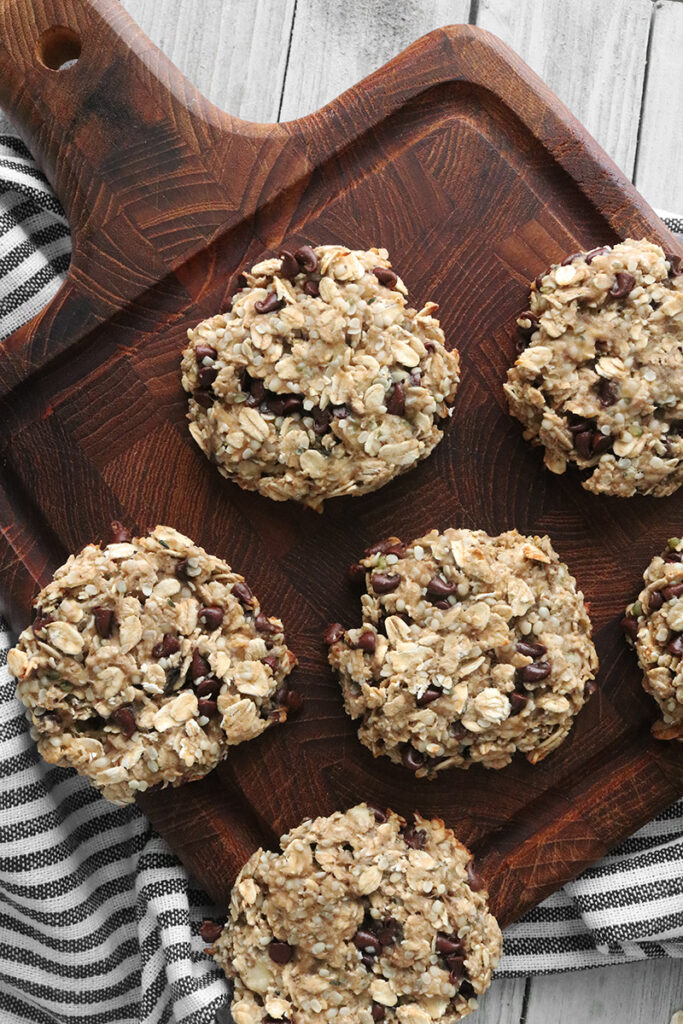 Bananas, oats, and vegan protein powder come together in these easy vegan protein cookies. They also call for hemp seeds, which offer protein, healthy fats, vitamin E, and a cocktail of essential minerals. Like the peanut butter balls above, these cookies are excellent for busy mornings.
11. Easy Vegan Omelet
Vegan, Gluten-free | Total time: 25 minutes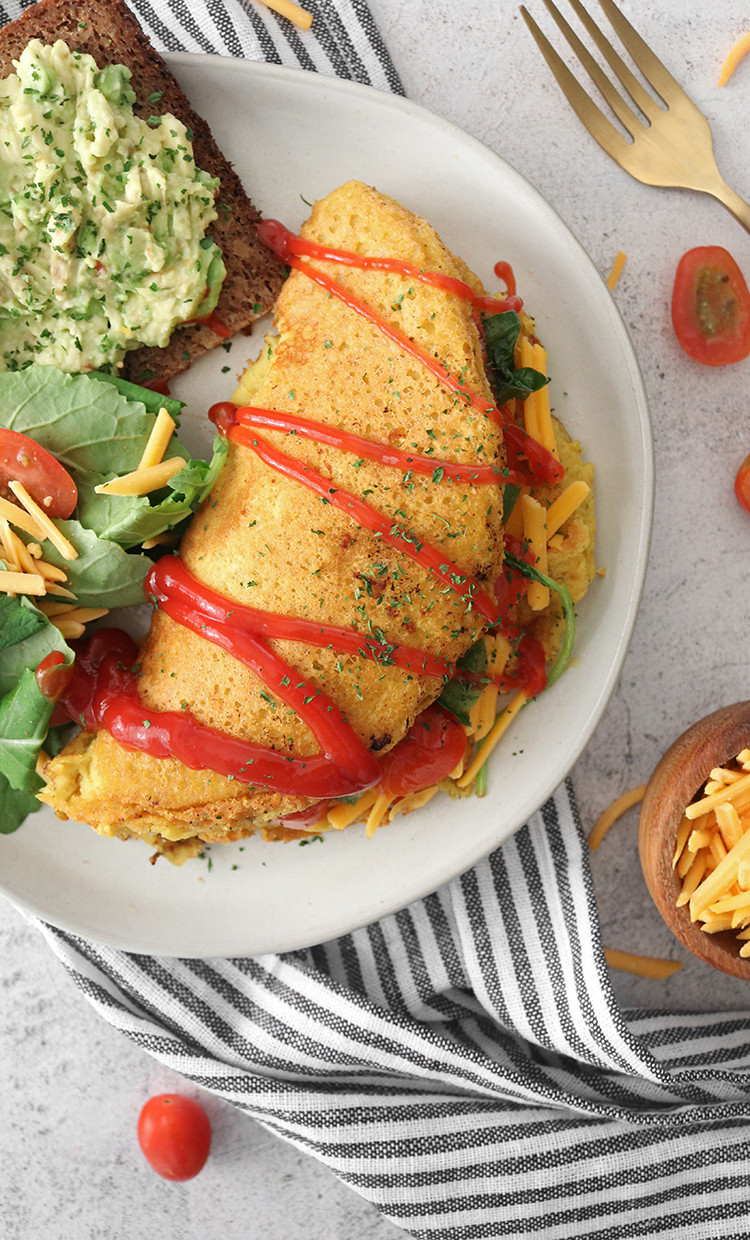 Transform chickpea flour into a savory plant-based omelet with this easy vegan omelet recipe. It's naturally high in protein, though you can add your favorite high-fiber veggies to make a super filling breakfast.
12. Chickpea Scramble Breakfast Enchiladas with Chipotle Sauce
Vegan, gluten-free | Total time: 40 minutes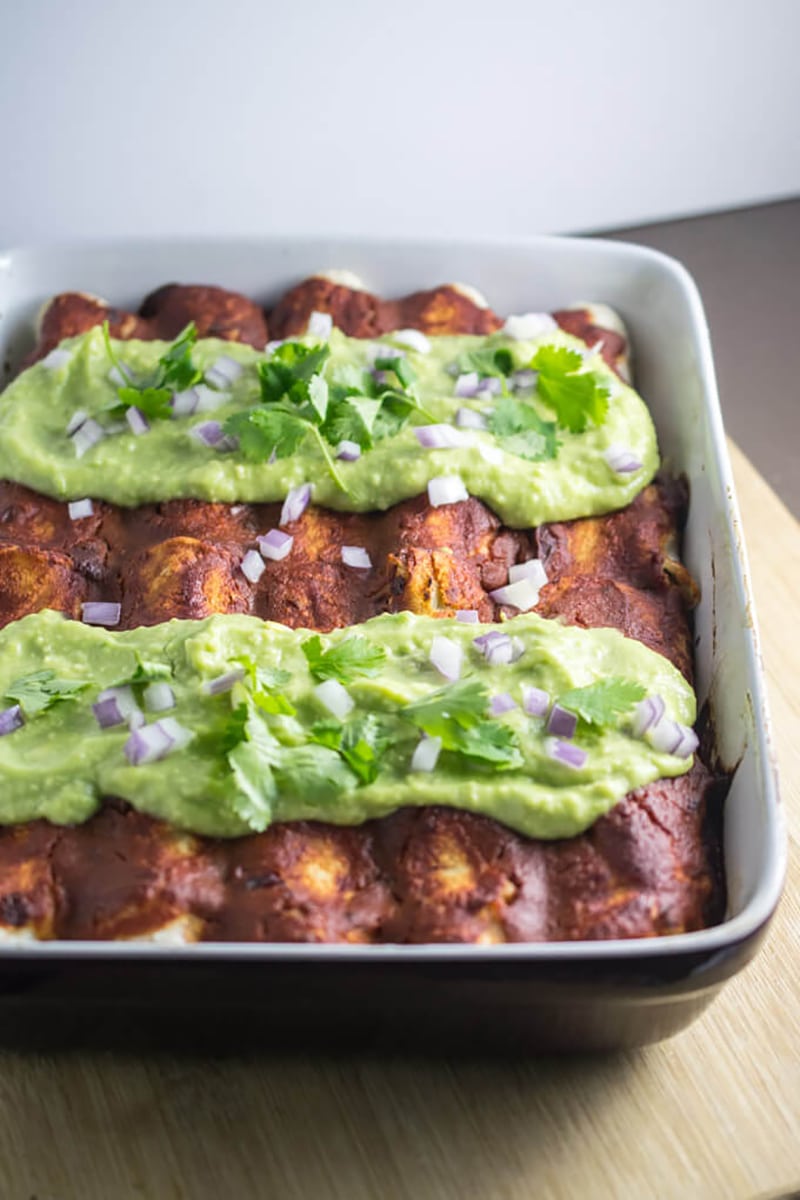 Who knew chickpeas could be such a versatile breakfast ingredient? With these chickpea scramble breakfast enchiladas with chipotle sauce, you can fuel up on plant protein—complete with a homemade chipotle sauce. Tip: Add a spoonful of guacamole for filling fats!
13. High Protein Baked Oatmeal
Vegan | Total time: 30 minutes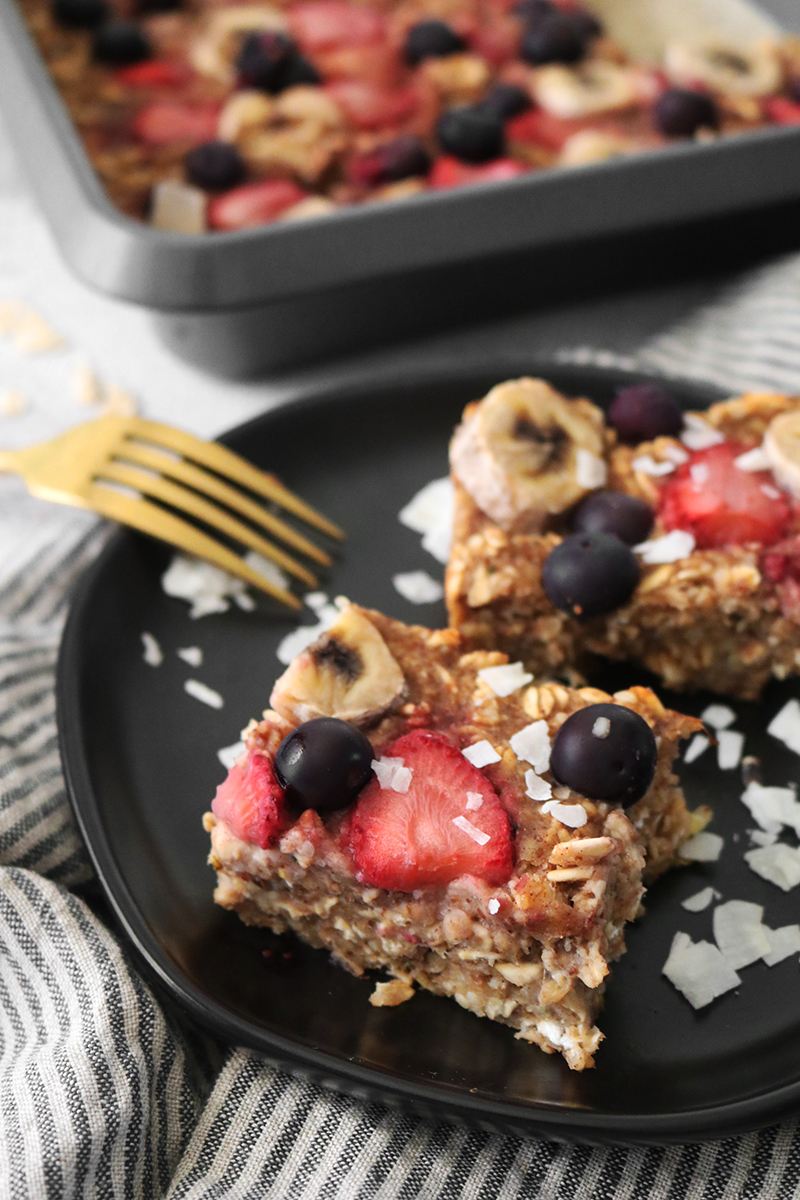 If oatmeal cookies aren't your thing, try this high protein baked oatmeal. Featuring bananas, oats, hemp seeds, and a lot of fruit, this baked oatmeal is almost like a breakfast cake. We'll take three servings, please.
14. Oatmeal Pumpkin Bars
Vegan | Total time: 50 minutes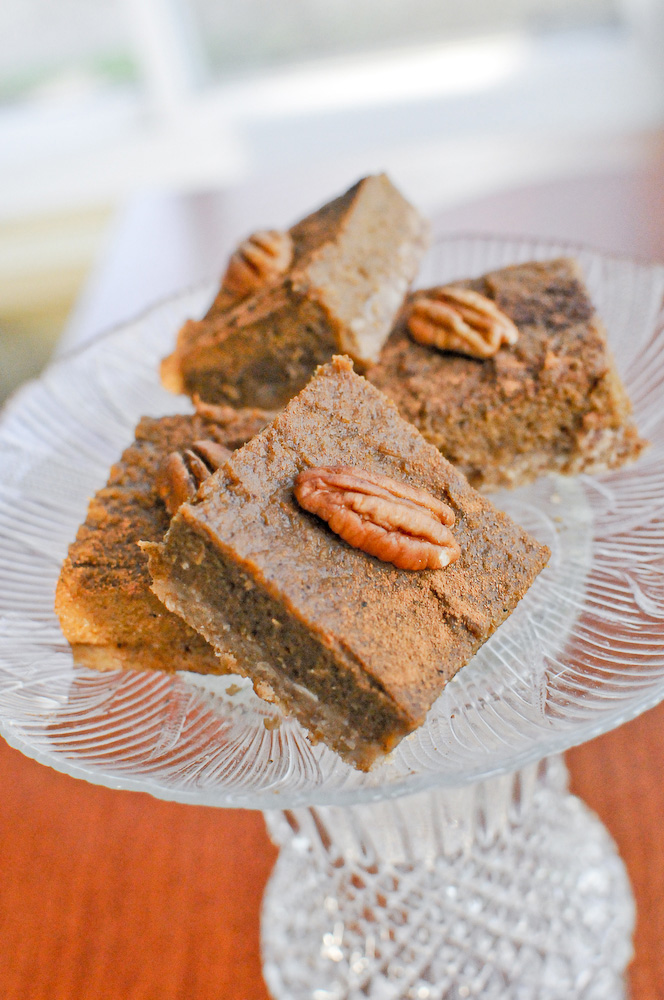 Savor the best of autumn with these satiating oatmeal pumpkin bars. The crust is made of oats and pecans, which are packed with healthy fats. Meanwhile, the vitamin-rich pumpkin filling makes the breakfast treat luxurious yet nutritious.
15. Smoky Avocado Toast with Miso
Vegan | Total time: 8 minutes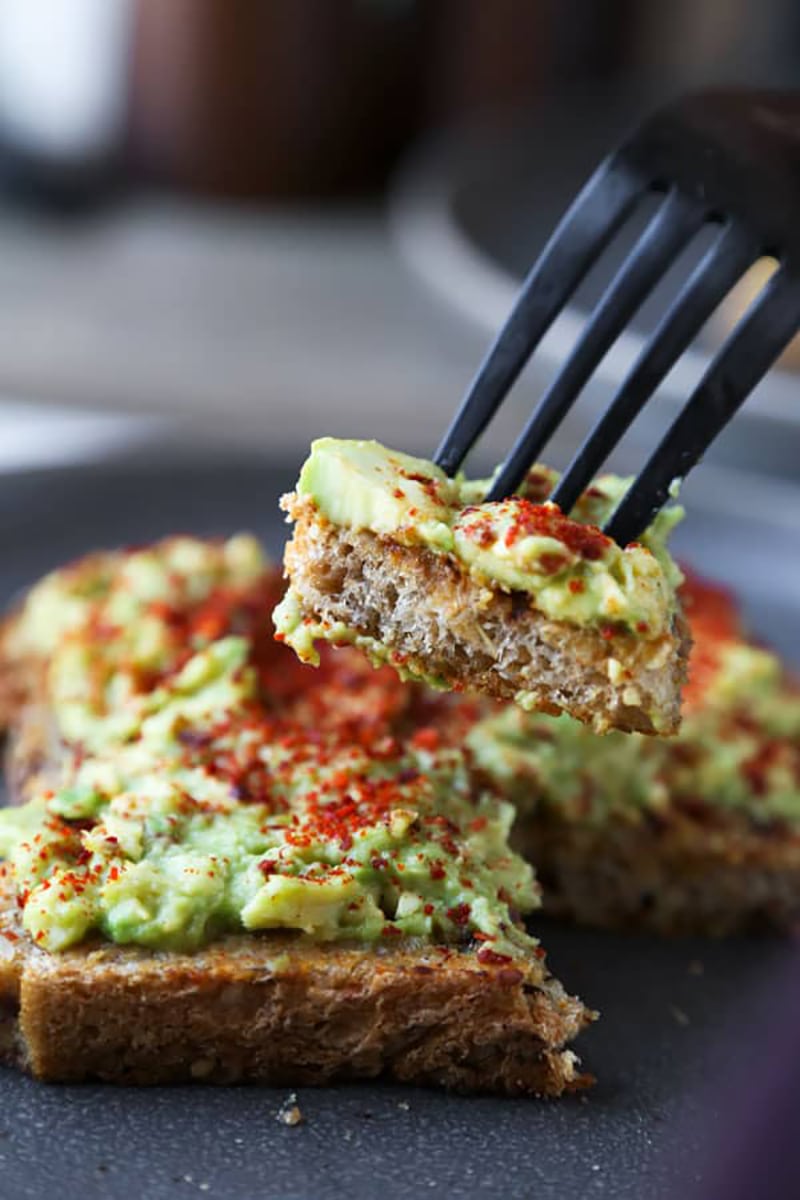 When it comes to weight loss, carbs often get a bad rap—but it's important to remember that not all carbs are equal. Not only do complex carbs provide your body with much-needed energy, but they're rich in fiber too. Try this smoky avocado toast with miso to combine multigrain toast (a complex carb) and avocado for beneficial fats.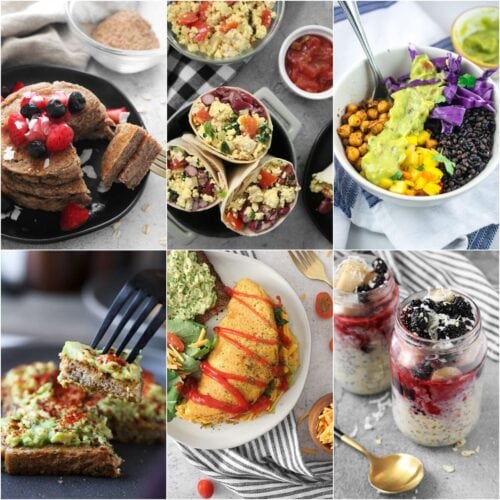 15 Vegan Breakfast Ideas for Weight Loss
Are you on a mission to lose (or manage) weight? Start by thinking about your breakfast.
Click stars below to rate, or leave a full review in the comments
Print
Pin Recipe
Instructions
Pick out your favorite breakfast recipes and stick to your weight loss plan!