Are you ready for an adventure of epic proportions? If the wild is calling your name, it may be time to pitch a tent and explore the great outdoors. Struggling to think of some vegan camping food ideas? You've come to the right place. Here's what you need to know about what you can eat on your next trip.
Essential Camping Supplies
Before we get into the best vegan camping food ideas, let's take a moment to consider the essentials you'll need. Ensuring you have the proper tools for your trip will mean you're ready to make some delicious vegan treats.
Vegan Camping Food Staples
While everybody's tastes are different, there are some vegan camping food staples that we all need. It's important to create a shopping list that works for you and your group. Here are some of the ingredients and products that you may wish to include.
Vegan Camping Meal Ideas
Now that you have a basic shopping list, we can move onto the main event. What are the best vegan camping food ideas? There are so many ways to get creative and make tasty vegan treats while on your trip. Let's take a look at some options. 
Breakfast Ideas
When the sun comes up and you're ready to start your day, you're going to need a hearty meal. Vegan camping breakfasts don't have to be difficult. Here are two ideas that will make fueling up for the day ahead easier than ever before.
Cook some hobo pies
Craving something ultra satisfying? A vegan hobo pie might be just the thing. Before you get started, you will need a square pie iron, which is perfect for campfire cooking! Making the pies around the fire could be the ideal way to spend the morning before you head out.
Simply spread some vegan alternative butter on two slices of bread to begin. Next, choose your filling, put it in between the bread, and pop the whole thing in the iron. Breakfast is ready in minutes! Here are some of the best breakfast hobo pie filling ideas:
Bake granola bars ahead of time
If you're planning some major hikes, you may want a quick and easy breakfast. Why not try making this 5-ingredient granola bar recipe from Minimalist Baker at home before you leave for your trip? You can put the bars into a sealed container and eat one each morning as a treat.
As an added bonus, these breakfast bars are super sweet and satisfying. If you have something of a sweet-tooth, you're bound to absolutely love these. The recipe calls for coconut butter, giving it a yummy, fragrant base. What's more, the finished bars are topped with caramel and dipped in chocolate. Yes, please!
Lunch & Dinner Ideas
Let's face it—camping vacations are active! That means that you will need filling vegan meals to keep you going for longer. However, with limited cooking facilities, you might worry about where to start. Never fear! Here are some of the easiest mains you can make.
Take freeze-dried food
One of the smartest vegan camping food ideas is to take some air-dried or freeze-dried packets along with you. Of course, not all of these meals will be vegan-friendly, and so it pays to do your research. To get you started along the way, try the highly-rated backpacking kit above from Harmony House Foods, or one of these tasty options from Backpacker's Pantry:
These meals are best for people who are hiking (as they are packed full of energy!) or those who have limited campsite facilities. If you're looking for a super easy way to make sure that you get the vegan nutrition that you need, you might just have found it.
Whip up some Cowboy Caviar
When it comes to vegan camping food ideas, you have to cover all bases. If the weather is fine, you may want to enjoy a cool meal that is ready to eat in an instant. Sound good? In that case, you simply cannot go wrong with the Cowboy Caviar recipe from Cookie+Kate .
This vegan-friendly meal takes just 15 minutes to make, which means that it is ideal for a camping trip. You can either make it at home and keep it in a plastic food container or make it when you're there. The dish works well as either a side salad or a main course for lunch or dinner.
Have a classic…. Baked potato!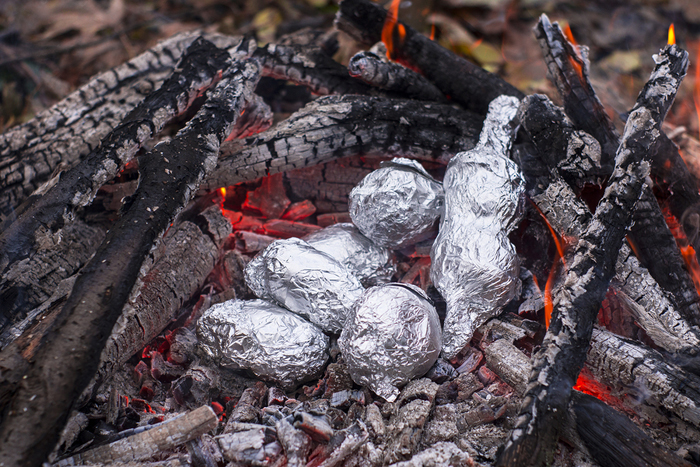 Sometimes, you simply cannot beat a classic campfire meal. Perhaps one of the easiest vegan camping food ideas is the humble baked potato. All you need to do is pierce the potatoes ahead of time (to stop them from exploding!) and then wrap them in some aluminum foil.
Put the wrapped potatoes in the bottom of your campfire and leave them there for an hour or so. Hint: You will start to smell them when they are almost cooked. Finally, fill the potatoes with your choice of veggies, pulses, or beans. You can also use vegan alternative butter or vegan cheese too. Nothing could be tastier or more carbilicious.
Slow-cook some vegan franks and beans
Here's another classic camping meal that can be adapted for vegans. Rather than using regular hot dogs, you just have to substitute them with vegan alternatives. House Vegan has an excellent franks and beans recipe you can follow. Of course, the most crucial piece of advice here is to thoroughly check all of your ingredients ahead of time. Get cooking!
Season and grill some tasty veggies
There's nothing like a plate packed with tasty veggies for dinner! Make sure that you pack some seasoning when you go camping. To make a super fast (and easy) meal, you simply have to chop up some vegetables, add some seasoning and oil, and then grill them in a skillet. The whole dish should take you no more than around 20 minutes.
Not sure what veggies to use? Pick quick cooking options, such as carrots, onions, tomatoes, zucchini, and sweet potato. If you want to be extra clever when it comes to your vegan camping food ideas, you should prep meals ahead of time. Chop your vegetables at home and put them in sealed containers. It could not be easier.
Vegan Camping Snacks
Of course, it's not all about main meals. You will need your fair share of snacks to keep those hunger pangs at bay, and convenience store options can be hit or miss. With that in mind, here are a few delectable snack ideas you may want to try for yourself when you're out in the wild. 
Make your own trail mix
Finding a commercially available vegan trail mix can be tough, so why not make your own? The delicious Quinoa Chivda recipe from Vegan Richa could be the answer. This snack is slightly spiced which means that it's super satisfying and yummy.
It's well worth making a large batch of the snack at home before you go camping. So long as they are kept in sealed containers, you should find that these snacks last for days and days. Separate it into small containers to take on hikes or eat around the campfire!
S'mores with vegan marshmallows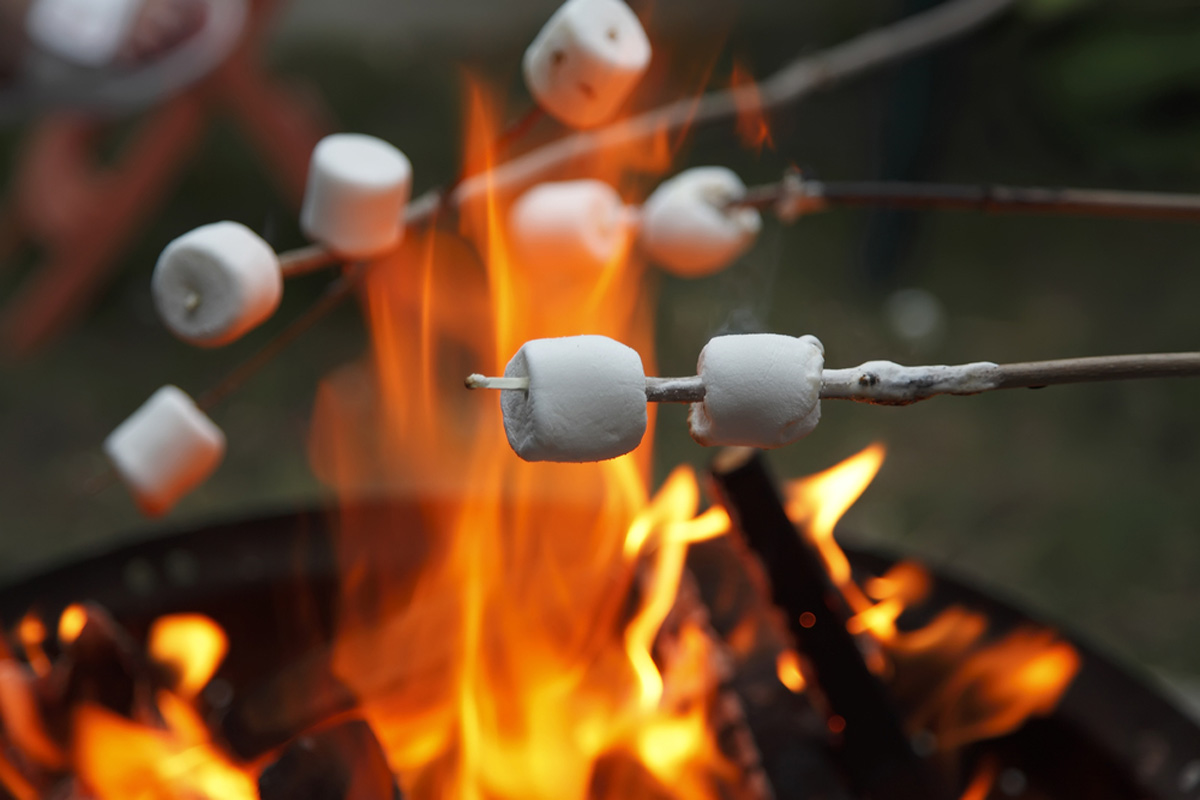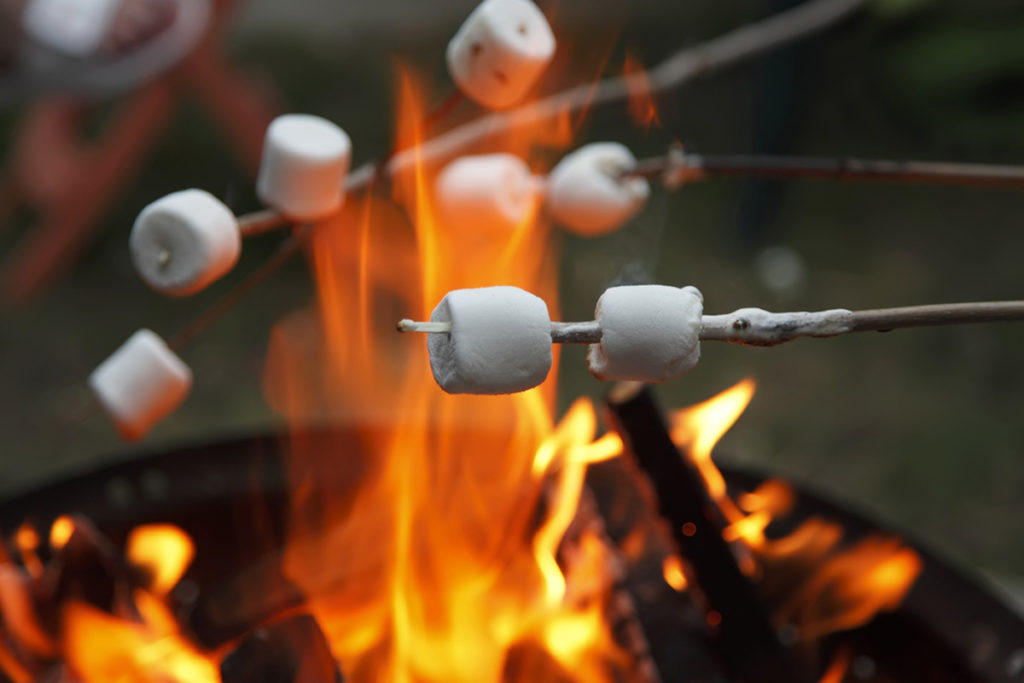 No camping trip is complete without delicious s'mores! To make your own, you will first need some vegan marshmallows. Luckily, there are several options available, which means that you shouldn't have a problem at all.
What's more, some Graham crackers are also accidentally vegan (although you will need to check the ingredients ahead of time), and so you can use them in your recipe too. Simply toast your marshmallows and sandwich them along with a little dark chocolate between the crackers. Tuck in and enjoy your vegan camping snack.
Enjoy some delicious corn on the cob
Craving a warm snack after a long walk in the woods? Making some campfire corn on the cob takes a matter of minutes and is sure to satisfy your hunger pangs. To start, make sure you season the corn well. You can use olive oil or vegan alternative butter along with some herbs and spices to get this just right.
Next, wrap each of the cobs in aluminum foil. You should place the corn at the edge of the campfire or wait until it has burned down to its coals and place the wrapped corn on the coals directly. Leave them there for around four or five minutes before unwrapping them to eat.
Get Packing
The key to eating vegan-friendly food when you're camping is preparation. Understanding your options and prepping makes all the difference. If it's your first time exploring the great outdoors as a vegan, this guide is a smart starting point. There are loads of temptingly good food options out there. It's simply about deciding what works for you. Easy!
Feature photo: anatoliy_gleb/Bigstock