It's funny how the way we are raised and the experiences we have affect our perceptions. For example, in my family, we always made mashed potatoes from scratch, and we made them fairly often, so to me, making mashed potatoes has always felt super easy – even when I didn't cook much else it didn't seem like a big deal.
But we always just bought jars of applesauce, so I was unfamiliar with how it's made and it seemed like something that would be sort of fancy or complicated. Not that I really thought about it much.
Now that I try to think twice before I buy anything that's been prepared, I wanted to use applesauce for some baking (you know you can usually substitute applesauce for oil – just the same amount – right? It's a great little trick!) and it occurred to me that applesauce is probably something you can make at home.
Turns out, it's almost exactly like making mashed potatoes – maybe easier. You just peel and chop up some apples into 1/2 inch chunks:
Then toss them in a pot along with some water and a bit of lemon juice (I also added some cinnamon):
Let that boil for maybe 20-30 minutes, until the apples get nice and soft, and then either mash it with a potato masher, whip it with a hand mixer, or blend it (depending on how smooth or chunky you want your applesauce) and, ta-da! You've got applesauce with no extra sugar or preservatives that tastes amazing.
You can also add a sprinkle of cinnamon, some agave nectar or other sweetener (I'd taste it first though, if you use reasonably sweet apples it doesn't need any. I used gala apples and didn't need sweetener at all) or whatever other flavorings you might like.
Now there's probably some of you who haven't made mashed potatoes from scratch, so my comparison isn't too compelling, but trust me, those are super easy too!
So what things have you always bought from the store that you later learned were really easy to make? Or what have you always made from scratch?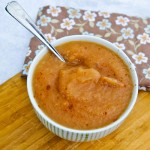 Applesauce
Vegan, Gluten Free, Soy Free, Low Fat, Refined Sugar Free
Click stars below to rate, or leave a full review in the comments
Print
Rate it Now
Pin Recipe
Servings:
4
apples makes about 1 1/2 – 2 cups of applesauce, but this recipe can be doubled or tripled no problem.
Ingredients
4

apples

preferably sweeter apples, I used gala, peeled and chopped into 1/2 inch pieces

¾

c.

water

½

tsp

lemon juice

pinch

salt

½

tsp

cinnamon

optional

1

tsp

agave nectar

optional
Instructions
Add apples, water, lemon juice, salt and cinnamon (if using) to a medium pot and over medium heat and bring to a boil. Boil for about 15-20 minutes until the apples are soft and easily pierced with a fork. Blend with a hand mixer, potato masher, or immersion blender, adding agave nectar if desired. Serve immediately if you want it warm, or refrigerate for an hour or two to serve cold.