I'm so excited for summer I can barely stand it. Backyard grilling, late evening walks, laying out in the sun….I love it all! As soon as the weather goes above 70 degrees and the first couple of ears of corn show up in the market, I'm already pretending it's July and firing up the grill. So in the spirit of welcoming summer, I've got a quick and easy baked beans recipe for you today, and I'll even throw in a "how to grill corn" tutorial as a bonus. And if you look carefully in the background of the baked beans photo above, you'll see tomorrow's recipe – a Carolina pulled "pork" sandwich you are seriously not going to believe.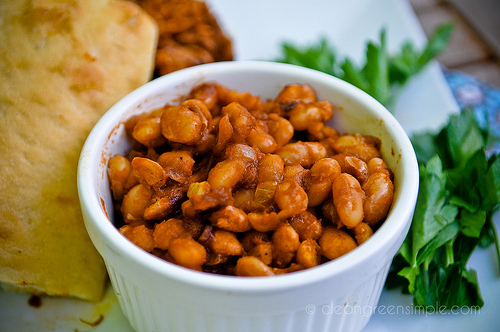 So – baked beans. I cheated a little and used canned beans, but I encourage you to use dried if you have the time to boil them until they are soft first. Heat up about half an onion and a couple of cloves of garlic in a skillet until they are nice and browned, and while you do that you can mix together your sauce. It's made from fairly standard pantry ingredients (maple syrup, vinegar, soy sauce, etc.) and if you want to make it really interesting a bit of tamarind paste (but you can skip it if you don't have it).
Then just pour your sauce over your beans and bake them for about half an hour. That's all there is to it! So much less fat and sugar than the standard recipe, which you know makes me happy.
For corn on the cob, I can't really call this a "recipe" since it's basically "Put corn on the grill and then eat it," but did you know how easy it is to make super sweet, crunchy, delicious corn on the cob? You really can just throw it on the grill with the husk still on, let it heat over medium high heat for maybe 4-6 minutes per side (I treat it like it has four sides) until the husks are starting to get pretty blackened.
Then just peel off the husks and enjoy! You can always add a sprinkle of salt if you want, but I find it rarely needs anything.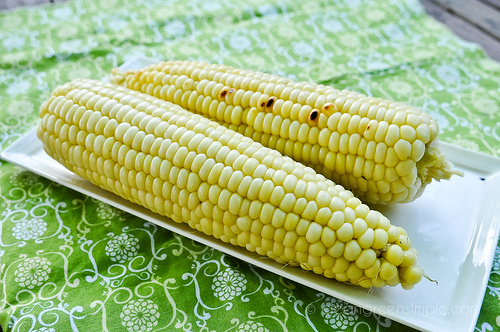 So, who else is super excited for summer? It's so close I can taste it!
BBQ Baked Beans (and grilled corn)
Vegan, Gluten Free, Refined Sugar Free, Low Fat This makes slightly drier baked beans - if you want your beans to be a little more saucy, double everything in the recipe except the beans.

Click stars below to rate, or leave a full review in the comments

Print Rate it Now Pin Recipe
Ingredients
½ an onion minced
2 cloves garlic minced
2 15 oz cans navy or white kidney beans (or about 1.5 cups dried, boiled until they are soft) drained and rinsed
3 Tbsp tomato paste
¼ c. maple syrup
½ tsp apple cider vinegar
¼ tsp soy sauce or Bragg's aminos
¼ tsp ground mustard
½ tsp salt
pinch cayenne pepper
½ c. water
½ tsp tamarind paste optional, but recommended
Instructions
Preheat oven to 400 degrees. In a skillet over medium low heat, caramelize the onion until it's nice and brown. Add the garlic for just 30 seconds until it becomes fragrant.

While the onion is heating, mix together the tomato past, maple syrup, vinegar, soy sauce, mustard, salt, cayenne, water, and tamarind paste, whisking until smooth.

Put your beans in a casserole dish and add the sauce, onions, and garlic, stirring to coat the beans thoroughly. Bake uncovered for about 30 minutes until sauce is bubbling and beans are cooked thoroughly.