I'd definitely have to say that lunch is my weak point. If there are no leftovers from the previous night's dinner I am often at a loss as to what to do. I've also been reminding myself recently that I want to try to have a big salad almost every day, since they are just such a great way to get a ton of fresh, raw veggies and leafy greens! I finally made the connection and realized I should try to have salad for lunch most of the time (yeah, it took me a while…)
The two flaws with my salad plan were that I don't really like boring salads very much and I don't always want to spend much time making lunch. By "boring salads" I just mean the average side salad – lettuce, tomato, carrot, etc. Without fatty dressing or cheese, those salads are fine once in a while but definitely not what I want every day for lunch. I would consider "interesting salads" to be a bit more involved – my taco salad is a good example. But that takes a little bit longer to make, what with roasting all of those vegetables and such.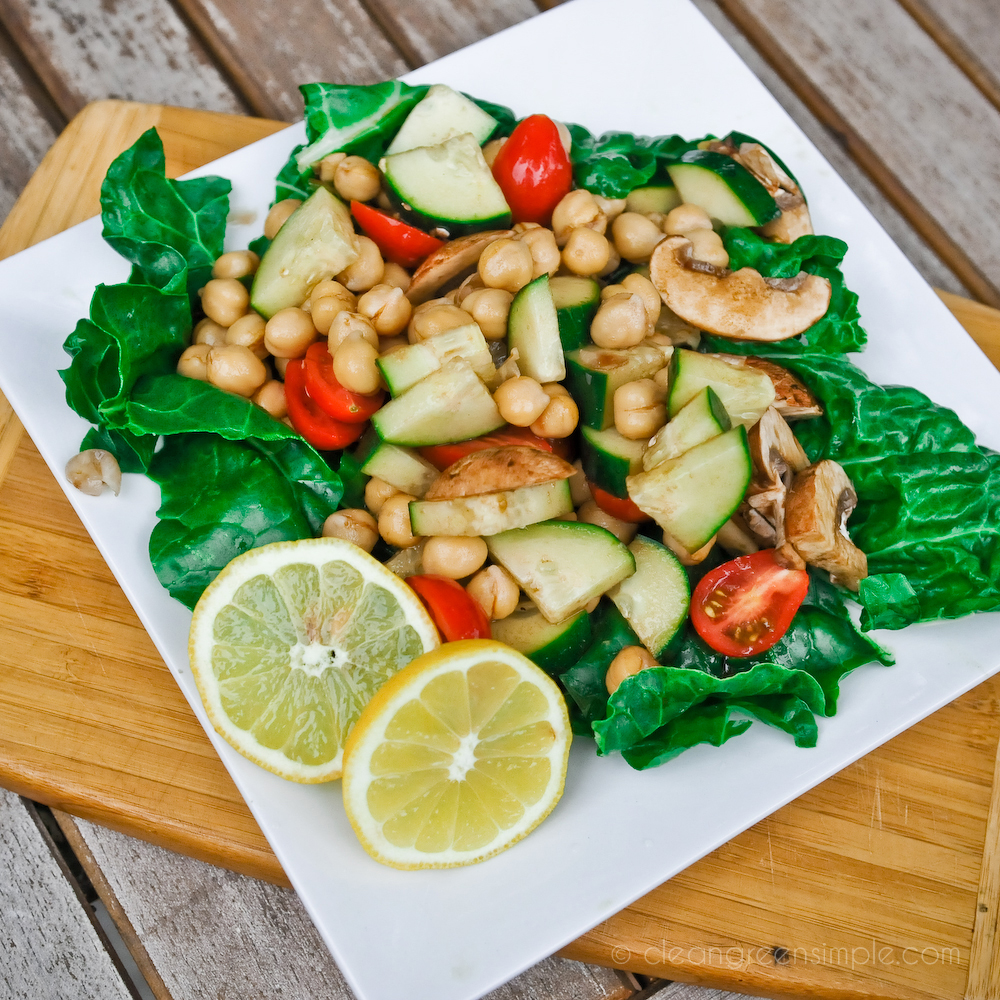 Fortunately, I'm starting to get the hang of throwing together salads that are pretty interesting without taking too long. This chickpea and cucumber one is a great example because I just had to chop some veggies, open a can, and toss on some balsamic vinegar and I was done! I plan to post some more quick and tasty salads over the next few weeks, because we can all use a few more veggies in our lives – but around here we do not like to sacrifice flavor and variety!
I'm also working on making this as cost-effective as possible – there's nothing I hate more than buying a ton of lettuce and then seeing it wilt on me! I find that if I buy enough lettuce for a couple days, but enough toppings for the whole week . I like to just let the market inspire me and throw whatever is in season or on sale or looks delicious for salad into the cart. I can prep all the toppings in advance and then just have to pick up a bit more lettuce or greens on Wednesday or Thursday. You can even make salads with no greens at all! (But they're so healthy I do love to find a way to get them in there)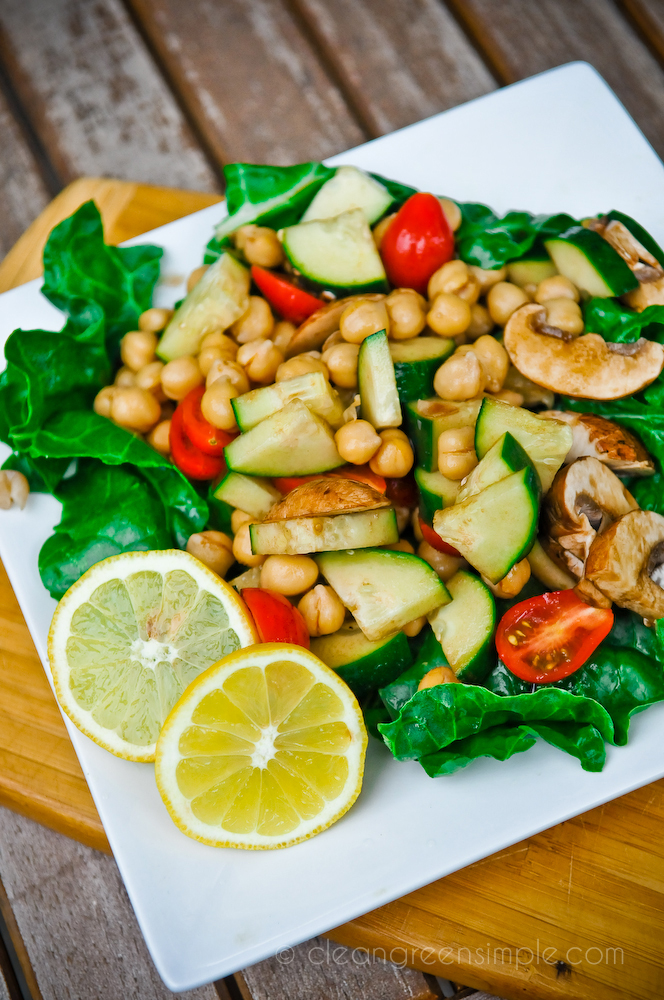 Anyone else trying to do the salad-a-day thing? Any suggestions for quick, easy salads (or ingredients) I might like?
P.S. If you guys could do me a HUGE favor and vote for my "Chipotle and Portobello" burger in the LA Times Battle of the Burgers, I would really appreciate it (it's on the top of page 3). If I make it into the top 20 they'll actually write about it in the paper, which would be so fun – plus we want to see the veggie burgers represented! Today is the last day of voting so please hop over and do it ASAP, I only need a handful more votes to place. Thanks!
Chickpea and Cucumber Salad
Vegan, Gluten Free, Low Fat, Refined Sugar Free, Soy Free
Click stars below to rate, or leave a full review in the comments
Print
Rate it Now
Pin Recipe
Ingredients
1

cucumber

sliced and then quartered

10-20

cherry tomatoes

halved

3-5

mushrooms

sliced

1

can chickpeas

drained and rinsed (or about 1.5 cups prepared if you make them from dry beans)

Juice from about 1/2 a lemon

approx 1-2 teaspoons lemon juice

1

tsp

red wine vinegar

2

tsp

balsamic vinegar

2-3

cups

fresh lettuce

spinach, kale, or chard
Instructions
Combine all ingredients except the lettuce in a large bowl and stir until vegetable and beans are coated with dressing. Lay lettuce on a plate or bowl and top with half of the vegetable mix, repeating with a second plate. Serve immediately.