Over at Diet, Dessert, and Dogs they have a monthly challenge. Iron Chef style, they present an ingredient and then you have to come up with a sweet or savory dish involving that ingredient. Sounds like fun!
This month's ingredient is the Adzuki bean, an asian red bean that has an interesting earthy flavor. I'd never tried them before and I'm glad I have now!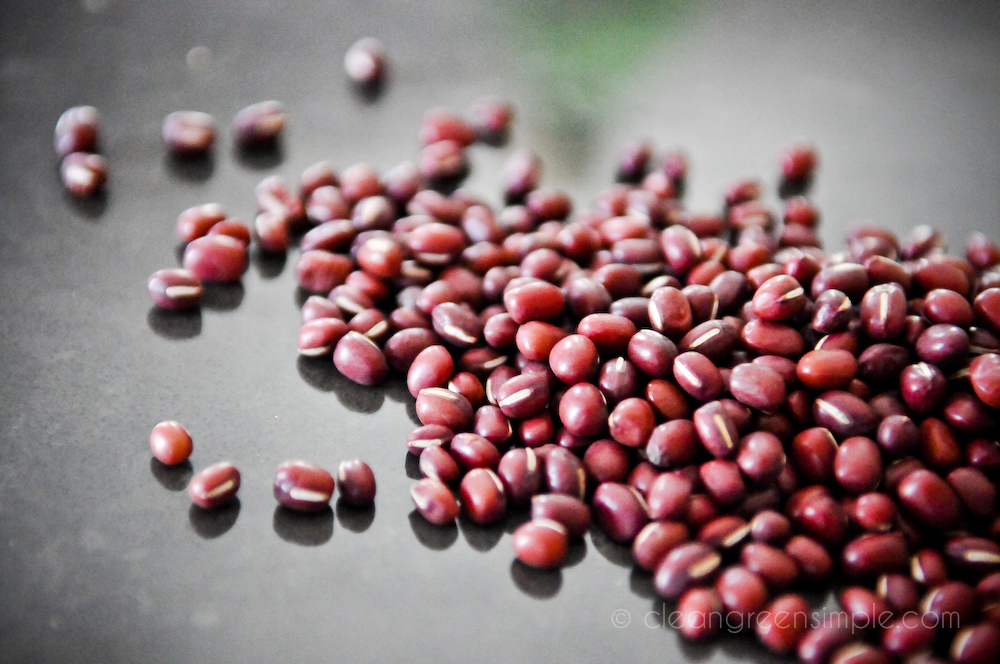 For my submission, I decided to try my hand at the "sweet" category. These chocolate adzuki bites are the result – not bad, if I do say so myself!
First and foremost, they don't taste like beans, so don't sweat that. The adzuki really just adds a nice creamy texture to them, but what you taste is the chocolate and nuts.
Second, these are super easy to make. Just take about a half cup of dried adzuki beans and boil them in maybe 3 or 4 cups of water (just cover them by a couple inches and make sure they don't boil down too dry) for an hour or so, until they are nice and soft.
(That's more than a half cup worth of beans, I made a full cup since I didn't know how many I'd need for the recipe.)
Blend 3/4 cup of cooked beans, 3/4 cup of pecans, 6 or so dates, 1/4 cup cocoa powder, and a 1/4 tsp each of vanilla extract and salt together until nice and creamy.
It may take a minute or two. If it's too dry you can add a splash of rice milk but it's not really necessary. You'll end up with this great creamy mixture:
Which you can scoop out a tablespoon or so at a time and roll into nice little balls.
I rolled them in three different toppings: chopped cashews, chopped pecans, and shredded coconut. You can do all three or just one or pick something else to use as a topping (if you do, let me know how it turns out!).
Spread your chopped nuts or coconut on a small plate and roll the balls around in it until they are covered. Set them in the fridge for about an hour or so to firm up and enjoy!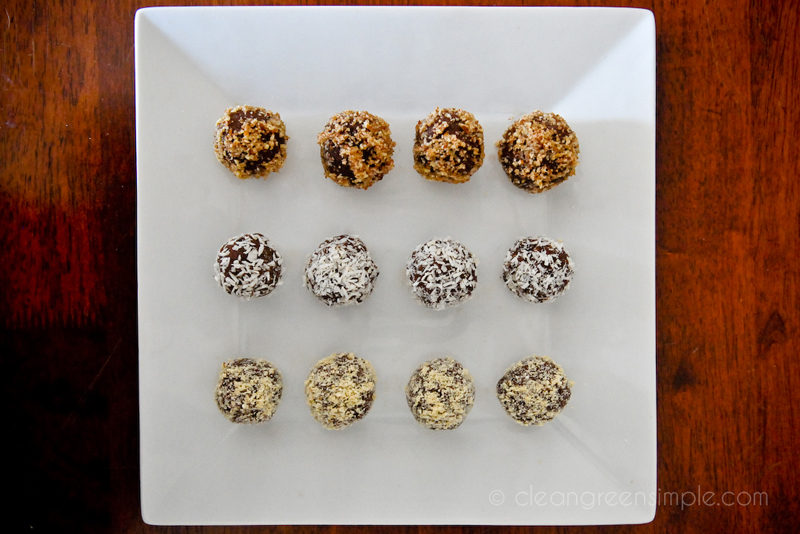 These are sort of earthy and chocolatey with a little kick of sea salt – if you enjoy salt and chocolate together you'll probably dig these.
I think my favorite is the pecan topping, but the coconut is pretty darn good too. I'll definitely try using adzuki beans in more recipes in the future so let me know if you have any good ones!
Adzuki Vegan Chocolate Bites
A unique chocolate pecan treat that uses Adzuki beans for the base. It's vegan, gluten-free, and refined sugar free.
Click stars below to rate, or leave a full review in the comments
Print
Rate it Now
Pin Recipe
Ingredients
For the adzuki balls
½

cup

adzuki beans

dry

¾

cup

pecans

6

pitted medjool dates

about 1/2 cup

¼

cup

cocoa

¼

tsp

salt

1

tsp

agave nectar

optional

1-2

tsp

rice milk

optional
For the topping
1

cup

selected topping

¼

tsp

sea salt

the larger flaky kind, if possible
Instructions
Put the adzuki beans in a small pot and cover with a couple inches of water. Boil for about an hour, making sure you don't let them dry out, until they are soft. Drain and set aside.

In a food processor or blender, blend the nuts for your topping (if using) and set aside.

Add 3/4 cup cooked adzuki beans to your food processor (they will have swollen up so your 1/2 cup should have turned into at least 3/4 cup), 3/4 cup pecans, dates, cocoa powder, vanilla, and salt. Blend until smooth, scraping down the sides of the bowl if necessary. If it is too dry to blend well, you can add rice or almond milk a teaspoon at a time to make it a bit more moist. You can also add a teaspoon of agave nectar to make it a little more sweet (if you use the agave nectar you probably won't need the rice milk)

Scoop out the dough a tablespoon or so at a time and roll into balls. Sprinkle them with just a bit of the sea salt and then roll the balls in the topping until they are coated, then put them in the fridge for about an hour to firm up.
Notes
For the topping, you can choose either shredded coconut, chopped pecans or chopped cashews. For the nuts, I recommend blending them in the food processor before you make the balls because then you don't have to clean it out.