Whether you're buying organic strawberries or conventional, washing them is an important step you don't want to skip.
But if you're just using water or wasting money on commercial fruit cleaners to wash your strawberries, stop right now. Because we've got a better method that's cheap, easy, and far more effective.
And the best part? This method will actually help your strawberries last longer. Keep reading to find out how to clean strawberries with vinegar (and why you definitely want to do it this way).
Why Clean Strawberries?
If you're buying conventional strawberries, then there's one very important reason you should clean them before use.
Strawberries are constantly featured at the top of the dirty dozen fruit and vegetable list. Why? Because these fruits get doused with pesticides during conventional production in order to keep insects and pathogens from destroying the fruits before they make it to the shelves.
Ninety percent of strawberries that make it to the market have at least one type of pesticide residue on them. And 30% have at least 10 detectable toxins on them(1). These pesticides have been linked to several health problems including cancer and hormone disruptions(2).
So, if you aren't washing your strawberries before you eat them, now is the time to start!
Even organic fresh berries should be cleaned. This produce is farmed without chemical pesticides, but that doesn't mean they haven't been sprayed down with irritating organic concoctions. Plus, all strawberries harbor fungus, bacteria, and dirt.
Why Clean Strawberries… with Vinegar!?
One of the simplest ways to remove chemicals and other impurities from your strawberries is with diluted vinegar.
Vinegar has long been celebrated for its disinfecting abilities. This liquid is acidic enough to kill bacteria and mold, but harmless when consumed. This special combination of characteristics is why vinegar has been used to preserve fruits and vegetables for centuries.
When mixed with water and used as a fruit soak, vinegar quickly kills bacteria, fungus, and other creepy crawlies on your strawberries. It also separates chemicals, pesticide residue, and dirt from the surface of the berries so they can be rinsed away.
But this deep clean does more than just make your fruit safer to eat; it will also help your strawberries last longer.
When fruit "goes bad" or spoils, it's actually rotting. Rot is the process of microorganisms like bacteria and fungus eating the fruit. By killing most of these organisms using vinegar, your strawberries won't go bad nearly as fast.
Will the Strawberries Taste Like Vinegar?
Don't worry, your strawberries won't taste like vinegar if you use this washing method.
If you've ever made your own pickles, you know it takes time for vinegar to soak in. We use this fact to our advantage when cleaning with vinegar. By soaking your strawberries in a white vinegar bath for only five minutes, you get the cleansing effects of the acid without changing the flavor of your fruit.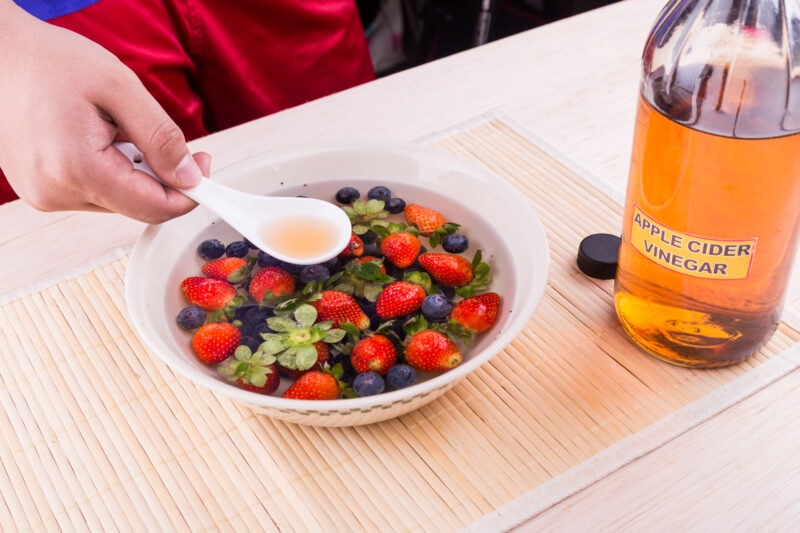 How to Clean Strawberries with Vinegar in 5 Steps
Cleaning your strawberries in vinegar is cheap, easy, and quick.
Step 1: Mix 4 cups of water with 1 cup vinegar in a large bowl. Be sure to use cool water.
Step 2: Add the strawberries.
Step 3: Let them soak for 5 minutes in the cold-water-vinegar solution.
Step 4: Dump the vinegar solution and rinse the berries well under cold water.
Step 5: Spread the strawberries over a clean paper towel, then blot with a paper towel until dry.
A few tips:
Don't use warm water. Cold water is key to keeping your strawberries fresh and slowing the spoiling process.
Make sure those berries are dry. Moisture also hastens the spoiling process by encouraging mold growth, so be sure to dry the strawberries thoroughly before storing them. If you don't want to waste paper towels, you could dry the berries gently in a salad spinner.
Use the right kind of vinegar. Distilled white vinegar is cheap and has the optimal acidity level to kill pathogens quickly, but apple cider vinegar will also work if that's what you have on hand.
Rinse well. Rinsing your berries multiple times under cold running water is key to getting rid of that vinegar flavor.
How to Store Your Clean Strawberries
Once your berries are clean and dry, place them in an airtight container then put that container in the fridge.
Strawberries left in their original container or an uncovered bowl will be exposed to air. Not only can this introduce bacteria and mold spores to your clean strawberries but it will dry them out. An airtight container, such as a Tupperware, a bowl covered in plastic wrap, or a glass jar with a lid, works best.
Putting your strawberries in the fridge will also help them last longer. Mold grows fastest at room temperature and slowest at cooler temps. If you do see any moldy strawberries in your container, remove them right away.
Strawberries cleaned in a vinegar wash and then stored in an airtight container in the fridge will last for up to three weeks. Storing many types of fresh fruits this way will give them the longest shelf life.
Our Favorite Strawberry Recipes
Now that you have clean strawberries at your disposal, you'll need a way to use them up. Here are some of our favorite strawberry recipes for you to enjoy!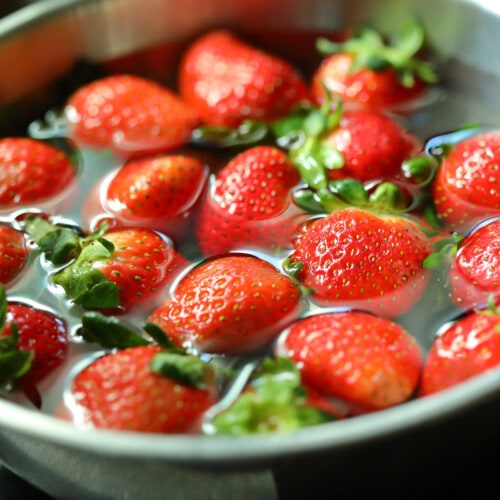 How to Clean Strawberries with a Vinegar Fruit Wash
This easy hack for cleaning strawberries with vinegar is cheap, quick, and removes pesticide residue and microorganisms so your strawberries get cleaner and stay good longer.
Click stars below to rate, or leave a full review in the comments
Print
Pin Recipe
Ingredients
1

cup

distilled white vinegar

or apple cider vinegar

4

cups

water

1

lb

strawberries
Instructions
Mix 4 cups of water with 1 cup vinegar in a large bowl. Be sure to use cool water.

Let them soak for 5 minutes in the cold-water-vinegar solution.

Dump the vinegar solution and rinse the berries well under cold water.

Spread the strawberries over a clean paper towel, then blot with a paper towel until dry.
Nutrition
Calories:
48
kcal
|
Carbohydrates:
9
g
|
Protein:
1
g
|
Fat:
1
g
|
Saturated Fat:
1
g
|
Polyunsaturated Fat:
1
g
|
Monounsaturated Fat:
1
g
|
Sodium:
14
mg
|
Potassium:
175
mg
|
Fiber:
2
g
|
Sugar:
6
g
|
Vitamin A:
14
IU
|
Vitamin C:
67
mg
|
Calcium:
29
mg
|
Iron:
1
mg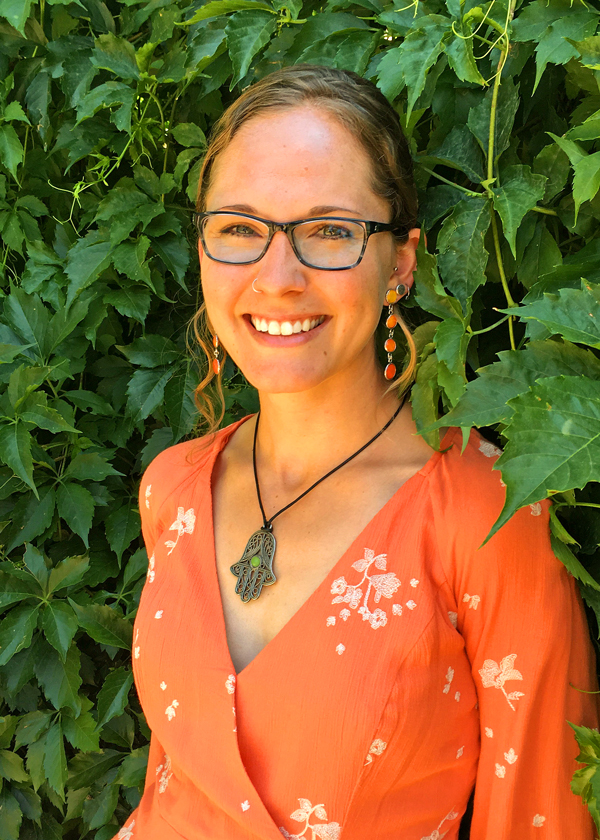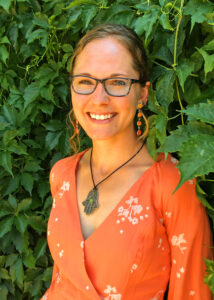 About the Author
Sara Seitz is a freelance writer living with type 1 diabetes. Her search for better health and better control of her blood sugars led her to a plant-based diet. When she isn't experimenting with new vegan recipes, she's helping spread the word about how plant-based is better for people and the planet. More articles by Sara.