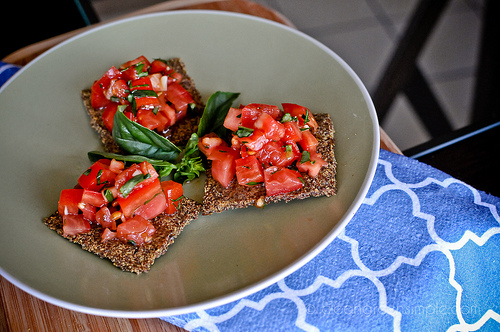 Bruschetta has got to be one of my favorite appetizers for dinner guests – it's so easy to make and people can eat it with their hands, but it's still pretty and classy. If you're gluten free, or are having guests who are, consider serving it on crackers (it's on my flax crackers in the photos), it's still delicious with no gluten! A mixed plate with regular bread and crackers also looks really pretty.
Essentially, bruschetta is just garlic, basil, and tomatoes – you just chop up a few tomatoes, mince a clove of garlic (as usual, be careful with raw garlic – a single clove will make this quite strong, so I'd taste it before adding more), some olive oil and balsamic vinegar, and a bit of salt and pepper. You'll end up with a nice mixture like this, which seems simple but is somehow so delicious I could eat it right out of the bowl:
The other thing that makes it great for parties is that you can stick it in the fridge for up to a day and it just keeps getting better and better. I recommend giving it at least an hour for the flavors to really mingle, but if you can plan ahead, several hours is ideal. Once you're ready to serve it, either dollop it on some gluten free crackers (my rosemary and herb ones might work quite well, too – especially if you made them with a little basil!) or slice a loaf of french bread into thin slices, toast them for a few minutes in the oven (about 5 minutes at 350 ought to do it) and divide your bruschetta among the slices of toast. A simple, healthy appetizer!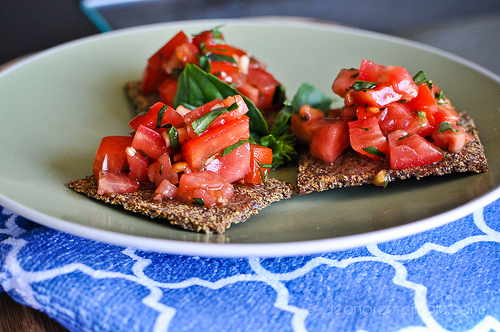 What's your favorite thing to serve at a dinner party?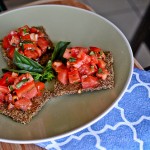 Gluten Free Bruschetta
Vegan, Gluten free if you serve it on GF bread or crackers, low fat, refined sugar free

Click stars below to rate, or leave a full review in the comments

Print Rate it Now Pin Recipe
Ingredients
About 3 roma tomatoes diced
1 clove garlic minced
1 tsp olive oil
1 ½ tsp balsamic vinegar
¼ c. fresh basil minced
½ tsp salt
pepper to taste
Either one recipe Flax Crackers or a loaf of french bread, sliced and toasted, for serving
Instructions
Combine everything except the bread/crackers in a medium bowl and mix well. Cover and keep in fridge for anywhere from an hour to overnight. Just before serving, lay out your toasted bread or crackers and place about a tablespoon of bruschetta on each. Serve immediately so the bread doesn't get soggy.