I'm not really that much of a sandwich person – I like them well enough but just don't find myself making or ordering them very often. Part of my problem is finding vegetarian and vegan sandwiches – meat is a key component of most, and egg or cheese is pretty largely featured in the rest. But they are such a convenient and enjoyable lunch! One of my goals for this year is to figure out more sandwich recipes.
OK, I just re-read that last sentence and realized that if you can say something like "one of my goals is to eat more sandwiches" you are either doing something very wrong in life or something very right. I'll go with the latter for now.
Anyway – this is a good sandwich! It's a layer of creamy pesto and then some roasted red peppers, onions, and portobello mushrooms. Deeee-lish. And not as complicated as you might think, either. Just make some roasted red peppers (quick and easy recipe here) and then slice some onions and portobello mushrooms into strips. Brush the mushrooms with some balsamic vinegar and throw it all on a cookie sheet:
Stick it under the broiler (which you already warmed up making the roasted red peppers) for about 5 minutes, until everything is just starting to brown. While you're waiting on that you can blend together your pesto sauce by combining some basil, walnuts, olive oil, and garlic in the food processor. (I know pesto is traditionally made with pine nuts but at least at my store they are crazy expensive! 28 bucks a pound, are you kidding me? Is that how much they always cost or is there some sort of pine nut shortage I didn't know about? No biggie though because walnuts worked great.)
This is more of a pesto spread than a sauce – nice and thick so you can layer it on your sandwich. Once your onions, mushrooms and peppers are ready you can assemble everything like so:
This is delicious warm but it also works just great cold so you could pack it as a lunch or picnic no problem. If you use gluten free bread the rest of it is gluten free, I went with a ciabatta type bread and it was wonderful.
So, the real question is: what other vegan sandwiches should I try? Or maybe really challenge me and give me a non-vegan sandwich to figure out how to veganize!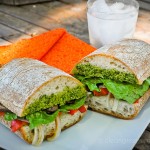 Pesto and Roasted Red Pepper Sandwich
Vegan, Gluten Free if you use GF bread, Low Fat, Refined Sugar Free
Click stars below to rate, or leave a full review in the comments
Print
Rate it Now
Pin Recipe
Ingredients
1

Roasted Red Bell Pepper

1

large portobello mushroom

sliced into strips

1

Tbsp

balsamic vinegar

1

onion

sliced into rings and cut in half

2

leaves

romaine or other lettuce

1

cup

fresh basil

¼

cup

raw walnuts

1

tsp

olive oil

1

clove

garlic

¼

tsp

salt

1

tsp

water

1

tsp

nutritional yeast

optional

4

slices

bread
Instructions
Roast red peppers. While they are roasted, brush your portobello with balsamic vinegar and let sit for a couple minutes. Once peppers are done, place portobello and mushroom slices on a cookie sheet and place under broiler for 5 minutes or so until they are just starting to brown.

To make the pesto sauce, combine basil, walnuts, olive oil, garlic, salt, water, and nutritional yeast in a blender or food processor and blend until smooth. Spread onto bread slices and then top with lettuce, mushrooms, onions, and red peppers.