I've probably made pad thai a few dozen times, with several different recipes, and ultimately the main thing I got from all those experiences was: "Making pad thai is a pain in the neck." I always used a ton of ingredients, made a giant mess (although, to be fair, I make a mess doing most things), and it never even came out as well as I would have liked.
But, my friends, the day has finally come! I have figured out a pad thai recipe that is easy, consistent (I've made it four times already), tastes like what I've gotten at good Thai restaurants, and all without using fish sauce.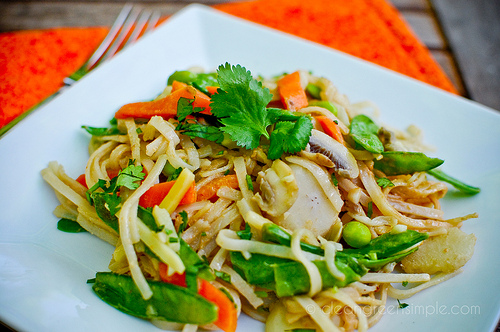 I'll confess one secret to this being easy is to use a bag of frozen stir-fry vegetables (I use the one from Trader Joe's) – you could of course use fresh but the effort of finding, buying, and chopping all those different ingredients would take this out of the "easy" category I'm so happy to put it in. If you know you love it, you could always get a bunch of stuff, chop it up, and then freeze it in single serving bags for later use. But I don't think there's anything especially wrong with using the frozen mixes once in a while – just make sure they don't have added salt, sugar, or fish.
The second confession is that the sauce does involve several pantry ingredients – I happened to have most of them already, but if you don't it might be a pain to go get them all just for this dish. I don't know what to tell you about that other than that most of this stuff is pretty versatile and can be used for lots of things.
Now that I've made what I promised to be an easy recipe sound intimidating, let's get to making it! First get some water boiling – if you have an electric kettle this would be a great time to use it. While that boils, whip out your 12″ skillet and heat it over medium. Toss your frozen veggie mix in there (along with a touch of oil and some garlic powder, if you want) and let it get nice and warm. It's important to cook these in advance for two reasons: one, you need to let the frost/water boil off before you mix it with the sauce and noodles, and two, the sauce and noodles get tossed together very quickly, which wouldn't give the veggies enough time to heat thoroughly.
While those heat, soak your pad thai noodles in boiling water for 8-10 minutes (follow the package directions) until they are softened. Drain and rinse them.
Meanwhile, mix together your sauce in a medium bowl. As mentioned, it's got a bunch of ingredients so I won't list them all here – just check the recipe below. It's just stuff like vinegar, soy sauce, and peanut butter and it comes together pretty quick with a whisk. You can also taste it as you go and add more stuff if you want it to be more peanut-y or salty or spicy.
So now you're 10 minutes into cooking and you should have cooked veggies, soaked noodles, and mixed pad thai sauce. Remove the veggies from the skillet and set aside. Bring it back to medium heat and add your noodles and sauce mixture at the same time, stirring them together as quickly as possible to get the noodles well coated. If you let the noodles and sauce hang out in the skillet too long they will get sort of goopy so try to do this step as quickly as possible.
Once the noodles are coated, add your veggies back in and toss quickly to get everything nicely mixed together.
Then just separate it out onto 2-4 plates and top with a bit of freshly chopped cilantro if desired. Total time should be under half an hour – it really comes down to how long it takes to boil a half gallon or so of water to soak the noodles.
I now keep all this stuff in my pantry/freezer so I can throw this together at any time. I love when things go from "crazy complicated and messy recipe" to "easy weeknight dinner!"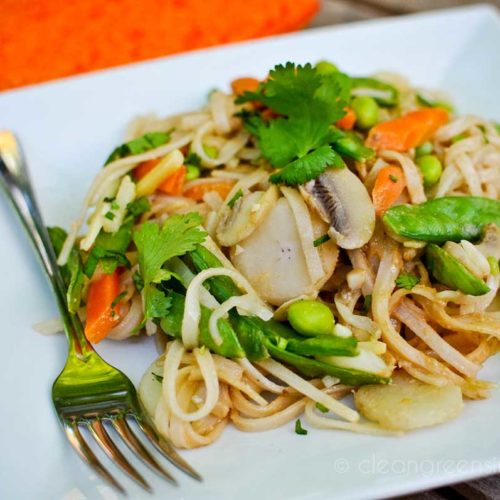 Quick and Easy Vegan Pad Thai
Vegan, Gluten Free, Refined Sugar Free
Click stars below to rate, or leave a full review in the comments
Print
Rate it Now
Pin Recipe
Ingredients
½

box thai Stir Fry Rice Noodles

1

package stir fry vegetables

mine had sugar snap peas, carrots, lima beans, bean sprouts, water chestnuts, and mushrooms

¼

tsp

garlic powder

optional

¼

cup

chopped fresh cilantro

optional, as garnish
For the sauce:
3

Tbsp

peanut oil

1

Tbsp

sesame oil

4 ½

tsp

lemon juice

4 ½

tsp

maple syrup

1

Tbsp

soy sauce

make sure to use gluten free if you avoid gluten

1 ½

Tbsp

rice vinegar

¾

tsp

tabasco

you could also use sriracha sauce - make sure it's vegan

¼

c

+ 1 tsp creamy peanut butter

make sure to use organic, natural peanut butter

1 ½

tsp

tamarind paste

¼

cup

peanuts

chopped fine
Instructions
Boil enough water to cover noodles and soak them for 8-10 minutes (follow package directions). Drain.

In a large skillet over medium heat, heat frozen vegetables and garlic powder until heated through.

In a medium bowl, whisk together sauce ingredients until well combined.

Once vegetables are warm and sauce and noodles are ready, remove vegetables from skillet and set aside. Return skillet to medium heat and add sauce and noodles, stirring together until noodles are thoroughly coated. Add vegetables back to skillet and stir to combine everything. Divide amongst 2-4 plates and sprinkle with fresh chopped cilantro, if desired.