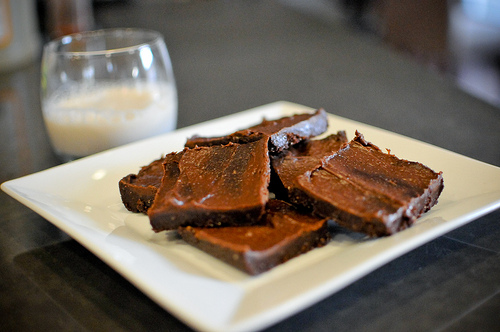 What, just "Raw vegan brownies"? No clever name? Man, I'm such a slacker! But you'll forgive me when you make these because they are dee-freakin'-licious. They really do taste like brownies, but with a lot less of the unhealthy parts. The frosting is totally optional – without it they taste a little more brownie-like, with it they have a hint of coconut that reminded me of a Mounds bar.
All you do is throw the brownie ingredients into the food processor and run it for a good 30 seconds, until the consistency goes from crumbly to doughy, like so:
Then press that into a pan (I used a standard 4×9 bread pan – if you double the recipe I think an 8×8 would be perfect) and put the frosting ingredients into the food processor (if you are using the frosting). I thought it tasted a little too avocado-ey so I added maybe another 1/2 tsp of agave, but you could just start with a little less avocado. Once it chilled I couldn't even taste the avocado anymore anyway. I made a double batch of the frosting because one seemed like not enough, but that was too much. Maybe 1.5 batches would be good but in retrospect I think one might have been fine. Let's not go crazy here!
Spread the frosting over the brownie mix in the pan and chill for at least an hour. I think a few hours is even better if you've got the time – these last a couple days in the fridge and just seem to get better and better. If you want to add some shredded coconut or chopped walnuts as a topping I recommend doing it before you chill them so the topping kind of sticks to the frosting a bit better.
After they have chilled, cut them into squares (I got 8 out of this recipe) and enjoy them with a glass of almond milk, or better yet red wine!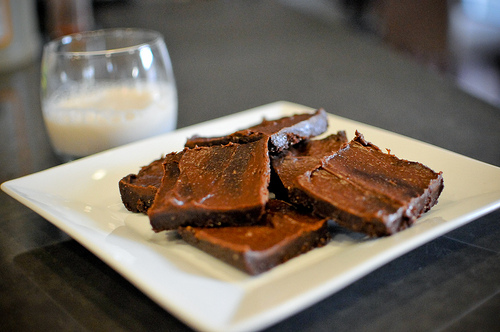 Ingredients
1

cup

ground pecans

1

cup

dates

not soaked

¼

heaping cup cocoa powder

1

heaping teaspoon agave nectar

optional
Instructions
Process the brownie ingredients until they form a slightly shiny dough. Press into a pan or bowl.

Refrigerate for at least ten minutes, or up to several hours. Slice and enjoy!