Happy Easter everyone! These carrot cake macaroons are a fun way to make an Easter treat (or, you know, don't make them look like chicks and it's pretty much just a tasty dessert any time).
They are a spin-off of my blonde macaroons recipe, with a carroty-cinnamony twist. If you do want to make them look like chicks, I used almond slivers for the beaks, pecans sliced in half for the feet, and bits of raisin for the eyes. Wait until they have set for 20 minutes to put the beaks and eyes on or the macaroons will fall apart on you.
Enjoy the rest of your weekend! Anyone doing anything exciting today? Any favorite vegan Easter recipes?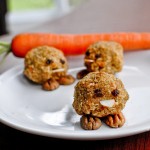 Happy Easter!
Vegan, Gluten Free, Refined Sugar Free, Soy Free

Click stars below to rate, or leave a full review in the comments

Print Rate it Now Pin Recipe
Ingredients
2 2/3 cups raw unsweetened, shredded coconut (to make the coconut butter – you could also just use 1 cup of store-bought coconut butter)
An additional 2 cups shredded coconut
1/2 cup shredded carrot
1 tsp cinnamon
3/4 c. pure maple syrup I used grade B, and I don't feel like you really taste the maple syrup flavor very much
2.5 tsp Vanilla Extract
3/4 teaspoon salt
Instructions
Preheat oven to 300 degrees. Blend 2 2/3 cups shredded coconut in a blender or food processor until it turns buttery and smooth – this may take about 10 minutes and you'll want to keep scraping the sides of the bowl. Once you've got your coconut butter, add it into a large bowl along with the additional shredded coconut, carrot, cinnamon, maple syrup, vanilla, and salt. Mix well. Scoop 1-2 tablespoon sized balls onto a nonstick or parchment lined cookie sheet. Bake for about 25-28 minutes until the bottoms are a nice golden brown. Remove from oven and let sit for 25 minutes to allow the cookies to set (this is important - they will crumble apart if you mess with them before they've set for a bit). Use nuts and raisins to make them look like little chickies if you're feeling whimsical. Serve or refrigerate for up to 5 days - I actually think they are even better after a day or so.