When I ate eggs, I used to love to make my own mayo — it's so much fresher and tastier than store bought. Now that I don't eat eggs anymore, I was at a bit of a loss for how to replace mayonnaise. I mean, it's kind of egg dependent, right? I'm sure Vegenaise is a great product but I try not to buy very many processed foods, vegan or not, so I set out to make my own.
And wow, this was amazing! I honestly did not expect it to work, but it totally did! You just put soy milk (I'm not sure if it works with rice or other 'milks' yet, I've only tried it with soy so far) and oil (I used canola but you can also use safflower or grapeseed or probably most neutral oils) in a food processor and blend it up.
It starts out as a sort of gross looking oil and milk blend, but as soon as you turn on the blender it puffs right up into mayonnaise! Add a splash of lemon juice and you're really in business. It's actually a lot easier than regular mayo even because you don't have to slowly drizzle in the oil to get it to emulsify.
Not only can you customize it by choosing what type of oil you want, but this stuff is way cheaper than the store bought variety. And as a special bonus I am also going to tell you how to make a spicy chipotle mayo while you're at it: add chipotles 🙂
This stuff was amazing on portobello burgers. The regular mayo would work perfectly for almost anything you'd use normal mayonnaise for – I'm sure I'll be coming up with a few salads and other things that incorporate it soon. It's vegan but just like regular mayo it's pretty much made up entirely of oil, so I have to recommend using it sparingly if you're trying to keep your diet low fat.
I love when kitchen science works!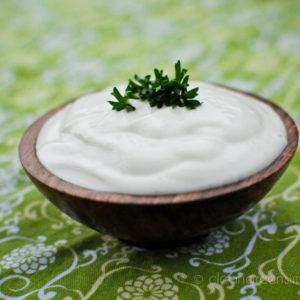 Simple Vegan Mayo
A creamy vegan mayo recipe that's cheaper, tastier, and healthier than store-bought. Gluten free, raw, and sugar free.
Click stars below to rate, or leave a full review in the comments
Print
Rate it Now
Pin Recipe
Ingredients
1

cup

canola

safflower, or grapeseed oil (if you use grapeseed your mayo might be greenish. Just a heads up.)

½

cup

soy milk

¾

tsp

salt

to taste

1 - 1 ½

tsp

lemon juice

or apple cider vinegar

Pinch

ground mustard

optional, you could probably also use a 1/4 tsp prepared mustard
Instructions
Combine all ingredients except lemon juice (or vinegar) in the food processor or blender, blending until smooth.

Slowly add the lemon juice or vinegar until the mixture thickens and tastes as desired. Add salt and mustard to taste.