I looooove nachos. I like pretty much all mexican food and I really like chips and dip, so nachos are a wonderful thing in my book. "Healthy" is generally not a word that springs readily to mind when contemplating nachos, but I think this recipe is as close as you're going to get to combining the two concepts.
In converting regular nachos to suit my diet I had several challenges, so let's start from the bottom and work our way up. First – tortilla chips are usually fried in lots of oil. Ick. Solution: bake my own from corn tortillas.


Get some nice organic corn tortillas (mine are also made with sprouted corn, bonus!) and cut them into triangles. Spread them out on a cookie sheet or two like so:


No need to use any oil at all, really. You can sprinkle salt on them if you want, but since I'm going to be covering them with nacho toppings even that isn't really necessary. Bake at 350 for about 12-15 minutes until they are crispy and just slightly starting to brown.
Next, instead of meat let's use beans. You could also use walnut meat (I'll post that recipe soon), but in this instance I went with my Defried Beans recipe, about a cup or so per person. Then we add some salsa. You could use store bought but I usually just chop up a couple of tomatoes and some cilantro, throw in a dash of salt, and call it a day.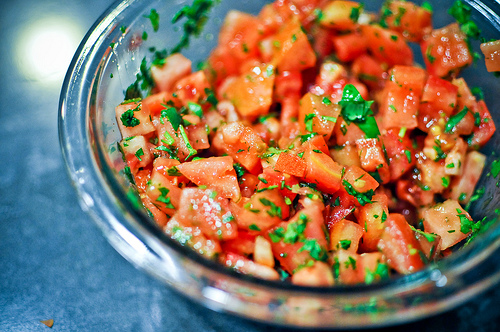 At almost every step of this recipe you could easily add more ingredients to suit your personal tastes, but of course that also adds a bit more time & effort. On this particular occasion I got home just 20 minutes before NBC's Thursday night lineup started so I went with quick and simple.
For the cheese, I took my original inspiration from the Veganomicon
"Cheezy Sauce" recipe and proceeded to eliminate steps and ingredients until what I now make is a sad sad excuse for that recipe that the authors would surely disavow any association to. But it's super quick and I like it, so it's what I use! You do have to kind of like the taste of nutritional yeast (fondly referred to in our house as Nooch, hence the name of this dish being "Noochos") but it's not overpowering by any means. You could of course use any number of vegan cheese sauce recipes. One of these days I will do a side by side comparison of several of them, because I'm willing to make big sacrifices in the name of science. That's just how I am.
Moving on. Mix some whole wheat flour into some water, add a bit of nooch, and boil it until it thickens.
When I say I simplified something, I'm not messing around.
The last step is to mash up an avocado and call it guacamole. Or you could make actual guacamole if you're fancy. Guess which one I did?
Once you have all your stuff ready (took me about 15 minutes because I already had the beans ready) just go ahead and assemble your Noochos to your liking. Then enjoy the relatively novel experience of eating a big plate of nachos and not wanting to curl up and die for a couple hours afterwards!
Anyone have any good suggestions for other easy toppings we could add to these?
Ingredients:
Serves 2, prep time approx. 20 minutes if you made the beans in advance.
2 cups Defried Beans
8-10 corn tortillas
2 or 3 tomatoes, chopped
1/4 c. fresh cilantro, chopped
1-2 avocados
2 Tbsp whole wheat flour (to make this gluten free you could use arrowroot or cornstarch or pretty much any thickening agent)
1/4 c. nutritional yeast
water
salt
Directions:
Preheat oven to 350 degrees. Cut tortillas into chip-shaped slices and spread into a single layer on 2 cookie sheets. Once oven is preheated, bake for 10-15 minutes until crispy and just slightly golden brown.
Chop tomatoes and cilantro and mix together in a medium bowl with about 1/2 tsp of salt.
Mash avocado in a small bowl.
In a small pot, whisk 2 Tbsp flour (or other thickener) into 1/2 c. water until smooth. Add 1/4 c. nutritional yeast and heat on medium, whisking constantly, until mixture thickens – 3 minutes or so. If it doesn't thicken you can add a bit more nutritional yeast.
Once chips are finished baking, spread them out on a plate and top with beans, nutritional yeast sauce, tomato mixture, and avocado in whatever proportions strike you as optimally delicious.