Want to know how you ripen a banana in 30 minutes? How about 2 minutes? Believe it or not, it can be done.
For the baking enthusiasts out there, this likely comes as good news. After all, there's nothing worse than trying to throw together some banana bread, banana muffins, or other healthy baked good only to realize you don't have any overripe bananas.
Below, we'll show you how to ripen yellow bananas in under 30 minutes so you can use them in your favorite recipe. We'll also give you some tips for hastening the ripening process if you have stubborn green bananas you want to use or eat.
How Does Fruit Ripen?
Before we jump into the methods for ripening bananas, let's take a quick look at how fruit ripening happens naturally.
Fruits like bananas undergo expedited ripening due to an increase in ethylene gas, a natural plant hormone. Ethylene causes the starches in fruit to break down and turn into simple sugars. At the same time, this hormone causes changes in the cell walls of the fruit that causes bananas to feel softer.
As these two changes occur, the chlorophyll that makes bananas green begins to break down. And the amount of carotenoid pigments, which are responsible for the yellow color of bananas, increases. As the ethylene concentration continues to increase, these color pigments begin to break down and turn brown.
Mature green bananas off the tree typically take about 5 days to ripen to the soft yellow fruit we like to eat. It will take a few extra days to turn them into the brown, mushy bananas preferred for baking. Luckily, there are ways we can use the natural components of ripening to ripen bananas faster.
3 Ways to Get Ripe Bananas Fast
Ethylene takes time to work its magic on bananas. But you can easily replicate much of what this hormone does by exposing bananas to heat.
At high heat, the starches in bananas break down into simple sugars in much the same way they do during ripening. The higher temperatures also cause cell walls to denature, causing the banana to soften.
High temperatures also lead to the oxidation of color pigments, which means heating a banana will turn it brown.
These quick ripening methods can turn a yellow banana into a soft, sweet, brown banana in a matter of minutes. They aren't great options for ripening bananas so you can eat them plain, but they work wonders for creating bananas to bake with.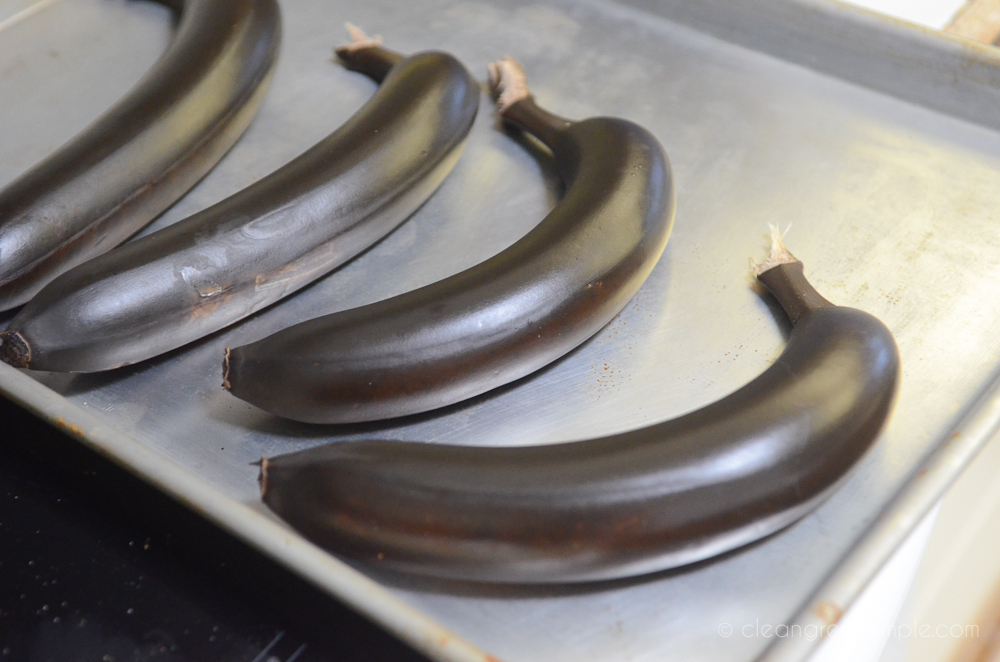 In the Oven – 30 Minutes
Using the oven to quickly ripen a bunch of bananas is the best method, in my opinion. It takes a little longer, but it results in uniformly soft bananas with a sweet flavor that taste like they've been naturally overripened.
Start by laying each unpeeled banana flat on a baking sheet. It helps to line the baking sheet with aluminum foil or a silicone baking mat just in case they get too hot and pop out of their peels.
Place the baking sheet in the oven at 300 degrees.
Cook for about 15 to 30 minutes. You'll know the bananas are done when the peels are completely black and shiny.
For printable instructions, check out the recipe card at the end of this article.
In an Air Fryer – 10 Minutes
An air fryer is another convenient way to over-ripen a yellow banana. The results are fairly uniform, but it can take some experimenting to find the right cooking time to get to the level of softness you desire.
Line your air fryer with parchment paper or tin foil.
Place the unpeeled bananas inside.
Cook at 300 degrees.
Remove after 8 to 10 minutes, or once the peels have turned black and shiny.
In the Microwave – 2 Minutes
The microwave is by far the fastest method for overripening bananas. But it also yields the least desirable results. Because microwaves create hot spots, your bananas will likely be softer and sweeter in some spots compared to others. But, for quickly softening bananas for baking, the microwave works well enough.
Poke a few sets of holes in the banana peel using a fork (just as you would a baked potato).
Place the banana on a paper towel in the microwave.
Microwave on low power for 30 seconds.
Flip the banana and continue microwaving in 30-second intervals.
Your banana is ready when the skin has turned black and shiny (it usually takes between 30 seconds and 2 minutes).
Tricks to Ripen Green Bananas
The above methods work well for bananas that have already started the ripening process and are mostly yellow. This is because green bananas contain too many complex starches to be properly sweetened through heat exposure. But don't fret, there are some simple things you can do to help green bananas ripen faster.
The methods below will work whether you have a partially unripe banana or one that looks more like a granny smith apple than a yellow sunrise. What will differ is how long the process will take.
A banana that was picked after ethylene production started will ripen within a day or two using these methods. But bananas picked too early may take a few days before they begin to shift from green to yellowish-brown.
1. Keep Them Together
Each banana in your banana bunch puts off its own ripening hormones. By keeping them together, you increase how much ethylene gas each is exposed to.
Because the amount of exposure is directly related to how fast ripening happens, the more ethylene the better!
2. Put Them Someplace Warm
Bananas are tropical fruits that have evolved to ripen in time with warmer, more humid periods of the year. They respond to higher temperatures by producing more ethylene to hasten the ripening process. But too much heat can damage that gaseous hormone and halt ripening.
The sweet spot is around 68 degrees.
If your fruit bowl tends to be a little cooler than this, try putting your bananas on top of your fridge to warm them up. You can also set them in a sunny window or above a heat vent if your house is extra cool.
3. Put Them in a Bag
The gas responsible for ripening fruits tends to dissipate into the environment as it's released. By putting your bananas in a bag, you can trap much of that gas. Since more ethylene equals faster ripening, this can quickly turn green bananas yellow.
Using a paper bag to do this helps trap ethylene without creating too much humidity (which can cause the bananas to rot or mold).
Place your banana bunch in a brown paper bag, roll the top down, then place it in a warm spot for a day or two. Be sure to check their progress frequently. Bananas putting off a lot of ethylene can go from unripe to overripe in less than a day.
4. Give Them a Ripening Buddy
If you have a lone banana in need of ripening or really green bananas that aren't making much ethylene, giving them some moral support can help. By this, I mean placing a ripe fruit in the paper bag with them.
All climacteric fruits produce large amounts of ethylene during ripening. Bananas are part of this category, as are avocados, apples, tomatoes, peaches, and kiwis. If you have a ripe one of any of these fruits on hand, stick it in the bag with your bananas.
Check the bag frequently to judge ripeness. Once the bananas begin to turn yellow, you can remove the buddy fruit and eat it. If you leave it in too much longer than this, it's likely to get overripe.
That's good for your bananas, but not so good for the fruit that's already ripe!
Printable Quick Banana Ripening Instructions
If you have a few minutes to spare in the pursuit of ripening your bananas for baking, we recommend using the oven. This method is simple, fairly quick, and offers the best results.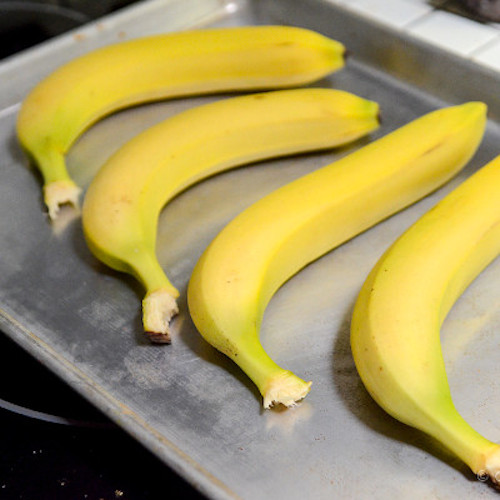 How to Quickly Ripen Bananas in the Oven
Have an urge to make something requiring ripe bananas (or actually overripe bananas), like banana bread, banana muffins, etc. but you don't have any overripe bananas? Here's a simple solution to ripen bananas quickly in the oven.
Click stars below to rate, or leave a full review in the comments
Print
Pin Recipe
Instructions
Preheat oven at 300 degrees

Place banana(s) on a baking sheet (with peels on) and bake for 30 minutes

Bananas are done when peels are black and the inside is soft
Notes
Nutrition information is an estimate automatically calculated by the Spoonacular food database and based on a single banana.
Nutrition
Calories:
105
kcal
|
Carbohydrates:
27
g
|
Protein:
1
g
|
Fat:
1
g
|
Saturated Fat:
1
g
|
Sodium:
1
mg
|
Potassium:
422
mg
|
Fiber:
3
g
|
Sugar:
14
g
|
Vitamin A:
76
IU
|
Vitamin C:
10
mg
|
Iron:
1
mg