If you've got a coffee habit, you may be curious about how to make your morning ritual a little bit healthier.
Ryze Mushroom Coffee is one of the most popular products to capitalize on the mushroom coffee trend. Mushroom coffees or teas are drink mixes that contain a blend of functional, adaptogenic mushrooms — which may help improve your focus, productivity, digestion, immunity, or overall health — and morning stand-bys like coffee or tea.
Ryze has received rave reviews and is one of the most highly-rated mushroom coffees you can buy. Many people are pleased with its organic ingredients and the long, impressive list of potential benefits of the mushrooms it contains.
I tried it myself and detailed my experience — along with what you should know about Ryze before buying — in this comprehensive Ryze Superfoods review.
As always, be sure to consult your healthcare provider before adding Ryze or any other functional foods or dietary supplements to your routine.
Pros and Cons of Ryze Coffee
Pros:
Tastes good and mixes well
Half the caffeine of regular coffee
Reviews are overwhelmingly positive
Easy to edit or cancel subscription
Cons:
High-quality evidence for mushroom benefits is lacking
More expensive than regular coffee
Specific amounts of mushrooms aren't disclosed
What Is Ryze?
Ryze is a coffee alternative made with a combination of coffee, medium-chain triglyceride (MCT) oil, and a blend of mushrooms.
It was founded in 2020 by a duo who got the idea in their undergrad years at Harvard.
Like other popular mushroom coffee products, it may offer some benefits above regular coffee. The mushrooms it contains are considered "functional mushrooms" or adaptogens, meaning they may offer benefits related to brain health, stress, and immune function (1).
In addition to their mushroom coffee, Ryze Superfoods offers a coconut-based creamer and a Mushroom Matcha (green tea).
What Does It Taste Like? Our Ryze Taste Test
I've had many opportunities to try mushroom coffee products, so I was excited to try Ryze.
It was easy to place my order, and when I ordered, there was a promo offer for a free wooden spoon.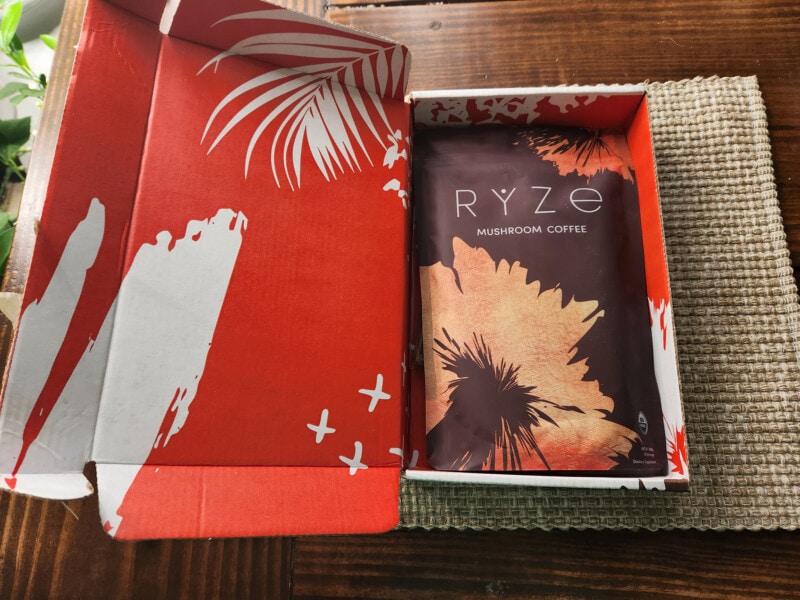 My order shipped quickly and took about six days to arrive.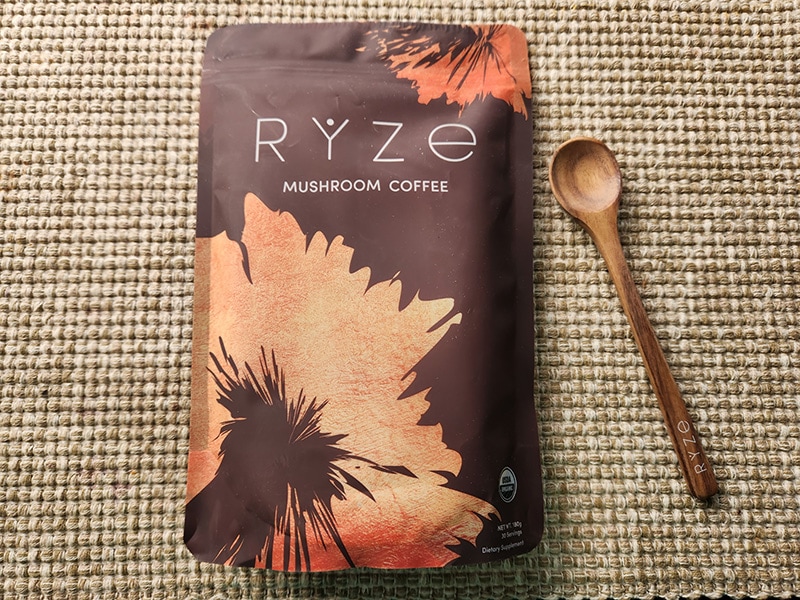 The instructions stated that it could be prepared hot or iced, so I tried it both ways. It mixes surprisingly well in both hot and cold water. There were no chunks or sediments at the bottom of the cup, even when I mixed it with just a spoon.
I prepared it hot and iced with a splash of my favorite creamer and maple syrup. It tastes like a dark roast instant coffee, with maybe a slight earthiness. There is absolutely no detectable mushroom taste to me.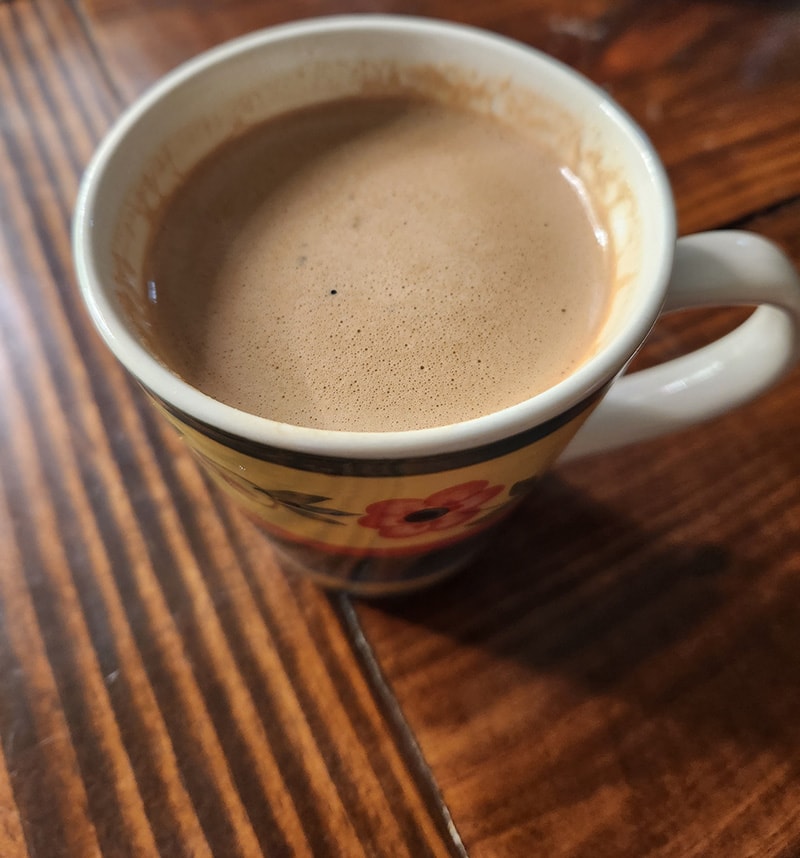 I enjoyed it. Since it has half the caffeine of a regular cup of coffee, I thought it was perfect for an afternoon energy boost, and I was impressed at how well it mixed in cold water.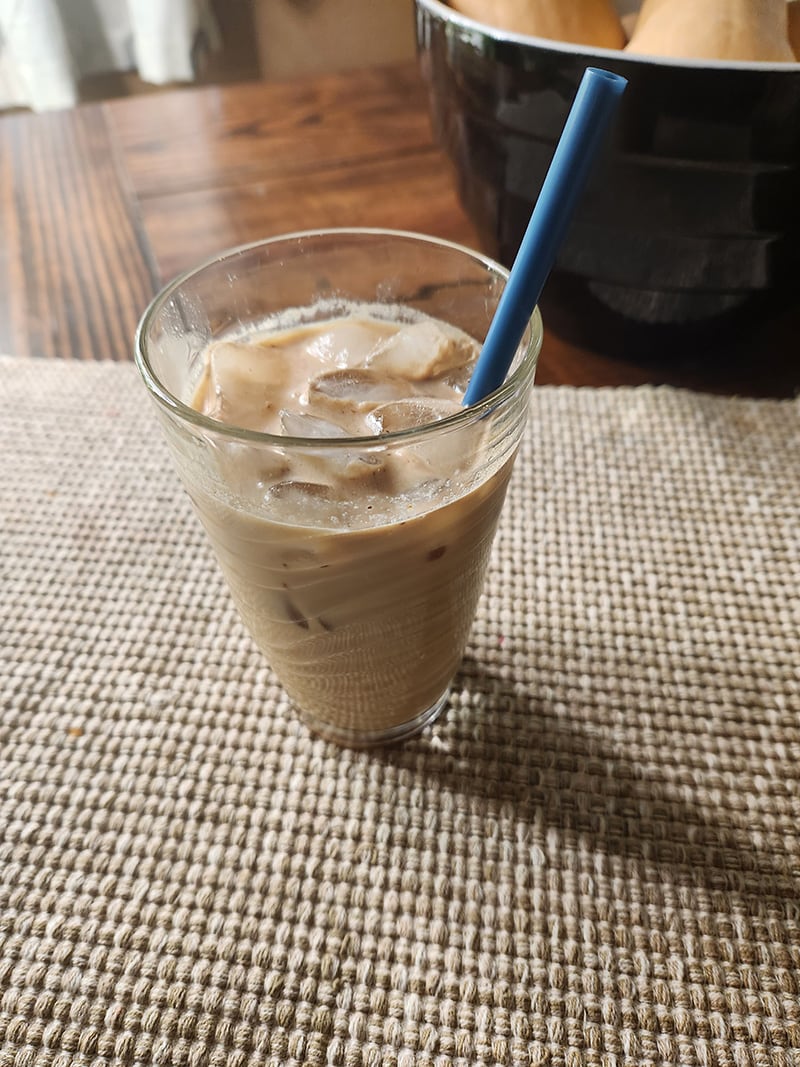 I can also see how it would be a great alternative to a regular cup of morning coffee, especially if you just drink one cup daily. If you're like me and you drink more than one cup, you'd need to order multiple bags per month.
Additionally, I can't say I noticed any health benefits from using it. Still, I imagine it would take several weeks to months of consistent use to experience any potential health benefits of Ryze.
It was also really easy to cancel my subscription on the Ryze website. I love coffee, and I can see myself becoming a repeat customer during future pregnancies since it is lower in caffeine than regular coffee but tastes much better than decaf.
Ryze Reviews
Ryze has primarily positive reviews. The Ryze Superfoods website contains over 16,000 reviews averaging 4.9 stars, and Ryze has over 800 reviews averaging 4.8 stars on Trustpilot.
Most negative reviews were related to subscription and billing issues, not the product itself.
Most reviewers were delighted with the product's taste. Many report feeling more focused, less bloated, and healthier when using Ryze.
Who Should Try Ryze?
Ryze may be a good fit for you if you identify with any of the following:
You're interested in adaptogens for brain health, digestion, immunity, or other potential health benefits.
You want to reduce your caffeine intake.
You want a healthier alternative to coffee or your other beverages of choice.
You want an easy way to add functional mushrooms to your diet.
You've tried other mushroom coffees but weren't impressed with their taste or how well they mixed.
You want an affordable mushroom coffee option.
Nutrition
One 1-tablespoon (6 gram) serving of Ryze contains:
Calories: 15
Fat: 1 gram
Carbohydrate: 1 gram
Fiber: 0 grams
Protein: 0 grams
Additionally, a serving contains 48 milligrams of caffeine, or about half as much caffeine as a standard cup of coffee.
And while the ingredients do naturally contain some vitamins and minerals, these are not detailed on the label. However, mushrooms are good sources of B vitamins, vitamin C, and antioxidants (2).
Ingredients and Benefits
Here's a brief overview of the ingredients in Ryze, their purported benefits, and what the research says.
Ryze Organic Mushroom Blend
The star ingredient in Ryze is the 2000 milligrams of Organic Mushroom Blend in each serving. It contains six mushrooms, each offering a different benefit according to the product packaging.
Cordyceps for Stamina
Although mushrooms from the genus Cordyceps may offer various benefits, one of the most interesting and useful ones is that they could help improve your stamina.
In one 2020 study, researchers found that Cordyceps mushrooms may improve exercise performance by helping your body produce more energy at the cellular level — neutralizing the effects of muscle fatigue to a small degree (3).
A similar effect was found in a 2019 study, in which 14 adults took a combination of Cordyceps mushrooms and the adaptogenic herb Rhodiola rosea daily for 8 weeks (4).
Lion's Mane for Focus
As far as mushrooms go, Lion's Mane (Hericium erinaceus) is a fairly well-researched one. There have been many studies on the effects of Lion's Mane mushroom on depression, anxiety, focus and concentration, and brain health.
In a 2019 study, researchers found that taking Lion's Mane mushroom daily for 12 weeks helped improve memory and learning, and prevented brain deterioration (5).
Test-tube and animal studies have also shown that Lion's Mane mushroom can improve nerve growth factor levels, which could help maintain the health of your brain cells, and prevent neurodegeneration (6, 7, 8).
Reishi for Stress
Reishi, or Ganoderma lucidum, is well known for its effects on mood and mental health and has been used in traditional herbal medicine for centuries.
In one 2020 study, women with fibromyalgia who took 6 grams of Reishi mushroom daily for six weeks had slightly improved levels of happiness and life satisfaction, and reduced depression compared to a control group (9).
Animal studies have also found that Reishi mushroom reduces anxious behaviors and provides antidepressant-like effects in mice (10, 11, 12).
Shiitake for Immune Health
Shiitake mushrooms (Lentinula edodes), which are commonly used for cooking, may provide some immune health benefits.
In a 2015 study, 52 healthy adults ate 5-10 grams of shiitake mushrooms daily for four weeks. Researchers found that, after the study, their bodies produced more specialized immune cells that were more effective. The participants also had reduced levels of inflammation and improved gut immunity (13).
In another study, 42 healthy older adults were given 2.5 grams of Shiitake mushroom beta-glucan, a type of fiber, per day. Researchers found that they had increased B-cells, which is a specialized type of immune cell that creates antibodies in response to pathogens (14).
Turkey Tail for Digestion
Turkey Tail mushrooms, or Trametes versicolor, contains a type of fiber known as a polysaccharopeptide, which serves as a food source (or a prebiotic) for the healthy bacteria in the gut.
In one study, researchers found that daily supplementation with Turkey Tail polysaccharopeptides supported healthy microbiome diversity and stability (15).
However, more research is needed.
King Trumpet for Inflammation
King Trumpet mushrooms (Pleurotus eryngii), a type of oyster mushroom commonly used in cooking, may provide some anti-inflammatory effects thanks to the polysaccharides they contain.
Animal and test-tube studies have shown that extracts from King Trumpet mushrooms could help reduce levels of inflammatory markers (16, 17).
However, there are not a lot of high-quality human studies to support this yet.
Other Ingredients
Ryze also contains a handful of other ingredients.
The first is organic coffee, which provides Ryze's caffeine and familiar coffee flavor. Coffee may boost energy and focus levels. Additionally, coffee contains antioxidants such as chlorogenic acid, which may offer health benefits above and beyond just its caffeine content (18, 19).
Coffee has also been linked to longevity and better overall health (20).
MCT oil powder and coconut milk powder round out Ryze's ingredient list. They help improve the flavor and provide Ryze's slightly creamy texture.
Is Ryze Effective?
There is some research to support all of the mushrooms in Ryze for the purposes they claim, but it's important to remember a few things as you consider buying the product.
Consistency: To see any benefits, you'll probably have to take the product consistently for several weeks to months — and continue taking it as long as you want to experience the benefits.
Research quality: Although there is some research to support the mushrooms in Ryze, most of it comes from animal or test tube studies — considered low-quality evidence when compared to human studies. Even the human studies for these mushrooms are very small, and many weren't true randomized controlled trials — meaning we don't know if the effects noted in the study were actually because of the mushrooms.
Dosage: In many of the human studies on these mushrooms, dosages of 5-10 grams of mushroom or mushroom extract were commonplace. However, Ryze only contains 2 grams total of all six of these mushrooms combined, and they don't disclose how much of each mushroom the blend contains. Ryze may not provide a high enough dose to be effective.
Form: Finally, in some of these studies, a specific extract from a mushroom was used — such as a polysaccharide. Ryze contains the whole mushroom itself, which may not be as potent as a specific compound extracted from the mushroom.
Safety and Potential Downsides of Ryze
Although Ryze is safe for most people, some people should be cautious when using Ryze.
If you're sensitive to caffeine, Ryze may not be a good fit for you.
Even if you're not caffeine-sensitive, having 400 mg or more of caffeine per day may cause unpleasant side effects like jitters, insomnia, and anxiety. One cup of Ryze contains 48 mg of caffeine, but it's important to consider other caffeine sources you may ingest, too — such as soda, tea, and regular coffee (21).
Likewise, there is still little known about the safety of the mushrooms in Ryze for certain health conditions or people taking certain medications. Some mushroom extracts may interfere with blood-thinning medications (22).
For these reasons, you should speak to your healthcare provider before starting Ryze if you have any existing medical problems or if you're taking any prescription medications.
Finally, although Ryze is safe during pregnancy, it's a good idea to speak to your healthcare provider before using it if you're pregnant or breastfeeding.
Cost, Shipping, and Subscription Options
Ryze regularly costs $45 per bag, but new subscribers pay just $30 for their first 30-serving bag. Recurring shipments receive 20% off the regular price, costing $36 each.
You can also make bulk purchases of up to 3 bags at a time to save more money if you like the product, if you drink several cups per day, or if multiple household members are drinking Ryze in your home.
Shipping is free on all orders.
It's easy to cancel or change your subscription directly on the Ryze website, too. If you don't mind the higher price and don't want to lock into a subscription, you can also buy without subscribing.
Additionally, Ryze offers their coconut milk-based creamer and a Mushroom Matcha (green tea) that is slightly more expensive than their Mushroom Coffee.
How to Prepare Ryze
According to the instructions on the package, you can prepare Ryze using one tablespoon of powder mixed into eight to ten ounces of hot or cold water. You can have it iced, cold, or hot, and you can also use liquids other than water — such as milk or plant-based milk. Additionally, adding creamer and sweetener can make the taste more acceptable, and Ryze offers a coconut milk-based creamer for sale on their website.
The Ryze blog also features several recipes utilizing Ryze for a variety of drinks and foods — like a white chocolate mushroom frappe, mushroom coffee pancakes, and breakfast bars.
Alternatives
Here's how some other popular mushroom coffees and drinks compare to Ryze.
MUD/WTR is one of the most well-known "mushroom coffees" around, but it contains no coffee. It's a low-caffeine mushroom blend with a chai tea base, marketed as a coffee alternative.
It may be a better fit for you if you want a nearly caffeine-free option or one that doesn't contain coffee at all.
However, it's a bit more expensive than Ryze and other mushroom coffees — costing $50 for a 30-day supply (or $40 for subscribers).
Rasa is a solid alternative to Ryze, particularly if you like variety in your chosen flavors. Rasa offers versions that contain coffee and that are coffee-free, as well as varieties such as Golden Chai, Cacao, and Spicy Rose.
Their adaptogenic drinks don't just contain mushrooms, though. They are made with a wide variety of herbal ingredients, including a handful of functional mushrooms.
At $39.99 for a 30-day supply (or $31.99 if you subscribe), the price is comparable to Ryze.
Four Sigmatic offers mushroom coffee mixes and ground or whole bean mushroom coffee — making it a great alternative if making coffee is an important part of your morning ritual.
They have a few different blends containing just one or two mushrooms, so you can choose which appeals to you best.
The price is comparable to other mushroom coffees on the market at $20 for a 16-serving supply ($16 if you subscribe).
Is Ryze Mushroom Coffee Worth It?
As a registered dietitian, my professional opinion is that mushroom coffee's benefits are a little bit overhyped.
Still, if you're looking for some small tweaks to your routine that may help you be healthier or more productive, Ryze may be a good choice.
It tastes more like coffee than some of the other mushroom coffee I've tried. It also mixes easily, so you can be flexible with how you prepare it — using cold or hot water, or having it on ice.
Replacing regular coffee with Ryze is also a great way to slash your caffeine intake since it contains half the caffeine of a standard cup of coffee.
If you decide to purchase, remember to be consistent with it, and don't expect it to revolutionize your health. It can, however, be a smart and helpful addition to a healthy routine.
FAQ
Does mushroom coffee do anything?
Mushroom coffee may offer some benefits, depending on which mushrooms are included. These benefits include reducing stress and fatigue, improving energy levels, boosting immune health, and supporting healthy digestion.
However, it's important to remember that these benefits are likely to be small, and probably will only arise from consistent use of mushroom coffee over weeks or months.
What are the side effects of mushroom coffee?
Mushroom coffees that contain caffeine may have some side effects, particularly if you're consuming a large quantity of caffeine between mushroom coffee and other caffeinated beverages. These include jitters, anxiety, and digestive problems (21).
Additionally, the anti-inflammatory potential of some mushrooms may present a problem for people taking blood thinners. Be sure to speak with your doctor before using mushroom coffee if you have any existing medical issues or are taking any medications.
Who shouldn't drink mushroom coffee?
People with certain health conditions or taking certain medications (such as blood thinning medications) should be cautious with mushroom coffee products and other herbal supplements and beverages. It's always a good idea to speak with a healthcare provider before adding a new product to your routine, especially one that contains functional ingredients.
Is mushroom coffee healthier than regular coffee?
Mushroom coffee isn't necessarily healthier than regular coffee. Regular coffee offers several potential health benefits, like improved longevity and overall health (20).
However, mushroom coffee may offer added benefits beyond what regular coffee does, thanks to the inclusion of functional mushrooms.
Is mushroom coffee good for weight loss?
Mushroom coffees like Ryze may offer small benefits for weight loss, especially since they contain caffeine and Cordyceps mushrooms — which may help you burn more energy (3, 23).
However, this effect is likely to be minuscule. To lose weight and keep it off successfully, you must decrease your calorie intake to slightly below your maintenance needs by eating fewer calories, exercising more, or (ideally) a combination of both.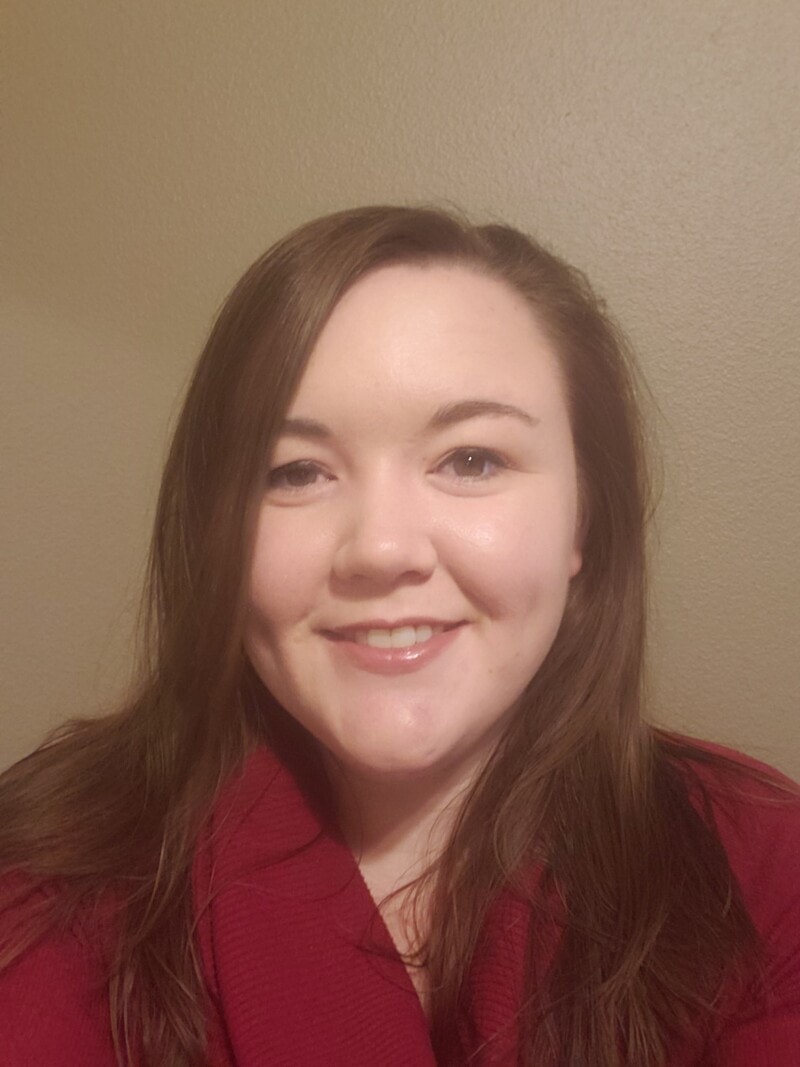 About the Author
SaVanna is a registered dietitian and freelance writer from Little Rock, Arkansas. Her professional interests include whole food diets and holistic nutrition, and she's written for many high profile media outlets and brands. She enjoys gardening, cooking, and weightlifting in her free time. Read more about SaVanna.