When you eat a vegan diet, it can be difficult to find a decent multivitamin. After all, it's not uncommon to find animal products in vitamin and mineral supplements. This might include ingredients like gelatin, magnesium stearate (from pork), caprylic acid (from cow, sheep, or goat's milk), and carmine (from beetles) — just to name a few.
That's why we've rounded up 10 of the best vegan multivitamins, according to ratings, reviews, and diversity of plant ingredients. Plus, many of these multivitamins are gluten-free and soy-free, so they're ideal for a wide range of dietary restrictions.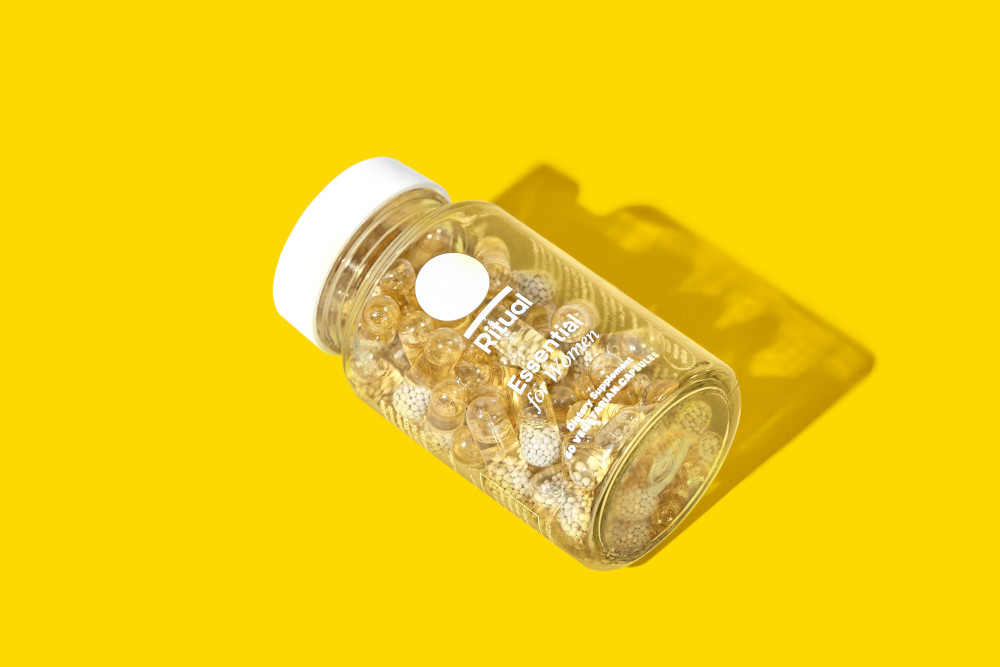 When Ritual founder Kat Schneider was pregnant and couldn't find a vitamin brand she trusted, she decided to build her own. The result is a no-nonsense, science-backed multivitamin for women that contains the nutrients you need, in bioavailable forms your body can use.
Customer's love that the capsules are easy to swallow, easy on the stomach, and taste and smell like mint. Ritual also offers prenatal and 50+ versions, and all are available as a convenient subscription service with free delivery that you can cancel any time.
The Supplements Studio Whole Food Multivitamin Plus is another great vegan multivitamin option that contains more than just vitamins. Providing complete multi-system support, this GMP certified supplement contains a 3-strain probiotic, CoQ10, Omega-3, Omega-6, and Turmeric, in addition to 25 vitamins and minerals derived from organic fruit and vegetable blends.
Customers report measurably improved blood work, mental clarity, and energy.
Essential vitamins, fiber, spirulina, and more come together in this whole food vegan multivitamin for women and men. The formula is designed to support multiple systems, including respiratory and digestive health.
"[These are] great vegan vitamins, the capsules are very convenient," says one Amazon review. "I have been so much energized ever since I started taking them."

Do you want to avoid swallowing pills altogether? MaryRuth's produces a popular plant-based vegan liquid multivitamin that lets you fuel up on essential nutrients with convenience and ease. In addition to the raspberry, MaryRuth's also offers flavors like Fruit Punch and Elderberry, as well as gummies, sprays, and children's vitamins.
The product has received extremely high praise from customers who have experienced marked improvements in the appearance of skin, hair, and nails, not to mention boosted mood and energy.
NATURELO's whole food vitamin features a powerful combination of vitamins, minerals, and organic fruit and veggie blends. It also has a digestive enzyme & probiotic blend, and features whole food plant based antioxidants. Reviewers consistently report increased energy and improved sense of well being after using this product.
NATURELO also offers specific formulations for women, men, and women over 50, as well as whole-food gummies for adults, so check out their other products if this one doesn't quite hit the mark.
If you're searching for a multi-tasking vegan supplement, look no further than Abundant Earth's Whole Food Multivitamin. In addition to essential vitamins and minerals, it also includes digestive enzymes and three strains of probiotics to support healthy digestion. It even has a mushroom blend!
And as an added bonus for vegans, this is one of the only multivitamins we found that contains the methylcobalamin form of B12, which is known for superior bioavailability.
For some folks, swallowing pills can be a nuisance. Luckily, Deva makes tiny vegan multivitamins, which can be a game changer for people who have trouble swallowing or simply don't like huge pills. These small tablets are also more travel-friendly, as they can comfortably fit in pill cases.
For a potent blend of nutrients designed to support women's health, check out Revly's women's multivitamin. It offers a diverse blend of vitamins, minerals, and herbs like maca root, astragalus, ginger, and turmeric.
"They don't have that horrible vitamin smell, and they make you feel great," says one Amazon customer.
Thanks to Genshai Farm's all-natural multivitamins, you can finally enjoy a supplement that's both vegan and eco-conscious. The formula includes 16 vitamins and minerals, each of which are available at 100% or higher.
The capsules are also smaller than most pills, so they're easy to swallow.
Established in 1971, Country Life is a reputable brand that many vegans have relied up for years to ensure you're filling any gaps in terms of nutrition. This multivitamin and mineral complex includes B12 (as well as the coenzyme B vitamins), Iron, and amino acids.
Trusted as this multi is, it rounds out the bottom of our list due to its strong smell and difficult to open cap. Still, it's a solid choice with a single formulation for men and women—one less bottle to take up space.
While these are some of the best vegan multivitamins on the market, don't forget that the best supplement is one that works for you. Remember, everyone's body is different, and we all have different requirements and needs.
We hope this list helps you find your new favorite vegan multivitamin!