Thanksgiving season is just around the corner, which means you should be busy planning an epic Thanksgiving menu. Catering to everyone's needs during the holidays can be tough, but it is do-able. We've rounded up the best vegan Thanksgiving dessert ideas out there. Let's take a look at 17 recipes that deserve a spot on your table this year (and don't miss our roundup of the best vegan Thanksgiving sides).
1. Classic Pumpkin Pie
Vegan | Prep time: 10 minutes, Bake: 1 hour, Refrigerate: 8 hours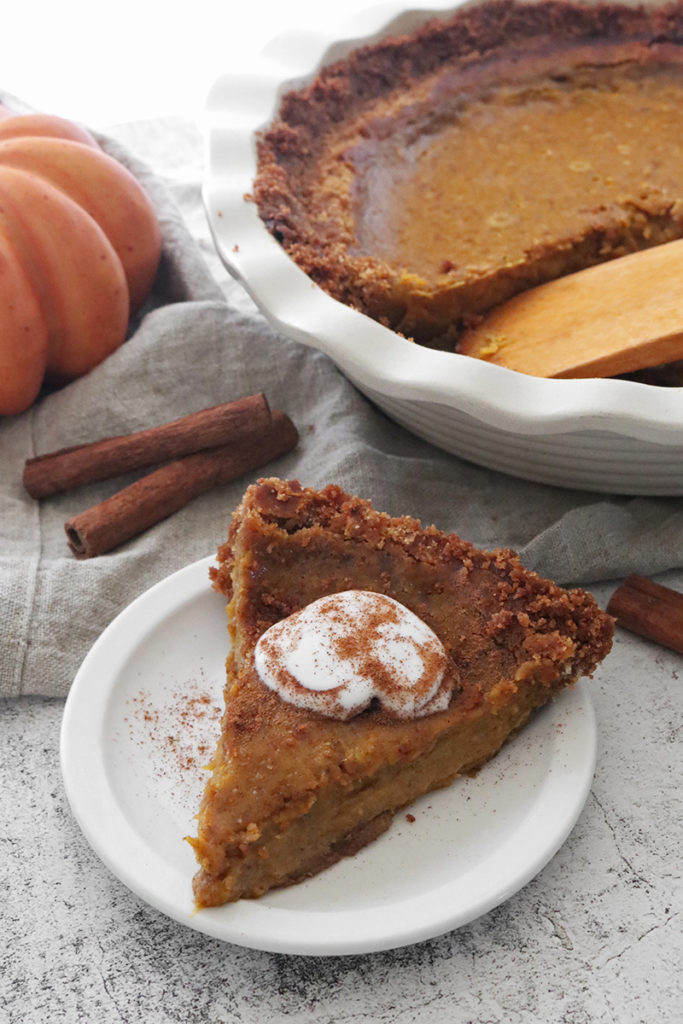 Mouth-wateringly good pumpkin pie is the show-stealer at any Thanksgiving dinner. If you can't imagine the holiday without this dessert, you'll be glad to know you can easily make a vegan-friendly version of the recipe at home. Using a super simple graham cracker base and a scrumptious coconut milk and pumpkin puree filling, our recipe tastes just like grandma used to make it.
2. Easy Pumpkin Cheesecake
Vegan | Prep time: 30 minutes, Bake time: 30 minutes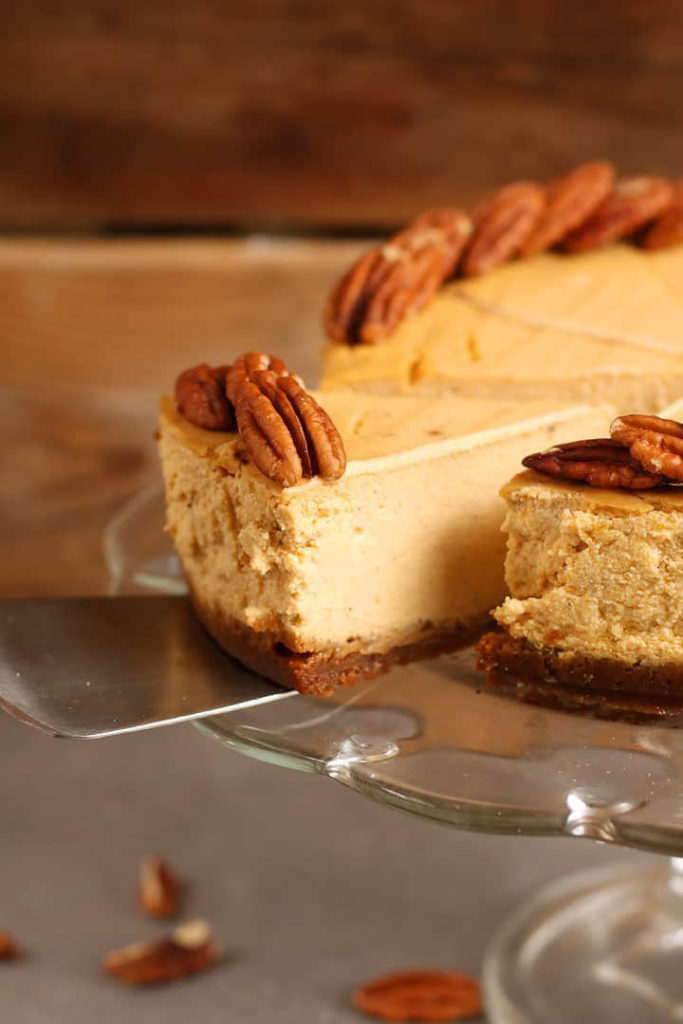 Using silken tofu for a creamy texture high levels of ingenuity in this next recipe from My Darling Vegan. This pumpkin cheesecake is one of the most delicious vegan Thanksgiving dessert recipes. Combining some of the most fragrant holiday spices—cinnamon, nutmeg, and ginger—this vegan cheesecake has a wonderfully flavorful result.
3. No-Bake Pumpkin Donuts with Cookie Butter Cup Stuffing
Vegan, Gluten-Free | Total time: 4 hours (Freeze time: 3 hours or overnight)
Stuffed with rich peanut butter, this no-bake pumpkin donuts recipe from When Sweet Becomes Healthy is entirely original. The author explains that they came upon this idea accidentally while making another recipe and wanted to give it a try. Featuring pumpkin puree, coconut butter, maple syrup, and spices, these donuts boast all the flavors you'd associate with Thanksgiving. Delicious.
4. Oatmeal Pumpkin Bars
Vegan, Gluten-Free, Refined Sugar-Free, Low-Fat, Soy-Free | Prep time: 10 minutes, Cook time: 40 minutes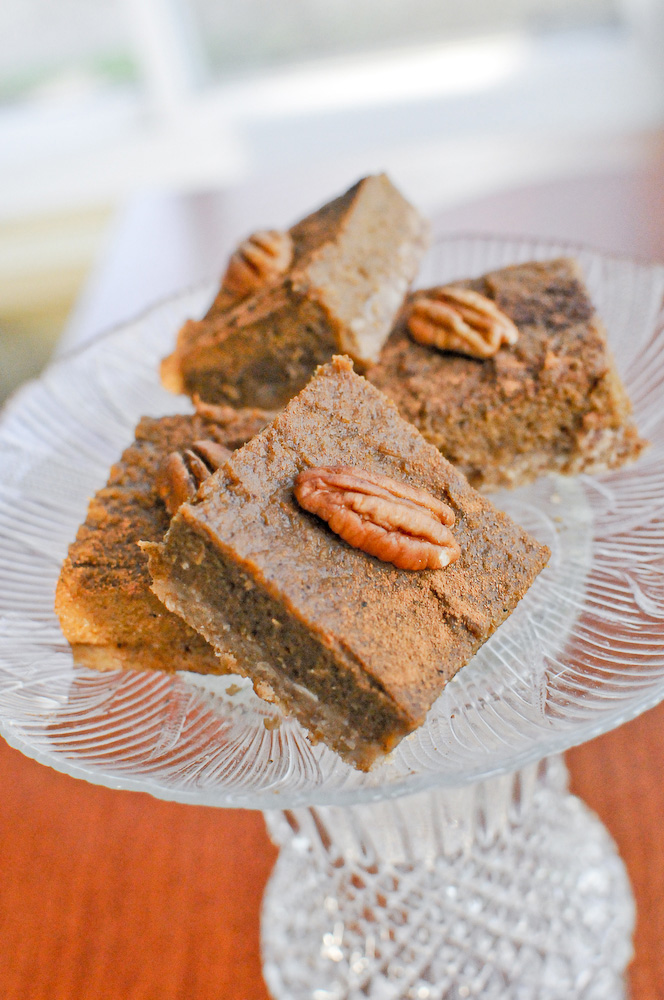 Whipping up a batch of oatmeal pumpkin bars takes less than an hour, making it one of the best last-minute vegan Thanksgiving dessert recipes. The undeniably chewy crust features both pecan nuts and amaranth flour, while the filling is a combination of pumpkin puree, spices, and even some agave nectar for sweetness.
5. Chocolate Sweet Potato Pie
Vegan, Gluten-Free | Prep time: 30 minutes, Cook time: 15 minutes, Chill time: 3 hours
Infusing rich, chocolatey goodness with the holiday flavor of sweet potato, this Chocolate Sweet Potato Pie recipe from Bree's Vegan Life has to be one of the tastiest vegan Thanksgiving dessert ideas. The creamy texture comes from the mashed sweet potato, while the cacao powder and coconut cream only serve to elevate the taste of the dish.
Bonus: You can make this dessert ahead of time as it lasts for up to a week in the fridge.
6. Apple Cinnamon Cheesecake
Vegan, Soy-Free, Gluten-Free (optional) | Prep time: 15 minutes, Cook time: 90 minutes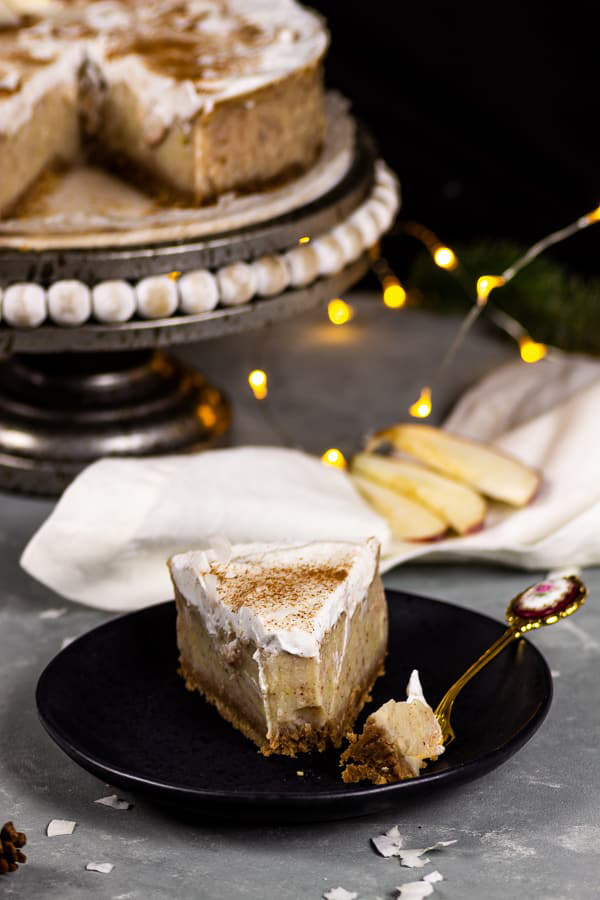 Next up, we've got a no-fuss apple cinnamon cheesecake recipe from Ve Eat Cook Bake that works perfectly for the holiday season. The crunchy Spekulatius cookie crust is filled with a vegan cheesecake mixture made from plant-based yogurt, spices, and cornstarch. Add in some fresh slices of apple and coconut sugar for an extra hit of sweet flavor. Plus, if you're on a gluten-free diet, there's an alteration of this recipe that works for you, too.
7. Frozen Banana Cream Pie
Vegan, Gluten-Free, Soy-Free, Refined Sugar-Free | Prep time: 20 minutes, Cook time: 1 hour and 30 minutes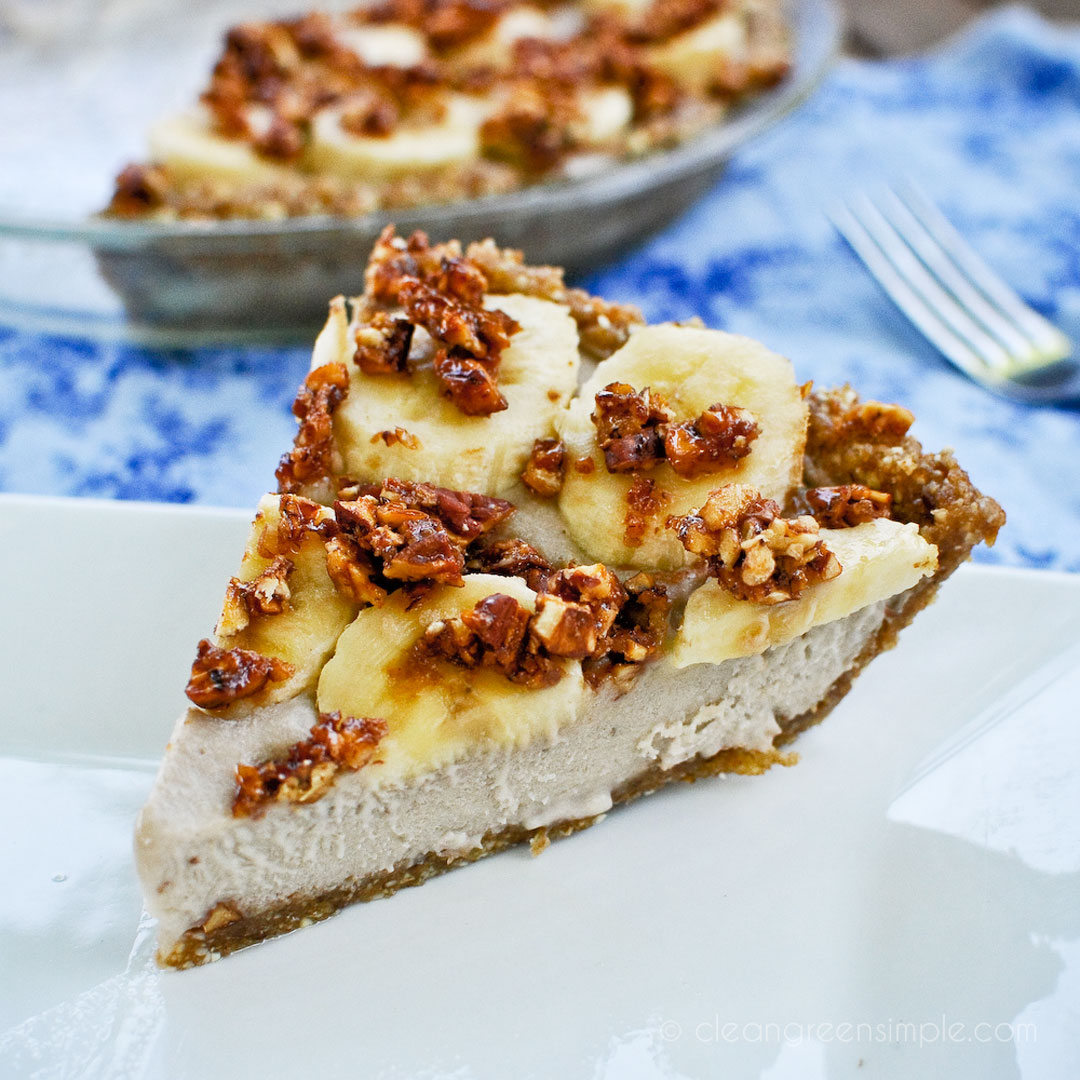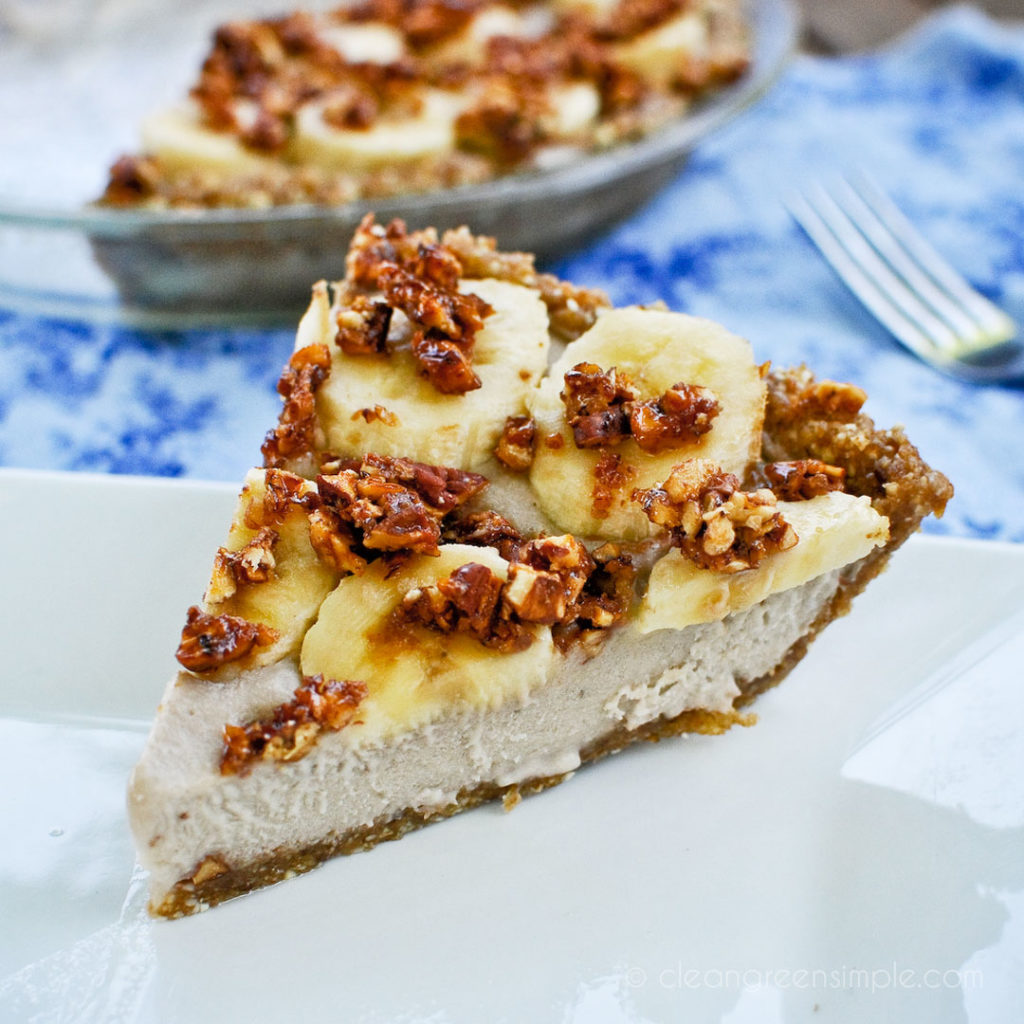 Frozen dessert heaven comes in the form of this banana cream pie recipe. This is a recipe you'll want to make time and time again. Including a sweet nutty base topped with a creamy filling of fresh bananas, coconut cream, and even a dash of bourbon, the dessert has oodles of rich flavor sure to wow your holiday guests.
8. Frosted Pumpkin Bars
Vegan, Gluten-Free | Prep time: 15 minutes, Bake time: 35-45 minutes
How about some delectably chewy pumpkin bars this holiday? Rather than using regular flour, this recipe from Pink Fortitude calls for a combination of cassava flour and almond flour. The cooking guide also uses vegan-alternatives, i.e. vegan egg replacer and vegan butter. The result is a yummy bar you can store in the fridge to keep things simple on Thanksgiving Day.
9. Pumpkin Hazelnut Strudel
Vegan | Prep time: 15 minutes, Bake time: 1 hour
This pumpkin hazelnut strudel from Vegan Family Recipes makes a flavorful alternative to the classic pumpkin pie recipe. This recipe includes a variety of spices (hello nutmeg!) and flaky puff pastry to create an unforgettable dessert. If you can't get your hands on a sugar pumpkin, you can alter it and use butternut squash instead.
10. Cranberry Orange Sticky Buns
Vegan | Prep time: 20 minutes, Rise time: 1-2 hours, Bake time: 35-45 minutes
This cranberry orange sticky buns recipe from Short Girl Tall Order tastes amazing, but is not for novice bakers. You'll need some technical baking ability to get the recipe right. If you've got that in your arsenal, though, this recipe is the ideal way to use up any extra cranberry sauce. The result is a sticky, sweet bun that will make your mouth water.
11. Carrot Cake with Frosting
Vegan, Gluten-Free, Oil-Free | Prep time: 15-20 minutes, Bake time: 1 hour
Certified by Plantricious, you can trust that this vegan carrot cake recipe from Nutriplant is 100% vegan-friendly. Using a combination of oat flour and coconut flour, the cake has a soft and moist texture that will keep you coming back for more. Serve a slice of this cake with some yummy frozen cranberries and grated carrot for a Thanksgiving sensation.
12. Cinnamon Apple Crumble
Vegan , Gluten-Free| Prep time: 15 minutes, Bake time: 1 hour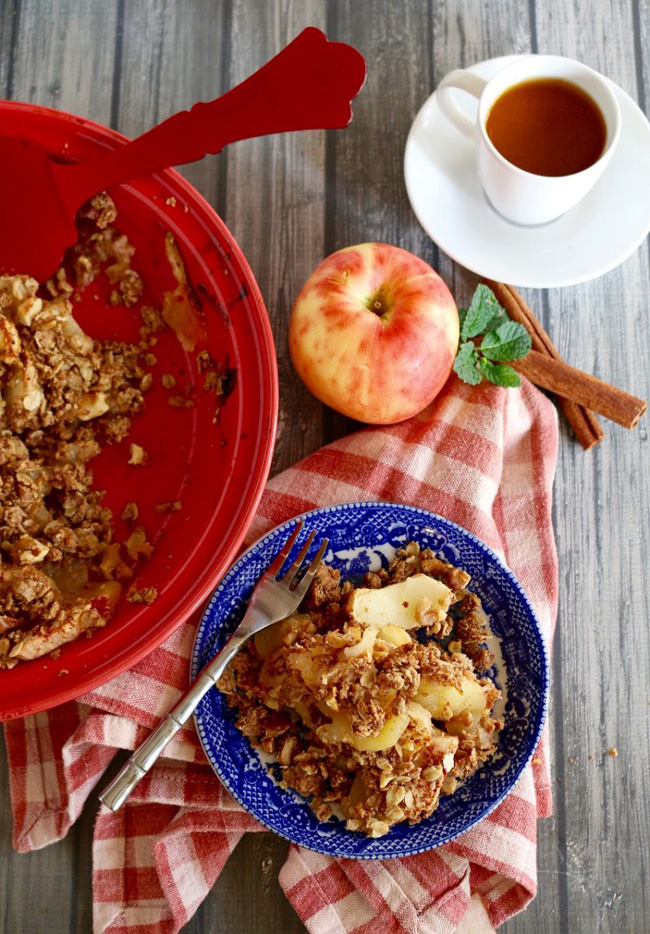 As crunchy as it is full of spiced flavor, this cinnamon apple crumble recipe from Sharon Palmer is a classic vegan Thanksgiving dessert idea. Boasting a surprising ingredient (spoiler: it's OJ!), fresh apples, and, of course, cinnamon, the dessert has a real holiday-inspired taste. Serve a slice of this dessert with some vegan vanilla ice cream for the best results.
13. Pumpkin Chocolate Chip Bars
Vegan, Gluten-Free, Oil-Free | Time: 30 minutes
Naturally sweet, but by no means lacking in taste, this pumpkin chocolate chip bars recipe from Bad to the Bowl has to be on your Thanksgiving list. You can choose with gluten-free flour you want to use for this recipe as most work well. The author promises that not only do these bars taste awesome but they are also a healthy snack. Win-win.
14. Maple Pecan Pie
Vegan, Gluten-Free | Prep time: 15 minutes, Bake time: 45 minutes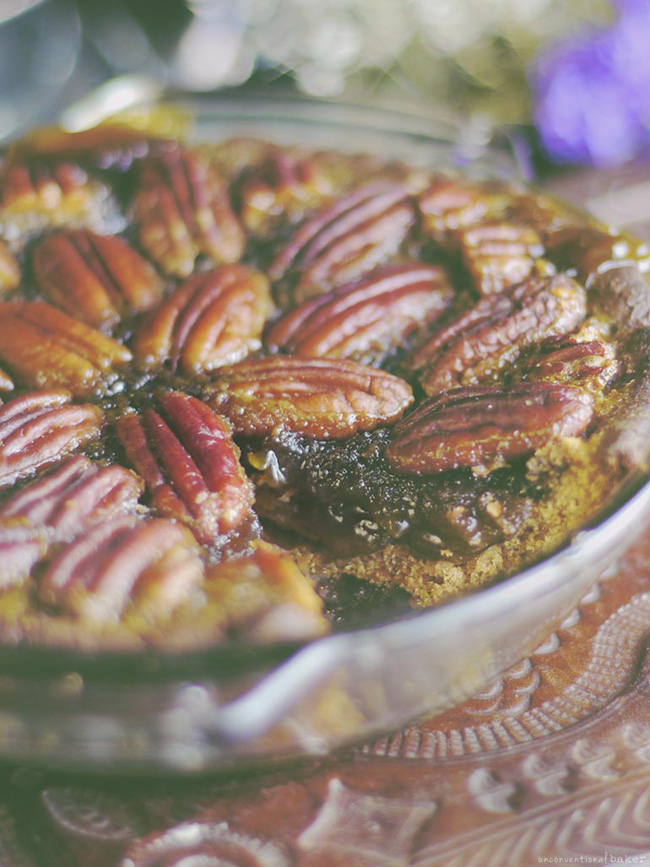 Here's another naturally flavored treat. This maple pecan pie recipe from Unconventional Baker is sweetened only with rich, enticing flavor of maple syrup. The gluten-free base is made using rice flour or ridiculously good pecan butter. Add that to a creamy and sweet seasonal filling and you won't be able to resist this delectable vegan Thanksgiving dessert.
15. No-Bake Mini Pumpkin Pies
Vegan, Gluten-Free, Nut-Free | Prep time: 9 minutes (freeze overnight)
These no-bake mini pumpkin pies from Eating by Elaine are as adorable as they sound! Interestingly enough, the recipe calls for buckwheat cookies (along with other ingredients!) to make the crust of the pies. That base is topped with a pumpkin puree mixture that is sweet and delicious.
Bonus: These mini pies are totally Instagram worthy!
16. Sweet Potato Casserole
Vegan, Gluten-Free | Time: 55 minutes
Comforting and satisfying, you're going to want this sweet potato casserole from Gourmandelle on your table this Thanksgiving. This dessert uses the inherent sweetness of the potato along with a wild array of seasonal spices to make the moist filling. All of the above is topped with a mixture of nuts and flavoring to create a crunchy texture.
17. Classic Applesauce
Vegan, Gluten-Free, Soy-Free, Low-Fat, Refined Sugar-Free | Prep time: 15 minutes, Cook time: 15 minutes
Would it even be Thanksgiving without some sweet, sweet applesauce? Forget store-bought sauce! Making a vegan version of this classic dish takes a total of 30 minutes—it's a cinch. If you like a little spice in your life, you can add some cinnamon to this recipe too.
Happy Holidays, friends!
Feature photo: lilkar/Bigstock