Whether it's your first or sixth time hosting Thanksgiving dinner, planning a holiday menu can be a whirlwind. It's equal parts exciting and stressful, especially if you're trying to accommodate all types of dietary needs.
But we've got you covered. We've rounded up our favorite vegan Thanksgiving recipes, ranging from finger foods to side dishes to mouthwatering desserts. Vegan and non-vegan guests alike will drool over these 21 plant-based holiday recipes.
Vegan Thanksgiving Appetizers
Pumpkin Fruit Dip
Vegan, Gluten-free, Soy-free | Total time: 5 minutes
Looking for a last-minute Thanksgiving app to add to your spread? This decadent, creamy vegan pumpkin fruit dip is super simple to mix up and can be made with homemade vegan cream cheese or a store-bought tub if you're crunched for time. Enjoy this flavorful dip with apples, crackers, and cookies to add a little sweetness to your pre-meal celebration.
Stuffed Mushrooms
Vegan, Gluten-free | Total time: 25 minutes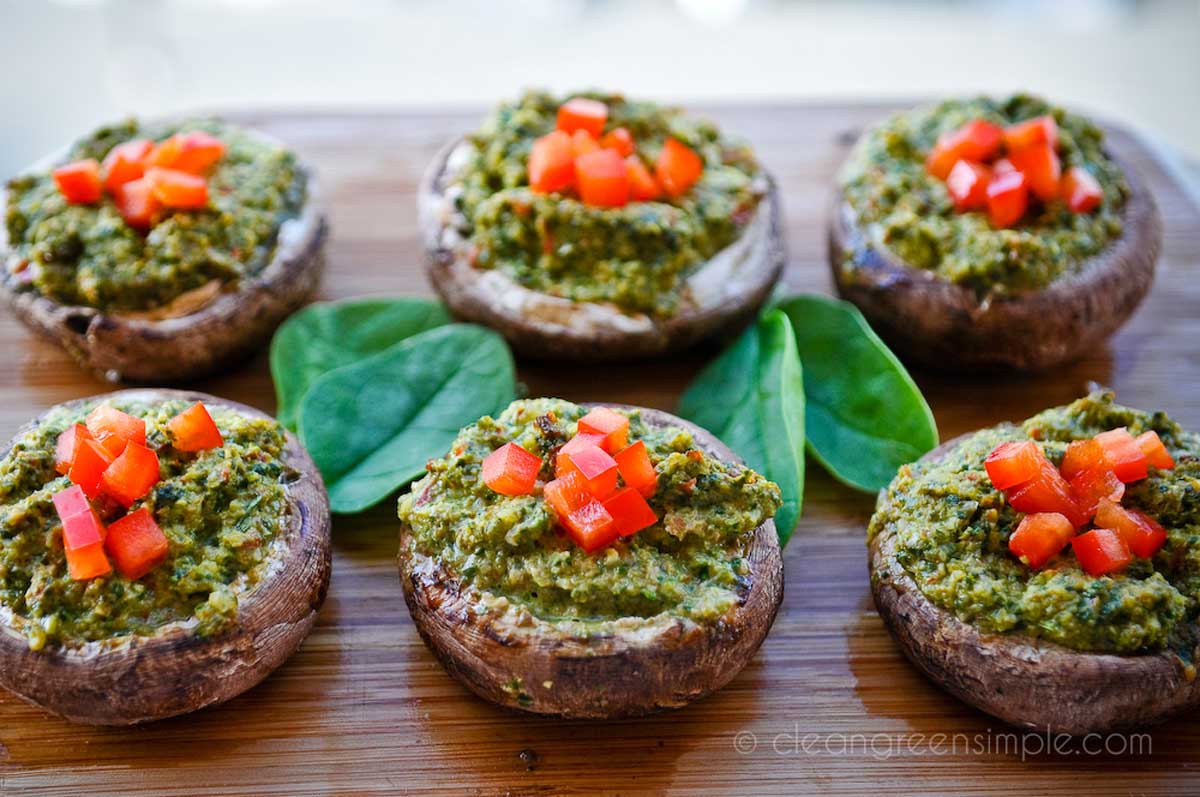 These vegan stuffed mushrooms are a party host's dream come true. They're easy to make, inexpensive, and double as appetizers and entrées. Better yet, these bite-sized goodies can pass as a fancy party dish. You can also customize the filling, depending on what you're craving or have on hand.
Vegan Sweet Potato Rolls
Vegan | Total time: 30 minutes (Rise time: 1 hour)
Contrary to popular belief, Thanksgiving potato dishes aren't limited to mashed potatoes and casseroles. You can also make a batch of vegan sweet potato dinner rolls with just seven simple ingredients. Serve with vegan butter and let the compliments roll in.
Crunchy Broccoli Salad with Maple Mustard Dressing
Vegan | Total time: 15 minutes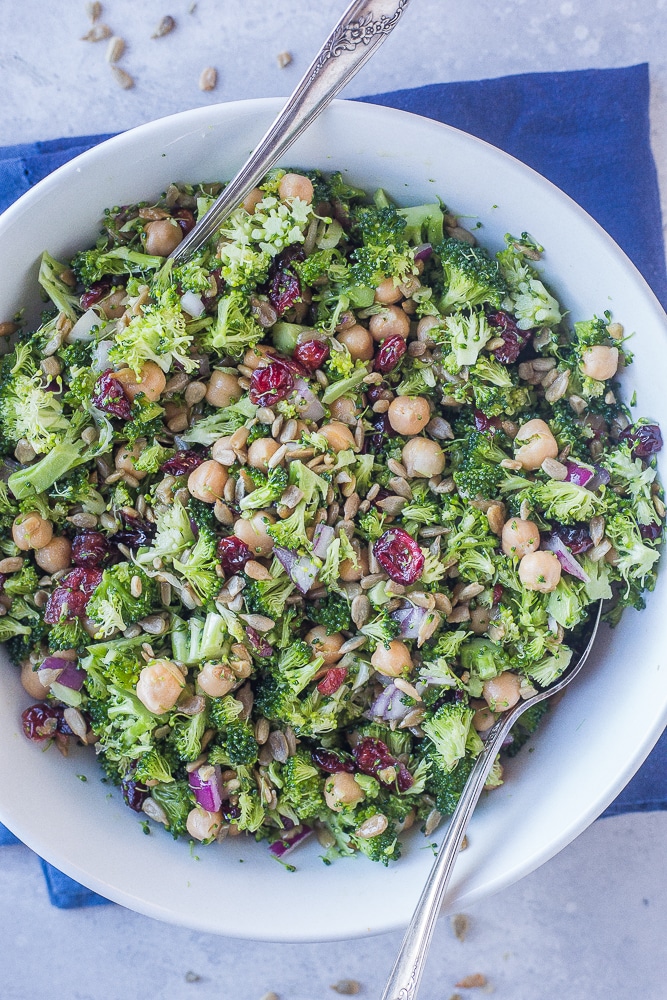 A Thanksgiving spread wouldn't be complete without a healthy dose of veggies. With this crunchy broccoli salad, your guests can enjoy a light and festive appetizer. The salad also includes a unique maple mustard dressing, which adds a sweet yet tangy seasonal touch. Yum!
Rustic Rosemary & Herb Crackers
Vegan, Gluten-free | Total time: 40 minutes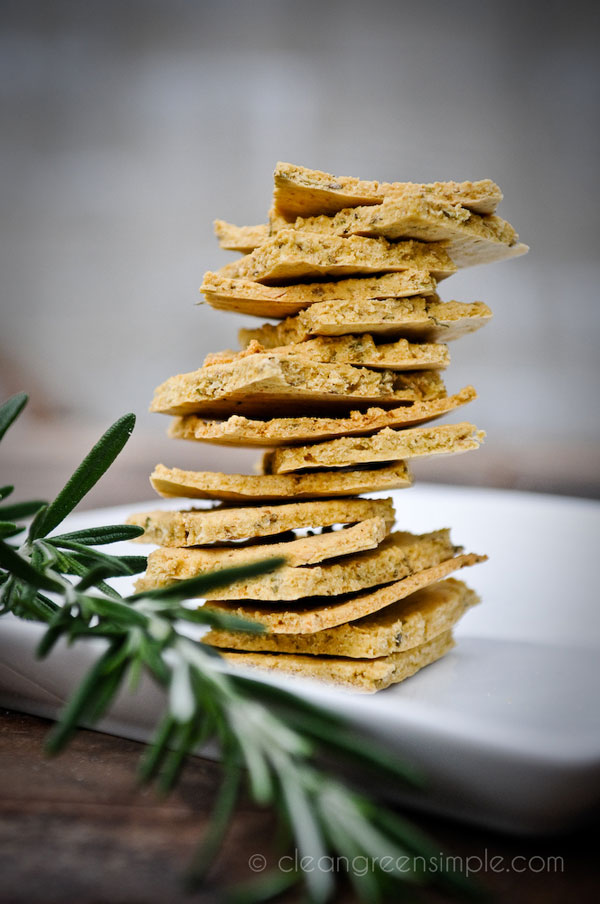 Everything about these rustic rosemary and herb crackers screams "Thanksgiving." Made with chickpea flour, ground flaxseed, and dried herbs like rosemary and sage, these crunchy snacks are essential for the holidays. As an added bonus, your gluten-free guests can enjoy them too.
Spreadable Vegan Cashew Cheese
Vegan | Total time: 45 minutes (Chill time: 4 hours)
If you're going to serve vegan crackers, you might as pair them with vegan cashew cheese! It calls for just seven ingredients, including cashews, vegan cream cheese, and nutritional yeast. Depending on your menu, you can shape it into a ball or serve it as a spread.
Vegan Veggie Nuggets
Vegan, Gluten-free | Total time: 1 hour and 15 minutes
For a no-stress appetizer, make these kale and sweet potato veggie nuggets for Thanksgiving. They can be made in advance and heated up as soon as your guests arrive. These nuggets are also great for keeping the kids occupied, but if we're being honest — us adults want some as well.
Vegan Thanksgiving Main Dishes
Vegan Turkey
Vegan, Nut-free | Total time: 3 hours 30 minutes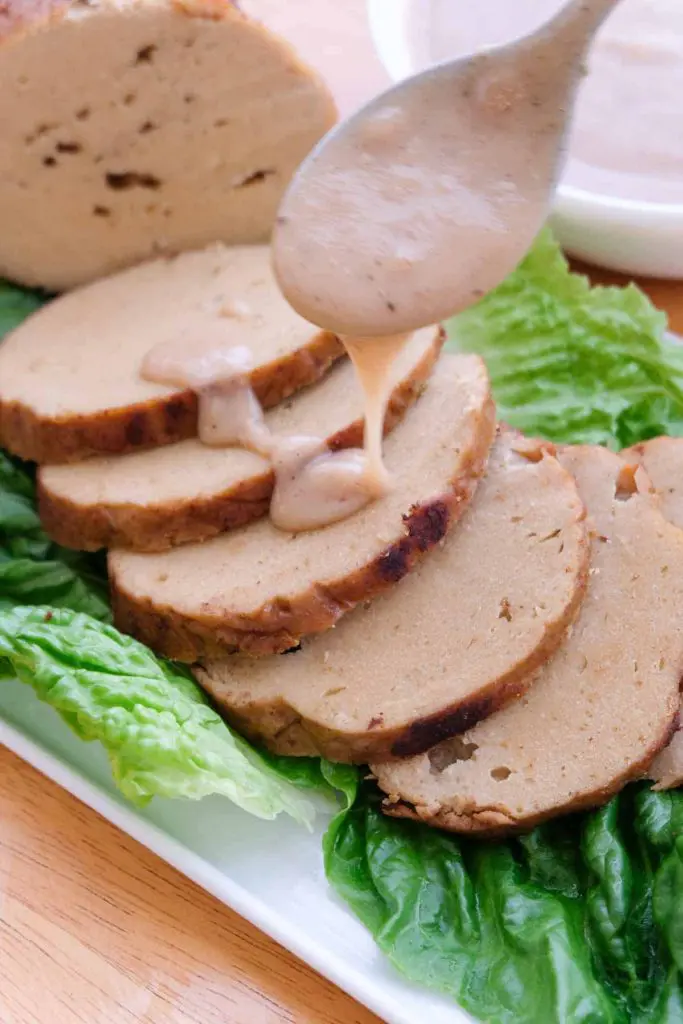 This seitan vegan turkey roast is made from wheat gluten and traditional turkey herbs to give you the taste of the holidays without the guilt or saturated fat. Like a real turkey, it takes a little time to prepare and cook this dish. But it is well worth it for a Thanksgiving main that looks and tastes like the real thing.
Vegan Pot Pie
Vegan, Nut-free (option), Soy-free | Total time: 1 hour 22 minutes
Whether you're looking for a somewhat non-traditional Thanksgiving main or just wanting to get into the spirit a little early, this amazing vegan pot pie has you covered. The inclusion of frozen vegetables means you can whip this gorgeous dish up without a lot of prep. And the tasty vegan gravy and heaping of spices mean whether you serve this for a weeknight treat or a holiday main, no one is going to leave the table disappointed.
Creamy Lentil Stuffed Butternut Squash
Vegan, Gluten-free, Nut-free | Total time: 1 hour 35 minutes
Put the protein back into your vegan Thanksgiving with this awesome, creamy lentil stuffed butternut squash. An umami filling of lentils, onions, garlic, paprika, and spices perfectly compliments the sweet, baked goodness of the squash shell. Drizzle all of that with a uniquely flavorful butternut tahini sauce, and you've got yourself a filling yet deliciously healthy dish.
Vegan Thanksgiving Wraps
Vegan, Nut-free, Soy-free | Total time: 30 minutes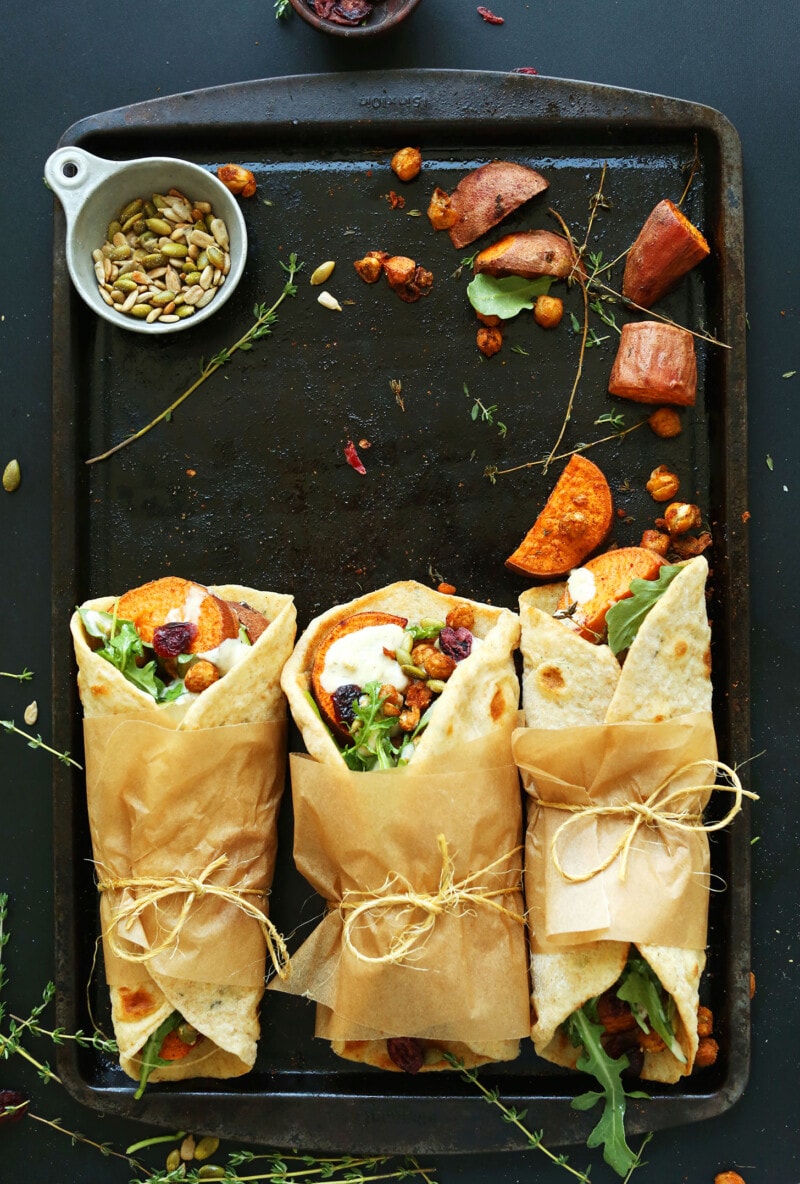 Another non-traditional holiday main absolutely worth considering is this amazing vegan thanksgiving wraps recipe. With these easy-to-make wraps, you get the taste of the holiday in every bite. Spiced chickpeas, sweet potatoes, cranberries, and arugula all wrapped in warm flatbread and covered in garlic dill hummus sauce—are you hungry yet?
Vegan Lentil Loaf
Vegan, Gluten-free, Nut-free, Soy-free | Total time: 1 hour 5 minutes
Thanks to lentils, portabella mushrooms, quinoa, and a host of vegetables, this vegan lentil loaf has a meaty and hearty texture you'll love. It's topped with a deliciously unique balsamic ketchup sauce that elevates this dish far beyond that of your traditional meatloaf. Plus, it's a much healthier option to share with family and friends.
Vegan Thanksgiving Dinner Cake
Vegan, Nut-free, | Total time: 5 hours
Looking to up your Thanksgiving game this year? I mean, really, REALLY up it? Then this vegan thanksgiving dinner cake recipe is for you. With this savory main, you combine tofurkey, stuffing, baked Brussels sprouts, mashed potatoes, and gravy into one beautiful creation that looks like a beautiful, frosted cake, but tastes like everything Thanksgiving dinner should be.
Creamy Vegan Butternut Squash Linguine with Fried Sage
Vegan | Total time: 35 minutes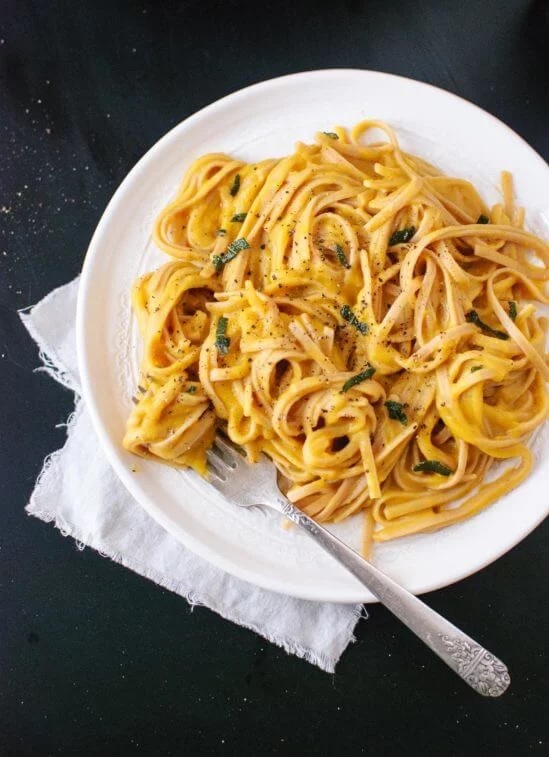 From the orange-colored sauce to the seasonal flavors, this creamy vegan butternut squash linguine is perfect for Thanksgiving. You can even replace the linguine with the pasta of your choice, such as gluten-free chickpea pasta. Top it off with vegan Parmesan and dig in.
Vegan Risotto with Asparagus & Mushroom
Vegan, Gluten-free, Soy-free | Total time: 1 hour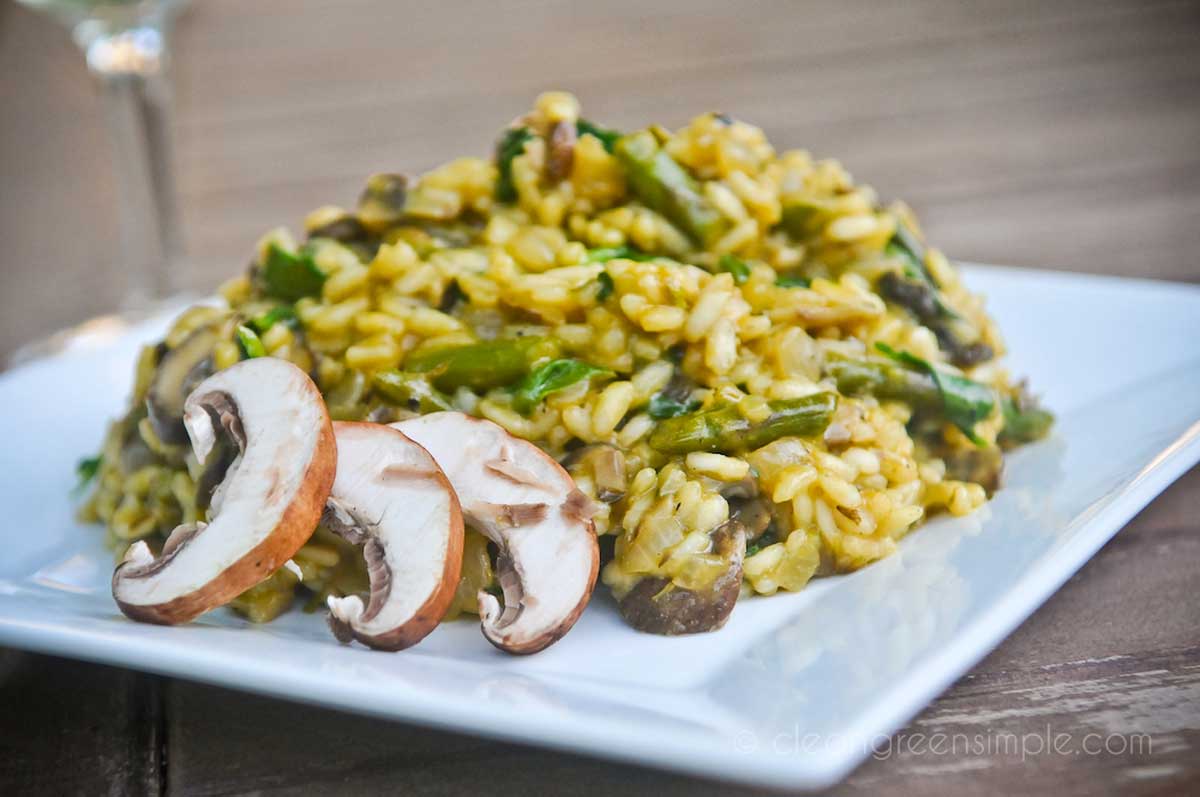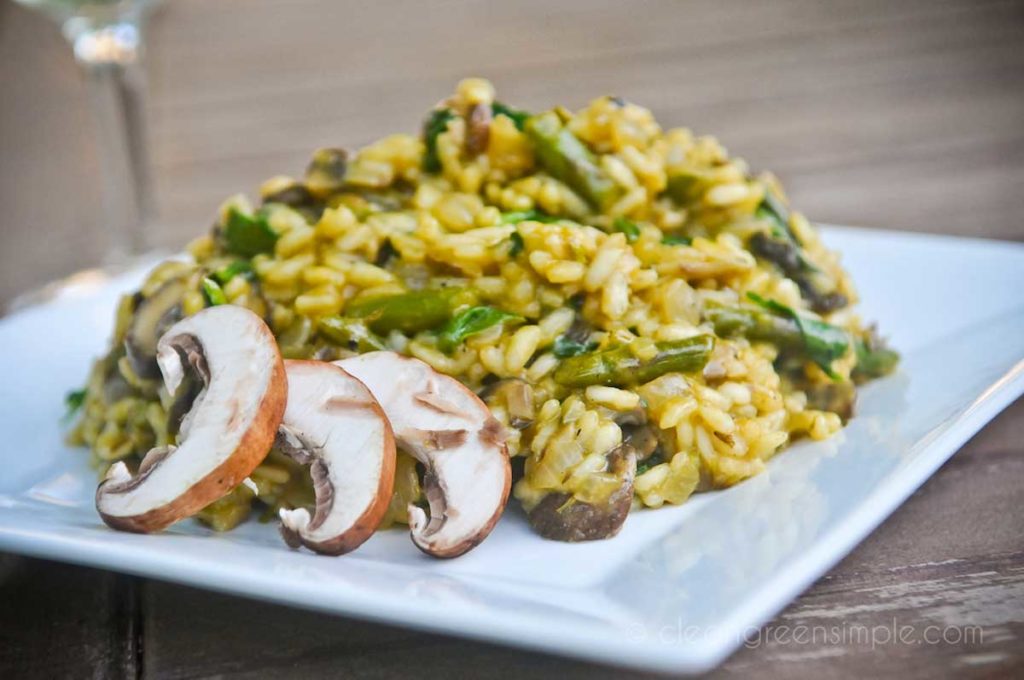 Like linguine, mushroom asparagus risotto is a simple recipe that manages to look (and sound) fancy. Although this particular recipe calls for mushrooms and asparagus, you can experiment with your favorite veggies. Feel free to add herbs like rosemary, sage, and thyme for a seasonal spin.
Vegan Shepherd's Pie
Vegan | Total time: 1 hour
If you're all about tradition, make a vegan shepherd's pie for Thanksgiving. With a hearty filling of soy mince, mushrooms, onions, and maple syrup, this holiday dinner is a must for any vegan cook. In a pinch? Speed things up by using boxed mashed potatoes mixed with vegan butter and herbs.
Vegan Mushroom Wellington
Vegan | Total time: 1 hour
Thanks to the flaky puff pastry crust and juicy mushroom filling, this vegetable mushroom wellington will steal the show. It's even made with a vegan egg wash! Pair it with potatoes, beans, or any classic Thanksgiving side.
Vegan Holiday Roast
Vegan | Total time: 2 hours and 15 mintes
For a Thanksgiving meal that will truly impress your guests, make this vegan holiday roast. The roast, which is made of ingredients like vital wheat gluten and pinto beans, is packed with tasty stuffing. It's also smothered in mouth-watering glaze, making it a brilliant addition to your Thanksgiving menu.
Vegan Thanksgiving Sides
Twice Baked Sweet Potatoes
Vegan, Gluten-free, Soy-free | Total time: 1 hour 5 minutes
These uber-healthy twice baked sweet potatoes put a whole new spin on what has traditionally been a decadent and very sweet dish. Replace all that sugar with chopped broccoli, microgreens, garlic, and hemp seeds and you get a Thanksgiving side you can feel good about eating. Drench all those good-for-you ingredients with homemade sweet potato cashew cream and you've got a dish so flavorful, you'll forget it's healthy!
Roasted Butternut Squash Soup
Vegan, Gluten-free, Soy-free, Nut-free | Total time: 1 hour 20 minutes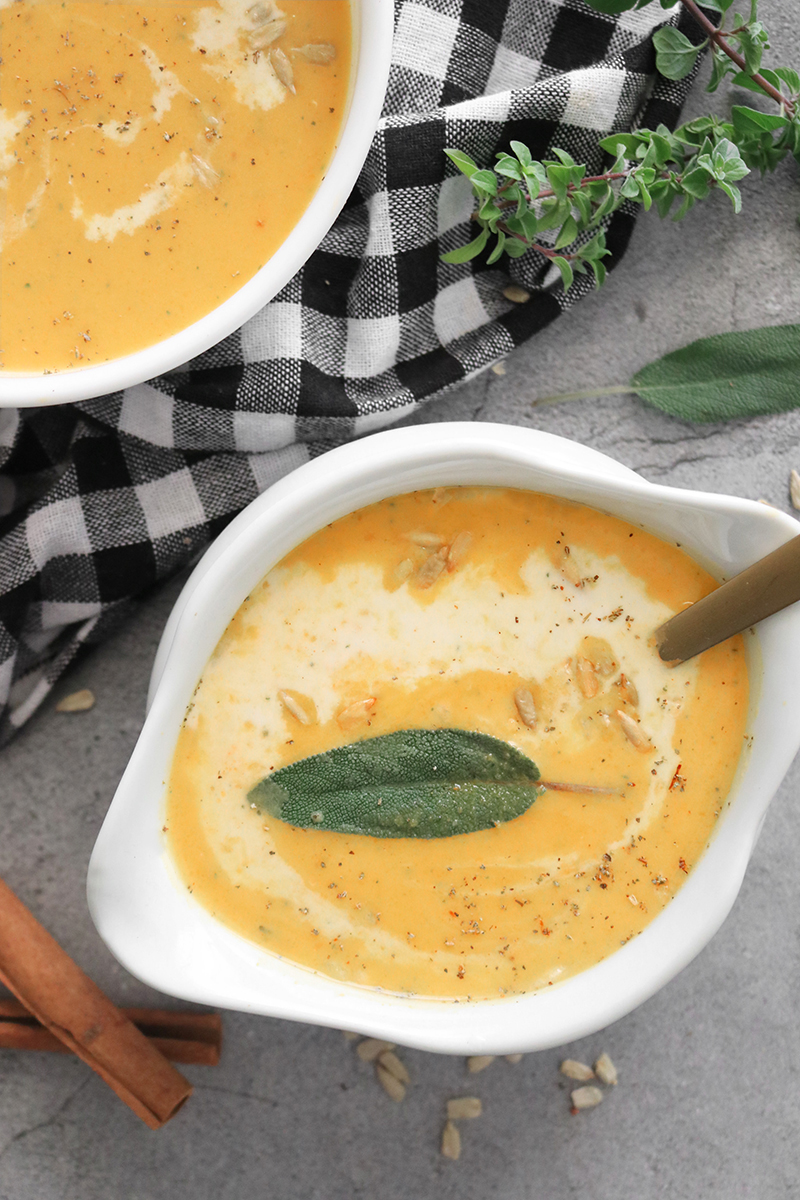 This delectably healthy roasted butternut squash soup is bursting with flavor and is incredibly creamy. Intense spices like cinnamon and sage come together with creamy coconut milk to really make this dish pop. Take your time roasting the squash before blending it with the rest of the ingredients for an autumn soup you won't soon forget.
Fall Harvest Salad with Maple Vinaigrette
Vegan, Gluten-free | Total time: 4 hours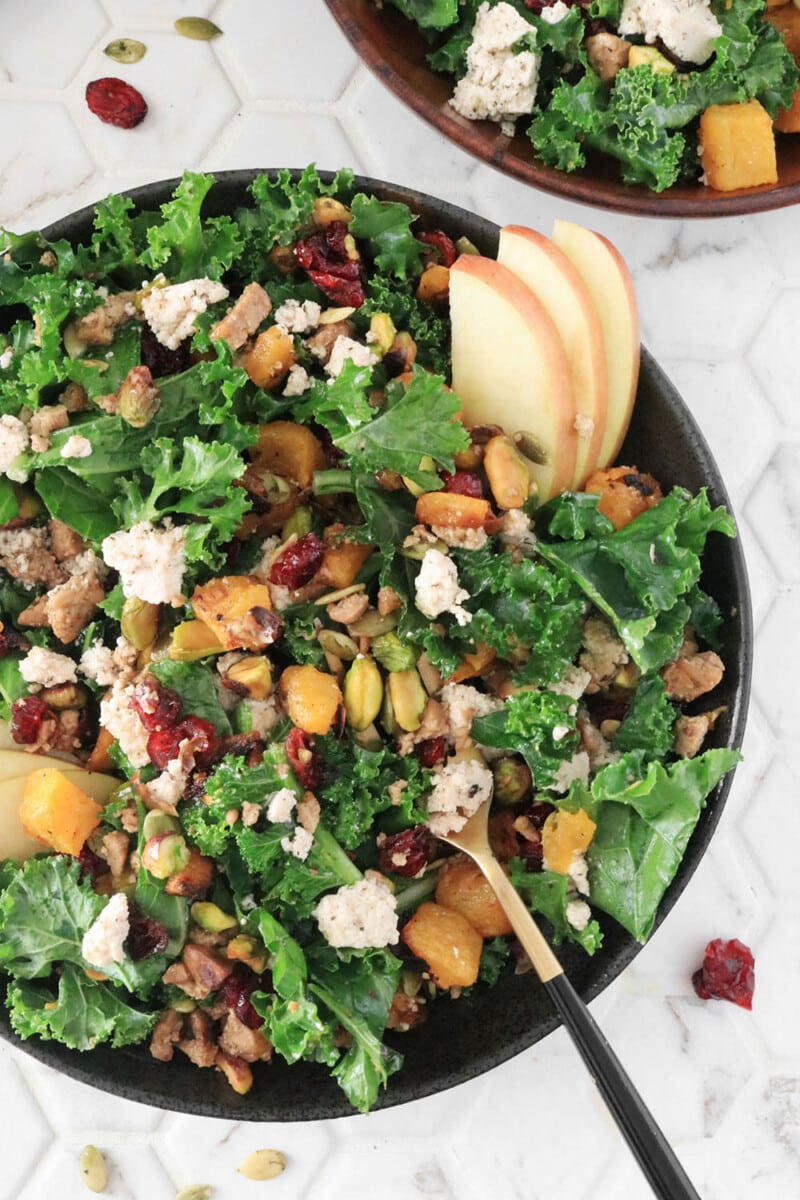 Take a minute to step away from those calorie-packed and unhealthy Thanksgiving dishes and spend some time with this awesomely healthy—and still incredibly delicious—fall harvest salad with maple vinaigrette. Fresh kale, roasted squash, cranberries, apples, and vegan feta come together to deliver plenty of taste and a heaping of vitamins and minerals.
Holiday Wild Rice Pilaf with Cranberries and Pecans
Vegan, Gluten-free, Oil-free, Soy-free | Total time: 1 hour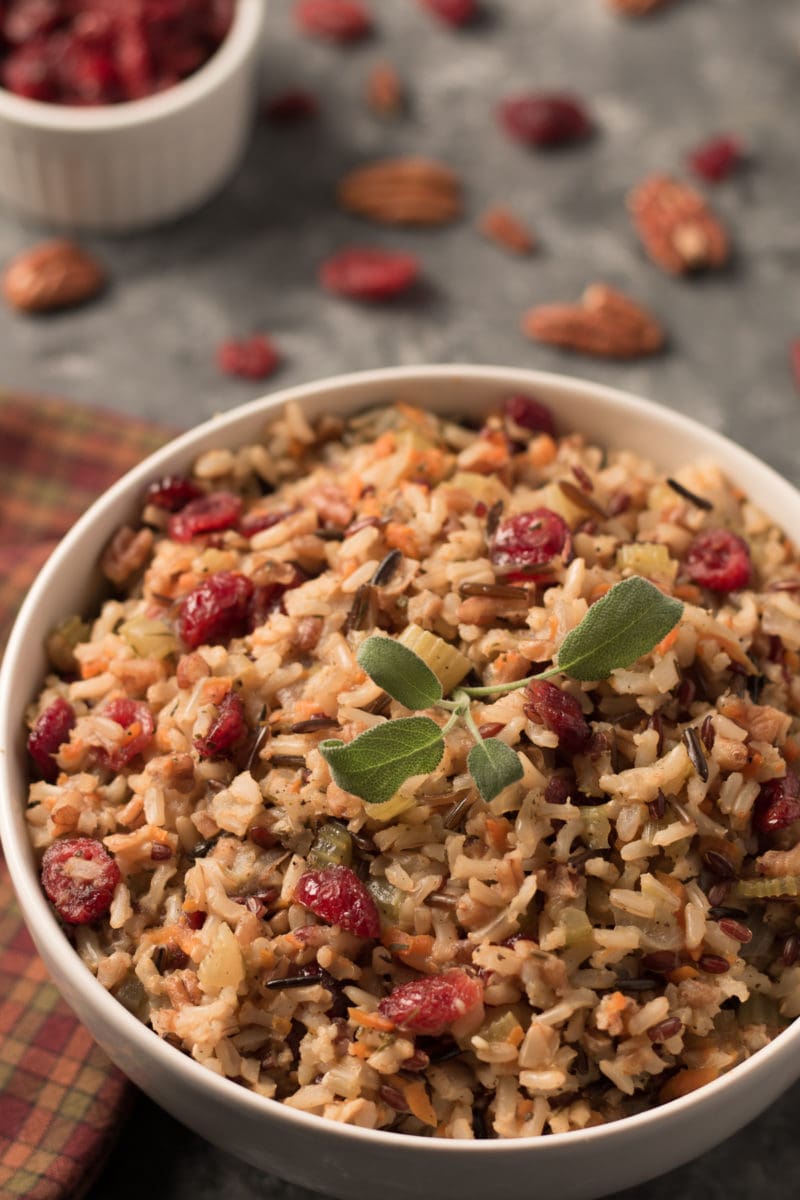 This awesome vegan wild rice pilaf side dish is bursting with flavors. Spices, veggies, and vegetable broth give the rice a savory, salty flavor, while sweet, tart cranberries and crunchy pecans team up to add something unexpected and totally delicious. This dish is easy to prepare and pairs well with a variety of mains.
Vegan Stuffing
Vegan | Total time: 45 minutes
Ah, stuffing. The holidays simply wouldn't be complete without it. Fortunately, it's easy to make a vegan stuffing recipe with leftover bread and basic ingredients. In addition to the classic celery and onions, you can even add dried cranberries or chopped carrots for extra flavor and texture.
Vegan Green Bean Casserole
Vegan | Total time: 1 hour
Non-dairy milk, mushrooms, and flour come together in this easy vegan green bean casserole. The recipe even includes homemade "fried" onions, which are baked in the oven for a slightly healthier version. Even your non-vegan guests will eat this one right up.
Roasted Sugar Snap Peas
Vegan, Gluten-free | Total time: 15 minutes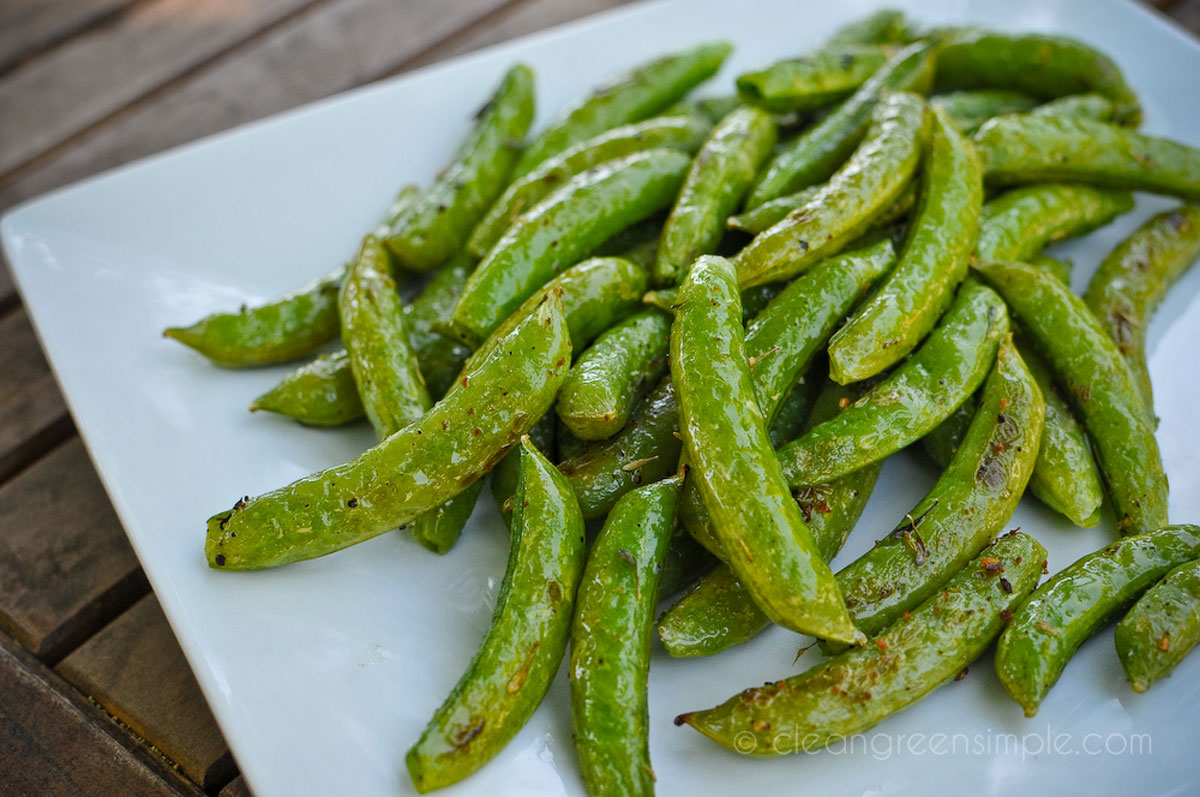 Sometimes, the best side dishes are the simplest. Take this recipe for roasted sugar snap peas, for example. In just 15 minutes, a few handfuls of sugar snap peas can be transformed into savory and crunchy side dish. Serve them with hummus or as is.
Maple Balsamic Brussels Sprouts with Hazelnuts and Rosemary
Vegan, Gluten-free | Total time: 40 minutes
Treat your taste buds to a flavorful veggie side dish by making maple balsamic brussels sprouts. Toss in rosemary and hazelnuts and you've got a gluten-free and vegan side dish. Bonus: If you're expecting a crowd, simply double or triple the recipe.
Vegan Mashed Potatoes and Mushroom Gravy
Vegan | Total time: 1 hour 10 minutes
When it comes to Thanksgiving, mashed potatoes and gravy are right up there with stuffing and green bean casserole. And thanks to this vegan mashed potatoes and mushroom gravy recipe, it's possible to make a version that's ideal for all types of diets.
Vegan Thanksgiving Desserts
Vegan Apple Crisp
Vegan, Gluten-free, Nut-free, Soy-free | Total time: 1 hour 5 minutes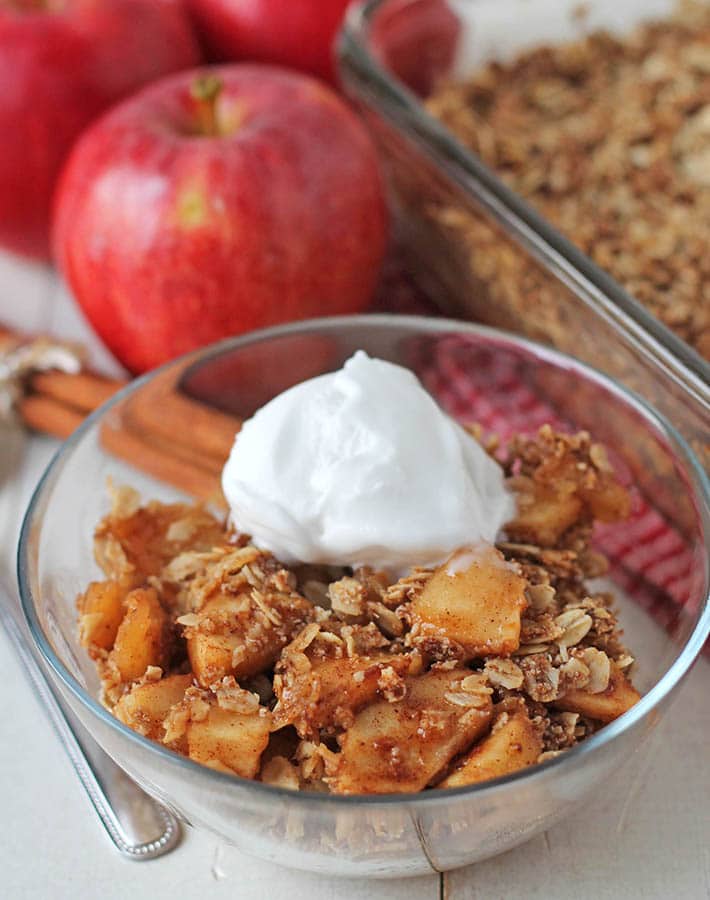 This super-simple vegan apple crisp is the perfect dessert to make when you are short on time or just sick of being in the kitchen. It's also a great choice for those in need of a blood-sugar-friendly dessert. The only sweeteners in this dish, coconut sugar and maple syrup, have a much lower glycemic index than plain table sugar, which makes this a better indulgence than many other options.
Vegan Pumpkin Pie
Vegan, Dairy-free | Total time: 1 hour 10 minutes (Chill time: 8 hours)
You'll be happy to know that you won't have to skip the pumpkin pie on Thanksgiving. Instead of using eggs for structure and texture, this vegan pumpkin pie uses canned coconut milk. When chilled, the filling becomes deliciously creamy and pudding-like.
Frozen Banana Cream Pie
Vegan, Gluten-free | Total time: 1 hour 50 minutes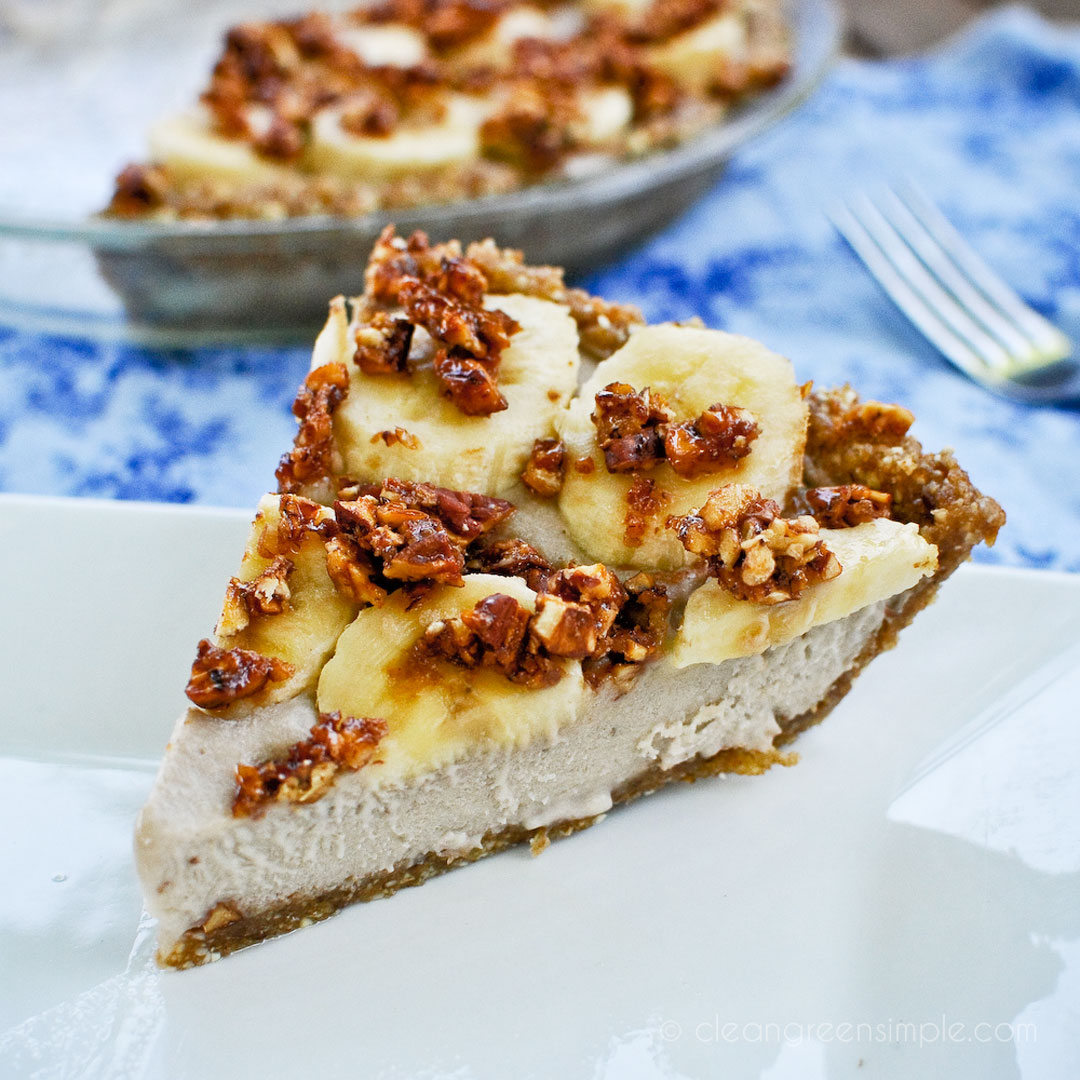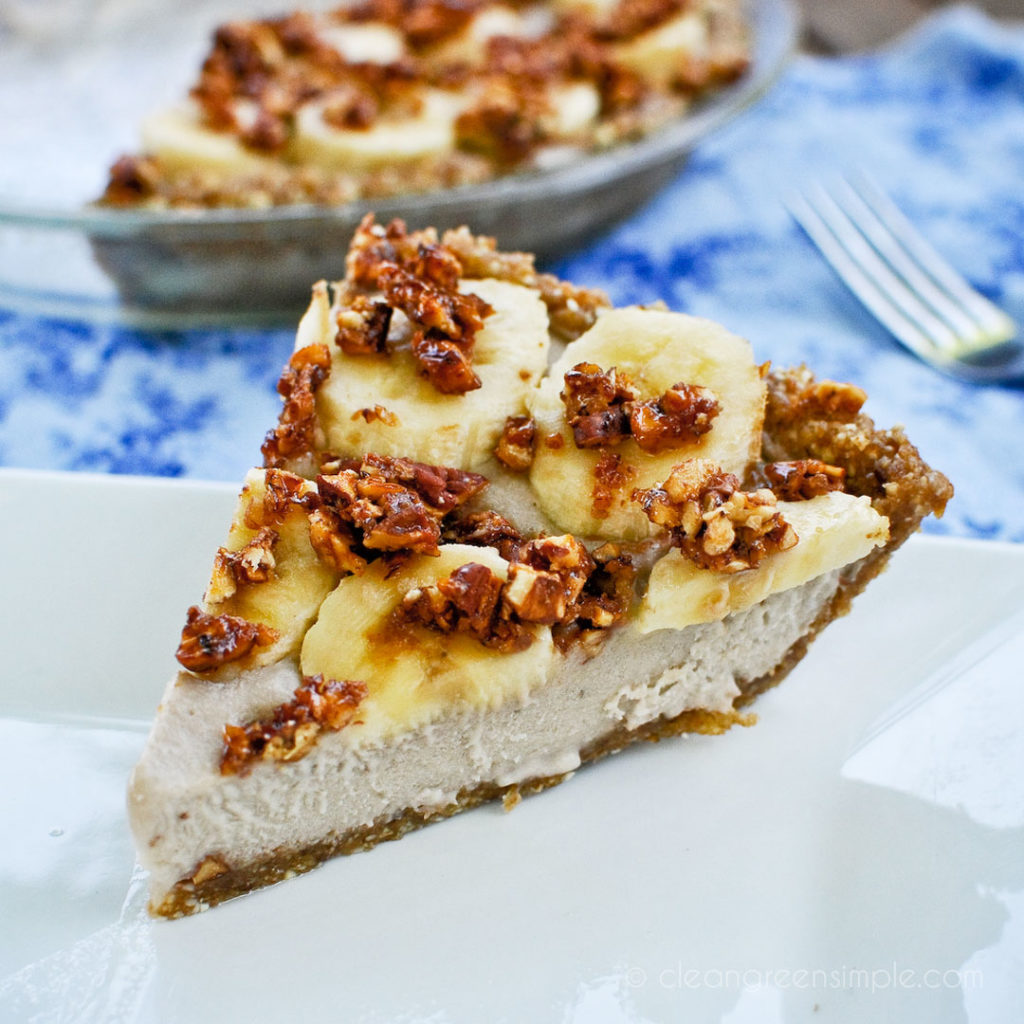 OK, so maybe pumpkin pie isn't for everyone. If you've got a few guests who could do without, make this frozen banana cream pie for Thanksgiving. It might not be a traditional dish, but it's one of those desserts people can never pass up.
Vegan Sweet Potato Casserole
Vegan | Total time: 1 hour 10 minutes
Is it a side dish? Is it a dessert? Is it… sweet potato casserole? The Internet might not ever agree on this classic dish's category, but one thing is for sure: It's downright delicious. We can't get enough of this vegan version made with non-dairy milk and a crunchy pecan topping.
Oatmeal Pumpkin Bars
Vegan, Gluten-free, Soy-free | Total time: 50 minutes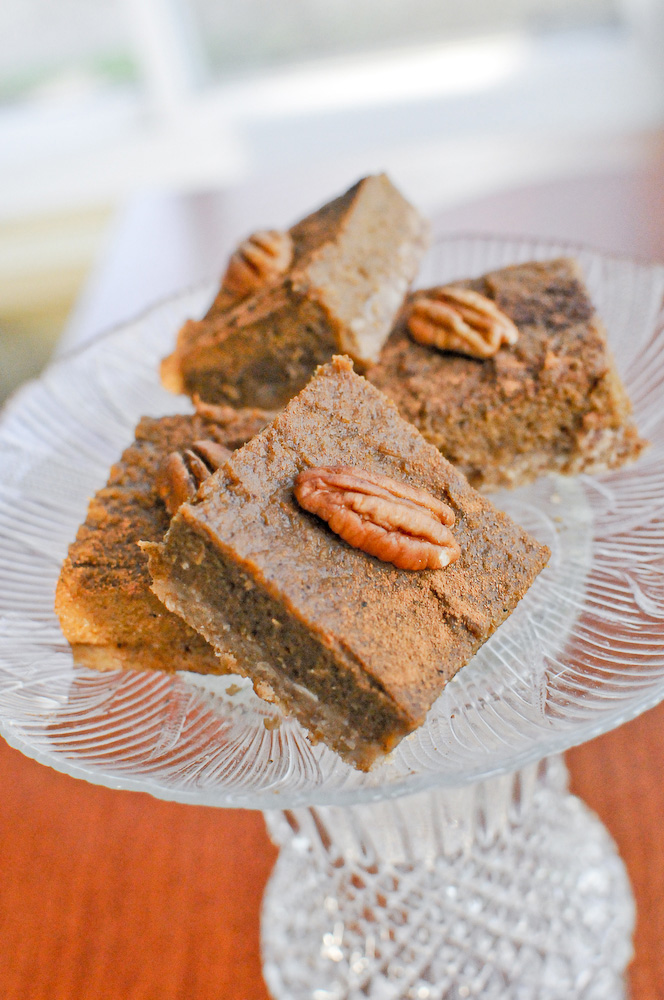 Looking for a pumpkin dessert that's easy to split and share? Make these oatmeal pumpkin bars, which are both gluten-free and vegan. The oatmeal crust is even made with pecans, offering a satisfying crunch with every bite.
Our Favorite Thanksgiving Recipe
Ready to jump right in? Be sure to try this fantastic Vegan Pot Pie with Puff Pastry recipe. It makes for an excellent, hearty main that everyone will love. And using decorative cutouts with the puff pastry adds a festive seasonal touch.
Best Vegan Thanksgiving Recipes: Pot Pie
This vegan pot pie makes the perfect Thanksgiving dinner recipe. A flaky puff pastry crust covers the delicious veggies and non-dairy gravy, resulting in a wonderfully hearty meal that's perfect for fall and winter holiday gatherings.
Click stars below to rate, or leave a full review in the comments
Print
Pin Recipe
Ingredients
1

frozen puff pastry

thawed

¼

cup

vegan butter

¼

cup

all-purpose flour

4

garlic cloves

1

yellow or white onion

diced

½

cup

baby bella mushrooms

sliced

3

cups

frozen mixed vegetables

1 ½

cups

vegetable broth

1 ½

cups

plain non-dairy milk

unsweetened

1

tablespoon

fresh thyme

chopped

1

tablespoon

fresh sage

chopped

1

teaspoon

salt

½

teaspoon

ground black pepper

Fresh herbs

for garnish
Instructions
Preheat the oven to 400°F. In a large skillet, melt the butter. Cook the onions and mushrooms until tender, about 5 to 7 minutes. Add the garlic, herbs, salt, and pepper, then cook for another 30 seconds.

Add the flour and mix until fully dissolved. The onions and mushrooms should be coated and creamy.

Add the broth, non-dairy milk, and frozen vegetables.

Simmer until thick, about 12 to 15 minutes, stirring constantly. If the mixture seems too thin, simmer for a few more minutes. If the mixture seems too thick, add a bit of broth or non-dairy milk. Keep in mind that the gravy will thicken as it cools.

Transfer the vegetable-gravy mixture into a greased deep pie dish.

Add the puff pastry dough on top of the vegetable filling. You can trim the dough (which is square) to fit the circle pie dish, if you'd like. Press the edges of the dough with a fork and cut at least two slits into the top.

Bake for 40 to 45 minutes, or until the puff pastry is golden brown and the filling is bubbling. Garnish with fresh herbs, if you'd like. Let cool slightly, then serve warm.