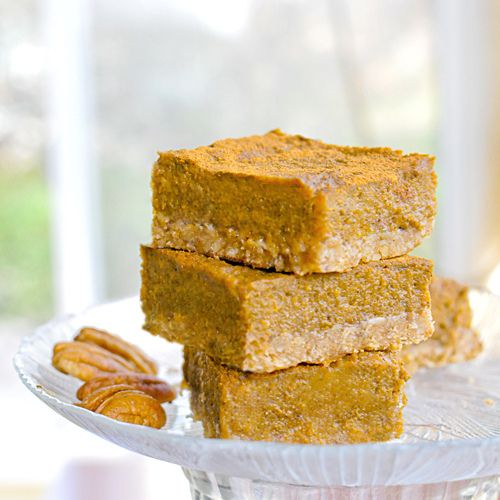 So it's Easter, Passover, Earth Day – so many holidays to choose from, and I decide to make…pumpkin bars. What can I say, I'm visiting my mother and sister-in-law in Buffalo, NY and it's cold and wintry and they had a can of pumpkin puree. It was a natural progression.
I actually had a good amount of help with this one – my sister-in-law and I were talking about desserts I could make "my way" (meaning obnoxiously healthy) and she got out a cookbook with some bars and suggested I could use pumpkin. And oats. And pecans. So, yeah, basically she invented this recipe and I'm taking all the credit. I did figure out how to make the stuff work without butter or gluten or sugar or condensed milk, so that's something, right?
She also showed me their awesome little hand grinder, which we used to chop up the pecans for the crust – you just put whatever you are grinding in the top and crank it and it falls into the bottom. Eco friendly and a good arm workout!
These pumpkin bars are pretty fun – they have a delicious chewy crust that still manages to hold together, and a subtle pumpkin flavor that's not too sweet. (You could always add more sweetener or spices to make it a bit stronger if you like – the batter tastes similar to the final product so taste it and get it where you like it before you bake it)
They come together pretty quickly – just combine your oatmeal crust ingredients in a bowl until you get a nice dough:
Then spread it evenly out into a 9×13 pan:
Then mix up your pumpkin batter and spread it out in an even layer on top of the oatmeal – both of these come together very quickly, and you don't need a mixer or anything.
Once that's all spread out, just pop it into a 350 degree oven and bake for about 30-45 minutes, or until a fork comes out mostly clean when you stick it into the middle. You can then put the whole thing in the fridge for a few minutes to let it set and you'll be good to go! These would be great topped with some chopped pecans (like the sweetened ones in my butter pecan recipe!) or coconut whipped cream – anyone else have any other ideas for toppings? These things feel like they could work with a lot of stuff!
What's your favorite easy treat to whip up? Anyone have a recipe they invented with a friend or family member?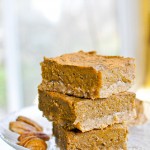 Oatmeal Pumpkin Bars
Vegan, Gluten Free, Refined Sugar Free, Low Fat, Soy Free

Click stars below to rate, or leave a full review in the comments

Print Rate it Now Pin Recipe
Ingredients
For the oatmeal crust:
2 cups rolled oats
1 cup pecans chopped very fine (you can run them through a blender or food processor if you like)
1 c. Amaranth flour or Sorghum, or probably several other gluten free flours would work
¾ c. agave nectar this is more than I usually use, but this makes like 24 bars so per serving it's not too high
½ cup canola oil or other neutral oil
2 tsp vanilla
1 tsp salt
For the pumpkin filling: (very lightly adapted from Pure2Raw)
2 15 oz cans pureed pumpkin just plain, not pumpkin pie mix
½ cup hemp or soy milk. I haven't tried it but I bet coconut milk would be awesome here also
⅔ cup agave nectar
2 tsp vanilla extract
4 tsp ground cinnamon
1 tsp ground ginger
1 tsp ground nutmeg
1 tsp salt
¼ heaping cup of arrowroot you could also use potato or corn starch. I mean it when I say heaping cup, it's probably closer to 1/4 c. plus 2 Tbsp
Instructions
Preheat oven to 350 degrees. In a medium bowl, combine all oatmeal ingredients and stir until well combined. Spread evenly into a greased 9x13 inch pan.

In a medium bowl, combine all pumpkin filling ingredients until smooth. Spread evenly over the oatmeal mixture in the pan.

Bake for 30-45 minutes, until a fork inserted in the middle comes out mostly clean and the whole thing seems solid but not too browned. Chill in the fridge for at least 10 minutes or more (an hour is good, and they are even better the next day) and slice into 2 inch squares. Serve with coconut whipped cream, top with pecans, or sprinkle with some more cinnamon and nutmeg.