After seeing this recipe for a banana cream pie with bourbon and peanut brittle, which is unfortunately not vegan, gluten free, or sugar free (but I bet it's delicious!), I was determined to figure out my own version.
I'm not sure whether to tell you I failed or succeeded.
On the one hand it's probably a stretch to even call this a banana cream pie, and it's probably not at all like the original recipe.
On the other hand, it's a really delicious pie in it's own right! I'm going to call it a win, and let's just pretend I meant to make a pie exactly like this all along.
Each component of this pie is pretty easy to put together, but they do have to freeze or refrigerate for a couple hours, so this is one you'll want to make a bit ahead. Fortunately it can hang out in the freezer for a couple of days so you can make it whenever you have time and then just let it sit out for a few minutes to soften before serving.
The crust is a blend of dates, cashews, and pecans – it's sort of similar to my walnut tart crust, but it's definitely got it's own unique flavor – I think it's my favorite nut crust I've made so far! But if you don't want to use cashews or pecans, walnuts or almonds would work fine too. Just blend them all together in the food processor until they get very fine and start to make a sticky dough:
Then just press it into a pie pan in a nice even layer, about 1/4-1/2 inch thick.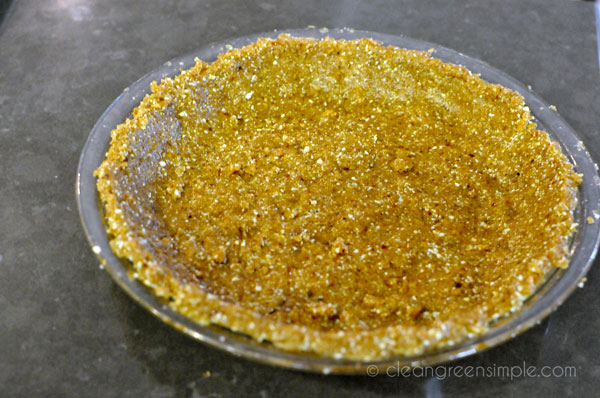 Also I'd like to point out that I finally made a full-sized pie! I usually stick to mini-tarts (and smaller), and this is teaching me that there's a good reason for that because now the leftovers of this thing are just sitting in my freezer taunting me. There's probably worse problems in the world than having tasty leftovers tempting you, though.
Once you've got your crust you can heat up a can of coconut milk on the stove until it's nice and combined and creamy – don't let it get to a full on boil but just warm up a bit.
Pour that into a food processor along with a couple of bananas, some vanilla, maple syrup, lemon juice, salt, and bourbon (just a couple tablespoons. You can skip the bourbon if you want, but then I might suggest also cutting down on the maple syrup as well – you can taste the mixture as you make it so just test and add things a little at a time until you like it). Pour that into your pie crust: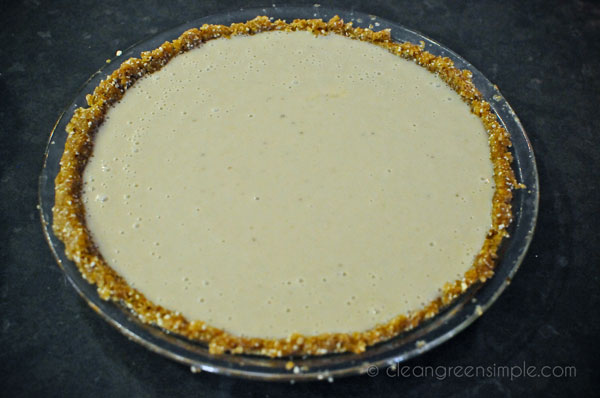 I should mention at this point that this filling contains a bunch of coconut milk but doesn't end up tasting much like coconut. Probably enough of a hint of it that if you just detest coconut this isn't a recipe for you, but not so much that it's something I'd think most people would notice.
Stick your filled pie in the freezer for a few hours until it gets nice and firm. While that's chilling, roughly chop up some pecans and toss them with a couple tablespoons of maple syrup. Bake at 300 for about an hour and then refrigerate for at least 20 minutes (or longer, doesn't matter). You'll end up with a sheet of caramelized pecans that you can break into tiny pieces (and which is a crazy delicious snack all on its own, in my opinion).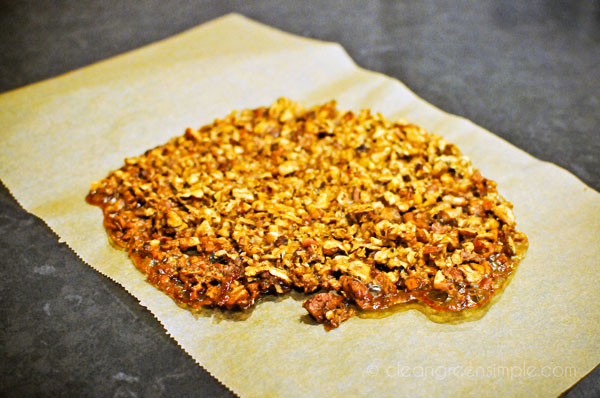 Once your pie is frozen and your pecans have chilled, you can assemble it all. Take about three bananas and slice them diagonally into thin slices. Arrange in circles on top of your pie:
(I later removed that little piece from the center because it was bugging me. You can arrange your banana slices however you want, though.)
Sprinkle your crumbled pecan bits over the banana slices: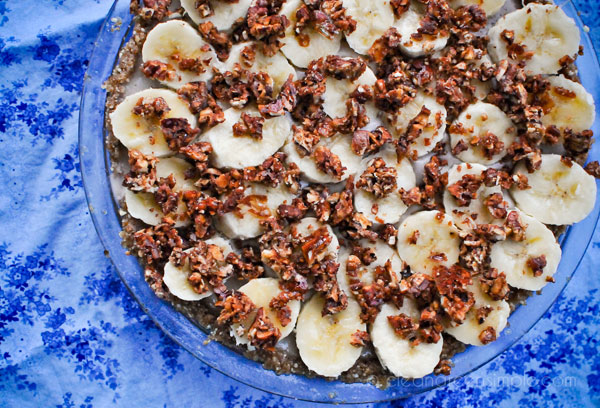 And you're all set! You can serve it immediately or put it back in the freezer to have later – make sure to keep it frozen until just a bit before serving so the bananas don't brown. There's no white sugar or butter or flour in this recipe, and if you think coconut and nut fats are healthy then you could definitely call this pie healthy – but it's not even trying to pretend it's low calorie or low fat, so enjoy in moderation if you're concerned about those things. Or eat three slices in one sitting and call it dinner – whatever floats your boat, we don't judge.
This can't really be called a classic banana cream pie, mainly because I had to freeze it to get it to set. It ended up being more like a banana, maple and pecan flavored ice cream pie…and I really can't find anything wrong with that combo. I'll keep working on the classic banana cream pie, so check back for that!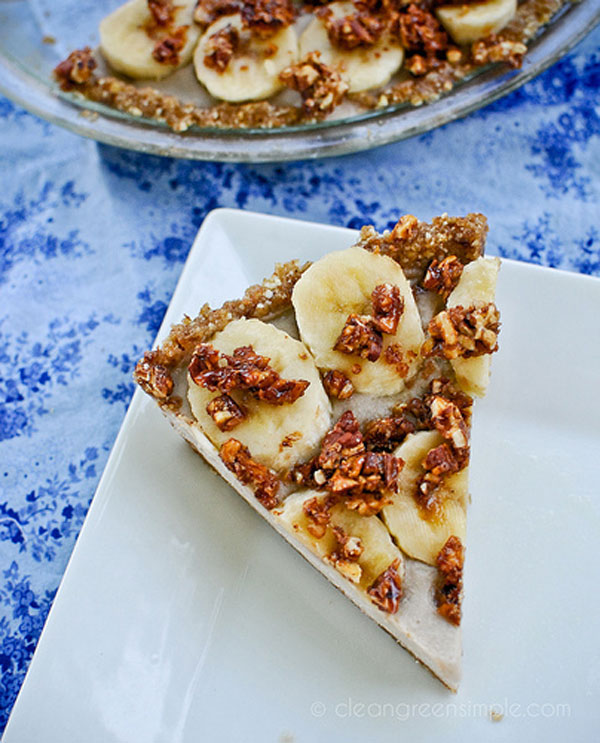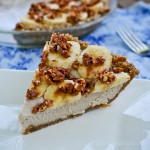 Frozen Banana Cream Pie (Vegan & Gluten Free)
Creamy and sweet frozen banana cream pie with maple, pecan, and a touch of bourbon. Vegan, gluten free, soy free, and refined sugar free.
Click stars below to rate, or leave a full review in the comments
Print
Rate it Now
Pin Recipe
Servings:
1
regular sized pie
Ingredients
For the crust:
1

cup

raw pecans

1

cup

raw cashews

1

cup

dates

about 10-12 medjool dates, pitted

1

tsp

vanilla

1

tsp

salt
For the filling:
1

15 oz can regular coconut milk

2

bananas

2

tsp

vanilla extract

2

Tbsp

maple syrup

2

Tbsp

bourbon

optional - if you remove it, use less maple syrup to taste

1

Tbsp

lemon juice

½

tsp

salt
For the topping:
½

cup

pecans

roughly chopped

2

Tbsp

maple syrup

About 3 bananas

slices diagonally into thin slices

Directions:
Instructions
Combine all of the crust ingredients in a blender or food processor until a moist dough forms. Press evenly into a pie pan. Set aside.

Heat coconut milk in a saucepan over medium heat until warm and well combined. Add to food processor along with the rest of the filling ingredients and blend until well combined. Pour into prepared pie crust and put in the freezer for a few hours until frozen solid.

While the pie freezes, preheat oven to 300 degrees. Toss 1/2 c. pecans in 2 Tbsp maple syrup until well coated. Spread into an even layer on parchment paper or a silicone baking mat and bake for an hour. Remove from oven and place in the fridge for at least 20 minutes, until cooled and solid. Crumble into tiny pieces.

Once pie is frozen, lay banana slices on the top in a single layer (as shown in the photos above) and then sprinkle crumbled pecan pieces over the bananas. Serve immediately or return entire pie to freezer and serve within a couple of days.