When it comes to Thanksgiving, it's easy to think of Tofurky (or vegan meatloaf) as the main event. But in reality, we all know the festivities actually revolve around the side dishes. After all, without classic dishes like vegan stuffing and mashed potatoes, a Thanksgiving spread wouldn't feel complete.
If your stomach is grumbling in agreement, check out these 25 vegan Thanksgiving sides for your holiday menu. Happy cooking!
Creamy Vegan Scalloped Potato Casserole
Vegan, Gluten-free (option), Nut-free | Total time: 55 minutes
If you think vegan food can't be deliciously comforting and awesomely creamy, you've never tried this easy creamy scalloped potato casserole. The gravy sauce packs a huge punch with tons of spices while vegan cheese, nutritional yeast, and crunchy breadcrumbs elevate this potato casserole to make it a standout at any Thanksgiving feast.
Creamy Avocado Mac & Cheese
Vegan, Gluten-free (option) | Total time: 30 minutes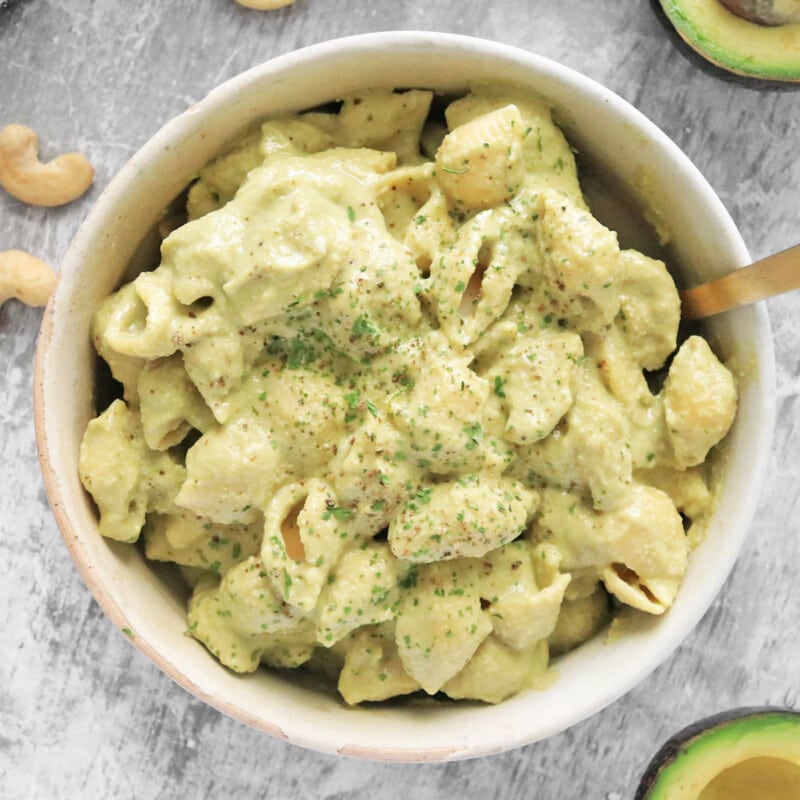 Healthy macaroni and cheese that tastes just as indulgent as the real thing? That's exactly what you get with this creamy avocado mac and cheese. Mashed avocado, nutritional yeast, and cashews bring the umami cream flavor while paprika and turmeric add some great visual appeal.
Fall Harvest Salad with Maple Vinaigrette
Vegan, Gluten-free, Nut-free | Total time: 4 hours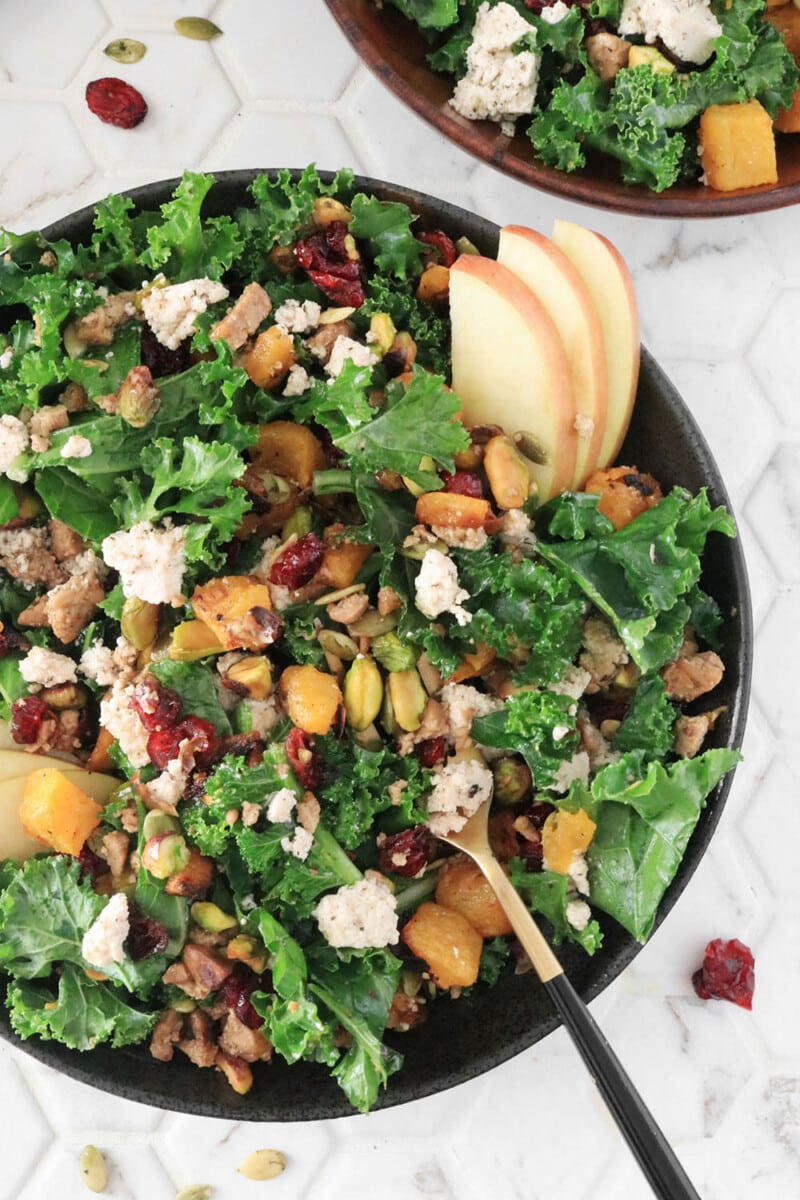 This absolutely beautiful and delicious fall harvest salad is the perfect dish to make ahead of the big holiday meal. It is a snap to put together once you have the tofu feta crumbles made and needs to chill before serving, so make sure to mark this one off your to-do list early on.
Creamy Pumpkin Soup
Vegan, Gluten-free, Nut-free | Total time: 30 minutes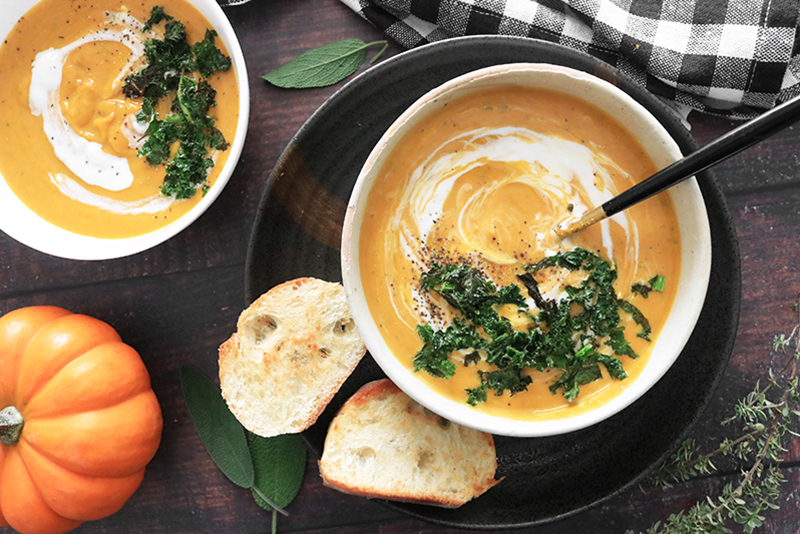 Get all the flavors of the season in one bowl of creamy pumpkin soup. With canned pumpkin, coconut milk, and a smattering of herbs and spices, this soup is as easy to make as it is delicious. Want to take it up a notch? Try roasting fresh pumpkin to replace the canned puree.
Vegan Pumpkin Cornbread Muffins
Vegan, Nut-free | Total time: 35 minutes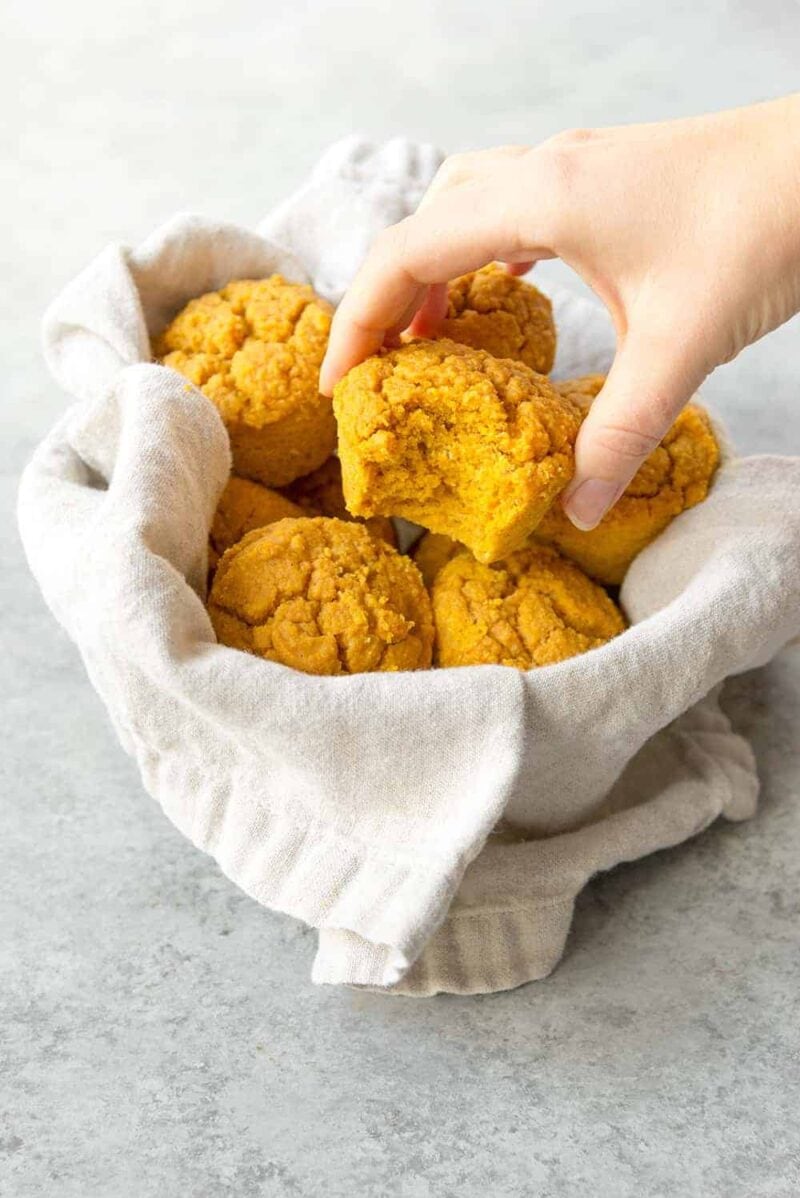 Why settle for regular-old cornbread with Thanksgiving dinner when you can have these vegan pumpkin cornbread muffins bursting with autumn flavor. These easy-to-make muffins from Delish Knowledge are slightly sweet, incredibly moist, and made with just enough pumpkin spice flavor to elevate your meal.
Creamed Spinach
Vegan, Gluten-free, Gluten-free | Total time: 15 minutes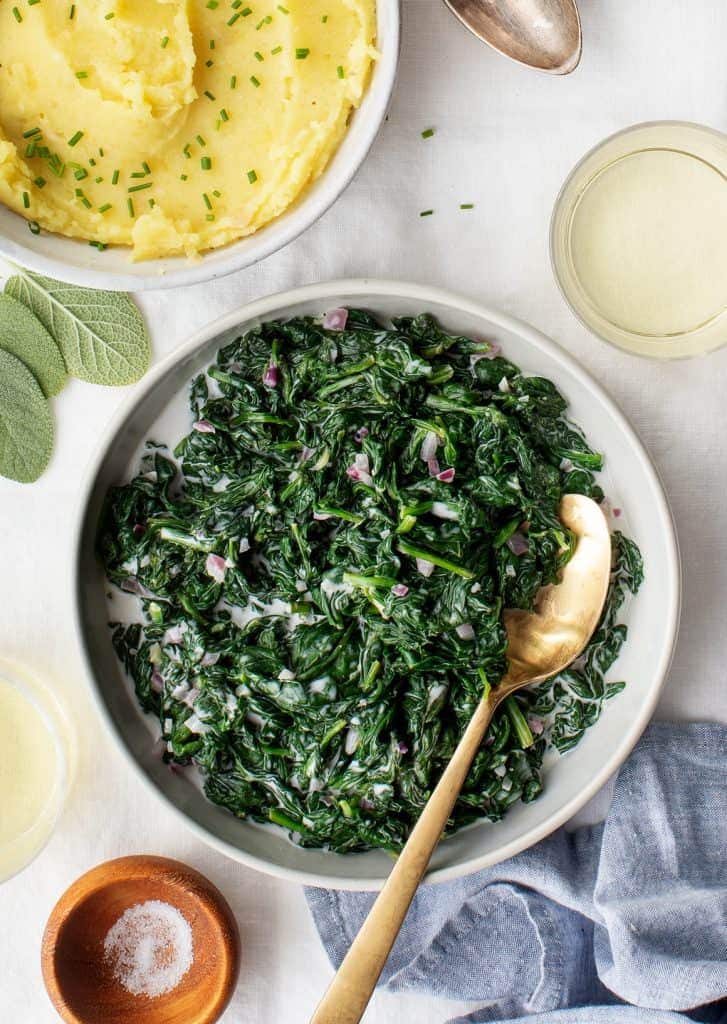 This super-easy creamed spinach side can be made in two ways: with coconut milk for all your vegan friends and with heavy cream for everyone else. Either way, the real star of this dish is the full pound of fresh spinach beautifully flavored with shallot, garlic, and dijon.
Cranberry Sauce
Vegan, Gluten-free, Nut-free, Oil-free | Total time: 20 minutes
In the time it takes to get that blob of canned cranberry sauce out of the tin, you can make this vibrant, fresh vegan cranberry sauce from scratch. With just five ingredients and one pan, this Thanksgiving favorite is sure to be one of the easiest sides you'll throw together this holiday season.
Butternut Pecan Sweet Potato Mash
Vegan, Gluten-free | Total time: 50 minutes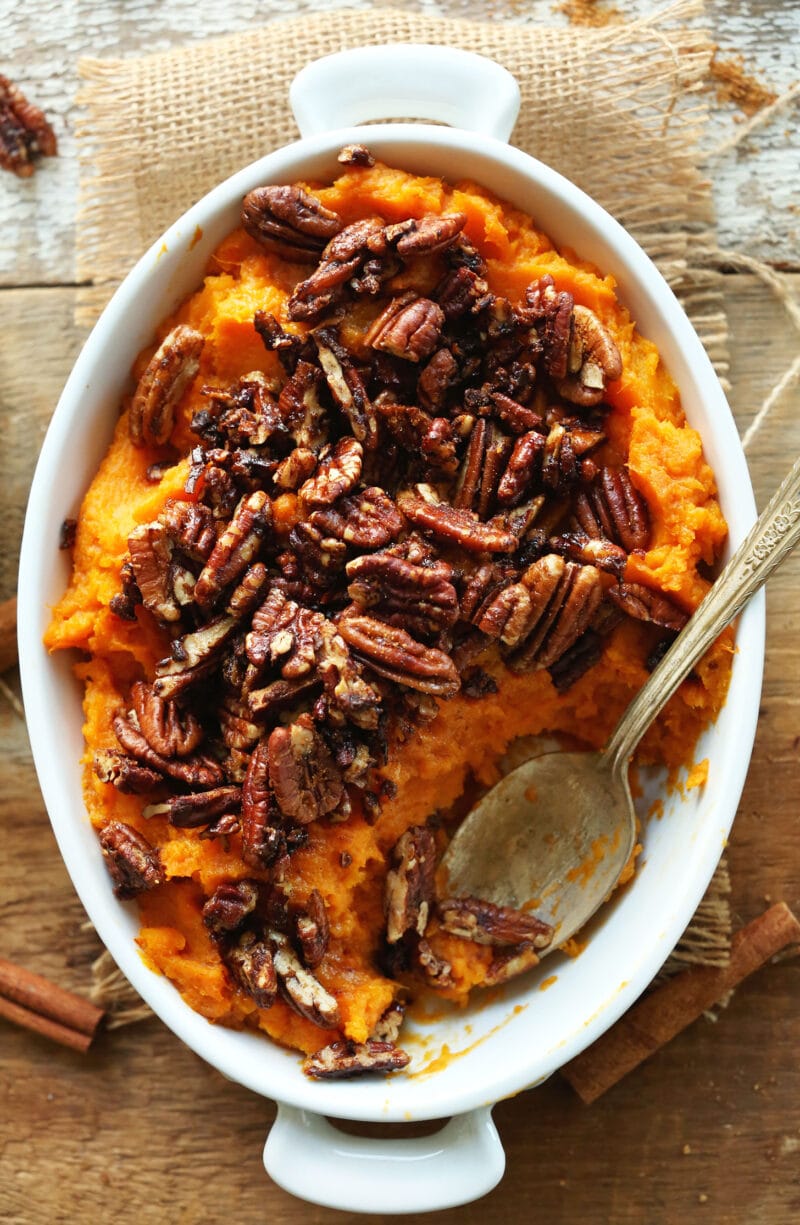 Why wait until dessert to enjoy a little sweetness this Thanksgiving. This easy butternut pecan sweet potato mash is filled with healthy seasonal favorites and just the right amount of natural sweetener and sweet spice to feel like you're breaking the rules a little.
Oat Cranberry Pilaf with Pistachios
Vegan, Gluten-free | Total time: 40 minutes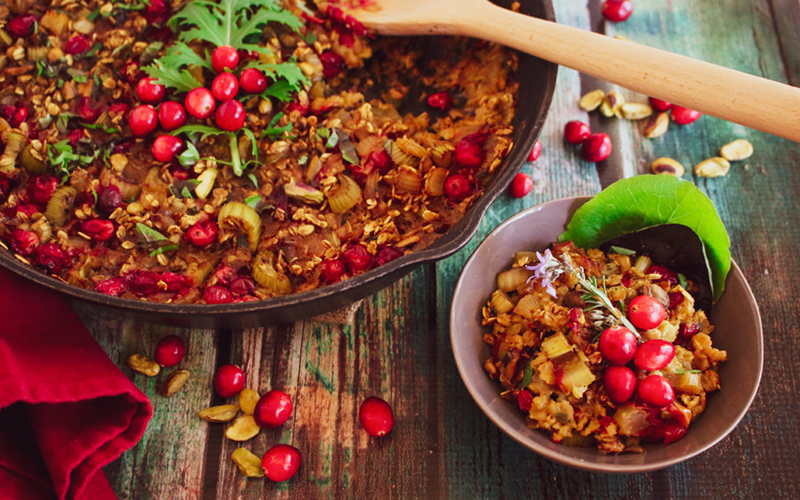 In a world of potatoes and green beans, this oat cranberry pilaf wtih pistachios sure does shine. It's not only nutritious and simple, but requires just one skillet and 40 minutes of your time. Bonus: You can eat the leftovers for breakfast.
Maple Glazed Carrots
Vegan, Gluten-free | Total time: 45 minutes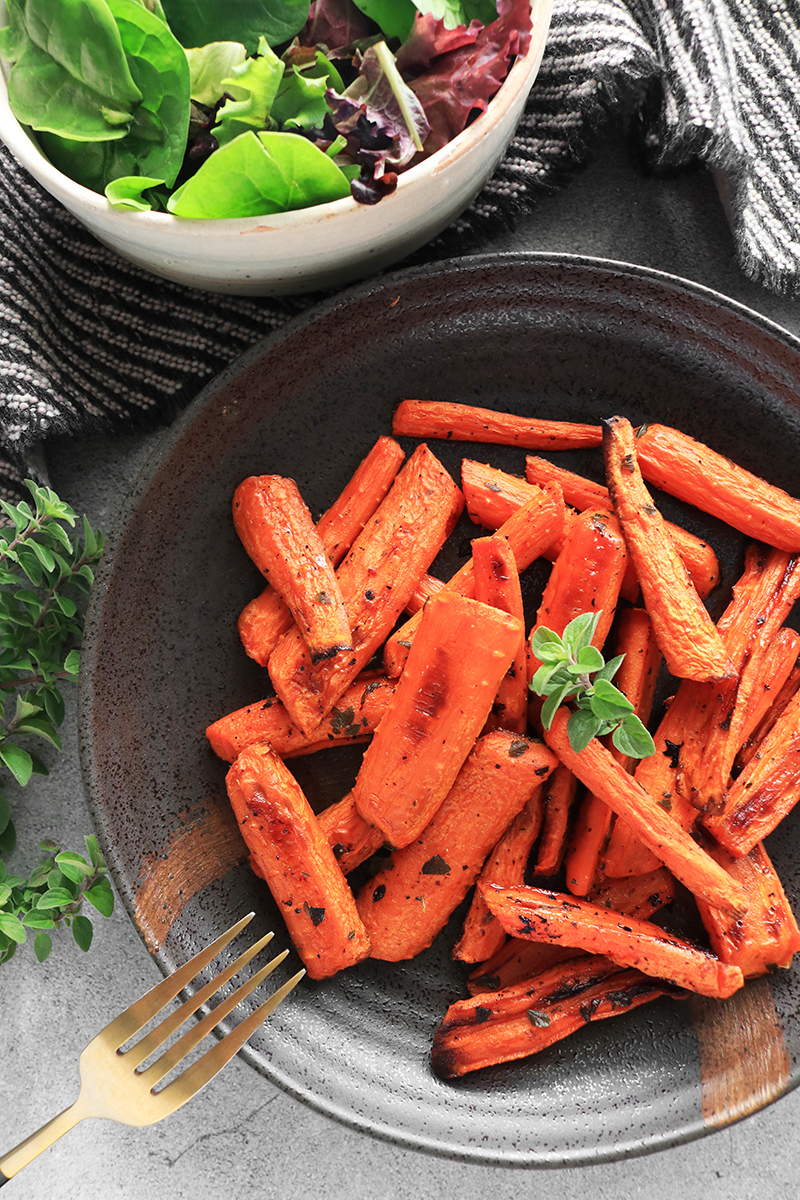 For a simple, classic recipe with a comforting sweet flavor, you can't beat these Maple Glazed Carrots. They can be prepped in just ten minutes and take up very little vertical space in the oven, leaving plenty of room for more sides. Try adding rainbow carrots for a beautiful burst of color on your Thanksgiving table.
Cheesy Vegan Roasted Cauliflower
Vegan, Gluten-free | Total time: 30 minutes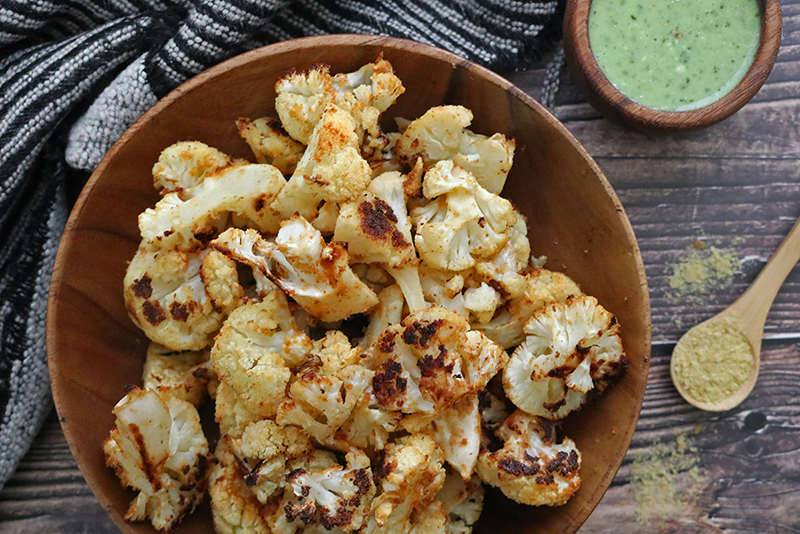 For a no-nonsense side dish, make this cheesy vegan roasted cauliflower recipe. It calls for just six ingredients, many of which you probably already have on hand. Serve it a tasty sauce like this vegan Ranch dressing.
Easy Vegan Stuffing
Vegan | Total time: 45 minutes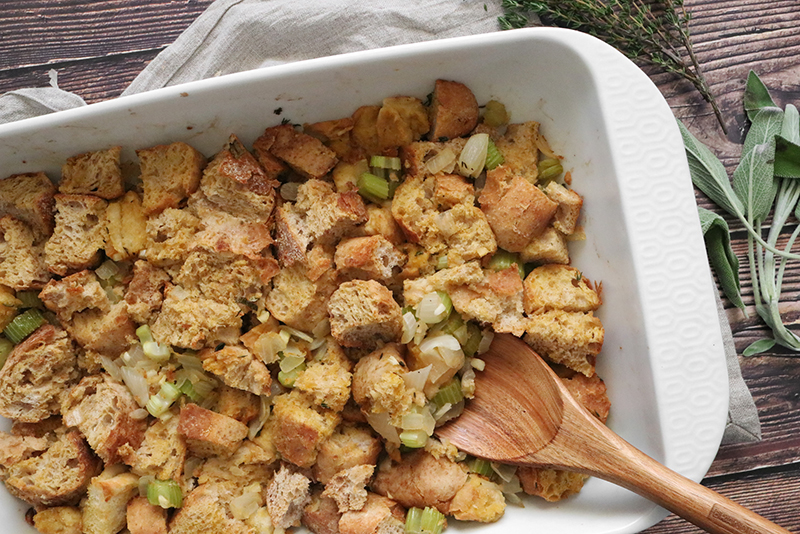 Homemade vegan stuffing is one of those dishes that's simple yet impressive. It also doubles as a chance to feature your favorite holiday herb combinations, like rosemary and thyme.
Miso Maple Roasted Brussels Sprouts
Vegan | Total time: 30 minutes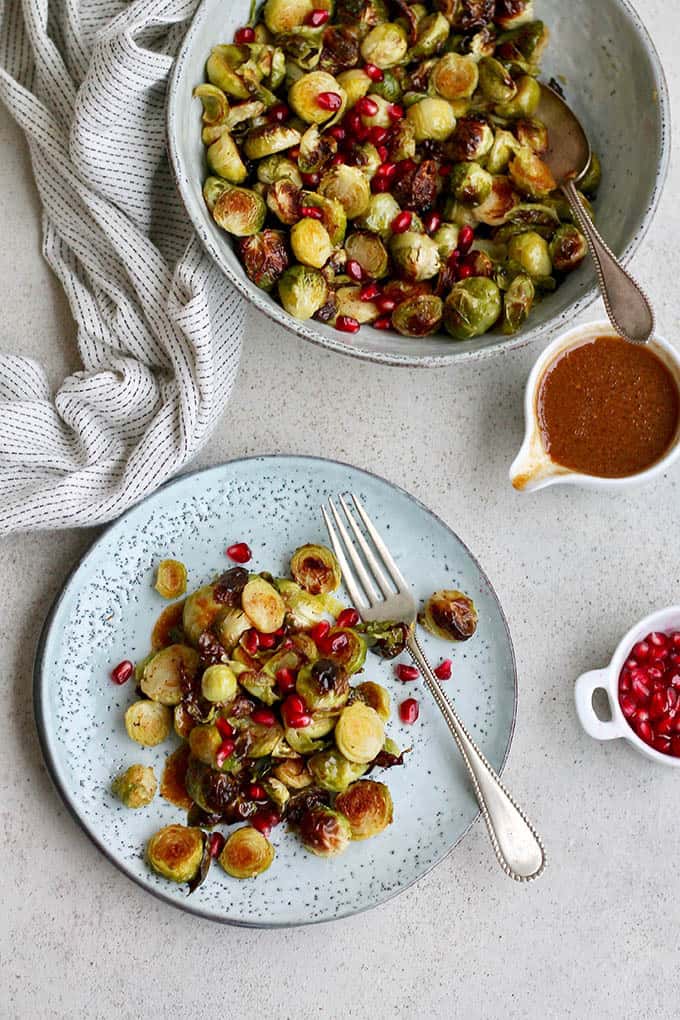 If you're looking for a flavorful vegan side dish, this is it. From the tangy apple cider dressing to the sweet pomegranate seeds, miso maple roasted Brussels sprouts will treat your taste buds. You can even make it advance and re-heat just before serving.
Instant Pot Roasted Potatoes
Vegan, Gluten-free | Total time: 30 minutes
Looking for a reason to break out your Instant Pot this Thanksgiving? Us too. That's why we've drooling over these Instant Pot roasted potatoes seasoned with garlic and Italian herbs. It also doesn't hurt that the recipe takes just 5 minutes to prep.
Vegan Green Bean Casserole
Vegan, Dairy-free | Total time: 1 hour
Green bean casserole may be a Thanksgiving staple, but traditional recipes call for dairy and processed ingredients. This year, try making a vegan green bean casserole from scratch. The "fried" onions are baked, while the creamy sauce is free of dairy.
Roasted Stuffed Acorn Squash with Quinoa and Kale
Vegan, Gluten-free | Total time: 1 hour 20 minutes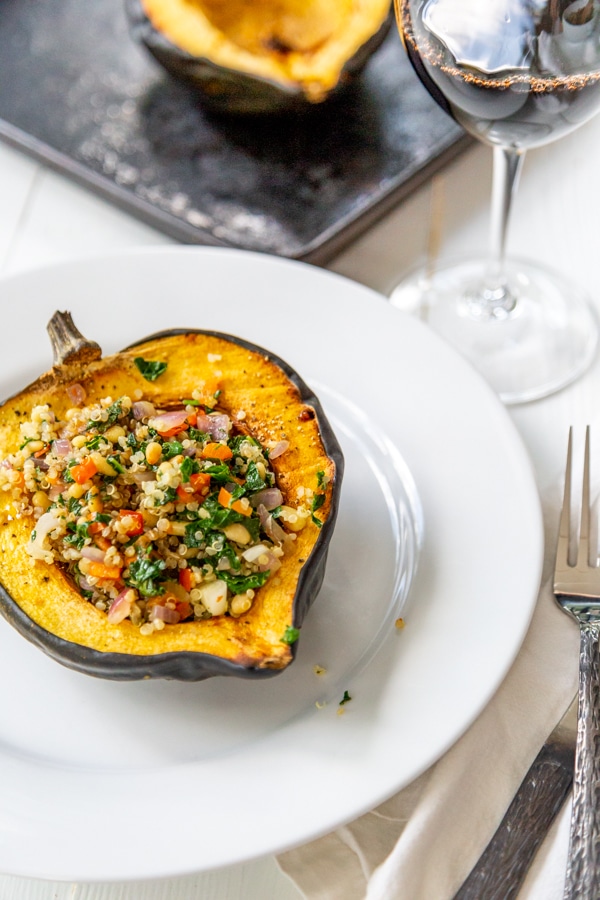 There's something so charming about serving food in, well, food. Take this roasted acorn squash with quinoa and kale, for example. The dish features a quinoa filling served in perfectly caramelized acorn squash, complete with a drizzle of balsamic glaze. Yum.
Vegan Sausage & Tempeh Cornbread Stuffing
Vegan | Total time: 50 minutes
If you've never tried cornbread stuffing, here's your chance. Thanks to this vegan sausage and tempeh cornbread stuffing recipe, you can switch up the classic side dish while keeping it vegan-friendly. It also calls for chunks of apple, which adds a tasty dose of sweetness.
Easy Cauliflower Stuffing
Vegan, Gluten-free | Total time: 20 minutes
With all this talk of stuffing, we couldn't help but highlight this brilliant cauliflower stuffing recipe. It's unconventional, healthy, and appropriate for all types of dietary needs. Besides, why should bread get all the fun?
Vegan Green Beans in a Blanket
Vegan | Total time: 15 minutes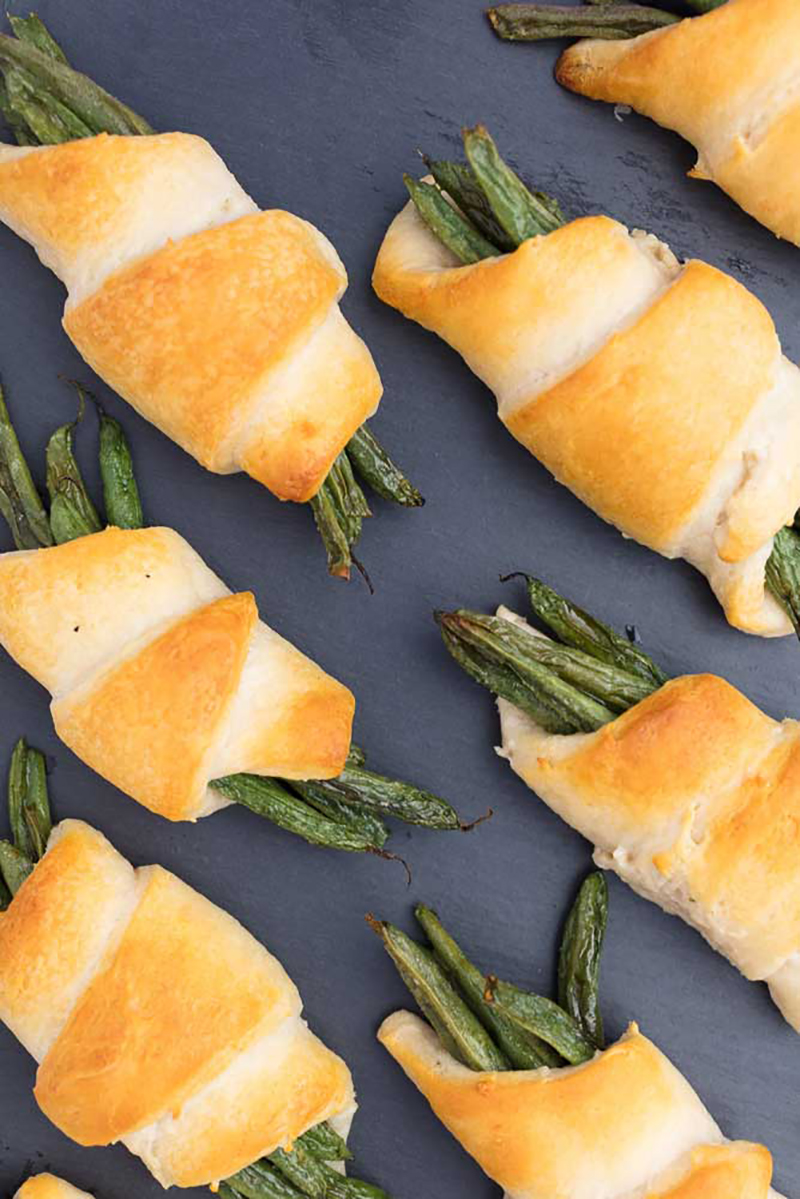 If you're not a fan of green bean casserole, try these green beans in a blanket. The recipe can be easily doubled or tripled, which is useful if you're planning to feed a crowd.
Roasted Sugar Snap Peas
Vegan, Gluten-free | Total time: 15 minutes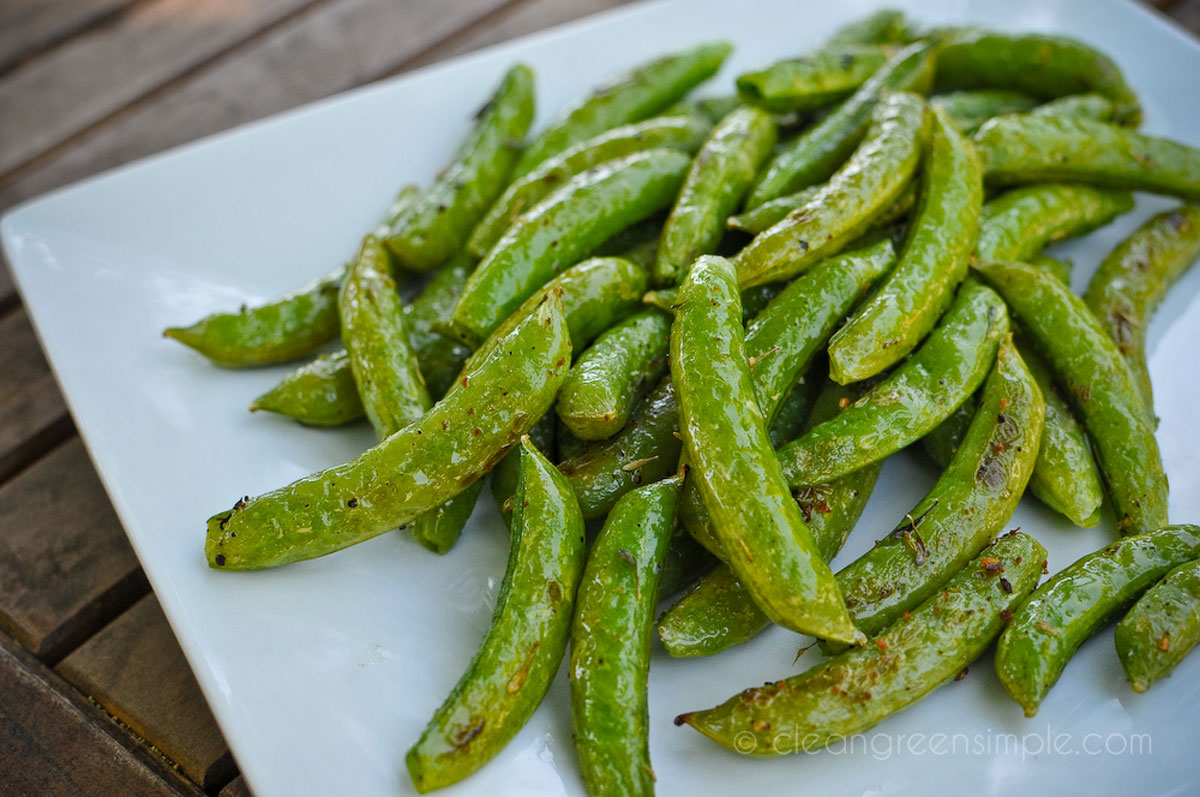 To brighten up your Thanksgiving spread, whip up a batch of roasted sugar snap peas. All you need is 15 minutes and six ingredients, so it's perfect when you're in a pinch.
Vegan Stuffed Mushrooms
Vegan, Gluten-free | Total time: 25 minutes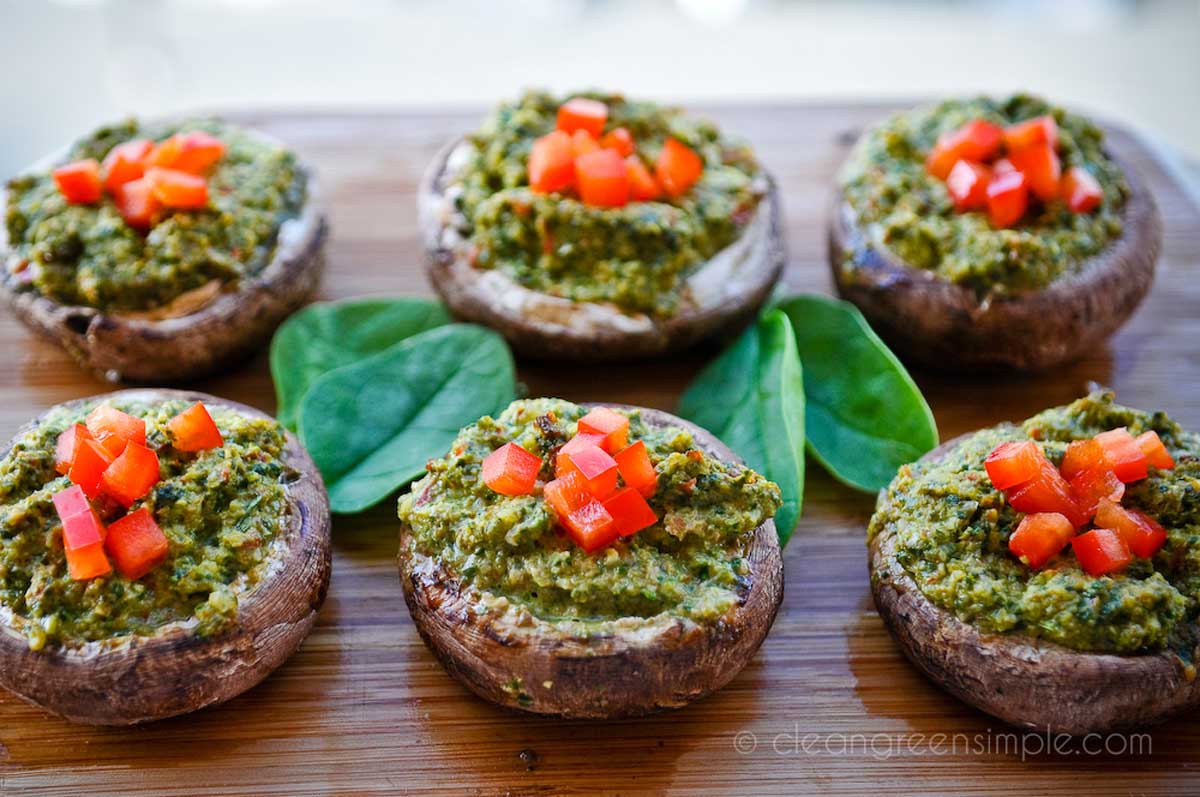 Whether you serve them as a side dish or appetizer, these vegan stuffed mushrooms are wonderfully tasty and fancy. Make them with thyme, rosemary, or oregano for a seasonal touch.
Vegan Sweet Potato Casserole with Pecan Crumble
Vegan | Total time: 1 hour 10 minutes
Much like stuffing and green beans, sweet potato casserole is a must for Thanksgiving dinner. Luckily, with ingredients like non-dairy milk and vegan butter, you can make a vegan sweet potato casserole that everyone will love.
Roasted Pear, Walnut, and Cranberry Salad
Vegan, Gluten-free | Total time: 30 minutes
During the holidays, you can't go wrong with simple tossed sides like this roasted pear, walnut, and cranberry salad. It features cooked pear, which complements the bitterness of kale in the sweetest way.
24. Crispy Baked Asparagus Fries
Vegan | Total time: 20 minutes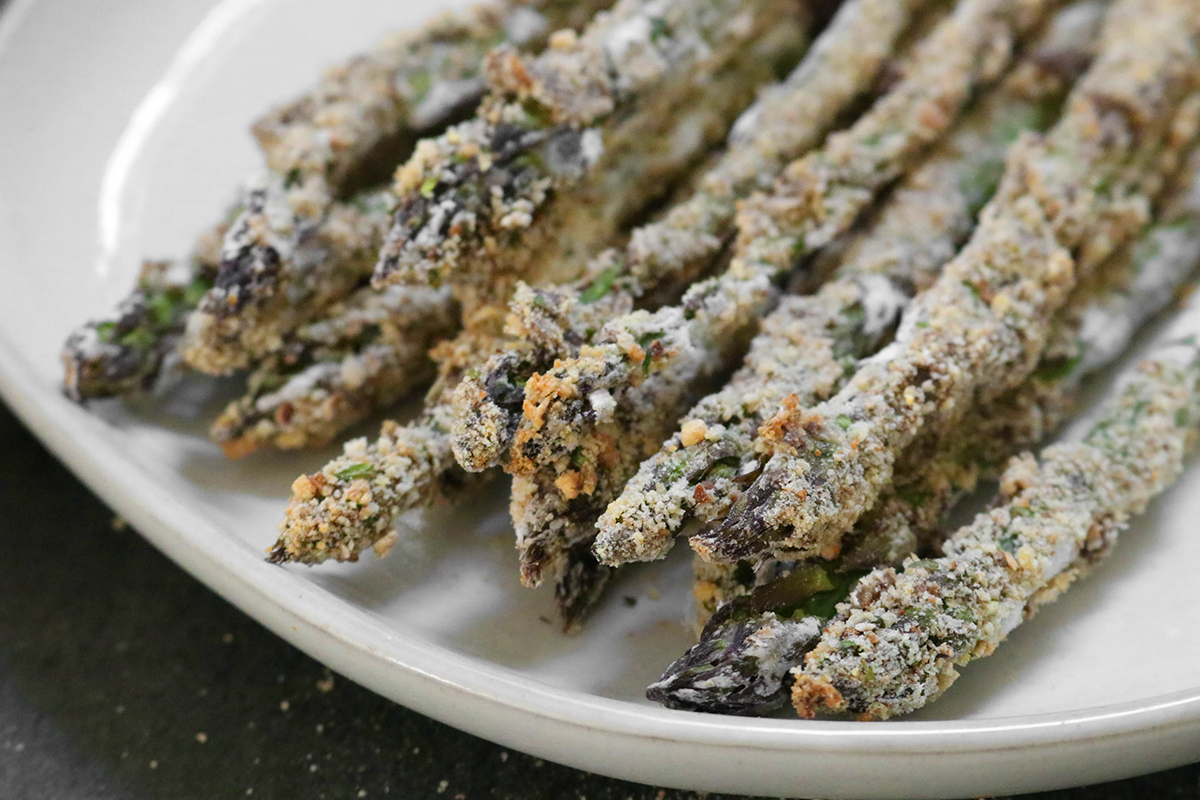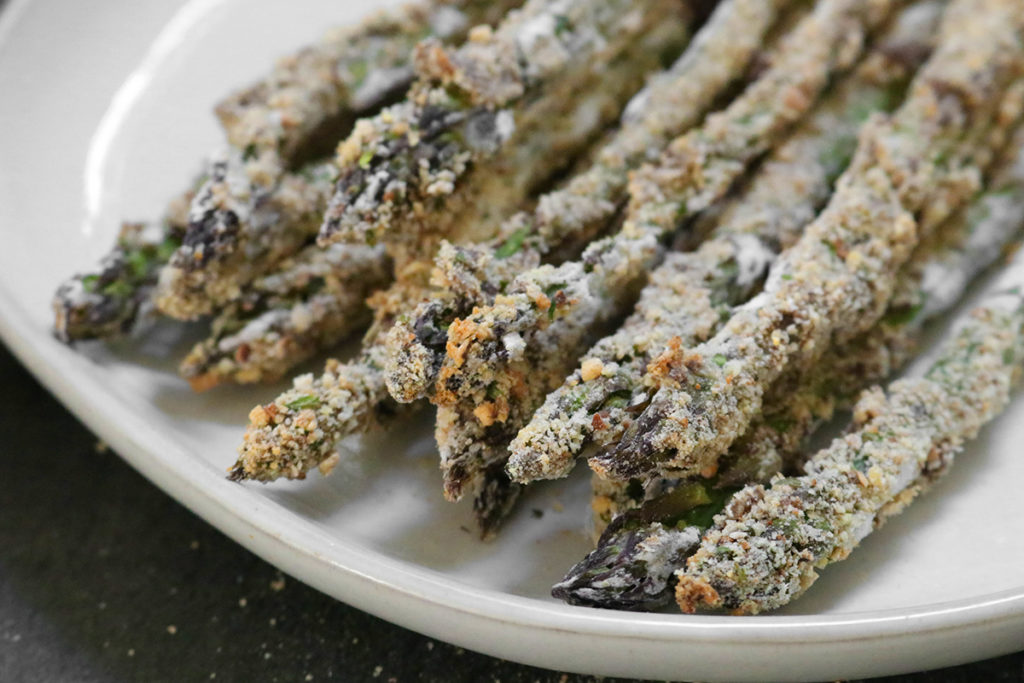 For another healthy side dish, make crispy baked asparagus fries. Since they're baked instead of fried, these vegan bites are an ideal alternative to conventional French fries. Serve 'em with your favorite vegan dip or ketchup.
Vegan Mashed Potatoes & Mushroom Gravy
Vegan | Total time: 1 hour 10 minutes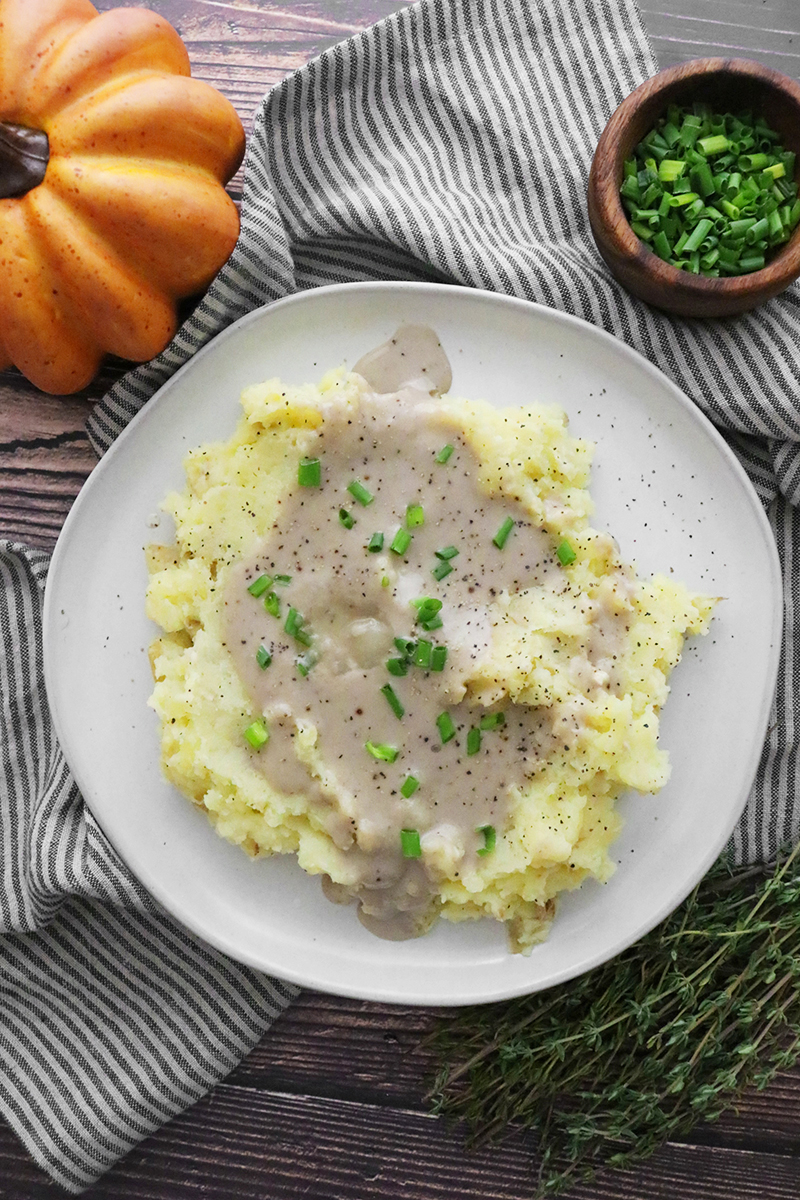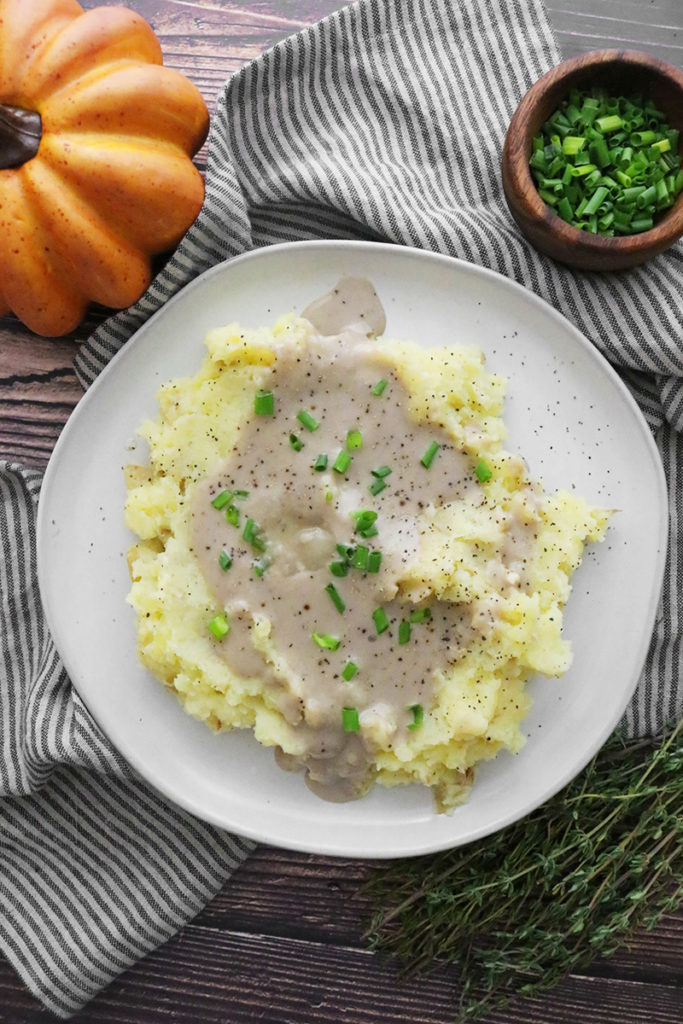 Finally, Thanksgiving wouldn't be complete without mashed potatoes and gravy. This particular version is not only made from scratch, but features a mushroom gravy that's full of flavor. It definitely beats the processed stuff from the jar.
Happy Thanksgiving!
We'll leave you with what is arguably the most popular, classic Thanksgiving side dish: Green Bean Casserole. Jump right into the recipe below or try one of the other great options listed above. Enjoy!
Best Vegan Thanksgiving Sides: Green Bean Casserole
This vegan green bean casserole is an all-time classic Thanksgiving side dish. It's dairy-free and features oven-baked "fried" onions, crispy green beans, and creamy mushroom sauce. One of our favorite holiday sides!
Click stars below to rate, or leave a full review in the comments
Print
Pin Recipe
Ingredients
Oven-Baked "Fried" Onions
1

medium yellow onion

thinly sliced

1

cup

non-dairy milk

plain

⅓

cup

all-purpose flour

½

teaspoon

salt

¼

teaspoon

ground black pepper

1

teaspoon

garlic powder

Cooking spray
Green Bean Filling
1

pound

green beans

trimmed and halved

6

tablespoons

vegan butter

3

garlic cloves

minced

½

medium yellow onion

diced

4

tablespoons

all-purpose flour

2 ½

cups

non-dairy milk

including drained milk

8

ounces

mushrooms

sliced

1

tablespoons

soy sauce

or tamari

Salt and pepper
Instructions
To make the "fried" onions, preheat the oven to 400 degrees Fahrenheit. Soak the sliced onions in milk for 10 to 15 minutes, tossing occassionaly. Drain and set aside the milk.

In a separate bowl, combine the flour and spices. Toss a handful of onions in the flour until coated. Transfer to a large baking sheet lined with parchment paper. Repeat with the remaining onions.

Coat generously with cooking spray. Bake for 25 to 27 minutes or until crispy, stirring once halfway.

To make the green bean filling, bring a large pot of water to a boil. Add the green beans and boil until crispy, about 10 minutes. Drain and set aside.

In a saucepan over medium heat, melt 2 tablespoons of vegan butter. Cook the onions and mushrooms until soft, about 5 to 7 minutes. Add the garlic and soy sauce and cook for 1 minute. Add to the green beans.

In the same saucepain, melt the rest of the vegan butter over medium-low heat. Add the flour and whisk until golden brown. Slowly add the milk. Simmer until thick, about 10 minutes, mixing continously.

Add to green beans and mushrooms. Toss well and transfer to greased casserole dish. Bake for 15 minutes, add fried onions, and bake for another 5 minutes. Serve immediately.