I feel like there are three kinds of people in the world: people who love ranch dressing, people who kind of like it, and people who don't really like it at all. (You like how I really narrowed things down there?)
More to the point, I've known many people who looooove it – they put it on salads, dip fries in it, put it on vegetables, I don't even know what all they come up with to do with it. Those people, if they have become vegan or can't eat eggs or dairy…they're gonna like this post.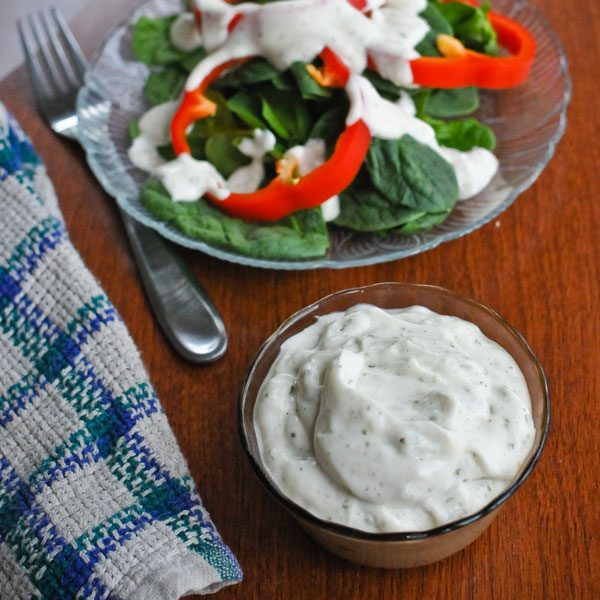 Personally I've always liked it fine but never been obsessed with it. But I was pretty excited to figure out how easy (and cheap) it is to make your own vegan ranch dressing at home! I haven't tried buying a commercial vegan version (is there one? I'd think so but haven't looked), but this tastes a heck of a lot like the regular ranch dressing I remember, and it's cheaper than almost any brand I've seen, vegan or not.
It's also super easy. Just put some canola (or other neutral oil) in the food processor with some soy milk (can't say whether it works with other "milks" yet, but I wouldn't be surprised if it does) and you'll have a sort of gross looking mixture:
Run the processor for maybe 10-15 seconds and, woo hoo, you will have a nice creamy dressing – it may be perfect ranch consistency right out the gate, or you may want to add a splash of soy milk to thin it out.
Then toss in some powdered garlic and onion (I normally prefer to use both of those things fresh, but in this application you probably will get better results from powdered for consistency purposes), a bit of lemon juice, some salt and pepper, and some dried parsley (you could probably use fresh parsley, if you minced it really fine). Blend again for another 10-15 seconds and taste – you made ranch dressing! I think as written this recipe has a slightly stronger garlic flavor than some ranch dressing, so you may want to start with half the amount of garlic and then add the rest to taste. The beauty of this is you can really season it to your exact specifications, it's very customizable.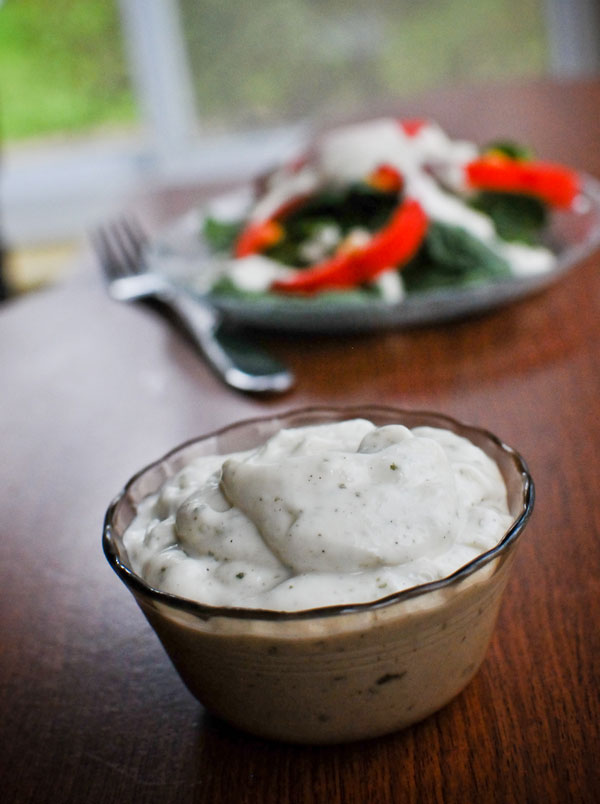 So – are you a ranch person? Any other favorite dressings or sauces you use on everything?
Vegan Ranch Dressing
A creamy, delicious ranch dressing recipe. Egg free, dairy free, vegan, gluten free, soy free, refined sugar free.
Click stars below to rate, or leave a full review in the comments
Print
Rate it Now
Pin Recipe
Ingredients
1

cup

canola oil

or other neutral oil

1/2

cup

soy milk

plus another splash if the original dressing is too thick (try to find one with minimal additives. I like Westsoy unsweetened. You can also use hemp or rice milk to make this soy free.)

1

tsp

lemon juice

1/2

tsp

garlic powder

1/2

tsp

onion powder

1

tsp

dried parsley

pinch

or two black pepper

to taste

1/2

tsp

salt

to taste
Instructions
In a food processor or blender, combine oil and soymilk and blend for 10-15 seconds until creamy.

Add lemon juice, garlic, onion, parsley, pepper, and salt and blend again for 10-15 seconds.

Taste and serve, or keep covered in the fridge for a few days.