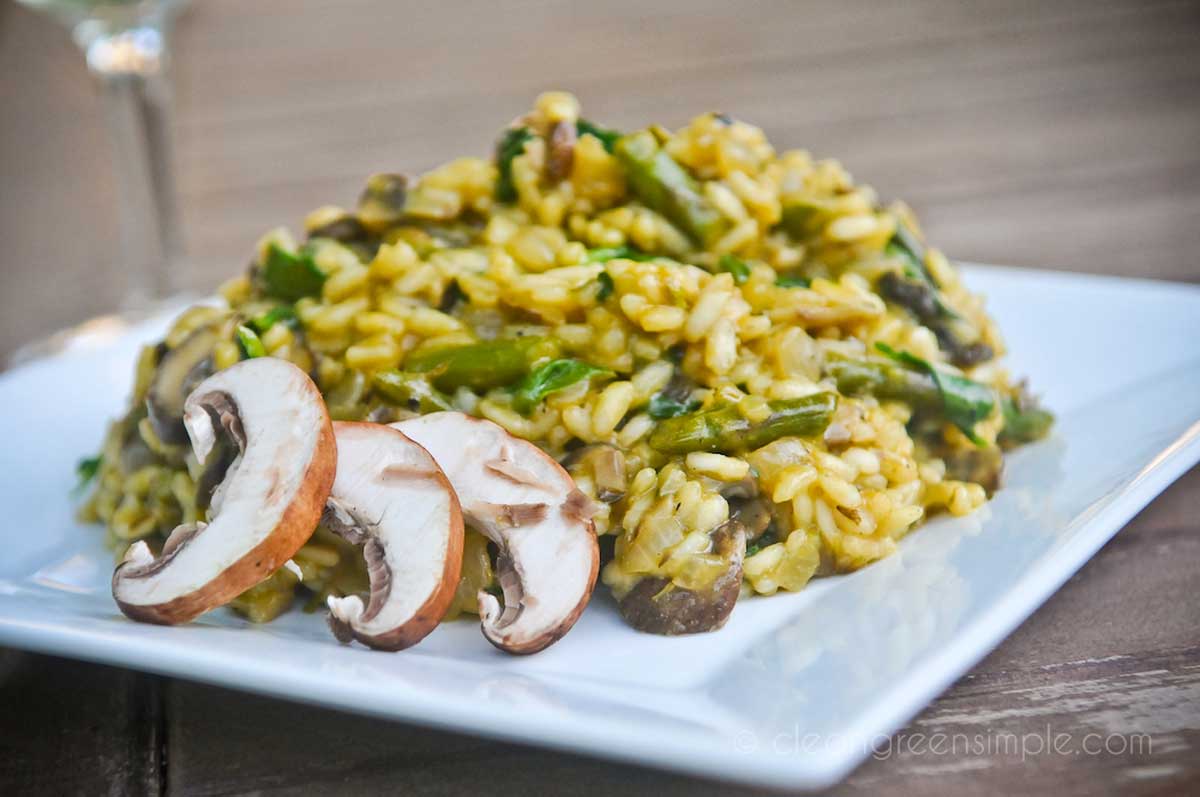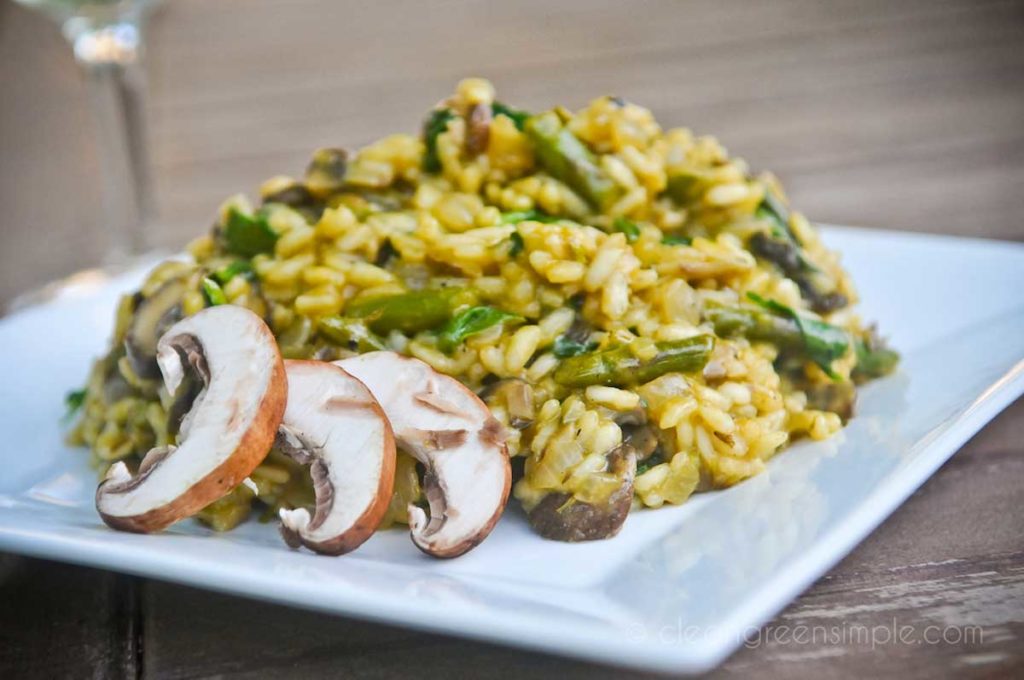 Have you ever had risotto? It's so creamy and smooth and decadent you'd swear it was covered in butter or cheese (and it often is!) – but did you know it's really easy to make yourself and doesn't need any dairy at all? True! This recipe doesn't even have much fat in it, aside from any you use to saute the onions. All it really takes is a little bit of patience to stir the rice every once in a while, but it's not especially difficult and the whole thing is done in maybe 30-45 minutes.
Simply chop up some onions, garlic, and asparagus and heat them in a large pot with a little bit of oil (just enough to make them not stick to the pan). While those soften, you can roughly chop up about 8 ounces of mushrooms (I used about 15 criminis):
Once your onions and asparagus are a little bit soft, throw the mushrooms into the pot along with some thyme, salt, and a splash of white wine, and let them cook until they release a bit of their moisture. Then you can add a cup of uncooked Arborio rice and cook until the rice is evenly coated and start to make tiny popping noises (almost like Rice Krispies) – once it's coated, add some vegetable broth about 1/2 cup at a time, stirring frequently and letting the rice soak up all the broth before adding more. About halfway through it will look like this:
It doesn't get super creamy until about 3/4 of the way through, so be patient – you'll be rewarded! Once you've added almost all of the broth (about 3 cups total) and the rice is nice and soft and creamy, add in some spinach, lemon juice, and nutritional yeast and stir them in until the spinach is fully wilted.
Serve immediately and try to convince yourself there's really no fat in this dish. It's insane.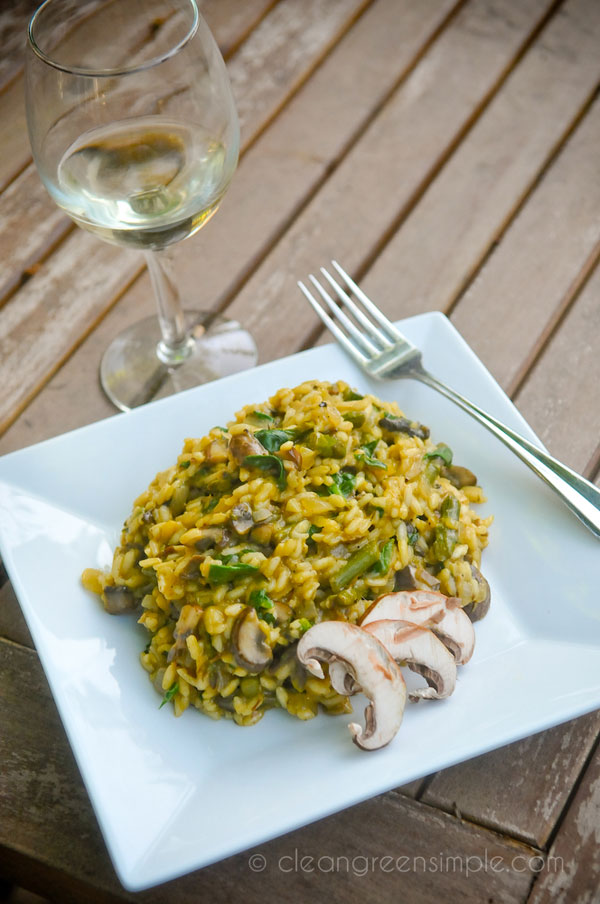 This makes 2-4 servings of risotto – the vegetables are pretty flexible, you can omit or swap out the spinach and asparagus very easily. The mushrooms add a nice depth to the flavor but you could even do it without them if you really wanted.
Vegan Risotto with Asparagus & Mushroom
Vegan, Gluten Free, Soy Free, Low Fat, Refined Sugar Free
Click stars below to rate, or leave a full review in the comments
Print
Rate it Now
Pin Recipe
Ingredients
1

onion

diced

4-6

cloves

garlic

minced

1

bunch of asparagus

woody stalks removed and chopped into 1-2 inch pieces

8

oz.

mushrooms

about 15 or so if you use crimini, roughly chopped

1

tsp

dried thyme

½ – 1

tsp

salt

to taste

½

cup

white wine

optional

1

cup

Arborio rice

uncooked

3

cups

vegetable broth

2

cups

spinach

chopped

2

tsp

nutritional yeast

optional

¼

tsp

onion powder

optional

1-2

tsp

lemon juice
Instructions
Heat a large pot over medium heat. Add onion, garlic, and asparagus and heat, stirring occasionally, until softened (about 5-7 minutes). Add mushrooms, thyme, salt, and white wine, and heat until mushrooms are softened, another 3-5 minutes or so. Add rice and stir until rice is well coated and starts to make small snapping noises (like Rice Krispies). Add vegetable broth 1/2 – 3/4 cup at a time, stirring well, and allowing the rice to soak up all the liquid before adding more – this takes about 3-5 minutes or so each time.

Once you've added almost all the broth, add the spinach, nutritional yeast, onion powder, lemon juice and the rest of the broth and stir until the spinach is wilted – 2-3 minutes. Taste, and add more salt, pepper, or lemon juice if needed. Serve immediately.