Looking for a new vegan B12 supplement? Consider this list of popular, well-loved options. From easy-to-swallow capsules to dissolvable tablets, there's something for everyone on this list. You can even take B12 in liquids, drink mixes and sprays, if swallowing pills isn't your thing.
We recommend consulting your doctor before starting any new regimen so they can help you make the best choice for your situation. Your doctor can also explain the best dosage and the best way to take B12. If you decide taking a B12 supplement is right for you, our top picks below will help you avoid aimlessly wandering the vitamin aisle.
At a glance:
What to Look for in a B12 Supplement
Over-the-counter oral B12 supplements are available in different forms: cyanocobalmin and methylcobalamin. Therefore, it helps to understand the difference before browsing the aisle (or web).
Cyanocobalamin is a synthetic form of B12. It's commonly used in fortified foods and supplements because of its low cost and temperature stability. In the body, cyanocobalamin is converted to methylcobalamin and adenosylcobalamin, which are the naturally occurring coenzyme forms.
Methylcobalamin is a natural form of B12. And according to a February 2017 review in Integrative Medicine: A Clinician's Journal, it is the preferred version due to its superior bioavailabilty. However, in a July 2015 study in Molecular Nutrition and Food Research, researchers found it has no advantage over its synthetic counterpart.
Though the research is conflicting, both types can be beneficial. "Regardless of which form of B12 you take, both have been shown to successfully treat B12 deficiency," says Amanda A. Kostro Miller, RD, LDN, advisory board member for Smart Healthy Living.
Methylcobalamin | 5000 mcg per 1 ML drop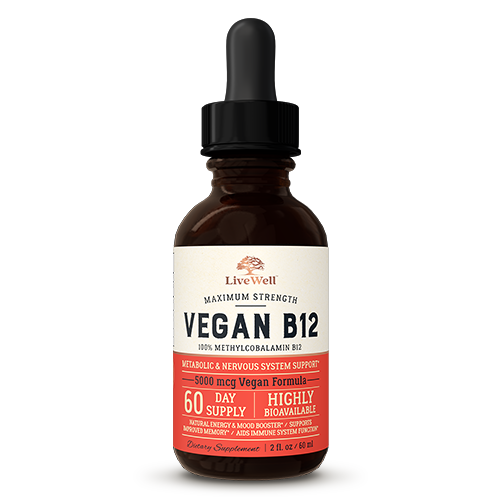 LiveWell's Maximum Strength Vegan B12 is a sublingual formula that uses the methylcobalamin form of B12 for high bioavailability. A single 1 ML drop taken once daily with water is designed to replenish your body, offering you clarity, energy, and focus. It's also vegan, non-GMO, and preservative-free.
We like the fresh lemon flavor and the fact that the liquid form minimizes the use of fillers or additives. Additionally, each 2 ounce bottle contains a 2-month supply, which means you can order less frequently and save on shipping charges.
Cyanocobalamin | 1000 mcg per lozenge
NOW has been a leader in the natural products industry since 1968. Their B12 chewable lozenges offer an easy and convenient option. The 250 count bottle is an excellent value, getting your cost per serving down $0.05.
Methylcobalamin | 500 mcg per 1ml serving (5 sprays)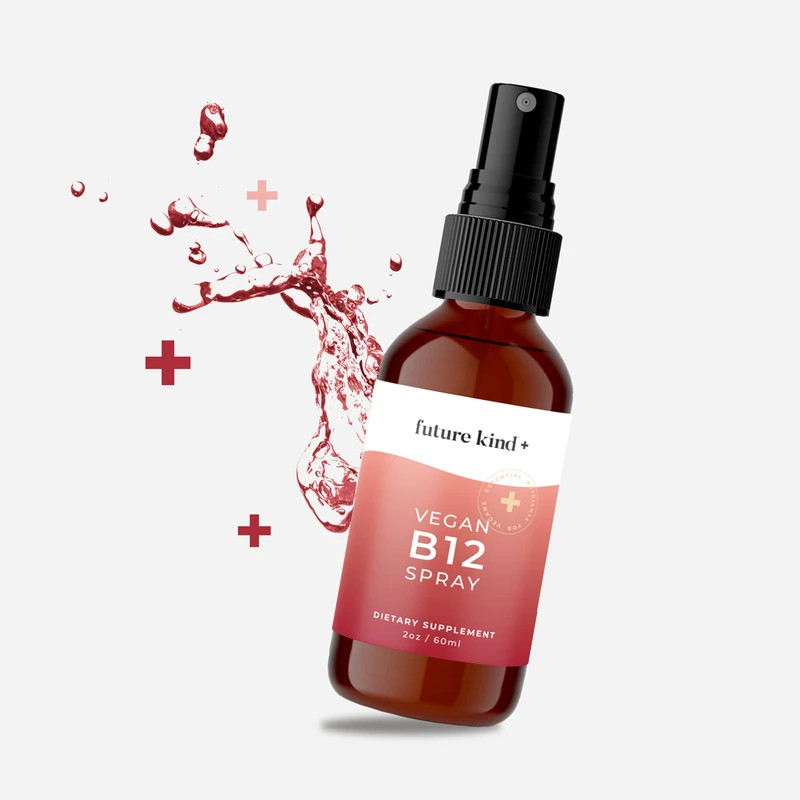 Future Kind's Vegan B12 strives to maximize bioavailablity by combining an easy to use spray with the 100% Methylcobalamin form of B12. They use a Vegan Society registered B12 that's manufactured in the U.S. at a GMP certified facility. We like the natural wild berry flavor and the same sustainable packaging that can be found in all of Future Kind's excellent products. Enter promo code "BEKIND10" to receive 10% off of your first order.
Methylcobalamin | 250 mcg per gummy (+25 mcg D3)
A list of vegan B12 supplements wouldn't be complete without a gummy option. This one is perfect for anyone who's already taking a vitamin D supplement since you can work in your B12 and D3 into a single serving.
MaryRuth's vitamin D3+B12 gummies are made with pectin instead of gelatin, so they're completely vegan-friendly. It also doesn't hurt that they feature a yummy strawberry flavor, too. Great for adults and kids!
Methylcobalamin | 500 mcg per spray
With a vitamin B12 spray like this supplement by Garden of Life, you can simply toss the bottle in your bag and head out the door. It's perfect if you're traveling and don't want to handle supplements with your hands. This particular spray is raspberry-flavored, gluten-free, non-GMO, and kosher.
Cyanocobalamin | 1000 mcg per soft gel
If you're partial to soft gels, check out Nature Made's 150-day supply of vitamin B12. According to pleased reviews on Amazon, the supplements are small and easy to swallow. Additionally, they reportedly don't have an aftertaste, which is always a plus.
Cyanocobalamin | 1200 mcg per serving (1 ml or 2 dropper servings)
You can also enjoy liquid B12 in the form of drops. Created by Salt Lake Supplements, this gluten-free, non-GMO vitamin B12 supplements is perfect if you simply can't swallow or stomach capsules. Plus, each bottle offers a generous 60-day supply.
Methylcobalamin | 2500 mcg per tablet
Another easy-to-use option is dissolvable tablets, like these cherry-flavored supplements by EZ Melts. They're not only fast-melting, but are made with natural flavors and sweeteners too. "I hate swallowing pills and these taste quite tolerable and go down easy," shared a customer on Amazon.
Methylcobalamin | 1500 mcg per veggie cap
Thanks to its $5 price tag, these vegan B12 supplements by Doctor's Best are easy on the wallet. Each bottle includes 60 veggie capsules with 1500 mcg each. "I like to take it after I eat lunch to keep the afternoon crash away," said one Amazon reviewer.
Always consult your doctor before taking a new supplement, especially if you are taking medication, pregnant, or breastfeeding.