You give up a lot of tasty food when you decide to go vegan. Luckily, a rise in the number of plant-based eaters and increasing demand for sustainable food has led to more and more vegan-friendly versions of all our favorite foods.
One area where that trend has recently led to some seriously tasty results is in the vegan ice cream niche.
Gone are the days of choosing between a handful of chalky, tasteless dairy-free ice creams. Now, your choices for ethical ice cream brands number in the dozens, and many of them are actually pretty dang good.
Ready to get your ice cream fix? Here are 9 of the best vegan ice cream brands you'll wish you knew about sooner.
Our Top Picks at a Glance
In Detail: The 6 Best Vegan Ice Cream Brands
Ben & Jerry's
Why We Love it: Finding a unique flavor of vegan ice cream used to be a challenge. Then Ben & Jerry's decided to throw their hat into the dairy-free ring. Now the only challenge is finding the time to try each of their 19 certified vegan ice cream flavors.
Ben & Jerry's has come a long way since starting in a Vermont gas station in 1978. But through the years, there are two things that never changed: the company's hardline stance on many social and political issues and their passion for delicious ice cream.
All of their vegan ice cream flavors are made with fair trade, non-GMO ingredients. And just as delicious as their dairy-containing options.
Base Ingredient: Almond milk or sunflower butter.
Where to Get it: Just about anywhere! In addition to being available in many chain grocers, Ben & Jerry's also has a number of stand-alone ice cream shops throughout the country.
Available Flavors: Caramel almond brittle, phish food, fudge brownie, chocolate swirl, coffee caramel fudge, peanut butter and cookies, and many, many more (see the full list here).
Coolhaus
Why We Love it: Coolhaus is a woman-powered sweet-treat shop on a mission to save the world by creating inclusive ice cream for all.
These women are all about crafting delicious desserts that utilize clean, all-natural ingredients, so you can feel good even as you indulge.
Their dairy-free line features a multitude of fun flavors all made with their proprietary blend of plant-based proteins and sweeteners. With these awesome pints, you'll never miss dairy again.
Base Ingredient: Blend of pea protein, brown rice, and cane sugar.
Where to Get it: Whole Foods, Sprouts, and other natural markets. Locate a retailer near you or order online: cool.haus.
Available Flavors: Vanilla, mint, cookie dough, chocolate cookie crumb, dirty mint chip
Nick's Ice Cream
Why We Love it: Is there anything not to love about a low-calorie, Swedish-style, vegan ice cream that is delivered straight to your door?
Nick's is a little different from other brands on this list. For one, they use natural, low-calorie sweeteners in all of their products. And their vegan ice cream contains milk protein… but it doesn't come from animals!
This ice cream is a love affair between nature and science. Together they deliver delightfully creamy vegan ice cream with a fraction of the sugar of traditional ice creams.
Base Ingredient: Plant oils
Where to Get it: There are a handful of stores that carry Nick's, but your best bet is to go straight to the source: nicks.com.
Available Flavors: Chocolate, mint chip, peanut butter fudge, hazelnut fudge, strawberry, vanilla, caramel
Eclipse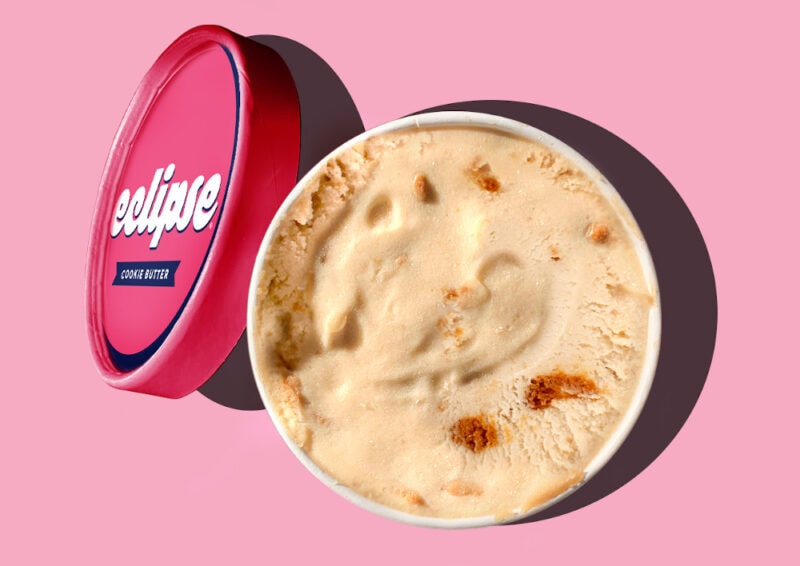 Why We Love it: We love that many traditional ice cream companies are getting into the vegan market. But what we love more is a company dedicated to producing only climate-friendly, cruelty-free, plant-based ice cream. And that is what Eclipse is all about.
This company is 100% dedicated to vegan ice cream. It's all they make, and that dedication shows. Thanks to a unique blend of macro ingredients meant to emulate dairy, these pints are as close to the creamy, decadent texture of cream-based ice cream that you're going to find.
Base Ingredient: Potato protein, starch, and tapioca.
Where to Get it: Unless you're in NorCal, your best bet is via their website: eclipsefoods.com.
Available Flavors: Mint chip, dark chocolate peanut butter, cookies and cream, caramel butter pecan, cookie butter, chocolate, vanilla, strawberry, and mango passion fruit.
So Delicious
Why We Love it: So Delicious has been fighting the good fight in the dairy-free world for over 30 years. In that time, they've come up with a number of delicious vegan products from cheese to desserts.
Of course, vegan ice cream is what we love this brand for. Over the years they have added a number of recipes and now produce ice creams made with different bases, including almond milk and oat milk.
All the ingredients that go into these ice creams are certified vegan and GMO-free. They always use organic coconuts and put the Earth first in their ingredient selection and manufacturing processes.
Base Ingredient: Coconut milk, cashew milk, almond milk, oat milk, or soy milk.
Where to Get it: Available at most chain grocery stores.
Available Flavors: Banana foster, snickerdoodle, peanut butter and raspberry, no sugar added vanilla, and more (see them all here).
Halo Top
Why We Love it: Halo Top didn't get into ice cream to change the world. But they were very serious about creating a low-calorie ice cream that tasted just as good as traditional soft serve. After they mastered that, they decided to try the challenge again with dairy-free.
Their certified vegan ice creams have, on average, half the amount of calories as your standard ice cream pints. And they're made with good-for-you natural ingredients that add plenty of flavor without piling on the sugar or fat.
Low-calorie ice cream that tastes just as good as the real thing? Sign us up!
Base Ingredient: Coconut milk
Where to Get it: Available at Whole Foods, Safeway, Target, and more (find your local hookup here).
Available Flavors: Birthday cake, candy bar, chocolate, chocolate almond crunch, cookie dough, peanut butter, and salted caramel.
Cosmic Bliss
Why We Love it: Cosmic Bliss has been known by many names. They started out as Luna & Larry's then changed their name to reflect their most beloved flavor, Coconut Bliss. Now they've rebranded again to Cosmic Bliss.
This latest name change comes after adding a line of grass-fed dairy ice cream to their once 100% vegan ice cream options. This move upset many and for good reason. But the company still stands by its original legacy of creating healthier, simpler ice cream that's better for people and the planet.
And, truth be told, we still love their coconut cream base vegan lineup enough to overlook the fact that they now sell dairy ice cream as well.
Base Ingredient: Coconut
Where to Get it: Available at Bristol, Whole Foods, Natural Grocers, Sprouts, and more.
Available Flavors: Chocolate walnut brownie, cherry amaretto, banana, infinite coconut, and more (see the full list here).
NadaMoo
Why We Love it: Each pint of NadaMoo is made from organic coconuts that only require rainwater to produce. And the husks are used to create biofuel. This coconut cream base is sweetened with natural agave syrup—no refined sugar here!
NadaMoo has all the classic flavors plus some delicious creative options. All 20 plus flavors are 100% plant-based and vegan. And made with sustainable practices and no-waste principles.
Some of the awesome whole foods you'll find on these ingredient lists include organic cocoa powder, organic vanilla beans, and organic peanut butter.
Base Ingredient: Coconut milk
Where to Get it: Available at Target, Whole Foods, King Soopers, Walmart, and more.
Available Flavors: Birthday cake, cookie dough, peppermint bark, strawberry cheesecake, caramel cold brew, mint ice cream, and more (check out the full lineup here).
Van Leeuwen Ice Cream
Why We Love it: New York-based Van Leeuwen has always been about crafting good ice cream. When they say good, they're talking all about taste, but not without regard to quality. What they deliver is amazingly creamy and flavorful desserts made with natural, easy-to-pronounce ingredients meant to make you happy.
Their vegan lineup is no exception. These plant-based options include coconut, cashew, and oat-based choices mixed with cane sugar, cocoa butter, and other ingredients from the earth.
This company may have started as a traditional creamery, but they've grown to include over 16 awesome nondairy ice creams. Buy at your favorite natural market or online here.
Base Ingredient: Coconut, oat, and/or cashew milk
Where to Get it: Available at Whole Foods, Bristols, Sprouts, and other natural grocers.
Available Flavors: Rocky road, pumpkin cinnamon roll, passion fruit layer cake, brown sugar chunk, and more (see the full list here).
What is the Best Vegan Ice Cream Brand?
The days of bland and boring vegan ice cream are a distant memory. Now, the only problem is deciding which delicious plant-based pint to indulge in.
When it comes to the best vegan ice cream, it really depends on what you're looking for.
Want variety? Ben & Jerrys, So Delicious, and NadaMoo have you covered. Prefer ice cream on a mission? Eclipse, Cosmic Bliss, and Coolhaus are out to change the world and they want you to come along for the delicious ride.
Or maybe what you're really after is a decadent treat with less sugar and fewer calories than your typical dessert. Nick's and Halo Top to the rescue! Or, for the straight-up decadent, its all about Van Leeuwen.
The truth is, you can't go wrong with any of our 9 choices above.
How to Make Your Own Vegan Ice Cream
This classic vegan "n'ice" cream recipe is as simple as it is delicious. The base ingredient is simply … bananas.
Just slice up a couple of bananas and freeze them. Then blend the frozen pieces in a food processor with a little plant-based milk to help get things swirling, and watch as it turns into a smooth, creamy substance that's similar to soft-serve ice cream. Freeze it for a couple of hours for a harder, scoopable dairy-free frozen treat.
This basic recipe tastes great on its own, but there's not much to it. By adding flavorings (like cocoa) and toppings (like nuts and berries), you can make vegan ice cream that's every bit as satisfying as traditional ice cream.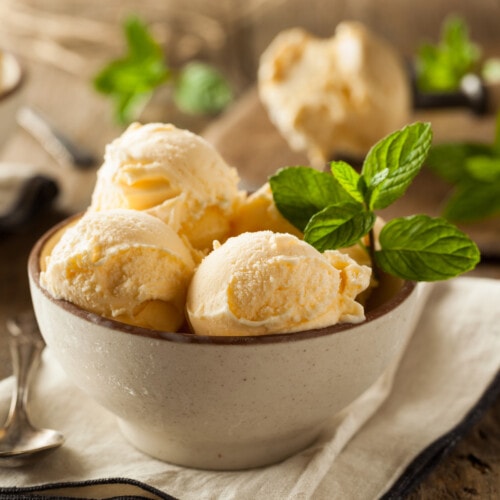 Simple Vegan Ice Cream
Go bananas with this easy-to-make, delicious vegan ice cream! All you need is a couple of ripe bananas and a food processor to make a healthy frozen dessert that's dairy, gluten, and sugar free. Use your creativity to add toppings and flavorings that take this simple recipe to new heights.
Click stars below to rate, or leave a full review in the comments
Print
Pin Recipe
Ingredients
2

bananas

sliced, then frozen

2

tbsp

nut milk

or plant-based milk of choice
Instructions
Slice the bananas, spread the slices on parchment paper, and freeze them for about 30 minutes.

Throw the frozen banana slices into a food process or blender and add the plant-based milk. Blend until creamy, like the consistency of soft-serve ice cream. You can stop here and eat it like this if you like.

For more scoopable ice cream, spread the mixture into a plastic bowl or parchment-lined loaf pan. Freeze for about 2 hours until firm. Scoop, add desired toppings, and serve.
Nutrition
Calories:
90
kcal
|
Carbohydrates:
18
g
|
Protein:
1
g
|
Fat:
2
g
|
Saturated Fat:
2
g
|
Sodium:
2
mg
|
Potassium:
304
mg
|
Fiber:
2
g
|
Sugar:
10
g
|
Vitamin A:
50
IU
|
Vitamin C:
7
mg
|
Calcium:
6
mg
|
Iron:
1
mg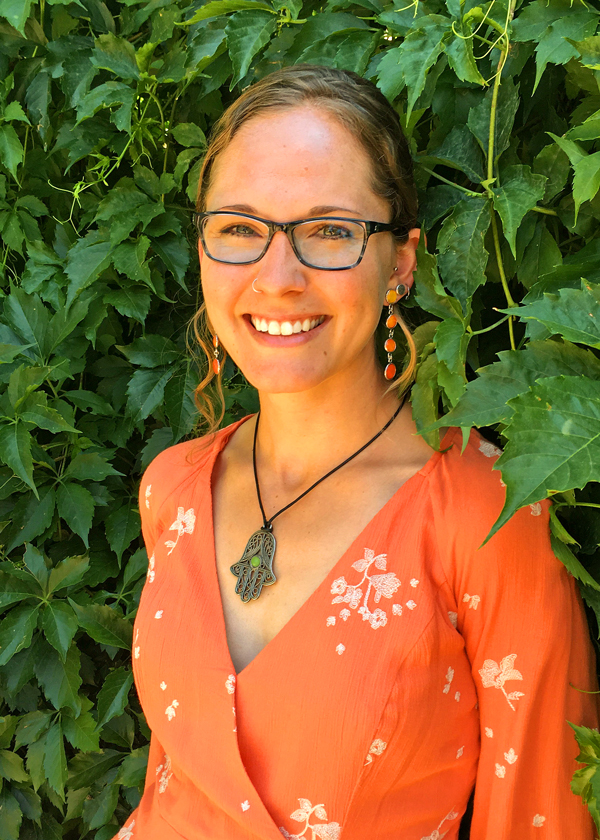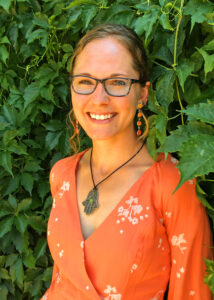 About the Author
Sara Seitz is a freelance writer living with type 1 diabetes. Her search for better health and better control of her blood sugars led her to a plant-based diet. When she isn't experimenting with new vegan recipes, she's helping spread the word about how plant-based is better for people and the planet. More articles by Sara.