This was really delicious and had a great complex flavor, especially considering how quick it was to throw together. Apparently it gets even better after sitting for a while so it seems like a great recipe to double or triple and then have leftovers for lunch all week.
The original recipe is available at Epicurious and is almost perfect – the only changes I made were to omit the butter and sugar (I added maybe a teaspoon more vegetable oil but otherwise didn't do anything to replace them) it was definitely awesome without them.
I also used my steamer to cook the quinoa instead of doing it on the stovetop.  I don't like to have too many kitchen gadgets but I really love my steamer – it makes it so effortless to make rice, quinoa, steamed veggies, and a bunch of other nice healthy foods.  The one I have is an old Black & Decker model they don't make anymore, but if I were to replace it I think I'd get this one since the stainless steel bowl is a better idea than a plastic one anyway.  Does anyone have a steamer they really love & would recommend?
Anyway, the quinoa looks like this before it steams: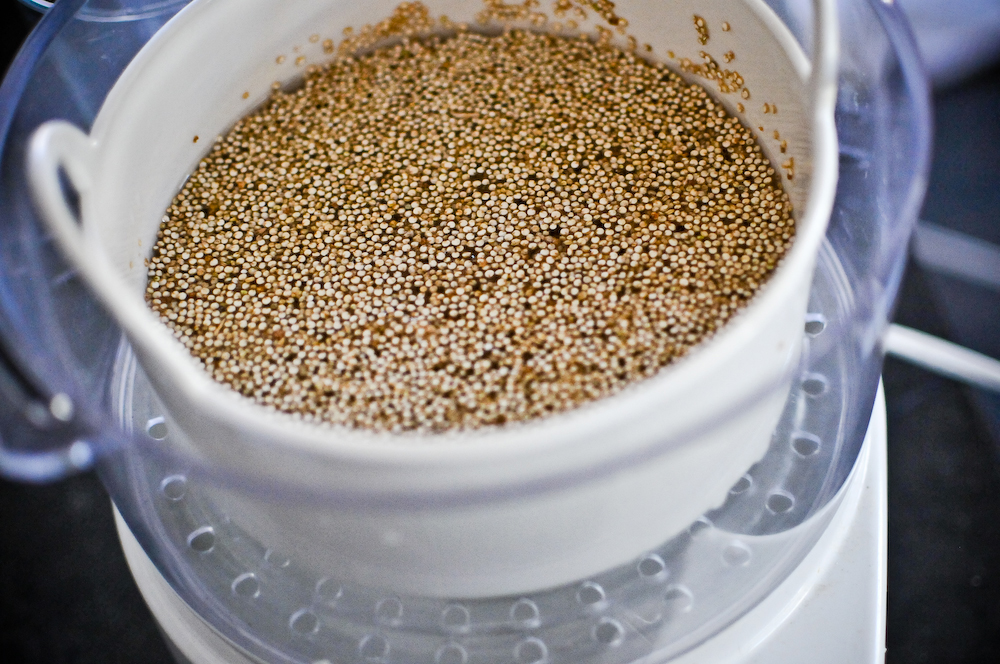 And this after (I'd already scooped some out before I remembered to take a photo):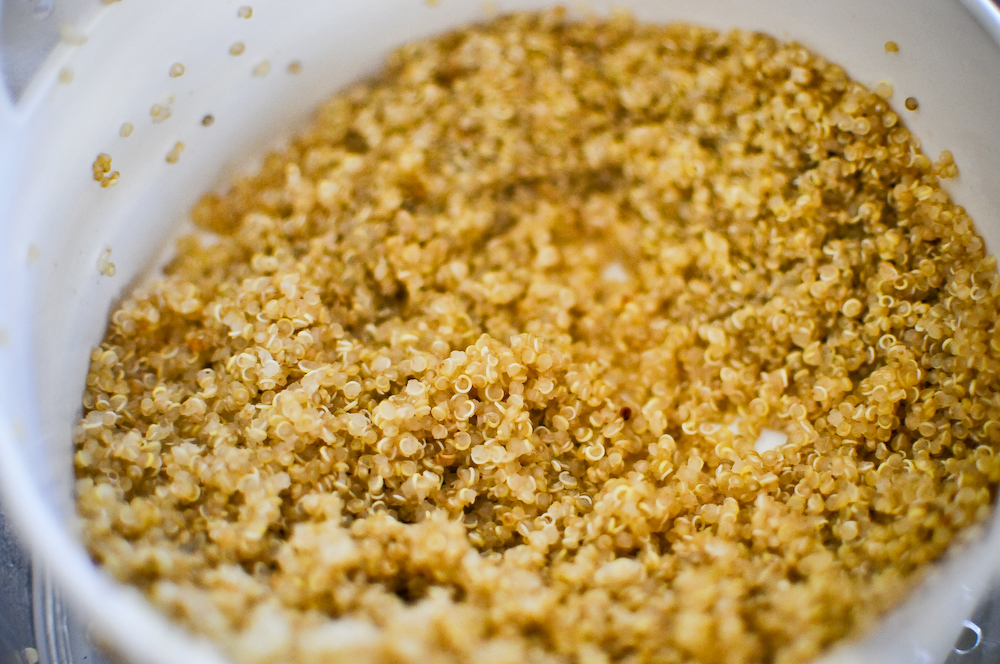 I haven't cooked with quinoa (which is pronounced "Keen-Wah," by the way. The more you know!) very much but at least with a steamer it's super easy and has a great taste & texture. I suspect you'll see more recipes with it soon. I used a cup of quinoa and about 1.25 cups water, steamed for 30 minutes and then fluffed it with a fork and let sit for 5 more.
While that steams, just chop up a couple of tomatoes & some cilantro, zest a lime or two, and rinse off some beans.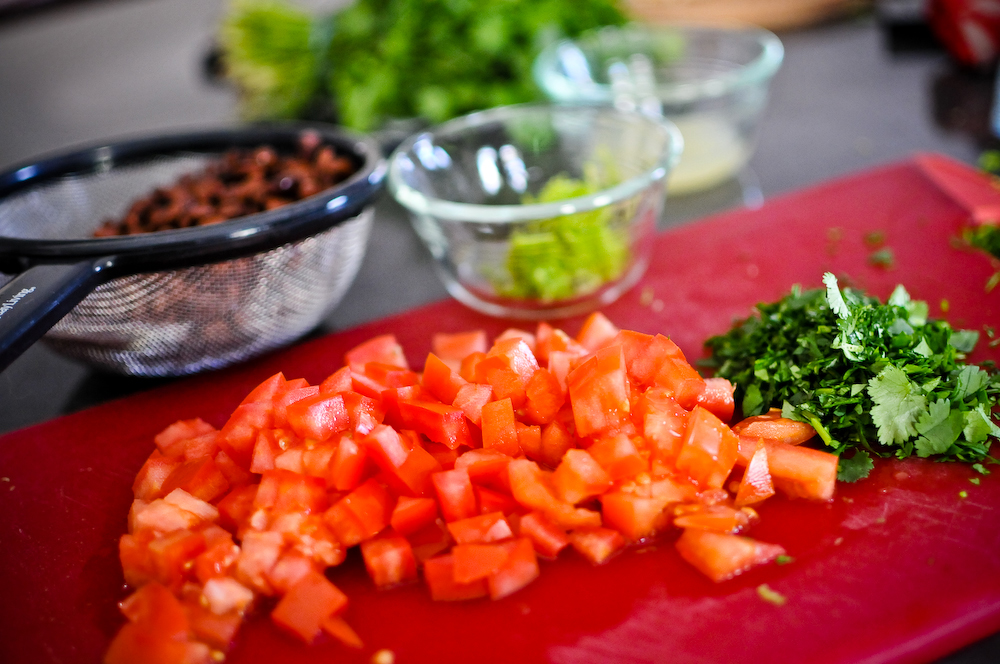 I did actually use canned beans this time, although I normally try to use dried. One of these days I'll learn to plan ahead. Maybe.) I warmed the beans up on the stove because I didn't think I'd like them as much cold, but that's pretty optional if they're already cooked.
Throw together the lime, oil & some salt in a big bowl and let it sit while the quinoa finishes cooking. Once that's done, mix all the ingredients together and either let it sit a while (so the flavors can mingle & generally get to know one another in an intimate fashion) or eat it right away. Or if you made a bunch, both!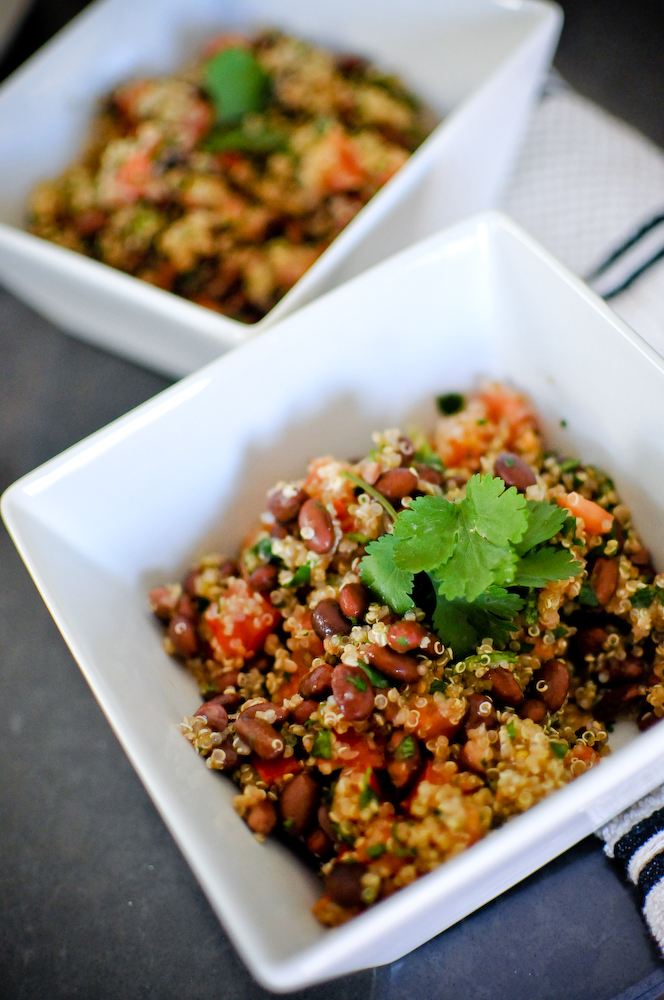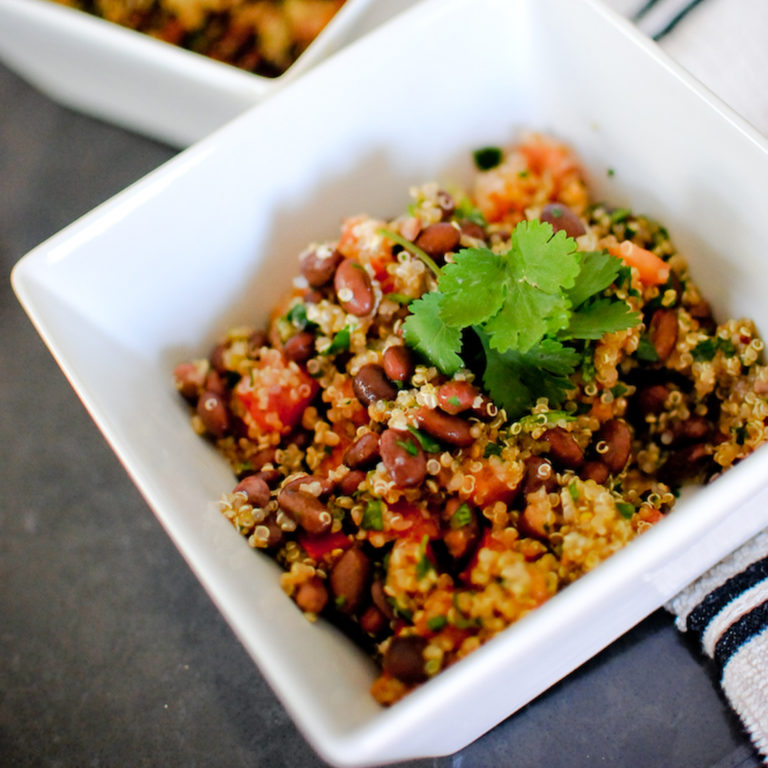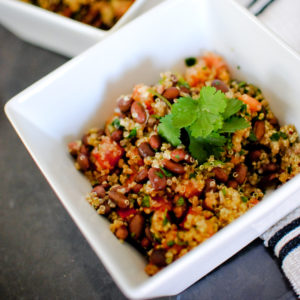 Zesty Black Bean & Tomato Quinoa
This zesty and surprisingly addictive black beans and tomato quinoa recipe can be thrown together quickly and makes great leftovers.
Click stars below to rate, or leave a full review in the comments
Print
Rate it Now
Pin Recipe
Ingredients
1

cup

quinoa

2

cups

water

2

tomatoes

medium sized, diced

1

tbsp

cilantro

chopped

1

can

black beans

15 oz. size, rinsed and drained

2

tsp

grated lime zest

2

tbsp

fresh lime juice

1

tbsp

vegetable oil

4

scallions

chopped

½

tsp

salt

pepper

to taste
Instructions
Mix together lime zest, lime juice, oil, salt, and pepper in a large bowl.

Rinse quinoa and prepare in a medium pot. Add water and salt and bring to a boil. Cover, reduce heat to medium low and simmer until water is absorbed, 15 to 20 minutes. Set aside for 5 minutes; uncover and fluff with a fork. Note: If you prepare your quinoa in a steamer, the water/quinoa ratios might be different, so follow your manufacturer's instructions.

Add quinoa to lime & oil mixture and toss until absorbed. Stir in remaining ingredients and salt and pepper to taste.
Nutrition
Calories:
566
kcal
|
Carbohydrates:
91
g
|
Protein:
25
g
|
Fat:
13
g
|
Saturated Fat:
6
g
|
Sodium:
609
mg
|
Potassium:
1280
mg
|
Fiber:
19
g
|
Sugar:
4
g
|
Vitamin A:
1265
IU
|
Vitamin C:
21.9
mg
|
Calcium:
111
mg
|
Iron:
7.2
mg