Spinach and artichoke dip is pretty much one of my favorite things – my family has actually texted me pictures of themselves eating it at restaurants simply to make me jealous.
Unfortunately it's also just packed with dairy products and a ton of fat, so I had to go a long time without eating it. My tastebuds were very sad about this…but my waistline was very happy about it. (Those two just don't agree on anything) But now peace can finally be restored!
This spinach and artichoke dip is not only vegan, it's actually really low fat, too. But as always, the most important thing is that it is delicious. I've taken it to several parties and it has been met with pretty unanimous approval from my decidedly omnivorous friends. It's fairly quick to whip together, too, which is always nice.
Chop up some artichoke hearts pretty fine (I use the canned kind, make sure they are in water, not oil! You can also use fresh or frozen, just defrost them first)
In a large skillet over medium heat, sauté onions, spinach and artichoke until the spinach is nice and wilty and the onions are translucent or lightly browned.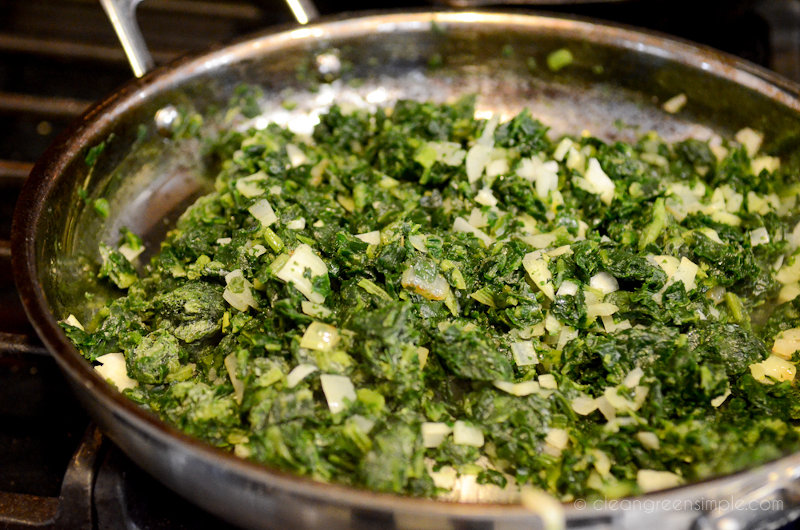 Set spinach, onion and artichoke mixture aside, then combine soy milk, flour, oil, salt, garlic powder and onion powder in the skillet, whisking frequently over low or medium heat until it thickens slightly – this should only take a minute or two.
Combine flour mixture and vegetables in an oven-safe casserole, mixing thoroughly.
Bake uncovered at 350 degrees for 15-25 minutes, until it is thoroughly heated and the top is starting to darken slightly. Serve warm with baked tortilla chips or vegetables.
To make ahead, just prepare the mixture but don't bake it – you can store it in the fridge for a day or so and then bake it for about 20-25 minutes just before serving. This is one you can go ahead and try to pass off to people without telling them it's vegan (and low fat and gluten free) – just serve it and watch as it gets devoured!