It's so fun learning about all of the ways I can make things healthier without sacrificing taste or texture or, well, anything. Those of us who don't eat animal products, gluten, sugar, or have various other dietary restrictions are well aware that sometimes you have to jump through a few hoops to get a similar experience to a recipe you remember. But there's also many times when you can just re-think something a little and it's not any harder than before! These cookies are a fabulous example of how you can make some simple changes to a recipe, making it much healthier, while keeping the effort and number of ingredients similar to the original.
In this case it's mainly a matter of simple substitutions – all-purpose GF flour instead of white, safflower oil instead of butter, a bit of flax instead of an egg, maple syrup instead of sugar, and the secret ingredient for keeping it moist yet cookie-like: a banana! (Don't worry if you don't like bananas, you don't taste it.)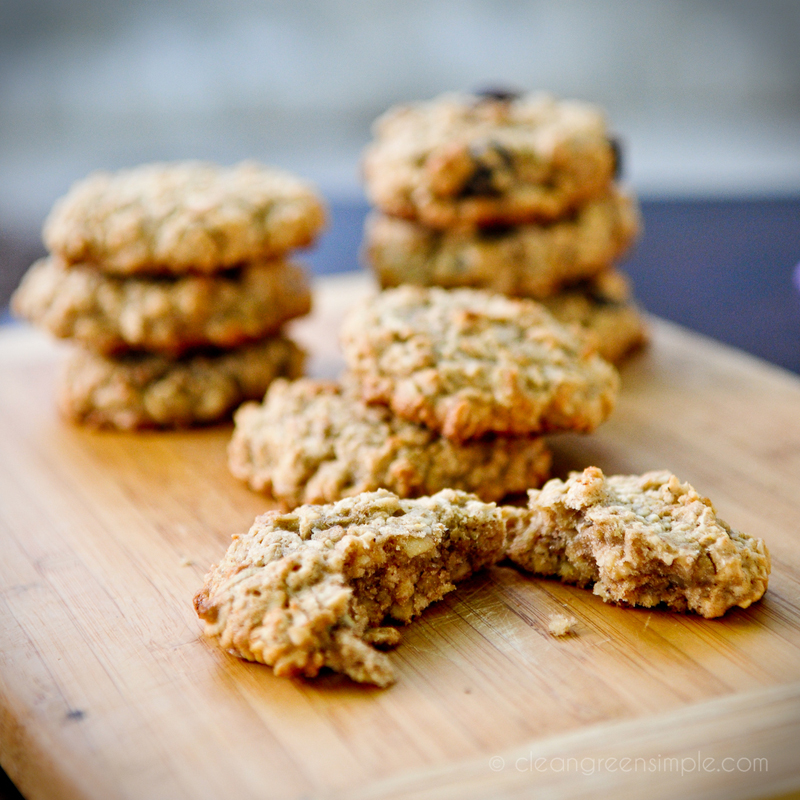 OK, OK, when I just listed it all out like that my new ingredient list sounded kind of….unimpressive. But trust me when I say these cookies come out fabulous – moist and chewy with just a bit of crispiness on the bottom and edges. And they do in fact taste delicious!
They also have the benefit of being really easy and only needing one bowl. Just combine all your ingredients and mix them really well (I used a hand mixer to make sure everything smoothed out nicely) – you'll end up with a dough that's slightly wetter than normal cookie dough, but can still be shaped into balls. At this point you can add raisins or nuts or whatever you'd like – I added raisins to half of mine and loved them both ways.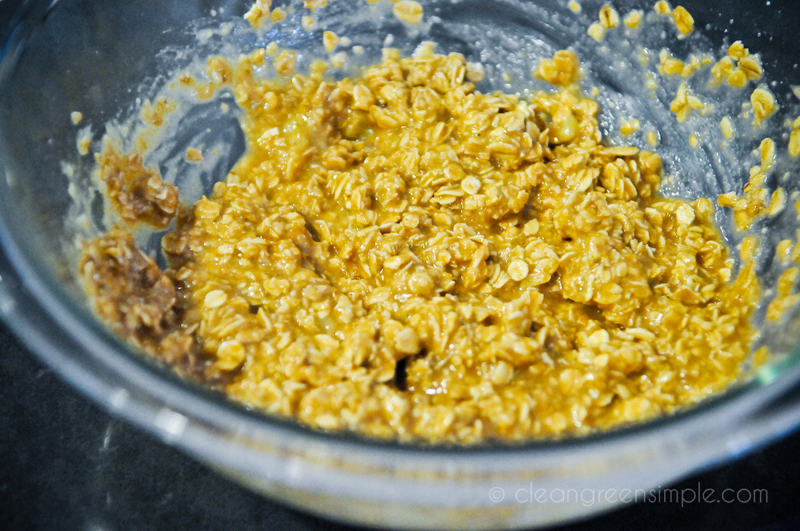 Once you've got your dough you can feel free to stop here and eat it with a spoon – I won't judge. But if you absolutely must, you can portion it onto a cookie sheet and bake for about 10 minutes or so until they're nice and golden brown. Let them cool on the cookie sheet for a couple of minutes and enjoy!
If you like oatmeal cookies and are looking for an extra protein boost, be sure to try out Easy Vegan Protein Cookies.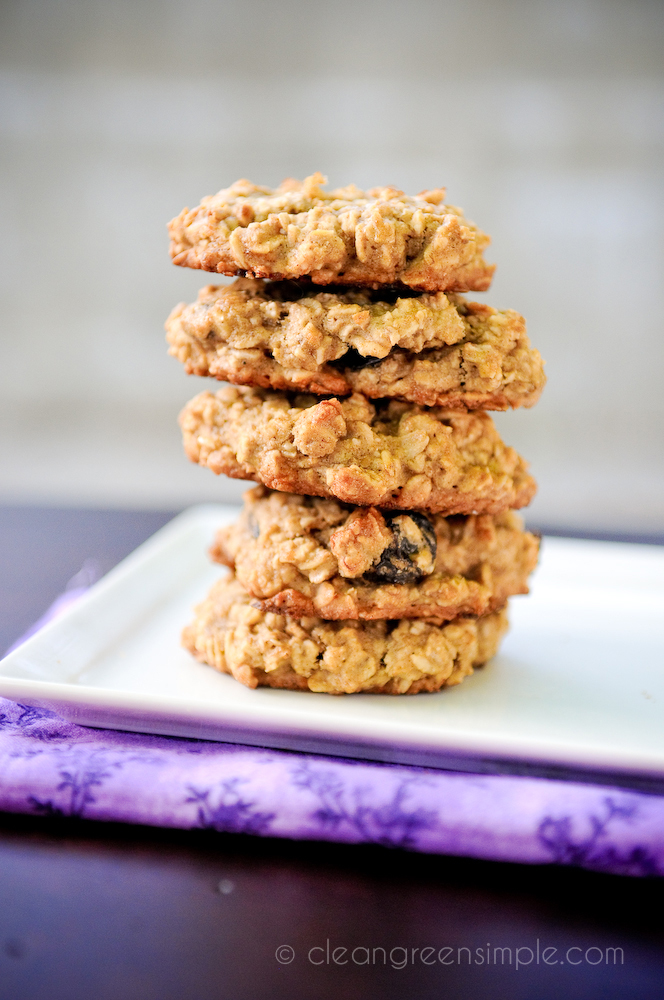 So, lovely readers, what's your favorite type of cookie?
Simple Oatmeal Cookies
A simple organic oatmeal cookie recipe that's vegan, gluten free, refined sugar free, and totally delicious. Healthy enough to be a great snack option for kids or even to eat with your morning coffee.
Click stars below to rate, or leave a full review in the comments
Print
Rate it Now
Pin Recipe
Ingredients
1 ½

cups

uncooked rolled oats

make sure to use GF oats if you can't have any gluten

¾

cups

All-Purpose GF Flour

¼

tsp

cinnamon

¼

tsp

baking soda

pinch

salt

½

cup

maple syrup

¼

cup

safflower

canola, or other neutral oil

¼

tsp

vanilla

1

Tbsp

ground flaxseed

About 3/4 of a medium banana

½

cup

raisins

optional – you could also add nuts or chocolate chips
Instructions
Preheat oven to 375 degrees.

Mix all ingredients in a medium bowl – make sure to blend it well enough that there's no chunks of banana.

Place rounded spoonfuls of dough onto a cookie sheet and bake for about 7-10 minutes, until light golden brown. Remove from oven and let the cookies finish baking on the cookie sheet for about 5 more minutes. Enjoy!