I think one of the important things with vegan cooking (or really any dietary restriction cooking) is to accept that certain things can't be imitated exactly, but that you can often create something equally satisfying in a similar way.
Take Buffalo wings – you're obviously never going to have something vegan that is exactly like traditional wings, with the little bones and whatnot. You could use fake chicken and get really close to Buffalo strips, but that does involve using fake meat, which I'm not always inclined to do.
So what I often try to do is create a recipe that isn't really trying to fool anyone into thinking it's the original, but that tastes great in its own right and hits similar notes (in this case, spicy Buffalo sauce and ranch dressing!)
This is a great recipe idea for a Super Bowl party, but I think Buffalo wings can really be enjoyed anytime, especially when they are vegan, gluten free, and pretty darn healthy (a little high in fat, but that's a hard one to get around with Buffalo wings. At least they are baked, and I didn't use saturated fat!) Looking at the photos, I am honestly having a hard time not getting up to go make these again, they are that addictive.
Lucky for you guys, they are also pretty easy to make. I even have a couple of options for you as far as what you use as the base – for this post I tried both cauliflower and tempeh, but I think you could also get away with zucchini, eggplant, tofu…really there's a ton of options. The nice thing about Buffalo sauce is that it has a pretty strong flavor, so if your base has a good texture and is reasonably neutral, you can get away with a lot.
Anyway, let's get to the recipe. First you'll want to chop up your base ingredient. For cauliflower, just chop it into bite-sized chunks. For tempeh, slice it into strips:
Then mix together a bit of flour, water, and hot sauce (you can use any flour, really – I've done it with brown rice flour and amaranth flour and both worked great.) Dip your cauliflower or tempeh into the batter until it's nice and evenly coated, like so: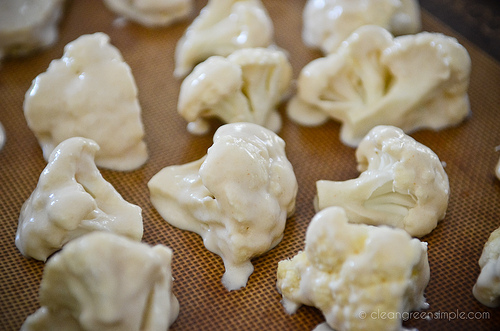 Then just pop it into the oven at 450 for about 15 minutes. The batter should harden up and get nice and crusty – it won't taste especially exciting at this point, but that's what the Buffalo sauce is going to help with. Speaking of which, you can mix that together while the cauliflower/tempeh is baking. It's essentially just hot sauce and oil (I used Frank's RedHot Hot Sauce
because it's a tasty Buffalo sauce and it doesn't have any unpleasant ingredients, but if you have a favorite Buffalo wing sauce you can use whatever you want.)
If you like your wings spicier, use more hot sauce and less oil, and vice versa if you want them to be more mild. I felt like a 1 to 1 ratio was a pretty good balance, but many people will probably want more hot sauce in the mix. You can just taste it as you go until it's where you want it to be.
Once you've got it mixed and your cauliflower/tempeh is done baking, you can coat the pieces with sauce:
Then pop them right back in the oven for about 5 minutes. There will probably be some sauce left, but that's okay because you'll use the rest of it to coat them again once they come out of the oven to get them nice and flavorful and delicious.
Once you've removed them from the oven and brushed them with more sauce, serve them right away with some ranch dressing, leftover hot sauce, or just by themselves.
I think the tempeh is a little more "chicken-y," as far as texture and flavor are concerned (and don't worry, the sauce and baking process get rid of that sort of bitter tempeh flavor — it ends up being pretty neutral), but the cauliflower is sort of awesome as its own thing. I could totally see these as a fun party appetizer or side dish. Just don't try to tell people it's chicken, they'll be on to you pretty quick since it looks exactly like cauliflower!
I tried making this recipe again using the same breading technique but instead of doing a 50/50 oil to buffalo sauce mixture, just using 100% buffalo sauce with no oil at all – and they were really good! Obviously a little more spicy than the other ones, but Frank's isn't too terribly spicy so I think most people would like them just fine. If you're avoiding oil or trying to eat low fat, please try them this way, it's a great way to make a snack that feels decadent but is actually pretty healthy!
Vegan Buffalo Wings
Vegan, Gluten Free, Refined Sugar Free
Click stars below to rate, or leave a full review in the comments
Print
Rate it Now
Pin Recipe
Ingredients
1

head cauliflower or 1 package tempeh

cut into bite-sized pieces
For the batter:
Dash of Frank's Original Hot Sauce

If you have a different favorite Buffalo sauce you can use that

½

c.

brown rice flour

or whatever flour you want

½

c.

water

Pinch

salt
For the Buffalo sauce:
¼

c.

Frank's Hot Sauce

¼

c.

oil

safflower, canola or something neutral - or you can skip the oil and just use hot sauce

Pinch

salt
Instructions
Preheat oven to 450 degrees. Mix together the batter ingredients in a medium bowl. Dip the cauliflower or tempeh pieces in the batter until evenly coated and lay them out on a greased or lined cookie sheet. Bake for about 15 minutes or until the batter hardens.

While those are baking, mix together sauce ingredients in a small bowl (You can also make this without any oil, just coat them liberally with hot sauce). Once the cauliflower or tempeh pieces are done baking, brush them with the hot sauce mixture and bake again for about five minutes.

Remove from oven, and brush with remaining hot sauce mixture to taste. Serve immediately.