Herb scissors are made to save you time. But if you have a cheap pair that gets jammed or struggles to shear through soft leaves, then they quickly become more time-consuming than using a cutting board and knife.
In order to get the most benefit from your herb scissors, you have to find a quality pair that lives up to the promises made on the box. As someone who spends at least part of every meal prep slicing fresh herbs out of the garden, I can tell you that this is not as easy as it should be.
Luckily, after much trial and error, I've found a handful of different herb scissors I absolutely love, including two sets that come with lifetime warranties. And now, I'm going to share those findings with you.
Here are five of the best herb scissors to meet every need.
Scissors Reviews
Each time I try a new pair of herb scissors, I rate them on three separate qualities: durability, effectiveness, and comfort.
Any product lacking in any one of these areas is guaranteed to make your herb prep process more strenuous rather than less. Of every pair of scissors I've tried over the years, I have only found a handful that could stand up to this rigorous rating process.
Now I'd like to share with you what makes these five herb scissors the best and what needs each one meets to help you find your new favorite pair.
The 5-blade setup is the golden standard in herb scissors. Four extra blades mean you'll be done chopping your herbs and greens in a quarter of the time. But that only holds true if the scissors work the way they're supposed to. One brand of 5-blade herb scissors that not only delivers but does so with style and comfort is the Chefast Herb Scissors Set.
At 3 inches, these durable stainless steel scissors are just the right length to cut through sprigs of thyme, basil leaves, and all your favorite greens. The sharp blades are aligned on sturdy rivets that won't wear out or bend with repeated use. But just in case they do suffer an unlikely breakdown, you can fall back on the company's lifetime guarantee for free replacements.
This set comes with a dual cover and blade brush—a nice feature if you hate keeping track of too many extra pieces. You'll also get two small herb bags for storing any leftover chopped herbs that didn't get used up.
These scissors don't come with a ton of extras, but if all you need is a dependable pair of herb scissors, then no need to read on. Chefast has you covered.
Another great option in the 5-blade realm is the VIBIRIT Herb Scissors and Leaf Stripper set.
Like the Chefast, these scissors are made up of 5 durable blades that are sharp and sturdy enough to make quick work of even a full garden of herbs. They also have a similarly comfortable handle and are about the same size. Unfortunately, they don't come with the same lifetime warranty and may need to be replaced every so often.
While this set may not be quite as dependable as the Chefast, it does come with a few more pieces that will give your herb prep a serious upgrade.
In addition to a dual blade cover/brush, this set also includes a dedicated brush with deep bristles, a beautiful stainless steel leaf stripper, and a triple-head peeler. The leaf stripper has 8 different-sized holes to strip everything from tiny thyme to chunky Italian parsley. And the peeler has three rotating blades that can peel, julienne, and slice.
If you're in need of more kitchen tools than simple herb scissors to help expedite your salad prep, then the VIBIRIT set is the way to go.
A good pair of kitchen shears can be just as useful for cutting herbs as dedicated herb scissors if you have a smaller or more precise job to do. If you prep a lot of herbs, having both options on hand can be nice. If that's what you're looking for, then I recommend the Goodful Herb Scissors set.
The 5-blade herb scissors in this set are made with extra-sharp, stainless steel blades. The handles are more comfortable than other sets I've tried and include an extra-wide fingers hole. Like other 5-blade scissors recommended here, these stand up to repeated use better than many others out there.
In addition to the 5-blade scissors, this set also comes with a versatile pair of kitchen shears. The blades on these shears are wide enough to handle tough tasks like cutting through thick veggies and twine. But they're also sharp with a thin pointed end—perfect for precisely chopping herbs and greens.
This set includes safety covers for both scissors and a built-in cleaning brush. The herb scissors aren't quite as effective as our top choices but the set is well worth the buy if you plan to use your kitchen shears just as often as the herb scissors.
One major benefit to single-blade herb scissors over those with multiple blades is that they won't get jammed up with debris while in use. Multi-blade scissors require frequent brushing to push the herbs out so you can cleanly chop the next round. Single-blades, on the other hand, can chop over and over without pause.
Among the best single-blade herb scissors I've ever used are the kitchen herb scissors from Shanasana.
The short, pointed blades on these sharp scissors are made for cutting delicate herbs without bruising or crushing them. The oversized handles make it easier to control the blades for precise cutting and quick turnaround. But most importantly, they're well made and durable and won't lose their edge even after years of use.
The only thing we don't like about these scissors? They don't come with a cover to restrain that very pointy end. This could be problematic if you plan to store them in a crowded drawer.
If you do as much vegetable prep as I do, one pair of herb scissors isn't going to do a ton to cut down on your time in the kitchen. But three different kinds of prep scissors would certainly help. For that, you'll want to check out the Kitchen Shears Set from IHIHOS.
The herb scissors in this kit have blades that are nearly 5-inches long—perfect for tackling larger bunches of herbs. The kit also includes salad shears. These specialty, double-bladed scissors effortlessly chop up oversized salad leaves into bite-sized chunks without crushing delicate greens.
But the real stars of this kit are the general kitchen shears. These jacks-of-all-trades can cut, peel, scrape, crack nuts, open cans, and more! With these three tools, you can make an epic salad in no time at all.
This kit will cost you a bit more than others on this list, but it is definitely worth it considering the quality and versatility of the tools you get.
Herb Scissors Buying Guide
Herb scissors are far from the most complex kitchen tools we've covered on this site, but there are still a few key features you should be aware of before you purchase your new favorite pair.
Here's everything you need to know about the features and options available with different herb scissors.
Single-Blade Scissors
Single-blade herb scissors have narrower blades with sharper points than traditional kitchen shears. This dainty build allows them to cut more precisely without crushing or tearing delicate herb flesh.
These types of scissors are nice for small herb cutting jobs and for cutting especially delicate greens. They won't save you much time compared to a knife, but you will get a much cleaner-looking product.
5-Blade Scissors
Multi-blade herb scissors were designed with one purpose in mind: to save you time. The blades tend to be fairly narrow but are not usually as pointed as single-blade types. Your cuts won't be as precise or clean with these, but you will get through that bowl of chives much more quickly.
A quality pair of 5-blade scissors will have sharp blades that won't dull or bend and a strong rivet that won't allow those blades to shift position even with heavy use. A comfortable handle is also a must.
Necessary Extras
Most herb scissors come with a few bonus items—just look at everything that comes with the VIBRIT herb scissors! But the two most important items to look for are a blade brush and a blade cover.
Blade Brush
Blade brushes are only necessary for multi-blade scissors. No matter how well the scissors are made or what they are made of, herb cuttings will get stuck between the blades of this type of scissor. Having a blade brush to easily clear the blades is a must if you want to work quickly without wasting herbs.
Often, this brush is built into the end of the blade cover. This works well as long as the brush is deep enough to clear the entire blade width.
Blade Cover
A blade cover is not totally necessary, but it is very nice to have, especially if you store your scissors in a drawer.
Herb scissors tend to have pointier ends than typical kitchen shears. This makes it easy to cut your hand while digging through a crowded silverware bin to find the tool you need. A blade cover takes away this risk. Just make sure your scissors are always completely dry before putting them into the cover so they don't rust.
Are Herb Scissors Worth It?
The answer to this question, as you can imagine, depends on how often you find yourself chopping herbs.
If you do this task as frequently as I do, investing in some quality multi-blade herb scissors could potentially save you hours each month. On the other hand, if you only cut herbs on occasion, you may be better off investing in a pair of single-blade herb scissors, like these from Shanasana, that can complete a number of kitchen tasks and take up less space in the drawer.
The Best Herb Scissors
After years of struggling through pair after pair of cheap herb scissors, I've finally found my favorite. Chefast's 5-Blade Herb Scissors are durable, comfortable, and effectively chop through even thick bunches of herbs to take the burden out of dinner prep.
Of course, if you are as serious as I am about making fresh vegetarian fare, you may consider going all-in on the IHIHOS Kitchen Shears set. With this three-piece set, you'll be able to prep the perfect salad in no time at all—without ever having to touch a knife!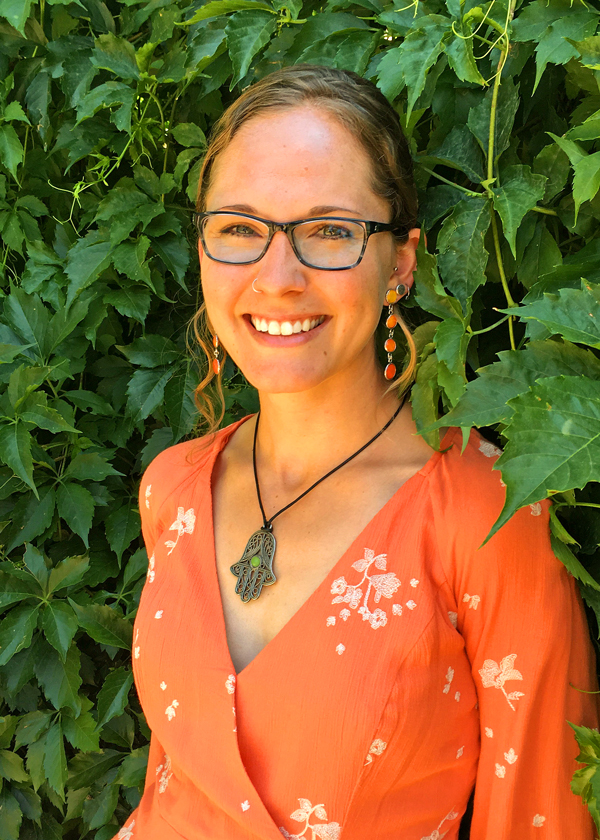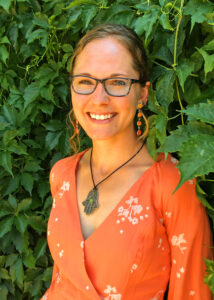 About the Author
Sara Seitz is a freelance writer and a busy mother of a rambunctious toddler. She is always looking for gadgets that make plant-based cooking easier and more enjoyable. She loves sharing what she finds with other busy families and individuals who could use a little more "simple" in their lives. More articles by Sara.