When it comes to living mindfully, few products offer the benefits of saving you money, being better for you, being better for the planet, and being easy to use.
Olive oil sprayers are one of the few exceptions to that rule.
These nifty little devices will help you save time and money in the kitchen, while also saving on calories and waste. But not all oil sprayers will bring you every one of these benefits.
To make sure you aren't wasting your money, we've provided some helpful tips below to cover things you'll want to keep in mind when shopping for an olive oil sprayer.
But first, let's get right to the good stuff: our favorite olive oil sprayers to make the task of finding the right one for you just a little easier.
The 11 Best Olive Oil Sprayers
This pressurized oil sprayer from Misto has a simple design and look. Because of the solid aluminum housing, it's perfect for chefs who have to keep their oils out in the open. The matching aluminum cap contains the pumping mechanism for easy storage.
When fully pressurized, this sprayer releases a fine mist perfect for topping salads and coating pans. For best results, make sure to only fill halfway (with about 2.5oz of oil) and clean the straw and nozzle each time the bottle is emptied.
These Evo olive oil sprayers look simple, but they offer plenty of unique features compared to most other options.
First, the bottles are made from recyclable plastic that's BPA, latex, and DEHP-free. If you have hardwood or tile floors and are concerned about glass shattering, that's a major safety advantage. Second, the bottles are translucent, so you can see how much liquid is left. And third, you get two attractive bottles in green and yellow, making this the perfect option for anyone looking to apply just the right amount of oil & vinegar to salads.
The stainless steel body and large capacity of the 16oz Evo oil sprayer make it perfect for common use oils like olive and avocado that are negatively affected by light.
It has a pull trigger spray nozzle that produces a fan-shaped spray that isn't as fine as other products but is perfect for coating large surface areas. And, because the bottle is heat resistant, it's a perfect companion for the barbecue master.
These easy-to-use 3.4oz glass bottle trigger sprayers by PuzMug produce a fine mist with just the simple press of a button. The sleek, 304 stainless steel top and intelligently designed straw and pump head look beautiful and function flawlessly use after use.
The comfortable trigger button encompasses the entire top of the bottle and is grooved for no-slip operation. With the wide mist spray, you can easily coat a large frying pan in seconds without stressing your hand or wasting time pumping. And as a bonus, you get two bottles for nearly the same price others are selling a single bottle. Use it for other liquid seasonings like vinegar, soy sauce, lemon/lime juice, sherry, or wine.
For an olive oil sprayer that looks as great as it functions, reach for the Olivia by Flairosol. This gorgeous glass 4.4 oz sprayer features gold leaf embellishments and an easy-to-use press-action lever. Each full stroke releases 1 gram of oil for simple portion control while the fan spray nozzle helps coat pans, salads, and more while using less.
We love this sprayer for its elegant design, large capacity, and user-friendly features. It's the perfect choice for home chefs looking to conserve oil. Of course, it also makes a beautiful set piece for the dinner table.
The Olivia works with all oil types. The bottle is made of thick, durable glass that features a wide opening for easy filling.
This sleek, push-trigger oil sprayer from MISSOLO is a great option for those looking to avoid plastic bottles and wanting a finer mist.
The 3.4 oz bottle is the perfect size for the kitchen or table. No need to pressurize this sprayer, simply press the oversized button on top to activate the atomizing nozzle and produce a fine spray for thin oil coatings on cookware and food.
The MISSOLO does have a smaller bottle opening than other options, so we recommend upgrading to the 2-piece set that includes a handy funnel. You can also opt for the double bottle set, which includes a second sprayer. These versatile products can be used with all types of oil, as well as vinegar, lemon juice, and any other liquid condiment you desire.
The CXINYI olive oil sprayer and dispenser does so many tricks it's hard to know where to begin. It's a mister, sprayer, and drizzler—all in one bottle. And it has a large capacity, so you can take advantage of all three functions without having to refill it frequently.
The key to this versatile device is in the unique push-action lever built into the back of the dome lid. Pressing this lever quickly gives you a fine mist spray for dressing salads, vegetables, meat, or bread. Press it slowly, and you'll get a thicker spray for prepping pans and skillets. Or unlock the pour function and upturn the bottle to drizzle olive oil into your favorite recipe.
With a large, 17oz glass reservoir and sleek, easy-grip lid and handle, this multipurpose oil sprayer is sure to become your new favorite cooking buddy.
This combo pack from Home Hero is perfect for salad aficionados. The first bottle features a fun olive leaf design on a textured metal body. The second is clear glass with measuring lines for easy filling.
Together, you have the perfect duo for spritzing salads and vegetables with your favorite oil and vinegar combination.
Both bottles feature an oversized push-button trigger for easy control. And each is large enough to hold up to 4 ounces of liquid. The full set comes with a cleaning brush and funnel.
The petite Aelga oil sprayer has many of the same features as the classic Misto sprayer, but with some key differences that make it useful in different situations.
Like the Misto, it features a pump action trigger that delivers a continuous fine mist spray. But this little bottle has a glass body that gives it a more appealing look for the tabletop. And the shorter, more compact build and included lid make it a great choice for picnics, barbecues, and travel.
This sprayer works well with avocado oil, vegetable oil, and many others, as well as with vinegar, lime juice, and more.
If you're in the market for a full set of olive oil dispensing tools, Netany has you covered. Their cooking set comes with an effective olive oil sprayer, a 17-ounce drizzle bottle, multiple pour and seal tops, and two metal funnels.
The spray bottle features a large press button trigger with a no-slip grip. The thick glass bottle holds up to 3.5 oz, and the stainless steel lid looks great with any modern kitchen decor.
The large 17 oz glass pour bottle comes with a drizzle attachment as well as a simple pour spout. Both bottles work with a variety of oil and liquid options.
The Prepara trigger sprayer is a great option for chefs who want full control over their olive oil delivery. The simple spray-bottle type trigger allows you to deliver a thick, precise stream when pulled slowly, or a fine mist when pulled quickly.
The glass bottle has a small capacity compared to the overall size of the sprayer, but the oversized plastic top allows for a comfortable grip. Best of all, each spray releases about 1.4tsp of oil, making it easier than ever to control exactly how much oil you are using.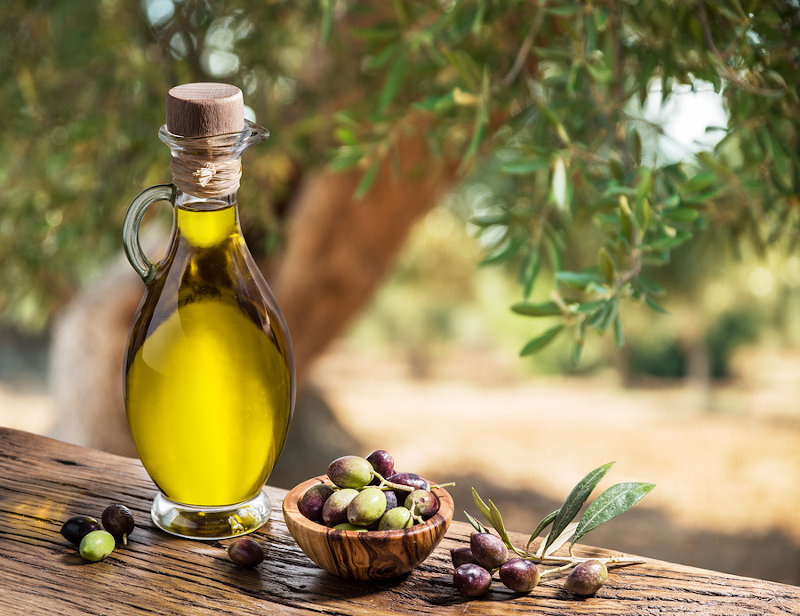 Benefits of Oil Sprayers
Healthy & Eco-Friendly
When you hear "oil sprayer" what's the first thing you think of? For many, what comes to mind is a metal aerosol can of vegetable oil. While these grocery store staples do tend to be cheap and easy to use, they aren't the best choice for you or the planet.
Traditional oil sprayers rely on a propellant like alcohol, nitrous oxide, or propane to force the oil out of the can in a continuous spray. They also contain emulsifiers and anti-foaming agents. For those of us into clean eating, that's a hard pass.
Sprayers that are well-made and easy to clean can also be reused over and over, making them a far better choice for the planet.
Fewer Calories & Precise Portion Control
Because you can cover a large surface area with far less oil, these sprayers are perfect for anyone hoping to cut down on the amount of fat and calories in their diet. The spray comes out in a fine mist, which will allow you to cover more of your pan or food with far less oil.
Crispy Air Fryer Coatings
In the past few years, air fryers have become all the rage for healthier low-oil and no-oil cooking (here's our favorite one, if you're in the market). For those who like the flavor and texture a little bit of oil can bring to your food, oil sprayers allow you to evenly apply just the right amount to your air fryer recipes to achieve those perfect crispy coatings.
How to Choose It
With so many different types of olive oil sprayers on the market, it can be tough to find the right one. Here are a few things you'll want to consider when shopping around for reusable oil sprayers.
Material
Glass is always an earth-friendly choice and great for oils since it doesn't leach or absorb. On the downside, glass is less durable than plastic or metal, and it allows light in, which will decrease the antioxidant load and can cause the oil to turn rancid more quickly. While many of these are beautifully designed to be put on display, it's best for your oil to keep them locked away in a dark pantry.
Metal is durable, earth-friendly, and will keep the light out. But it's more expensive than glass and plastic, and can sometimes affect the taste of the oil. These sprayer types, like glass, are also heavier, so looking for a smaller capacity bottle might be a good idea.
Plastic is never the best choice in terms of the planet, but it's cheap and durable. On the downside, it is especially prone to leaching chemicals into oil, even if it's BPA free. Like glass, clear plastic bottles should be stored in a cupboard or pantry to keep your oil fresher longer.
Function & Performance
Pressure sprayers work like traditional aerosol cans. But, because they contain no propellant, you will need to pressurize the bottle using a hand pump. The quality of the specific product will determine how often you will need to pressurize the sprayer between uses.
Pull trigger sprayers function like a squirt bottle. Each time you pull back or push down on the trigger, you release a single spray of oil. While you don't get the benefit of a continual stream with these sprayers, they are better if you're hoping to measure how much oil you are applying.
Easy Cleaning
The downside of reusable sprayers is you do have to clean them on occasion. If you don't, even the best products are likely to get gummed up and stop working correctly.
Look for sprayers that can be easily pulled apart and hand-cleaned or tossed in the dishwasher. Or better yet, choose a sprayer that's designed to be flushed out with soapy water. This will save you the hassle of disassembling it and putting it back together each time you need to clean it.
How to Use It
Olive oil sprayers can be used for a variety of tasks like coating baking dishes, cupcake tins, and frying pans, getting a crispy texture in an air fryer, and topping finished meals like salads and pasta. You can even use your sprayer on the barbecue to grease the grill or add some flavor to meat and veggies.
Oil sprayers are easy to use and there are generally two spray mechanisms available:
Trigger Spray
With the trigger spray mechanism, depressing the trigger creates a suction that pushes out an even spray onto your food or cooking surface. The trigger can be on the top of the bottle, or on the front of the bottle, as with many traditional types of spray bottles. Using quick, firm sprays will typically generate a finer mist, whereas a slow spray will come out in a stream.
Continuous Spray
Continuous spray mechanisms usually require pumping to create pressure inside the sprayer. Depending on the size of the spray bottle, about 10-30 pumps will allow you to create a continuous, even spray without continually pulling a trigger. The function is more like an aerosol spray, but without chemical propellants.
How to Clean It
Even the best sprayers in the world will occasionally lose spray power and even clog. That's why it is so important to clean your olive oil sprayer often.
To keep your sprayer working like new, we suggest you wipe off the spray nozzle after each use. Each time you empty the bottle, make sure to do a quick wash. For most sprayers, this means washing out the bottle and filling it with warm, soapy water. Replace the cap and spray nozzle and pump the soapy water through the sprayer until the spray comes out clean.
Next, rinse the soapy water from the bottle and fill it with cold water. Run this through the system as you did before. Once the mist comes out free of bubbles, dump the water out of the bottle and continue to pump the remaining water through the sprayer until only air comes out. At this point, your bottle is clean and ready to refill with the oil or liquid of your choice.
For some products, more in-depth cleaning, such as with a straw brush or a run through the dishwasher may be needed.
Taking care of your olive oil sprayer and cleaning it every month or so will help you enjoy the benefits of simple, healthy, green cooking for years to come.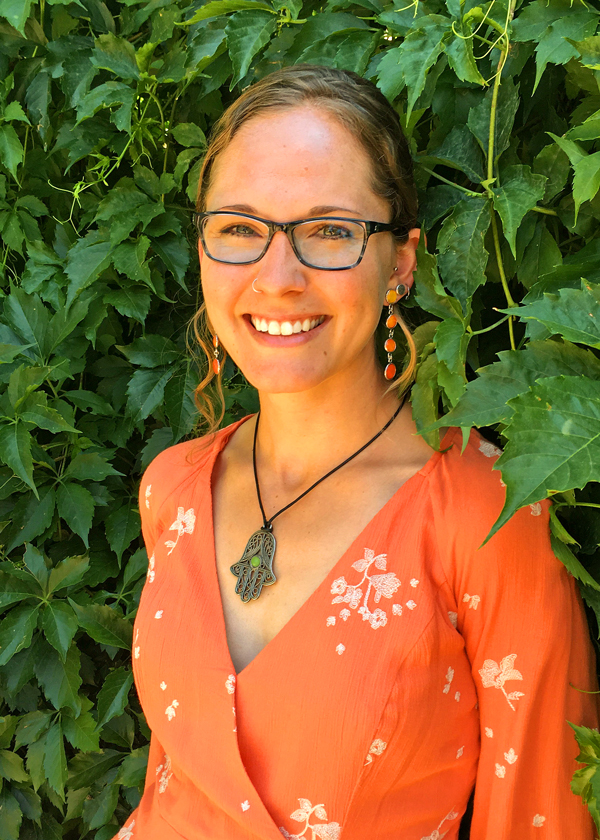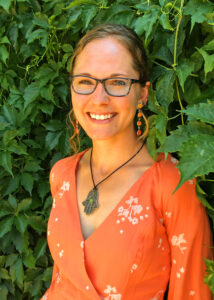 About the Author
Sara Seitz is a freelance writer and a busy mother of a rambunctious toddler. She is always looking for gadgets that make plant-based cooking easier and more enjoyable. She loves sharing what she finds with other busy families and individuals who could use a little more "simple" in their lives. More articles by Sara.