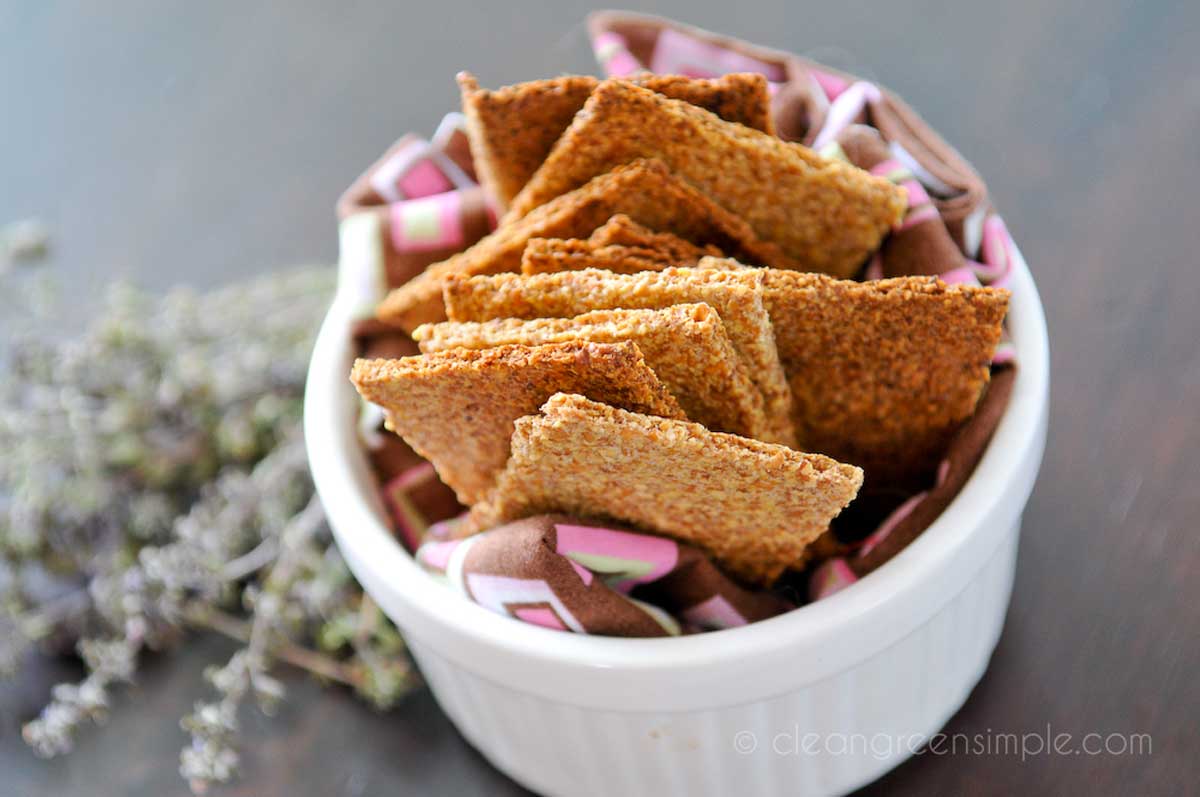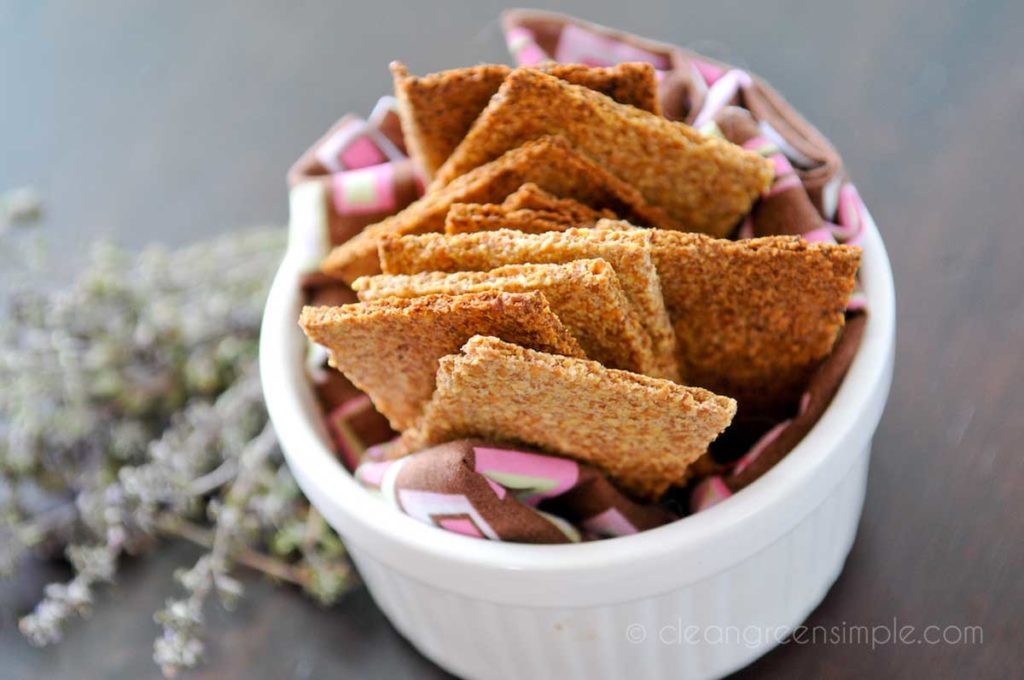 I think I've mentioned this before, but I frequently look to raw diet cookbooks and websites for inspiration. I don't think there's anything wrong with cooking food, but I love using raw foods resources for healthy desserts and figuring out variations on flavors. Those raw people can get super creative, and they usually only use whole foods which is great.
Case in point: they've been doing the flax seed cracker thing forever — they just dehydrate them instead of baking them. I've hardly ever seen a recipe for flax crackers that wasn't raw, so I decided to see if they worked as well in a standard oven since I don't own a dehydrator.
Related: How to Make a Flax Egg
They do! These things are awesome – super healthy (flaxseed is all kinds of good for you), super flexible (you could season these with a ton of different flavors), delicious, and easy! And of course, vegan, gluten free, sugar free, yadda yadda yadda.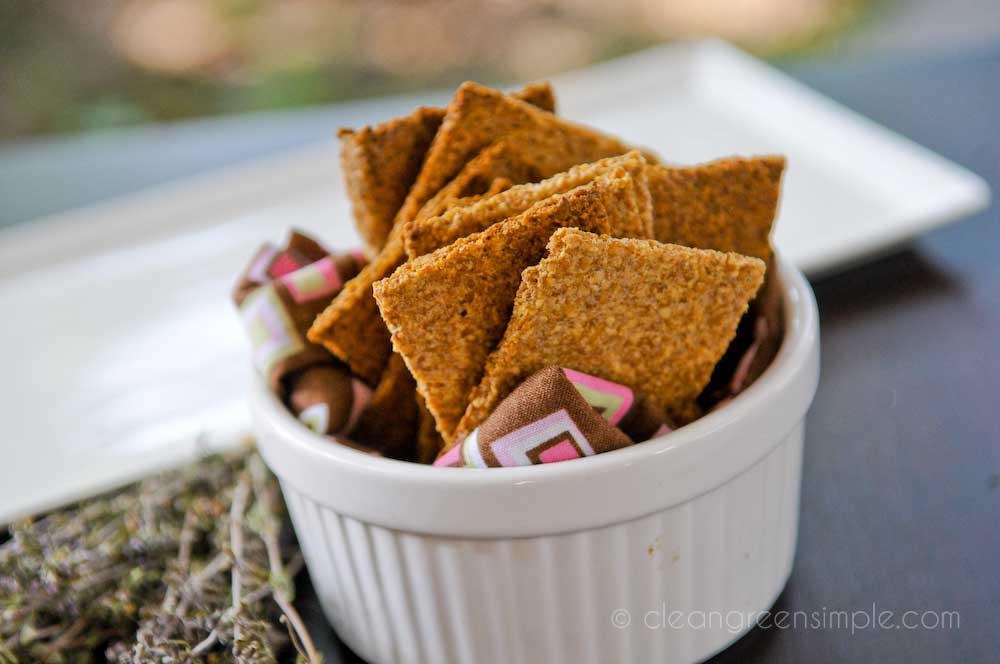 The basic recipe is essentially just ground flaxseed and water – from there the flavors are up to you. I did a bit of a garlic and onion thing for this recipe, but it would also be great with Italian herbs, some nutritional yeast to give it a more "cheesy" flavory, some Mexican spices, you name it.
Related: Rustic Rosemary Herb Crackers
The dough is really easy to work with as well. As I mentioned, you just mix up water, ground flaxseed, some salt and some spices, and then spread it out on a parchment or silicone lined cookie sheet (you do want to make sure it's lined or really well greased), pre-cut them so they will snap into nice square crackers once they are cooked, and bake for about 20 minutes.
I didn't even have a rolling pin handy and was able to roll the dough pretty thin with just my hands (make sure you keep your hands wet if you do it this way).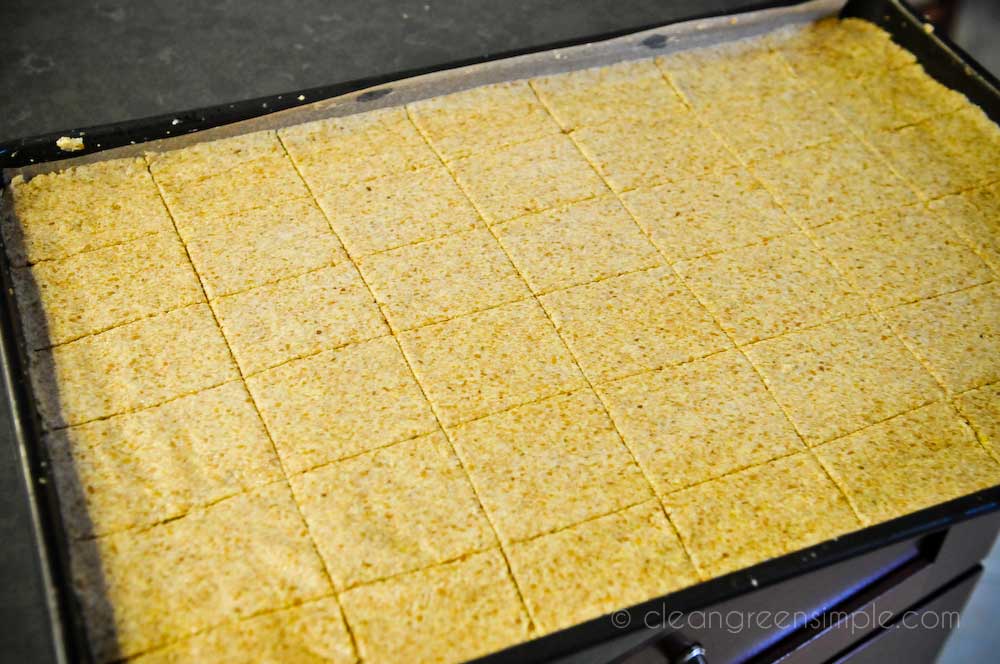 As you can see I went right up to the edges — this recipe makes a perfect amount for a standard cookie sheet. In retrospect, I would probably not go quite up to the edges next time as they tended to cook a bit faster than everything else and ended up a bit too crispy (read: "burnt"). Make sure to keep an eye on these and take them out when the edges start to get browned. If the middle isn't quite cooked enough you can leave them on the pan for a few minutes to finish baking.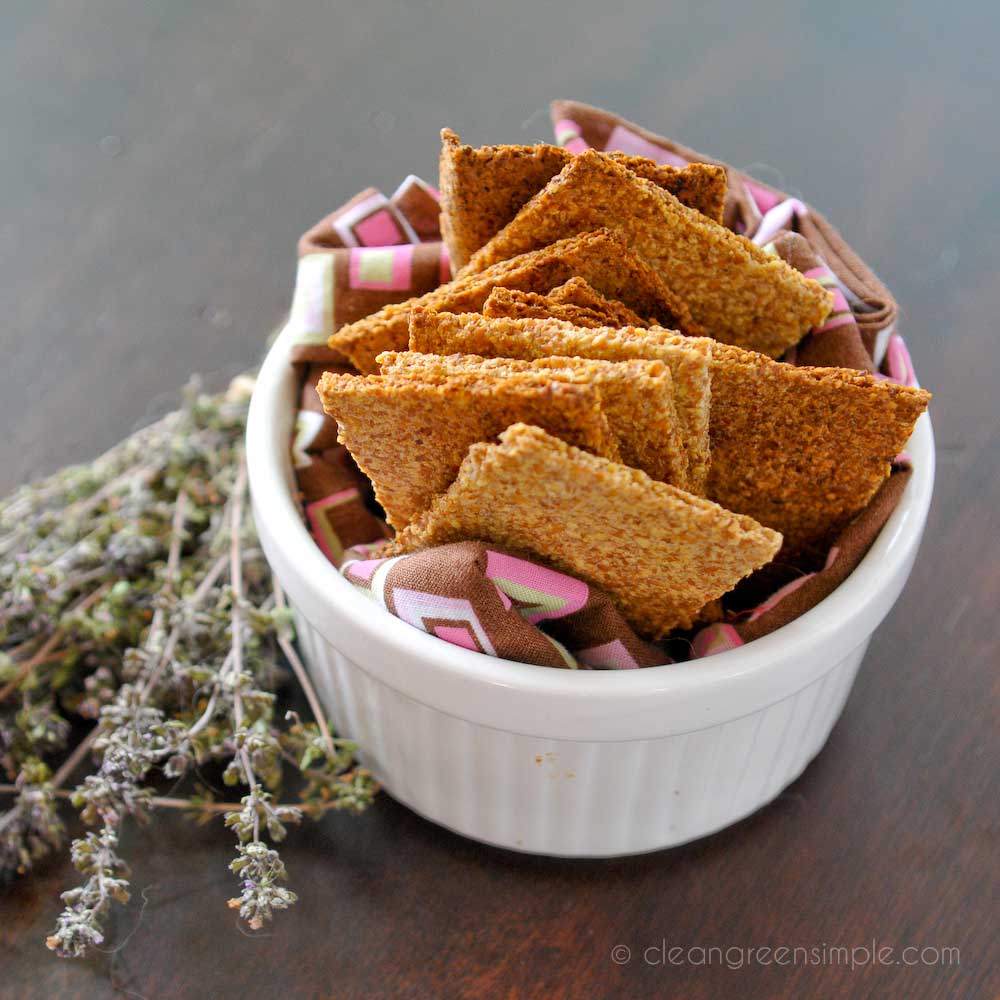 That's all there is to it! Nice crispy crunchy crackers that are crazy healthy. I like making up a couple of batches and just leaving them around to munch on when I want a snack. They're also great with spreads like hummus or mock salmon dip.
Important: Use freshly ground flaxseed! Flaxseed goes rancid quickly, especially after it's ground. If you get a fishy taste, that might be why.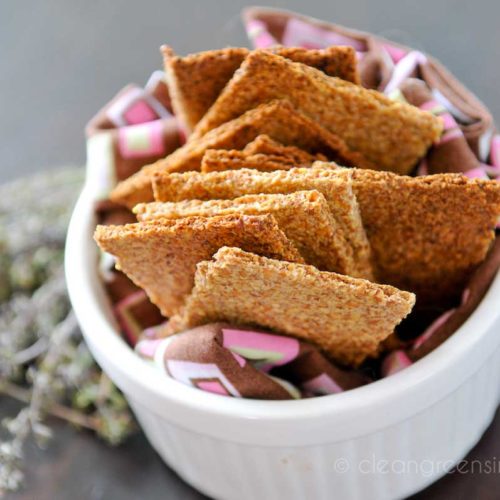 Flax Seed Crackers
Our classic Flax Seed Crackers recipe for a delicious garlic and onion flavored cracker. Make your crackers with different seasonings by omitting the garlic and onion powder and use whatever sounds good – nutritional yeast, rosemary, herbs, chili powder, etc. This flaxseed crackers recipe is vegan, gluten free, refined sugar free, low fat, keto-friendly, and soy free.
Click stars below to rate, or leave a full review in the comments
Print
Rate it Now
Pin Recipe
Ingredients
2

cups

ground flaxseed

Use freshly ground flaxseed to avoid a fishy taste.

1

cup

water

start with 3/4 c. and add more as needed to make a workable dough

½

tsp

salt

½

tsp

garlic powder

½

tsp

onion powder
Instructions
Preheat oven to 400 degrees.

In a large bowl, combine all the ingredients and mix until an even dough forms.

Spread evenly onto a parchment or silicone lined baking sheet – about 1/8-1/4 inch thick. Gently cut dough into squares on the baking sheet (you just need to score the dough so it snaps after it's baked – be careful not to cut up your silicone mat or cookie sheet!)

Bake for 20-30 minutes until crisp and edges are browned but not burnt.