You'd think anything with bacon in the title would be off-limits to vegans. But that's not always the case. At least, not when it comes to bacon bits.
So, are bacon bits vegan? Surprisingly yes, a lot of commercial bacon bits are vegan. These "imitation" bits are different from real bacon bits, which are made of pork and not suitable for vegans.
But being vegan-friendly does not necessarily mean every brand of imitation bacon bits out there is something the discerning chef would want to add to their food.
If you've got a hankering for bacon but are following a natural, plant-based diet, keep reading. Below, we'll tell you which bacon bit brands are vegan, which are the best brands to actually consume, and how to make your own vegan bacon bits right at home.
What are Bacon Bits Made Of?
Many people are surprised to learn that the most popular brands of bacon bits are actually not made of pork at all. In fact, these meaty bits are made mostly of soy and include no animal products in their recipes.
That crunchy, oily texture of real bacon is replicated using textured vegetable protein (usually soy flour) and a hefty dose of canola oil. Add in some salt, flavorings, liquid smoke, and color enhancers, and you've got something that looks and tastes surprisingly bacony.
But keep in mind, this is only the case for "imitation" bacon bits. Most of the brands you'll find at the grocery store fall into this category, including the entire McCormick bacon bits spice line. This is because soy is a heck of a lot cheaper than bacon and has a longer shelf life.
Are Bacon Bits Vegan?
While imitation bacon bits are made of soy and are usually safe for vegans to eat, other varieties may actually contain bacon. It's also worth noting that some of the types made of soy also include honey and real meat flavoring that make them non-vegan.
Any bacon bits advertised as "real" are going to be made of actual pork. These real bacon bits will be more expensive and won't keep in the pantry for quite as long. And, of course, these varieties are not suitable for vegans.
A quick scan of the front of the package should tell you fairly quickly which type of bacon bits you're dealing with. If the front makes no mention of "real bacon" or pork, check the ingredients list for other red flags, such as honey.
The Best Vegan Bacon Bit Brands
While finding vegan bacon bits at the store isn't all that hard, finding a product you'd actually want to eat is a lot tougher.
Most popular commercial types of bacon bits are loaded with things health food nuts try to avoid. These ingredients include artificial flavorings, synthetic dyes, and preservatives.
If you want some awesome vegan bacon flavor but want to avoid these sketchy ingredients, you're in luck. There are some great plant-based, all-natural bacon bit brands out there worth digging into. Here are four of our favorites.
These certified organic bacon bits pack all the delicious bacony flavor of the real thing without the animal ingredients. And, unlike many name-brand imitation bits, they're made with quality ingredients you can feel good adding to your baked potato or salad.
Ingredients: Organic textured soy protein, organic sunflower oil, salt, organic soybean oil, natural smoke flavor, and organic caramel color
Bit Size: Extra small bits
Perfect For: Adding a dash of flavor to green salads, pasta dishes, and recipes
We love these Louisville Vegan Jerky bacon bits for their chewy yet crunchy texture and use of highly recognizable ingredients. Plus they are packed with plenty of plant-based protein so you can feel good indulging. They do have a bit of a delicate flavor that can be overpowered in some dishes, but they're perfect for eating by the fistful.
Ingredients: Textured soy protein, tamari, maple syrup, olive oil, vinegar, maple syrup, beet juice, spices, and natural smoke flavor
Bit Size: Small
Perfect For: Snacking, topping for salads, and light vegan dishes
If big hearty chunks of vegan bacon are what you're after, All Y'alls Foods delivers. Their bacon bits are oversized to add not just bacon flavor to your dish, but a hefty helping of crunchy bacon texture. The best part? They're made with all non-GMO ingredients and are gluten-free.
Ingredients: Non-GMO soy, non-GMO tamari, rice vinegar, cane sugar, non-GMO soybean oil, apple cider vinegar, beetroot powder, paprika, sea salt, onion powder, garlic powder, black pepper, and natural flavors
Bit Size: Large
Perfect For: Baked potatoes, topping pasta, vegan chili, and snacking
Looking to avoid soy? Then let me introduce you to Madly Hadley and their delicious coconut bacon bits.
These small crunchy morsels are loaded with smokey bacon flavor but are made with only healthy, organic ingredients you can feel good eating. They're soy-free, gluten-free, and perfect for any recipe that could benefit from a little salty savoriness.
Ingredients: Organic unsweetened coconut, organic coconut aminos, organic maple syrup, organic sunflower oil, natural liquid smoke flavor, organic smoked paprika, organic black pepper, organic Himalayan sea salt, organic garlic powder, organic granulated onion, and smoke black salt
Bit Size: Small
Perfect For: Topping soups, salads, pasta, potatoes, pizza, and just about anything else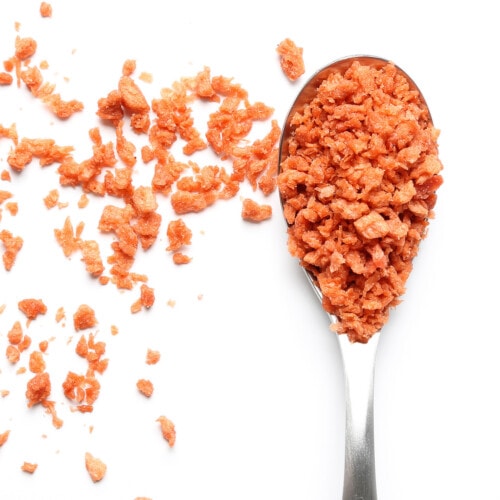 Vegan Bacon Bits
These vegan bacon bits make a fantastic topping for any dish. From salads and soups, to pasta dishes and even ice cream, you'd be amazed how much difference these crunchy vegan bacon bits can make. The best part? You can easily make a batch of these salty treats in under 15 minutes!
Click stars below to rate, or leave a full review in the comments
Print
Pin Recipe
Instructions
Add all liquid ingredients and spices in a small saucepan and bring to a boil.

Once the mixture is hot, remove from heat and add the textured protein. Make sure to stir evenly, so that the liquid is fully absorbed and the pieces are coated.

Line a baking sheet with parchment or a reusable silicone sheet. Spread your mixture on the sheet as evenly as you can, ideally in a single layer.

Cook at 275 F for 2-3 minutes, then mix the contents to make sure everything cooks evenly. Repeat a couple of times, until your vegan bacon bits are crispy.
Notes
If you're gluten-free, make sure to use tamari soy sauce, as it does not contain gluten.
If you don't have access to liquid smoke, add extra smoked paprika.
Nutrition
Calories:
65
kcal
|
Carbohydrates:
8
g
|
Protein:
8
g
|
Fat:
0.1
g
|
Saturated Fat:
0.01
g
|
Polyunsaturated Fat:
0.03
g
|
Monounsaturated Fat:
0.01
g
|
Sodium:
510
mg
|
Potassium:
78
mg
|
Fiber:
3
g
|
Sugar:
5
g
|
Vitamin A:
123
IU
|
Vitamin C:
0.01
mg
|
Calcium:
46
mg
|
Iron:
2
mg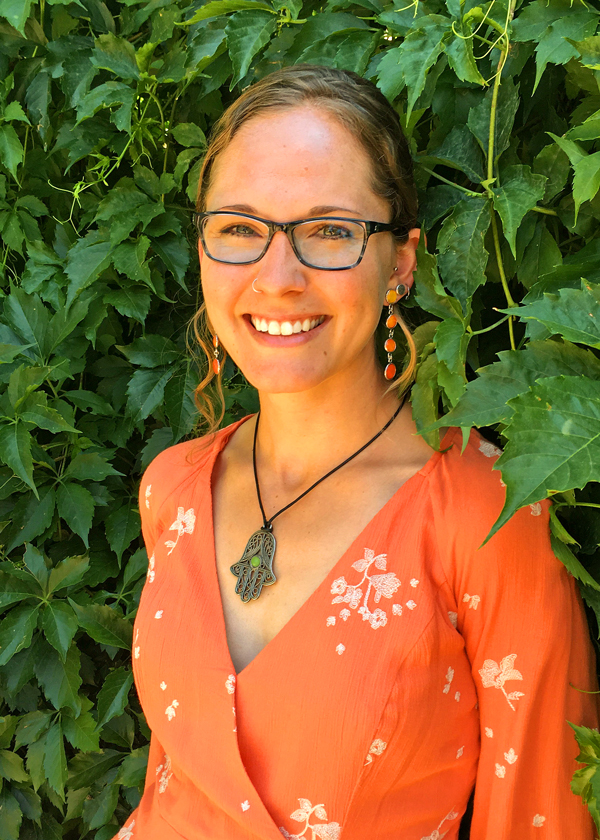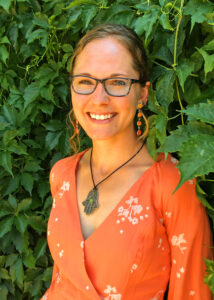 About the Author
Sara Seitz is a freelance writer living with type 1 diabetes. Her search for better health and better control of her blood sugars led her to a plant-based diet. When she isn't experimenting with new vegan recipes, she's helping spread the word about how plant-based is better for people and the planet. More articles by Sara.