Chili is one of those traditional meat-filled dishes that can easily be made into a vegan masterpiece with a little tweaking. But this hearty comfort dish can also get old quickly if you don't change it up every once in a while.
To help you keep things fresh, we've tracked down the 9 best vegan chili recipes out there. Each of these dishes features a different star ingredient and unique spices so you can indulge in this protein-heavy, nutrient-packed stew more often.
The Best Vegan Chili Recipes
Vegan, Gluten-free, Nut-free, Soy-free | Total time: 55 minutes
This lentil chili brings together the essences of east and west for an awesome flavor combination and a new take on this classic.
Together with all the traditional bean varieties, you'll find lentils, a staple of many Indian dishes.
An extra touch of sweetness thanks to some coconut sugar rounds out the curry-inspired flavor without overwhelming the typical chili taste.
Vegan, Gluten-free, Nut-free | Total time: 1 hour
In addition to hearty white beans, this delicious chili also features homemade tempeh meat crumbles that bring a blast of flavor and tons of protein.
If you are short on time you can always substitute the tempeh for a store-bought meat substitute. Either way, we highly recommend serving this alongside our delicious vegan grilled cheese!
Vegan, Gluten-free, Nut-free, Soy-free | Total time: 1 hour
Never added carrots to your chili before? You've been missing out.
Like all the best vegan chili recipes, vegetables are the stars of this dish but the backup dancers—the spices—play a very important role as well.
The trick to perfecting this simple chili is to take your time sautéing the onions, garlic, and veggies upfront and not skimping on the spices in the end.
Vegan, Gluten-free, Nut-free, Soy-free | Total time: 50 minutes
Want to make your chili even more perfect for enjoying on a crisp autumn evening? This unique recipe uses pumpkin puree to add a touch of creaminess and some seasonal flavor.
The pumpkin flavor is not as prominent as you might expect, but when paired with the cinnamon, it elevates the dish quite nicely.
Vegan, Gluten-free, Nut-free, Soy-free | Total time: 2 hours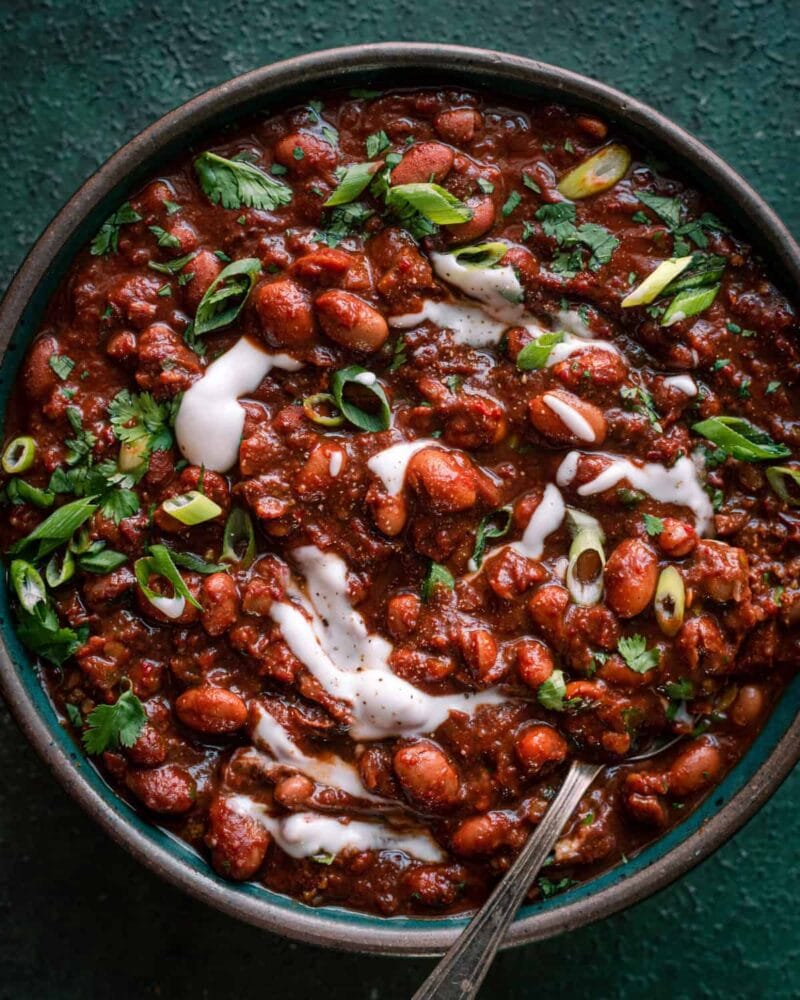 Sick of boring chili defined by your typical spices? Let me introduce you to the complex flavors of this awesomely unique chili recipe.
With an intensely long list of spices, including cocoa powder, tamari, adobo sauce, red wine vinegar, Mexican oregano, and masa harina, this recipe is anything but typical.
To capture the beauty of all those flavors, you will have to do a bit more work but the final product is well worth the extra effort.
Vegan, Gluten-free, Nut-free, Soy-free, Oil-free | Total time: 6-8 hours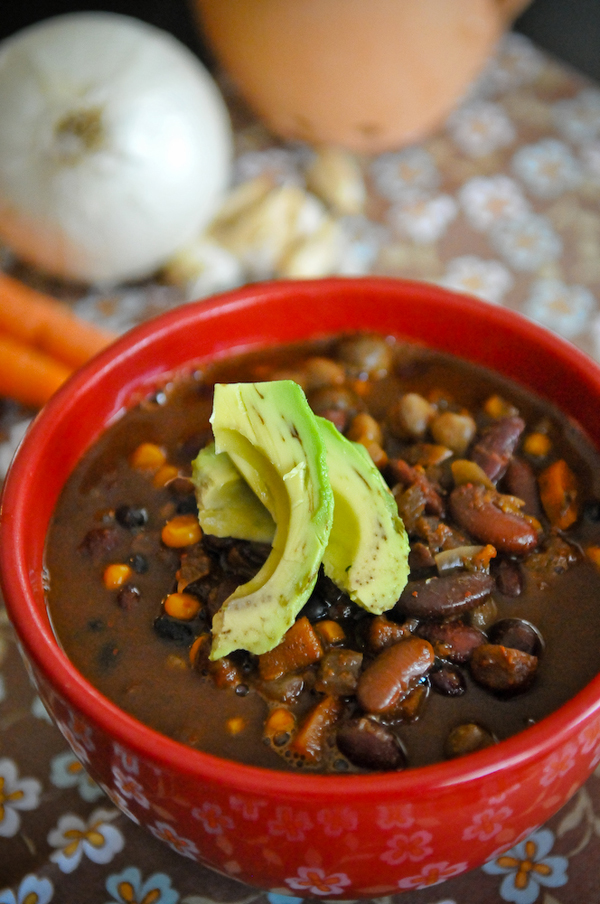 This vegan chili has more of a traditional flair and is packed with vegetables for a healthy, yet filling dinner option. Best of all, this slow cooker chili requires very little work to throw together.
Simply chop the veggies, rinse the beans, measure the spices, and toss everything into your crockpot. By the time dinner rolls around, it will be ready to enjoy.
Vegan, Gluten-free, Nut-free, Soy-free | Total time: 50 minutes
This hearty chili uses the superfood millet in place of your typical meat ingredients. Along with a long list of vegetables, this ancient grain brings a ton of nutrients to the table.
Add to that some atypical spices like chocolate, sriracha, and red wine, and you've got a flavorful chili like nothing you've cooked up before.
Vegan, Gluten-free, Nut-free | Total time: 1 hour 20 minutes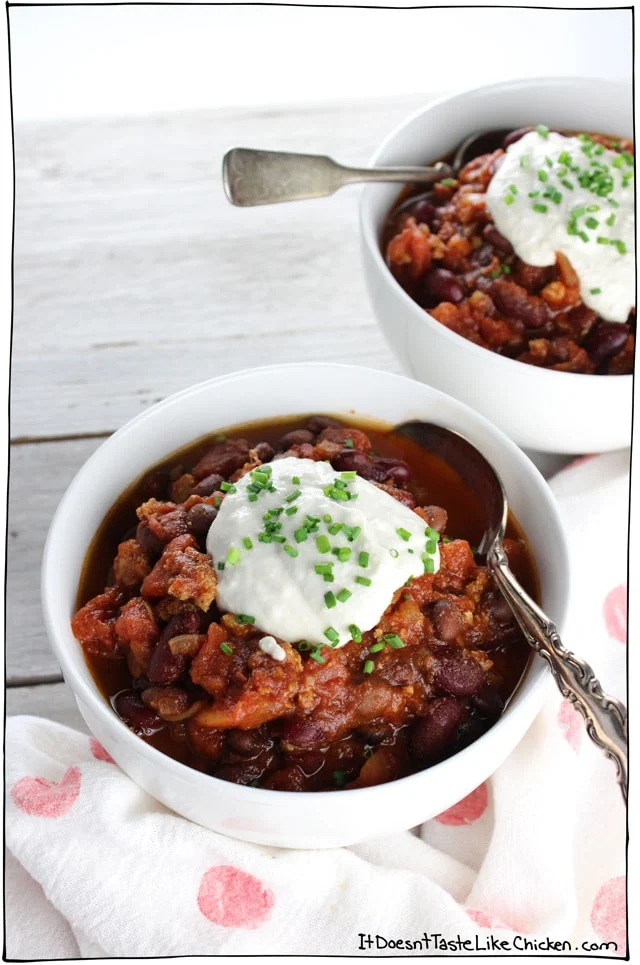 Got a meat eater in the family? Wow them with this absolutely delectable tofu chili.
With a base of ingredients reminiscent of your favorite two-bean chili recipe, this dish has a more traditional flavor.
But the addition of homemade tofu crumbles featuring nutritional yeast and soy sauce adds a whole new dimension that vegans and carnivores can't get enough of.
Vegan, Gluten-free, Nut-free, Soy-free | Total time: 50 minutes
The star of this chili is all the fresh vegetables that go into it. Red and green bell peppers bring the crunch while freshly diced tomatoes add that necessary acidity without bringing too much of that tomato flavor.
Finish with a long list of spices and you've got a healthy, hearty chili that takes very little time to make and is perfect for weeknight dinners.
9 Best Vegan Chili Recipes
Getting burned out on the same-old chili? We've got 9 of the best vegan chili recipes with awesomely unique ingredients and flavor profiles to make you fall in love with this dish all over again. If you're ready to jump right into a classic vegan chili recipe that everyone will love, try this hall-of-fame version, adapted and veganized from The Recipe Critic.
Click stars below to rate, or leave a full review in the comments
Print
Pin Recipe
Ingredients
1

tbsp

olive oil

1

onion

small, diced

1

green pepper

diced

2

cloves

garlic

minced

2

12 oz packages

plant-based ground burger

Impossible Burger is a good option

2

cups

vegetable broth

1

8 ounce

can tomato sauce

1

15 ounce

can petite diced tomatoes

1

15 ounce

can pinto beans

1

15 ounce

can kidney beans

3

tbsp

chili powder

1

tbsp

oregano

1 ½

tsp

ground cumin

1

tsp

ground coriander

1

tsp

salt

¼

tsp

ground cayenne pepper
Instructions
In a large pot, heat the olive oil until shimmering. Add in onion, bell pepper and garlic, and sauté until tender. Add plant-based meatless crumbles and cook until browned, breaking it up into crumbles as it cooks.

Add in vegetable broth, tomato sauce, diced tomatoes, and all beans and spices.

Allow to simmer for about 30 minutes until the textures come together and it starts to thicken.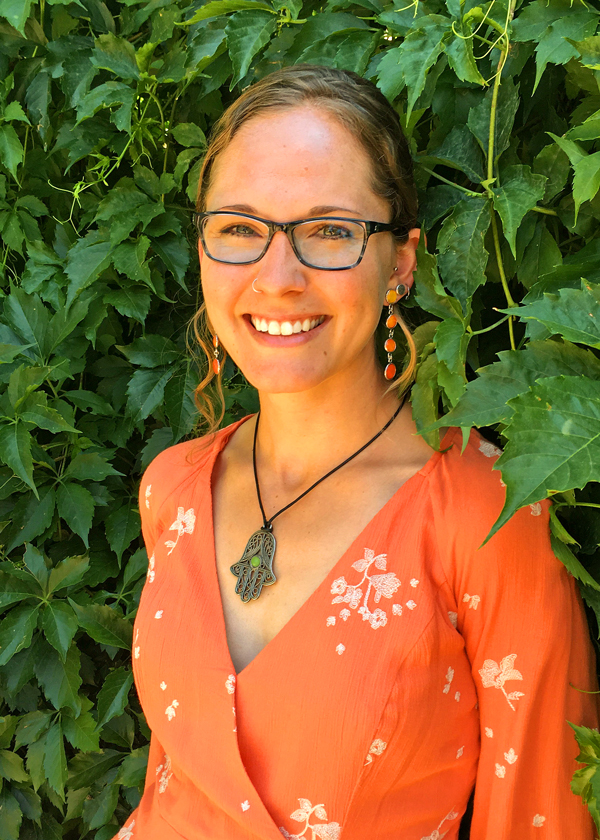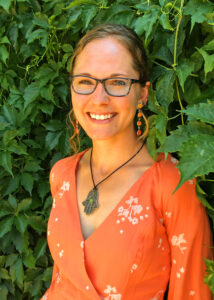 About the Author
Sara Seitz is a freelance writer living with type 1 diabetes. Her search for better health and better control of her blood sugars led her to a plant-based diet. When she isn't experimenting with new vegan recipes, she's helping spread the word about how plant-based is better for people and the planet. More articles by Sara.