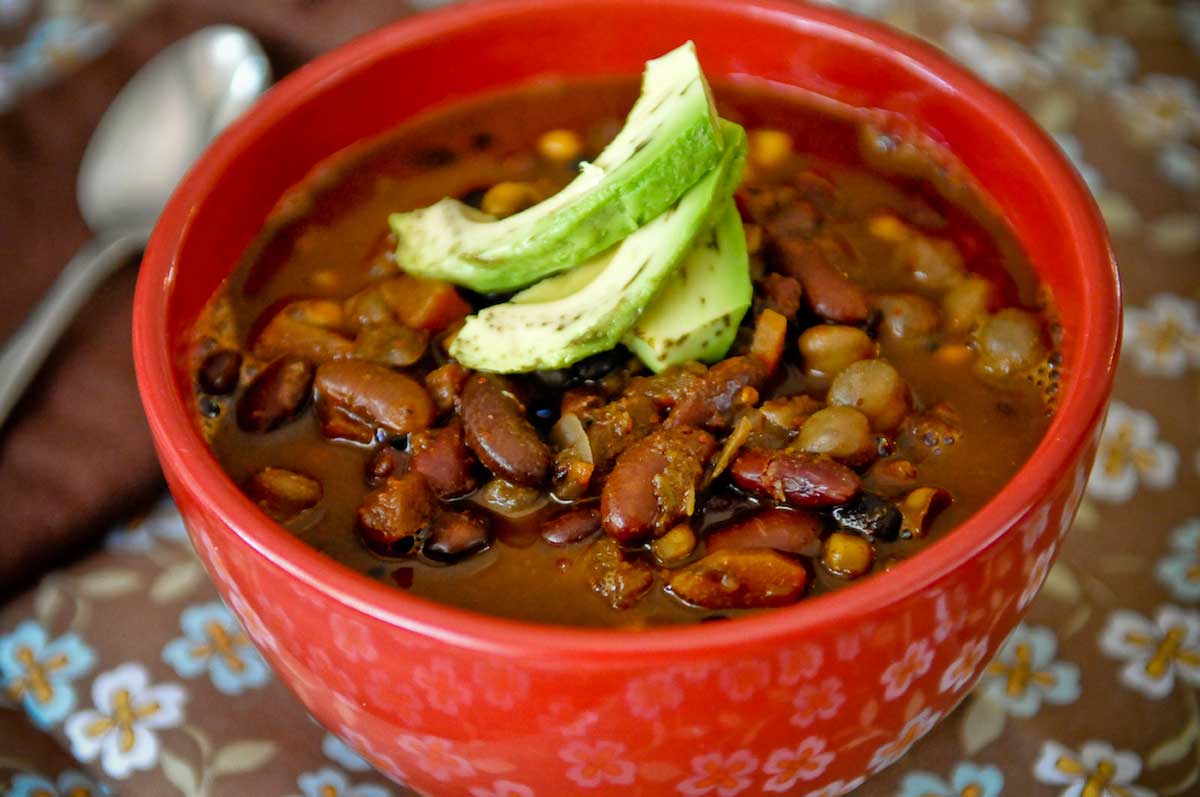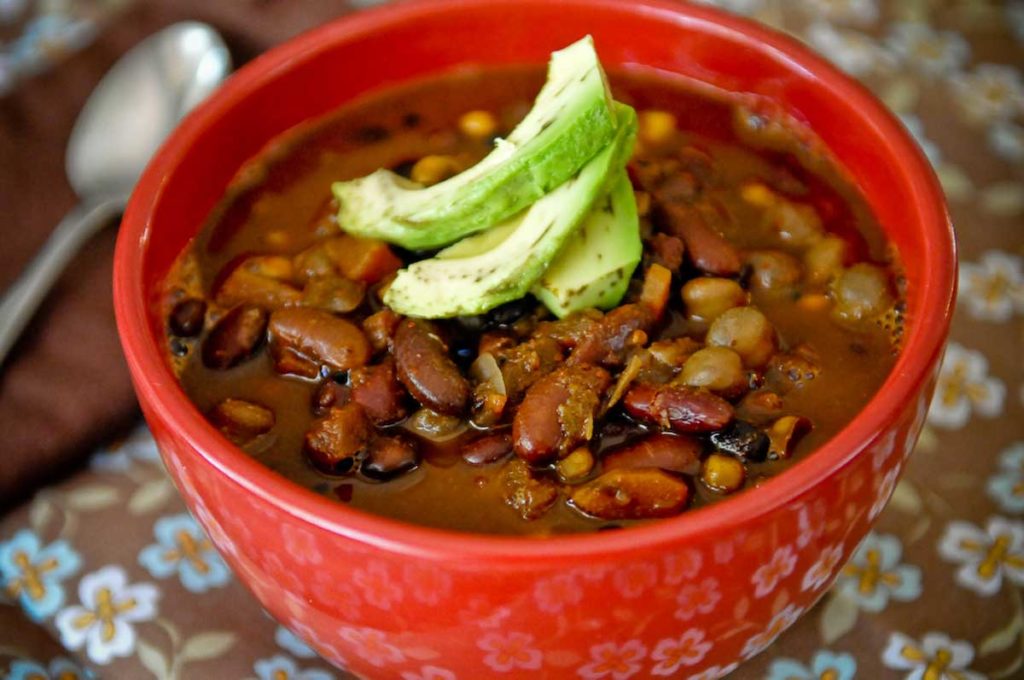 You may or may not have noticed, but I have a somewhat slapdash cooking style. I like to chop a bunch of stuff up and throw in a little of this, a little of that, and end up with whatever I end up with.
This was not always the case – when I first started cooking I meticulously followed recipes and measured every ingredient.
But as I become more familiar with how flavors and spices interact I find it's easier and easier to just wing it.
In fact, I've been using my measuring spoons way more since I started this blog, simply because I don't think you guys would appreciate it if my recipes all consisted of "Uhm, maybe like a handful or two of cilantro?" in the ingredients list. The sacrifices I make for you, it's just mind-boggling.
This chili is definitely an example of throwing a bunch of stuff that "seems like chili" into the slow cooker. Chili is one of the easier recipes to do that with because as long as you know to add beans, cumin and chili powder you're pretty much going to end up with something that tastes like chili.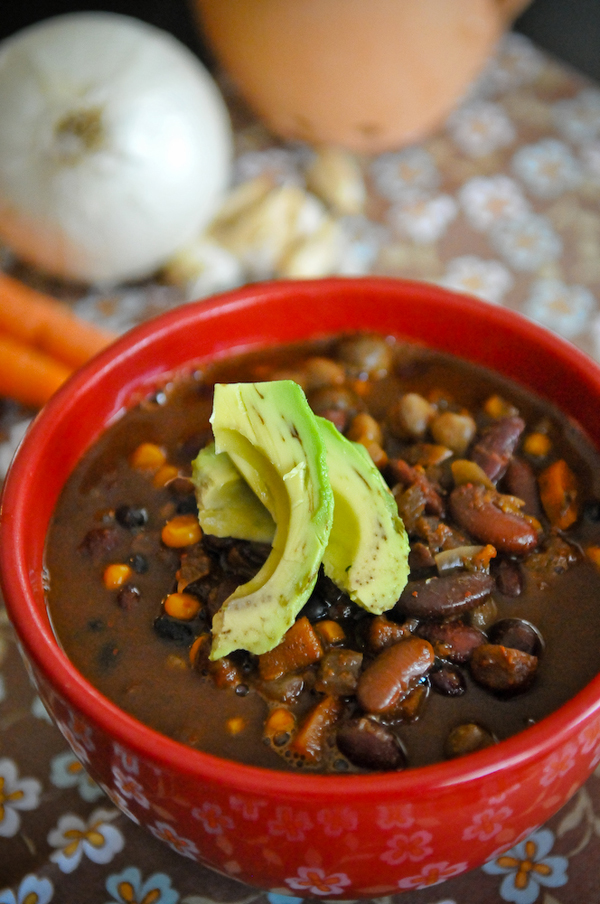 Chili is frequently a not-vegan dish, what with all that ground beef, but it's also really easy to make vegan, and in the case of this particular recipe, easy to throw together in the morning and come home to a slow cooker full of deliciousness in the evening.
The directions couldn't get much easier: chop up all the veggies, rinse the beans, and toss it all into the slow cooker. Let it sit for 6-8 hours and you're good to go!
If you don't feel like using the slow cooker you could also just make it in a big pot on the stove. I'd say you'd want to simmer it for about 3 hours if you use dried beans, but if you use canned then you could probably get away with maybe 30-45 minutes of simmering on the stove top.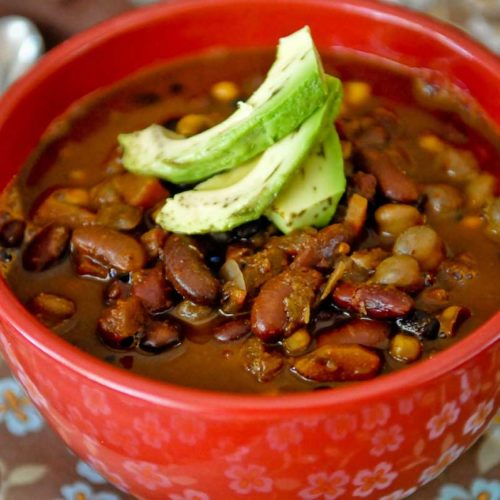 Slow Cooker Vegan Chili
Gluten free, soy free, and vegan. This chili has kidney, black, and garbanzo beans, but you could really substitute most beans for the black & garbanzos. I'd suggest leaving in the kidney beans because they are the most typical "chili-like" bean, but if you don't want to I'm certainly not going to stop you.
Click stars below to rate, or leave a full review in the comments
Print
Rate it Now
Pin Recipe
Ingredients
2

carrots

peeled and diced

2

stalks of celery

chopped fine

1

onion

diced

3-4

cloves

garlic

minced

3

medium tomatoes

chopped

2

c.

dried kidney beans

make sure to rinse them

1

c.

dried black beans

½

c.

dried garbanzo beans

1.5

c.

frozen corn

or about an ear's worth of fresh

3

Tbsp

Chili Powder

2

Tbsp

Cumin

1.5

tsp

salt

1

tsp

Turmeric

optional

Pinch

of red pepper flakes

Pepper to taste

7

c.

vegetable broth

or water

1

avocado

sliced or mashed (optional, as topping)
Instructions
Add all the ingredients into your slow cooker and cook on high for 6-8 hours or until the beans are soft and the chili has darkened to a nice deep brownish red. Serve with avocado slices if desired. Leftovers keep well in the fridge for about 4-5 days.