Grilled cheese is such a great comfort food, isn't it? Before my grandmother passed away last fall, I would visit her every couple weeks and often make her grilled cheese and tomato soup (I wasn't vegan at that point so it was just regular grilled cheese). It's amazing how food can bring back memories – both my husband and I noticed that we were strongly reminded of those visits as we ate this lunch, and we hadn't even thought about that connection before we started eating. Since this was of course not actual cheese, it's even more impressive how strong the memories can be.
I had it with a side of pickles and some salsa to dip it in, but this would go so well with a nice warm bowl of tomato soup, too. Does anyone else have a side dish that they associate with grilled cheese sandwiches? Or a food that brings back strong memories?
I got this cheese recipe from The Ultimate Uncheese Cookbook, which I'll review soon but I want to make some more recipes from it first. This is really quick and easy to throw together, so it's a good option for a weekend lunch or quick dinner. Just blend all the "cheese" ingredients together in a blender or food processor, and you'll have a sort of wet mixture like so:
Heat that on the stove for just a few minutes (whisking frequently) and it'll thicken into a nice gooey mixture:
Then just spread that nice & thick onto some bread (I used sourdough on this occasion, and it worked great).
You can also add a spoonful or two of salsa at this point, or a couple of tomato slices, whatever sounds exciting to you.
That's salsa in the photo above, by the way – it kind of looked like jelly to me at first glance and that would just be gross. You're welcome to use jelly if you want, I guess – what you do in the privacy of your own home is not my business. But I recommend at least sticking with the savory family.
Stick two slices of bread together and lightly toast on a skillet for 2-3 minutes per side. Since the "cheese" is already warm you can really just go off of how dark you like your bread, which makes it nice and simple.
Serve with some more salsa or tomato soup or whatever you'd like. It doesn't taste exactly like traditional grilled cheese, but it does taste good and it definitely has that grilled cheese feeling. "Grilled Cheese-esque", if you will.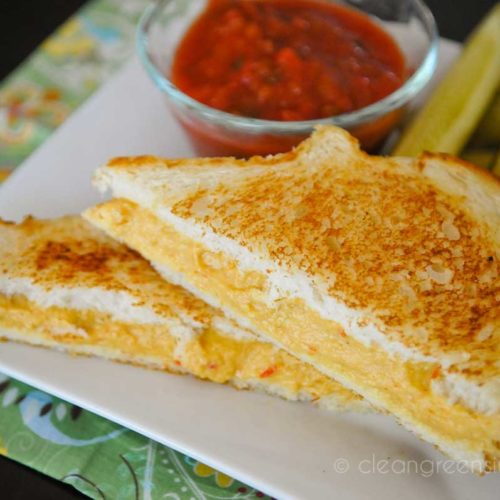 Vegan Grilled Cheese Sandwich
This dairy-free, vegan grilled cheese recipe is classic comfort food that's really quick and easy to throw together. A great option for a weekend lunch or quick dinner. Makes about 4 sandwiches.
Click stars below to rate, or leave a full review in the comments
Print
Rate it Now
Pin Recipe
Ingredients
Ingredients:
1 ⅓

cup

water

½

cup

roasted red peppers

skin & seeds removed or pimiento pieces

⅓

cup

quick rolled oats

¼

cup

nutritional yeast

3

Tbsp

lemon juice

2

Tbsp

arrowroot flour

original recipes called for kuzu root flour, or you could also use cornstarch

1

Tbsp

tahini

2

tsp

onion powder

I used about 2 Tbsp fresh chopped onion

1 ¼

tsp

salt

¼

tsp

garlic powder

I used 2 cloves chopped garlic

¼

tsp

ground coriander

or dill seed

¼

tsp

dry mustard

¼

tsp

paprika

Pinch

cayenne pepper

8

slices

bread

use rice bread to make this recipe gluten free

salsa

optional
Instructions
Directions:
Combine all ingredients except bread and tomatoes, in a blender or food processor until completely smooth.

Pour into a medium saucepan and bring to a boil, stirring constantly. Reduce heat to medium low and cook, stirring frequently, until mixture is very thick and smooth. Remove from heat.

Spread about 3-4 Tbsp of mixture each onto half of the bread slices. Top with a slice of tomato or some salsa, if desired, and remaining bread slices.

Heat sandwiches in a large skillet (lightly misted with olive oil) over medium heat until golden brown, about 3 minutes per side. Cut diagonally and serve. Or cut straight across or don't cut it at all, I'm not the boss of you.
Notes
Original cheese recipe from The Ultimate Uncheese Cookbook by Jo Stepaniak (reprinted with permission from the author).
Nutrition
Calories:
234
kcal
|
Carbohydrates:
40
g
|
Protein:
9
g
|
Fat:
5
g
|
Saturated Fat:
1
g
|
Sodium:
1264
mg
|
Potassium:
245
mg
|
Fiber:
4
g
|
Sugar:
4
g
|
Vitamin A:
153
IU
|
Vitamin C:
13
mg
|
Calcium:
97
mg
|
Iron:
3
mg