One of the most nutritious things you can juice at home also happens to be one of the hardest things to juice. Of course, I'm talking about leafy greens.
These thin, lightweight superfoods are packed full of antioxidants, vitamins, and minerals, including calcium and iron. But effectively pulling the nutrient-rich juice out of greens takes a special kind of juicer. And even if you have the right kind of juicer, you aren't guaranteed a high yield.
That's exactly why we put together this list. Below, you'll find the 6 best juicers for leafy greens on the market. We've included bargain picks as well as the best premier brands so you can efficiently juice greens at home no matter your budget.
Our Picks at a Glance
What to Look for in a Juicer for Greens
If you've followed any of our other juicer posts, you already know there are a lot of different types of juicers available. Each uses a different method to extract juices from produce.
When it comes to juicers for greens, though, there is only one type worth discussing and that's a masticating juicer.
These "slow juicers" use an auger to grind and smash plant matter into a pulp. This pulp is then pressed against a strainer to release the liquid inside. Compared to other juicer types, such as citrus juicers and centrifugal juicers, this type is the most effective at removing liquid from stubborn leafy greens without compromising the nutritional content inside.
The Best Juicers for Leafy Greens
The Crenova cold press juicer is our top pick for two simple reasons.
One, this baby can juice! The slow masticating auger spins at a constant 100 rpm for perfectly dried pulp and 95% juice yield every single time. Whether you're juicing kale or parsley, this juicer delivers great tasting, low-oxygen, nutrient-rich juice every time.
The second thing to love about this juicer is the price. For the performance it offers, we'd expect to pay twice what this juicer sells for. What good is a top pick juicer if most people can't afford it?
Of course, with that lower price point does come a few compromises.
This machine is made almost entirely of plastic. However, the durable PEI exterior and Tritan internal mechanisms assure this juicer will last longer than most plastic competitors.
In terms of cleanup and assembly, this model makes no compromises. The unique plastic mesh screen is much easier to clean than metal mesh but works just as well to separate out the pulp. And the entire setup can be cleaned and set to dry in under 7 minutes.
For a well-priced juicer that performs just as well as top-of-the-line products, the Crenova masticating juicer is the way to go.
Pros:
95% juice yield
Constant 100 rpm
Cleans up in less than 7 minutes
Minimal oxidation
Well priced
Cons:
Made entirely of plastic
Only comes with a 1-year warranty
While a two-speed juicer isn't necessary for juicing green vegetables, it is nice to have this multi-speed option if you intend to juice a variety of produce.
The AMZCHEF slow masticating juicer gives you that option.
For leafy greens, the "hard" speed runs at a perfect 100 to 110 rpm to efficiently crush thin cell walls without dumping lightweight material. For oranges, watermelon, pineapples, and citrus fruits, switch the machine to the lower 50 to 60 rpm setting for optimal juice extraction.
All this is easy to control with the simple dial and LED control panel. For those tougher veggies that tend to bind up, you even have an option to reverse the flow if needed.
At both speeds, this juicer provides an impressive 90% juice extraction rate. The metal mesh strainer easily removes pulp and debris for smooth, nutritious juice.
As with our top pick, this juicer is well priced and perfect for anybody looking to get into juicing for the first time. Unfortunately, it does not come with a listed warranty and is made entirely of plastic. However, it has held up to our durability tests and other users have raved about its longevity.
Pros:
Two speeds for variable use
100 to 110 rpm for leafy greens
90% juice yield
Well priced
Cons:
Made entirely of plastic
No advertised warranty
Takes some time to clean
If you've been juicing for a while and are interested in upping your game to better take advantage of those nutrient-rich greens, this Hurom slow juice is for you.
This standup masticating juicer works a little differently than your typical horizontal models. The auger moves at a constant 43 rotations per minute. This extra-slow speed is offset by the large metal mesh filter basket which quickly removes juice to avoid oxidation.
Even with tricky produce like greens, this product produces bone-dry pulp. The Hurom may cost you more upfront, but if you're juicing greens every day, you're likely to save money in the long run. With each bunch of greens juiced you'll get more juice out than you would with any bargain juicer.
In addition to fruit juice, you can also use this impressive machine to make sorbet, nut milk, nut butters, and tofu.
No matter what you use it for, you won't have to worry about cleanup. The wide filter basket and fewer small parts mean you can clean and rinse the parts in under 5 minutes.
The Hurmon comes in three great colors: black, white, and rose gold. All models are covered by a 10-year extended warranty.
Pros:
Vertical design masticating juicer for easy use
43 rpm with extra-large screen filter
Compact and stylish
Super easy to clean
10-year warranty
Cons:
Pricey
Made mostly of plastic
When it comes to budget juicers, most don't perform well enough to effectively juice leafy greens. The ORFRLD cold juicer is one exception to this rule.
This budget juicer costs half as much as our well-priced top choice and still performs impressively well, whether you're juicing wheatgrass or oranges.
The slow auger turns at a constant 90 rpm for smooth healthy juice and dry pulp every time. With most produce, you can expect a 92% juice extraction rate. This number drops somewhat for green vegetables, but not by much.
Once you're done juicing your kale and spinach, this product is as easy as any to clean. Simply rinse all the smaller pieces and use the included cleaning brush to scrub out the filter.
Another bonus of this affordable juicer is it's a little smaller than most, making it great for crowded kitchens or for keeping on the countertop for daily use. And with five colors to choose from—seafoam green, red, blue, dark blue, and white—you'll have no problem matching it to your decor.
Pros:
Inexpensive
Steady 90 rpm
Comes in multiple colors
92% juice extraction
Easy to clean
Cons:
Less durable than other options
Made entirely of plastic
Another AMZCHEF product that we can't get enough of is the professional series slow masticating juicer.
Like our other AMZCHEF choice, this cold-pressed juicer provides excellent greens juicing with yields up to 90%. It's also similarly well priced. It does, however, run at a slightly slower speed (80 rpm) which makes it more efficient for hard greens like kale and cabbage.
What makes this model a better option for some is the smaller footprint and more compact design. Like our budget choice, this model features a sleek body that balances the undersized chute without adding extra bulk.
It comes in eight great colors, including mint green, blue, orange, and galaxy gray. All those color choices combined with the smaller design make this juicer an excellent choice for daily use. Simply set it on your countertop and leave it there for fresh juice whenever the mood strikes.
This fun little juicer only comes with a 1-year warranty and is made entirely of plastic. It isn't as durable as other options on this list, but it can get the job done as long as you treat it well. Plus, it works with other AMZCHEF add-ons like their meat grinder and grater.
Pros:
Small footprint
90% juice yield
80 rpm
8 great color choices
Optional add-ons for multiple uses
Cons:
Only comes with a 1-year warranty
Made entirely of plastic
Not as durable as others
One of the biggest complaints about masticating juicers is the size of the chute. By design, these models require the slow feeding of small pieces of produce at a time. When dealing with bunches of greens, this feeding process can get tedious quickly.
If you're going to be juicing large amounts of greens for the entire family, you may want to consider a bulk juicer like the Aihom slow masticator.
This bulk juicer has a unique 3-inch wide chute that allows for larger pieces to pass through. This is especially great for kale, spinach, and other thick, bulky greens.
On high, the auger moves at 100 to 110 rpm, perfect for greens. It also has a low setting of 50 to 60 rpm for soft fruit.
The Aihom claims a juice extraction rate of 95%—the same as our top pick. While this may be true of soft fruit, you don't get quite as much return with greens. And even with easier-to-juice fruit, this model struggles to push the last of the wet pulp through the auger to fully remove the liquid.
Still, considering the price and the benefits of the larger chute, this product is still well worth considering. Plus, it comes with a 3-year warranty for added peace of mind.
Pros:
Wide chute for quicker juicing
95% juice yield
100 to 110 rpm for greens
Two-speed modes
3-year warranty
Cons:
Chute is hard to clean
Leaves wet pulp at the end
How to Choose a Juicer for Leafy Greens
Finding the right juicer to fit your needs and budget can be tricky. It's even harder when one of those needs is to be able to juice leafy greens effectively.
Here are a few things you need to consider when looking for a new quality juicer for leafy greens.
Type
As we mentioned above, the best type of juicer for green vegetables is a masticating juicer, also known as a cold juicer or slow juicer. But it is possible to use other types of juicers with greens, they just come with more drawbacks.
Masticating Juicers
These are the best types of juicers for leafy greens. They work by smashing small pieces of produce against an auger. The product is "chewed" down into pulp and forced against a fine mesh screen to extract the juice.
On the plus side, these slow juicers create juice with minimal oxidation and maximum nutrient and enzyme retention. They are also fairly quiet—usually producing below 60dB of noise. On the downside, they are slow and require a lot of prep work to chop produce so the pieces will fit into the small chute.
Centrifugal Juicers
Centrifugal juicers, also known as fast juicers, use a sharp grater-like blade to pulverize produce. The shredded product is then forced against a fast spinning mesh filter to remove the liquid from the pulp.
These juicers tend to be affordable and work very quickly. They also require less prep work since the feed tube is larger and the blade can quickly reduce whole fruits and veggies into pulp.
But the centrifugal motion tends to cast out thin, lightweight greens without shredding them, which means less juice is produced. They also reduce the nutrient content of the juice by oxidating and heating enzymes and vitamins.
Twin Gear Juicer
Twin gear juicers work similarly to masticating juicers but use two augers instead of one. This results in more nutrients being transferred into the juice. Due to the setup of the mesh screens, however, it also means more solids end up in the juice.
When it comes to juicing greens, this retention of solids can be very problematic since much of the stringy greens material ends up in the final product. These juicers also tend to be pretty pricey and very bulky.
On the plus side, these types can do a lot more than juice. They are also good for making nut butter, baby food, and more.
Speed
The speed of your juicer is another important factor when it comes to juicing greens.
When a juicer spins too fast, it creates heat that can harm the vitamins and enzymes in the juice. These important nutrients are the reason green juice is so healthy, so it's important to keep them intact.
Fast juicers also tend to inject oxygen into the juice which creates froth and diminishes how long the juice will last after it's made. Oxidation lowers the nutrient content and reduces the effectiveness of the antioxidant flavonoids inside.
Juicers that rotate too slowly are also problematic because they struggle to effectively break down the greens which means nutrients and juice remain locked inside the pulp.
The best juicers for greens rotate between 80 and 110 rpm. Juicers that spin slower than this need additional means for removing juice from the pulp, such as a large, upright basket. This design is how the Hurom H-AA Slow Juicer still effectively juices greens even though it only spins at a speed of 43 rpm.
Ease of Cleaning
Masticating juicers like those we featured above tend to be fairly easy to clean compared to centrifuge juicers. But they still have a lot of parts that must be rinsed and occasionally scrubbed.
The hardest part of the cleaning process for any juicer is the mesh filter. The larger the filter, the more surface area will need cleaning. And the finer the filter, the harder it will be to clean. These drawbacks need to be considered against the benefits that typically come with a larger, finer strainer.
The overall cleaning time for masticating juicers is going to be fairly comparable between models with a few exceptions. Most notably, the unique plastic strainer of the Crenova Cold Press Masticating Juice, which we featured as our top choice, is impressively easy to clean compared to the typical metal strainer of most models.
Storage
The last thing to consider when looking for a new juicer is how and where you want to store it.
If you're going to be juicing daily, then finding a unit that stores easily on the countertop without taking up too much room is a good idea. The AMZCHEF Slow Masticating Juicer Extractor Professional is perfect for this type of storage and comes in a ton of great colors to match any decor.
If, on the other hand, you're only going to be juicing occasionally or don't have counter space to spare, you'll want to find a juicer that can be easily stored in a cupboard.
Depending on the setup of your storage area, an upright juicer like the Hurom may be the easiest option. Or you may be better off with a unit that breaks down into separate pieces like the AMZCHEF Slow Masticating Juicer Extractor.
Which Juicer Is the Best?
We found a lot of great juicers on our mission to track down the best juicer for leafy greens. But the clear winner in this category was definitely the Crenova Cold Press Masticating Juicer.
Not only does the Crenova produce an impressive 95% juice extraction, but it does so while maintaining the integrity of the nutrients and enzymes thanks to a constant 100 rpm rotation. Equally important, this excellent juicer is well-priced for the average buyer and a breeze to clean up when all the juicing is done.
Can't Get Enough Fresh Juice??
Still looking for the perfect juicer? Or maybe you want one that can take on a different kind of produce. Check out these articles for more "best of" juicer recommendations.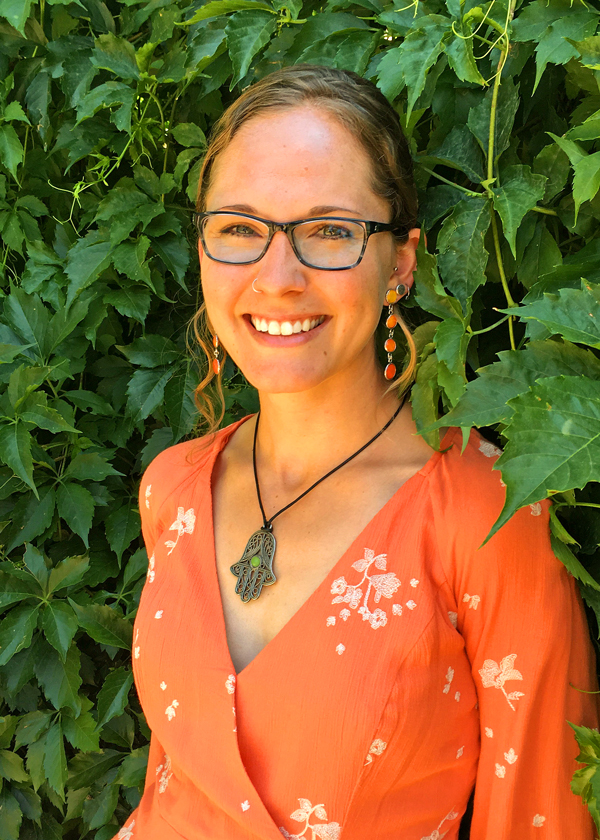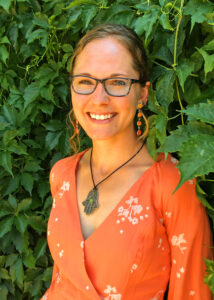 About the Author
Sara Seitz is a freelance writer and a busy mother of a rambunctious toddler. She is always looking for gadgets that make plant-based cooking easier and more enjoyable. She loves sharing what she finds with other busy families and individuals who could use a little more "simple" in their lives. More articles by Sara.