Mushrooms have long been used in traditional medicine to treat ailments and support vitality. In recent years, researchers have shed some light on how these fungi work with the human body to improve health. This research spawned a slew of great new mushroom products, including mushroom gummies.
But the popularity of these supplements has flooded the market with inferior products. That's why we've researched and tested to find the 5 best mushroom gummy supplements. Each of these products is made with quality vegan ingredients and tested for potency so you can benefit from all the good mushrooms have to offer.
Of course, it is always best to get medical advice from your doctor before starting any type of supplement.
Our Picks at a Glance
What to Look for in a Mushroom Supplement
It can be difficult to tell the difference between a quality mushroom supplement and an ineffective knock-off. But there are a few things you can look for that will help you find the best product to meet your needs.
Fungus Form
Mushroom supplements are made from two main sources. They can be derived from "fruiting bodies," aka mushrooms as we know them. Or from something called mycelium.
Mycelium is the fine white hair that gives rise to fruiting bodies. This largely unseen part of the fungus holds many of the same benefits as the mushrooms themselves.
The problem with supplements made from mycelium is that most of them contain MOG, or "Mycelium on Grain." When mycelium is grown on grains, it's impossible to separate the fungus from the grain during harvesting. This produces a product that is highly diluted and undereffective.
Mycelium products made from fungus grown through liquid fermentation, however, are fairly potent. These products will list mycelium, not MOG, as the source of the extracts. Look for products made with non-MOG mycelium or fruiting bodies.
Extraction Type
Once harvested, mushroom compounds can be extracted via water or alcohol. Water extraction secures beta-glucans while alcohol extraction secures fat-soluble compounds.
If you're looking for a specific compound, then look for a product that uses the right process to secure it. If you want all the benefits the mushrooms have to offer, then look for a product that was extracted using both processes.
Some supplements will use mushroom powder, which is made from dried, powdered fungus rather than extracts. These have the benefit of being full-spectrum but the active compounds are more dilute. Most gummies are made with extracts, not powder.
Listed Active Compounds
Finding out the fungus form and extraction method used to create products can be difficult. If this isn't provided, you can usually tell how good a product is by referencing how much active product is in it.
Not all valuable compounds in mushrooms are easy to test for. But beta-glucans and triterpenes generally are. Products that list these amounts are going to be easier to compare than products that don't.
Types of Mushrooms
There are many types of effective medicinal mushrooms out there, each offering something a little different. Here's a quick breakdown of some of the most popular ones:
Reishi Mushrooms – A calming shroom that supports the adrenal glands and protects the brain and body from stress damage. It also supports the immune system and aids in better sleep.
Lion's Mane Mushrooms – Another calming shroom often used to help with anxiety, depression, and emotional imbalance. Also supports heart, immune, and gut health.
Cordyceps Mushrooms – These versatile mushrooms help support the body by aiding the immune system, fighting inflammation, and balancing blood sugar. Some studies indicate cordyceps may have anti-cancer properties.
Chaga Mushrooms – This nutrient-dense mushroom is packed with vitamins, minerals, and antioxidants and is anti-inflammatory. They support many systems in the body to improve overall health.
Turkey Tail Mushrooms – This is another antioxidant-packed mushroom with proven benefits for the immune system and gut.
Some gummies include multiple types of mushrooms and are meant to be used as general supplements. Others only have a select few and are marketed for specific uses.
The Best Mushroom Gummies
We focused our search on products with multiple mushroom extracts formulated for daily use. Many of these companies also offer products with focused uses that contain only one or two mushroom types.
In all cases, we chose only high-potency products that utilize fruiting bodies or mycelium obtained through liquid fermentation.
Best Overall: Troomy
14 Mushroom Blend | 200 mg of 10:1 extract per serving
Troomy offers a wide range of mushroom gummy products from a daily-use option to focused recipes with limited ingredients.
Their daily-use gummies contain 14 different functional mushrooms chosen for their adaptogen content. Adaptogens are substances that help the body react and adapt to stress to prevent damage.
Triple extraction of this mushroom blend has created high-potency gummies with a range of beta-glucans and fat-soluble compounds. Unfortunately, the company doesn't list the amount of any active compounds on the label. But they do list the per gummy amount as 200mg per serving.
Troomy's Daily mushroom blend includes:
Red Reishi
Cordyceps
Chaga
Mesima
Lion's Mane
Turkey Tail
Maitake
Shiitake
Blazei
Poria
Agarikon
Suehirotake
Oyster Mushroom
True Tinder Polypore
These gummies come in a delicious mango-strawberry flavor that contains a total of 2,000 milligrams of mushrooms per serving. The gummies themselves are vegan and are made of natural colors, natural flavors, tapioca, pectin, and sugar.
In the realm of focused mushroom supplements, Troomy has four options: Boost, Calm, Sleep, and Focus. Each of these has 400mg of a specific mushroom species for focused results.
5 Mushroom Blend | 700 mg per capsule
Why would we include a mushroom capsule supplement on a best gummies list? For one major reason: potency.
Mushroom extract, by nature, has a strong earthy, bitter flavor. In order to make it taste good in gummy form, you have to dilute that flavor with plenty of sweetener and taste enhancers. That means even quality gummy products, like those on this list, are less than 50% mushroom extract.
As a premier capsule-style mushroom supplement, Future Kind's Vegan Clarity Mushrooms product is more concentrated, and therefore more potent, than any gummy. In one capsule, you get 700 mg of medicinal mushroom fruiting bodies.
This blend contains 5 powerful mushrooms chosen for their proven ability to support cognition, brain health, and clarity. They include:
Lion's Mane
Chaga
Maitake
Shiitake
Reishi
The recipe consists of mostly lion's mane, which provides potent adaptogens to help you feel calmer and better process stress. These same chemicals help support memory, recall, and cognitive performance.
The other four mushrooms contain nutrients and phytochemicals known to support brain health, reduce inflammation, and balance emotions.
The fact that these are capsules instead of gummies means there are fewer inactive ingredients. The capsule itself is made of cellulose, stearate, and silicon dioxide. This supplement is 100% vegan, non-GMO, free of allergens, and contains no artificial ingredients.
Like all Future Kind products, these are made in a carbon-neutral facility, come in eco-friendly packaging, and help support local animal sanctuaries.
These shroom supplements are well-priced given their potency, but we recommend signing up for their subscription option to get even more bang for your buck.
3 Mushroom Blend | 410 mg per capsule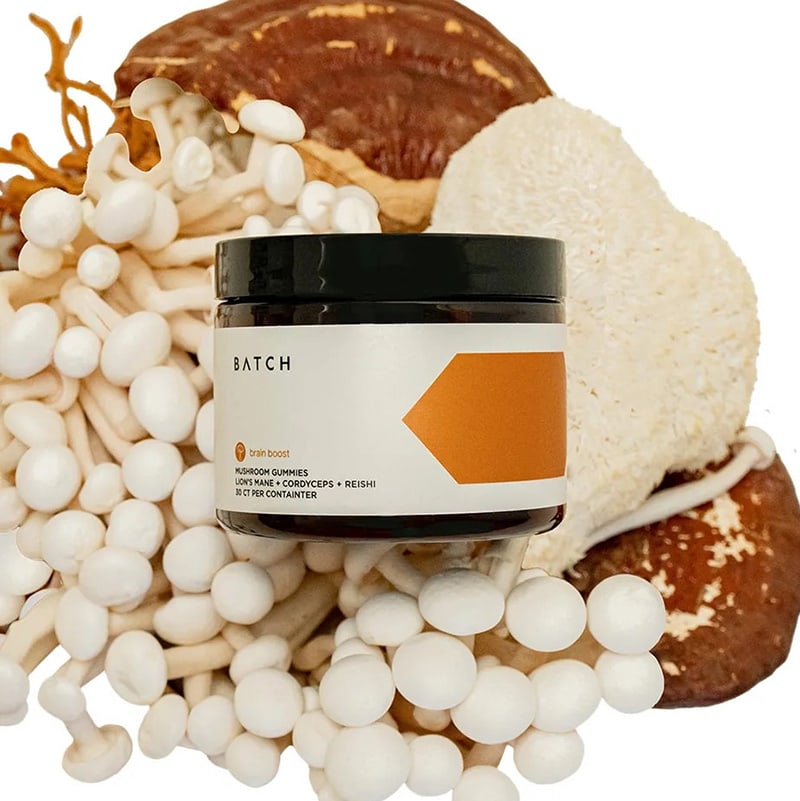 Batch has been crafting functional CBD products for years. But their newest product taps into the awesome power of mushrooms to help improve focus and memory and support overall brain function.
Their Brain Booster formula includes three powerful functional mushrooms:
Lion's Mane
Cordyceps
Reishi
In addition, these gummies are made with other potent ingredients that have been linked to improved brain function, including ginger root and coconut oil.
The gummies themselves are vegan, non-GMO, soy-free, gluten-free, and dairy-free. They're made with recognizable whole-food ingredients like tapioca and cane sugar. They have a mild fruity-gingery flavor that is tasty but not overwhelming.
The mushroom extracts included come from 100% fruiting bodies. And the mushrooms themselves are grown on natural substrate and certified USDA organic. Best of all, Batch uses a dual-extraction process that captures the full spectrum of adaptogens and phytochemicals present in these three powerful mushroom species.
You'll pay a premium for these quality gummies—though, opting for the subscription will save you a good deal of money—but the results are worth it. Users report better focus, clearer thinking, and an overall sense of calm that stimulating brain boosters just can't produce.
10 Mushroom Blend | 250 mg per serving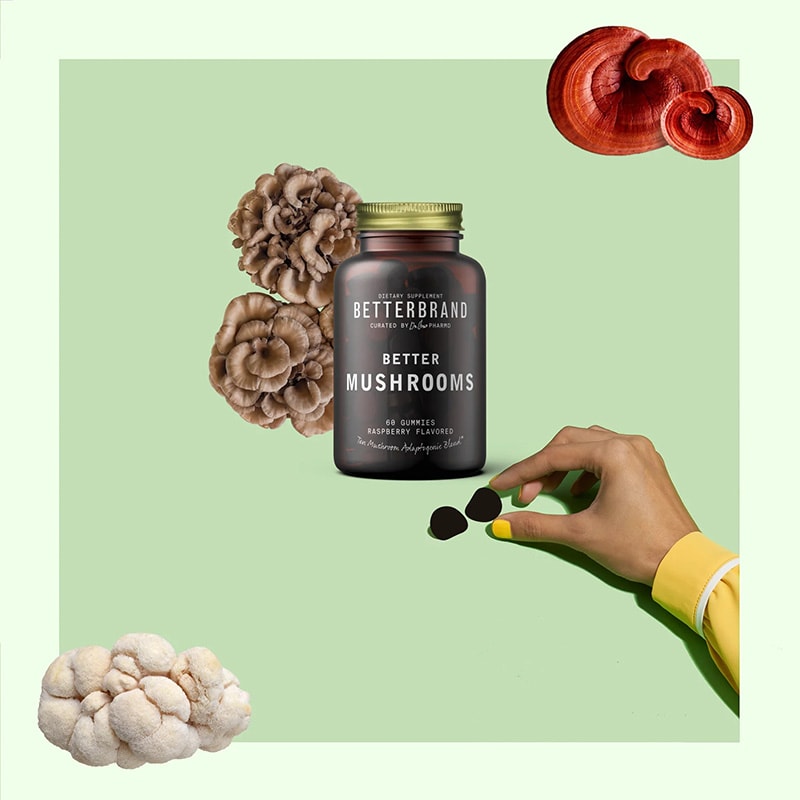 Better Brands BetterMushrooms gummies contain a mushroom mix of ten powerful functional shrooms. Each dose is loaded with 250mg of nootropic compounds to elevate energy and focus while promoting calmness and balance. These shrooms also help maintain a healthy immune response, support gut health, and improve metabolism.
These helpful compounds are extracted from fruiting body, non-GMO mushrooms. The high-yield extraction process and premium ingredients guarantee high absorption rates of over 90%.
Unfortunately, the company does not list the active compound amounts on the label. What they do tell us is each serving contains 250 mg of mushrooms. This high concentration along with the high absorption rates explains the great user reviews.
Each BetterMushrooms gummy contains:
Chaga
Reishi
Turkey Tail
Maitake
Lion's Mane
Cordyceps
Shiitake
Royal Sun
Black Fungus
White Button
These gummies are vegetarian friendly and have a pleasant, slightly sour raspberry flavor. The non-mushroom ingredients are all-natural and gluten-free and include natural flavors, colors, and sweeteners.
This mushroom gummy is a little more expensive than others. But it has received rave reviews from customers as well as news outlets, including USA Today, Newsweek, and CBS.
10 Mushroom Blend | 250 mg of 10:1 per serving
Purify Life was the first to introduce a 10-mushroom blend in gummy form. And they manage to pack all those functional ingredients into a delicious gummy that costs less than most competitors.
The 10:1 extraction utilized provides 2500 mg of total mushroom content per gummy. This number can be a little deceiving. Given the types of mushrooms in this mix and the standardized extract ratio, it's better to think of it as having 250mg of mushrooms per serving.
The mix of mushrooms used provides powerful compounds to calm the mind, energize the body, and support overall health.
One of the best things about these gummies, though, is they can be taken by kids as well as adults. The large bottles contain 90 gummies, which is equivalent to a 45-day supply for adults or a 3-month supply for those under 13.
Each gummy contains 250mg of each of these potent medicinal mushrooms:
Maitake
Shiitake
Lion's Mane
Reishi
Cordyceps
Chaga
Turkey Tail
White Button
Black Fungus
Royal Sun
These vegan gummies have a wonderful berry flavor derived from natural essences. They are made of glucose syrup, pectin, and natural colors.
For the number of servings you get per bottle, they are incredibly well-priced.
FAQ
What is 10:1 extract in mushroom products?
The extraction ratio in mushroom products describes how many pounds (dry weight) of mushrooms it took to create 1 pound (dry weight) of extract. Some mushrooms, like lion's mane, are very fleshy and produce about 1 pound of extract for every 4 pounds of mushrooms. Others are very woody, like reishi, which produces 1 pound of extract per 16 pounds of mushrooms.
But these ratios assume high-yield processing. Inferior processing requires more mushroom product to create the same amount of extract.
Most products use a standardized 10:1 extract, meaning 10 pounds of mushrooms were used to create 1 pound of extract. For some mushrooms, this is a good yield and for others it is poor.
Generally, when you have a 10:1 product you need to divide the listed milligrams of mushrooms per serving amount by 10 in order to accurately compare it to high-yield extract products.
Are mushroom gummies beneficial?
There have been numerous studies on the health benefits of medicinal mushrooms, which have been used in traditional Chinese medicine for hundreds of years. They have been shown to affect multiple systems in the body and may be able to prevent inflammation, support memory and focus, fight cancer, improve mood, and more.
Many mushrooms also provide a host of essential nutrients and a wide range of antioxidants.
Gummies provide an easy and tasty way to take mushroom supplements. But how beneficial they will be depends on the quality of the product. The products we featured above all use potent processing methods and contain mushroom blends with proven benefits.
Are mushroom supplements worth it?
There's a growing body of evidence that functional mushrooms can have a huge impact on the body and on overall health. Taking a mushroom supplement is the easiest way to take advantage of these benefits (drinking mushroom coffee doesn't hurt either). As more of these products hit the market, they have become much more affordable than they used to be.
If you're looking for a solution to stress, poor mood, low energy, or just want something to support optimal health, a mushroom supplement is worth trying. These products, especially blends with multiple species, have wide-ranging effects. Most users report higher energy, better concentration, and an overall feeling of well-being.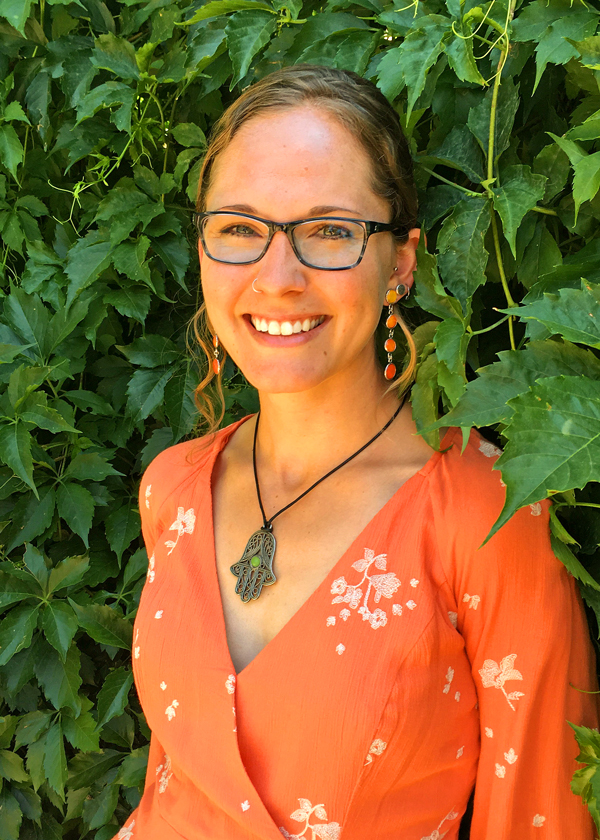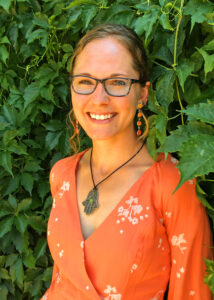 About the Author
Sara Seitz is a freelance writer living with type 1 diabetes. Her search for better health and better control of her blood sugars led her to a plant-based diet. When she isn't experimenting with new vegan recipes, she's helping spread the word about how plant-based is better for people and the planet. More articles by Sara.