Whether you're pulling fresh greens out of the garden or packing them home from the store, a salad spinner is a must-have tool for anyone who frequently uses lettuce, greens, and herbs in the kitchen.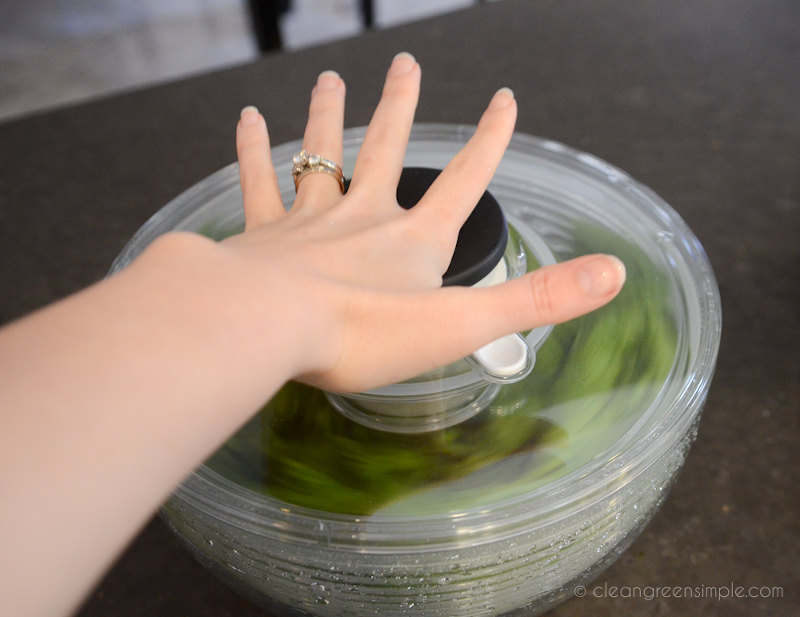 Not only do these nifty devices cut drying time for wet greens and berries in half, but they are a far more eco-friendly option than traditional drying via paper towels or with your washer's spin cycle (yes, apparently this was a thing!).
Salad spinners also allow you to save money at the grocery store. Stock up on lettuce and other leafy greens when on sale. Then wash and spin them in the salad spinner and you can store them in canning jars in the fridge for up to 10 days.
But there are some downsides to these handy kitchen tools as well.
For one, they tend to be made mostly or entirely of plastic, one of the least earth-friendly materials. They can be equally as un-small-kitchen-friendly too, given how much space they require to store.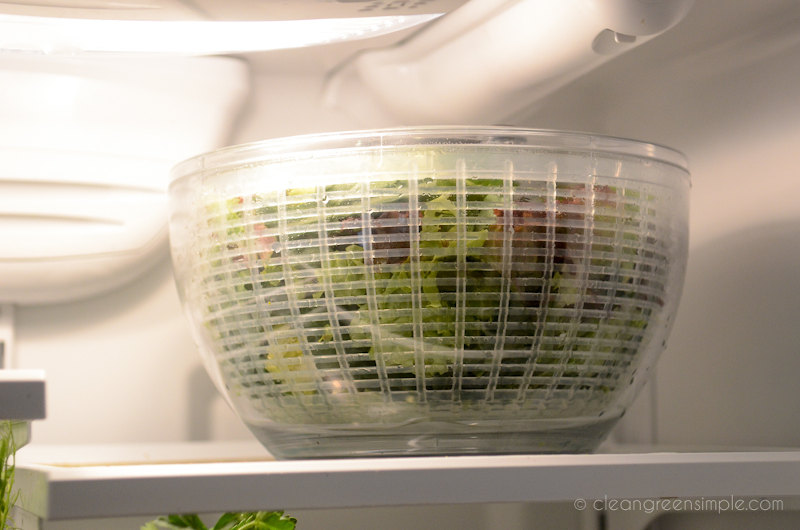 When it comes to picking your new salad spinner, it is good to keep these pitfalls in mind. Choosing a well-made, durable plastic spinner, or better yet, one that incorporates glass or stainless steel parts will assure less plastic waste ends up in the landfill. And considering the overall size and storability of your spinner before you purchase it will help assure the two of you will be compatible for the long haul.
If you're in the market for a new salad spinner, we've reviewed some of our favorites below. And we made sure to include a wide range of sizes and styles to help you find exactly what you need.
The Best Salad Spinners
1. Top Pick: OXO Steel Salad Spinner
There are so many reasons to love the OXO steel salad spinner, but the reason we've selected it as our top pick is the winning combination of an earth-friendly and antimicrobial stainless steel bowl and an easy to use, no hassle push-action spinner.
Unlike most spinners that require you to rotate a knob or spin a handle, all you have to do to get this spinner rotating is press down on the center pump. And once your lettuce is dried, simply press the patented stop bottom and pull off the lid.
This spinner is dishwasher friendly and holds just over 6 quarts of greens in the serving bowl or about 5 quarts in the drying basket.
2. Emsa 513441 Turboline Salad Spinner, Medium, Silver
Another spinner we love for their use of a stainless steel bowl is Emsa's Turboline spinner. Like our number one choice, this salad spinner includes a beautiful steel bowl that can double as a serving dish for salads and produce. And it also utilizes a no-effort spinning mechanism in the form of a pull cord to activate rotation.
You can even increase the speed of the spin by pressing the red "turbo" button, a must if you soak your greens before drying them.
It has a similar capacity to the OXO steel spinner and is top-rack dishwasher safe. It is manufactured in Germany and highly durable.
3. Culina Space Saving Salad Spinner
If your main concern when shopping for a salad spinner is storability than look no further than this space-saving Culina model. The rounded form and side handle design mean it takes up less space without sacrificing capacity. The clear bowl and festive green basket also make this spinner easy on the eyes, allowing for the simple option of storing it straight on the counter.
The handle-driven spinning mechanism requires a bit more work from you, but the modest price and durability definitely make this spinner a great choice for any salad aficionado.
This spinner has a nice 5-quart capacity but it is hand wash only.
4. OXO Good Grips Little Salad & Herb Spinner
If you like our first choice salad spinner but arent big on the look or price tag of a stainless steel bowl, the OXO Good Grips Little spinner is the perfect option for you. Like our other OXO pick, this one features the easy pump-action spinner and patented stop button, but comes with a beautiful clear bowl and is about half the price.
This spinner is also much smaller than others on our list, making it a great choice for those with very little space to spare. The small capacity also makes this a great choice for drying herbs and preparing single-serving salads.
All parts are top-rack dishwasher safe. The bowl holds 3 quarts while the basket capacity is closer to 2.5 quarts.
5. Prepworks by Progressive Collapsible Salad Spinner
If you are serious about saving space or just like the idea of a salad spinner that is easily transportable, Prepworks by Progressive's collapsible spinner has your name written all over it.
This spinner is made from a combination of stiff and malleable plastics that allows both the outer bowl and inner basket to collapse down to about half their normal height for storage. The lid utilizes a knob-style spinner that works both clockwise and counterclockwise.
You can find this ingenious collapsible bowl in a 3-quart and 4-quart capacity to fit your needs. All parts are dishwasher safe and easy to clean.
6. Salad Spinner by Silverflye
Are you just getting started on your salad loving journey and in need of more than a few key tools? You may want to consider this all-in-one salad making kit by Silverflye.
In addition to the well-made plastic knob style spinner, this kit also includes multiple veggie slicing tools that fit right into the alternate lid of the spinning bowl. You'll get a vegetable slicer, coarse grater, fine grater, and julienne slicer all in one compact system that stores nicely together.
The bowl holds about 4 quarts of freshly dried or sliced veggies and all parts, including all the blades, are dishwasher safe.
7. ZYLISS Easy Spin Salad Spinner
The Zyliss Easy Spin is the perfect salad spinner at a modest price for anyone looking for a better alternative to knob and handle spinners. The pull cord activated rotation is simple to use and won't tire out your arm. And the handy break button means you can quickly stop the basket from spinning without sending lettuce all over your kitchen.
The clear outer bowl and the option of green or white accents allows this spinner to fit in easily with the decor of most kitchens.
This spinner comes in two sizes. The large size accommodates about 4 to 6 servings of salad while the smaller model can hold about half that. Both models are completely dishwasher safe and a snap to clean.
8. Cuisinart CTG-00-SAS Salad Spinner
If you're hunting for a bargain spinner that won't let you down, you've found it in this simple but effective salad spinner from Cuisinart.
Like all Cuisinart products, you can trust this spinner to last. It is made of durable plastic and utilizes an extended knob spinner that's easier on the hands than most. Another nice feature is the locking lid, which assures greens won't go flying if you crank this thing up to max speed. At a price point lower than most of the items on this list, it is the perfect tool for those on a budget.
This spinner has a large 5-quart capacity and is dishwasher safe.
9. Rosle Stainless Steel Salad-Spinner
The Rosle salad spinner is not for the recreational salad maker. Instead, this super-large capacity spinner is made for those who take their greens prep seriously.
With an elegant stainless steel bowl and plastic-lined glass lid, this spinner is easily the greenest choice on our list. It utilizes a knob-style spin action that is powerful enough to move the large capacity basket with ease. And it all comes with a lifetime guarantee from Rosle.
This large capacity spinner can hold just under 6 quarts. All pieces are dishwasher safe and the beautifully finished steel bowl makes a great serving dish for any salad.
10. Large Salad Spinner Lettuce Dryer By Fullstar
Last but not least is another great salad spinner for those most interested in a durable piece of equipment that won't break the bank.
Like the Cuisinart spinner, this salad spinner from Fullstar is dependable and well-made for the price, but it has a larger capacity bowl and a more ergonomic handle for ease of use. The simple but elegant clear plastic design makes this the perfect addition to any kitchen. The inner basket features oblong openings that may be too big for use with herbs and other small greens but also makes it more durable than traditional slotted baskets.
This spinner has just under a 6-quart capacity and is top-rack dishwasher safe.
Salad Spinner Buyer's Guide
Still considering what features might make for the best salad spinner for use in your kitchen? Here is our handy buyer's guide to help answer some of your salad spinner questions and get you pointed in the right direction.
Type of Spin Action
Our list of recommended salad spinners featured an array of different spinner types, many of them utilizing different methods for rotation. Each of these methods has some benefits and some drawbacks.
Knob-style spinners – These types of salad spinners feature a small knob or extended grip piece that sits on top of a gear disc. As you spin the knob in circles, the inner basket begins to spin faster and faster. These are generally the least expensive spinner types and are typically durable, but they are the least comfortable to operate.
Handle-style spinners – Handle spinners feature an extended handle attached to gears that you must manually spin in circles much like a knob spinner. They tend to be equally durable, though a tad more expensive. They are, however, much easier on the hand to operate.
Pull-cord spinners – These salad spinners work in much the same way a lawn mower fires up with a quick pull of the cord setting the basket in motion. While these take much less work to operate, they are the most likely to break out of all the spin-action types.
Pump spinners – Out of all the options, pump spinners are the only ones that can be operated one-handed. The spinning action is facilitated by compressing a pump in the center of the bowl. A well-made pump spinner should last as long as the less advanced systems but tend to be the most expensive.
Function and Appearance of the Bowl
One more thing to consider before you purchase your salad spinner is the look and functionality of the outer bowl.
For the cheapest types of spinners, the outer bowl is usually a flow-through type, meaning that it will have holes in the bottom to allow the water to drain out as you spin. While this can help get your lettuce dryer faster since the water does not collect in the bowl itself, it also means you have to use your spinner in the sink.
More commonly, the outer bowl will be solid, requiring you to stop and dump the water as needed. Some salad spinners have drainage holes in the lid so you can easily and quickly dump water between spins. The downside to these types is that you can't use the spinner to store lettuce because the extra airflow will lead to wilting.
The other aspect of the outer bowl to consider is whether or not you want it to double as a serving dish. Many of our choices above featured spinners with stainless steel bowls. These types tend to cost more, but they come with an elegant serving bowl built-in. Even many of the plastic bowl types are attractive enough for serving salads at the dinner table.
If, on the other hand, you already own a beautiful salad dish that you prefer to use, why not save some money and opt for a spinner with a more utilitarian bowl style?
Whatever salad spinner you choose, it's unlikely you'll regret the purchase, as even the least expensive varieties are likely to save you loads of time and effort the next time you serve up a healthy plate of greens for the family.