As the temperatures begin to fall and the leaves show their autumn colors, there is one recipe category that typically makes a comeback after a marked absence during the hot summer months.
Of course, we are talking about soup.
A big, steaming bowl of savory spices and decadent flavors is exactly what you need to help ease the transition between warm summer fun and cool fall relaxation. But finding a hearty vegan soup that brings the same comfort you remember from the autumns of childhood isn't always easy.
That's why we've put together this list of the 11 best vegan soup recipes. Each of these creamy, delicious bowls pack flavor and comfort without using animal broths, dairy, or meat.
So grab your favorite blanket, get comfy, and let's dig in.
Butternut Squash Soup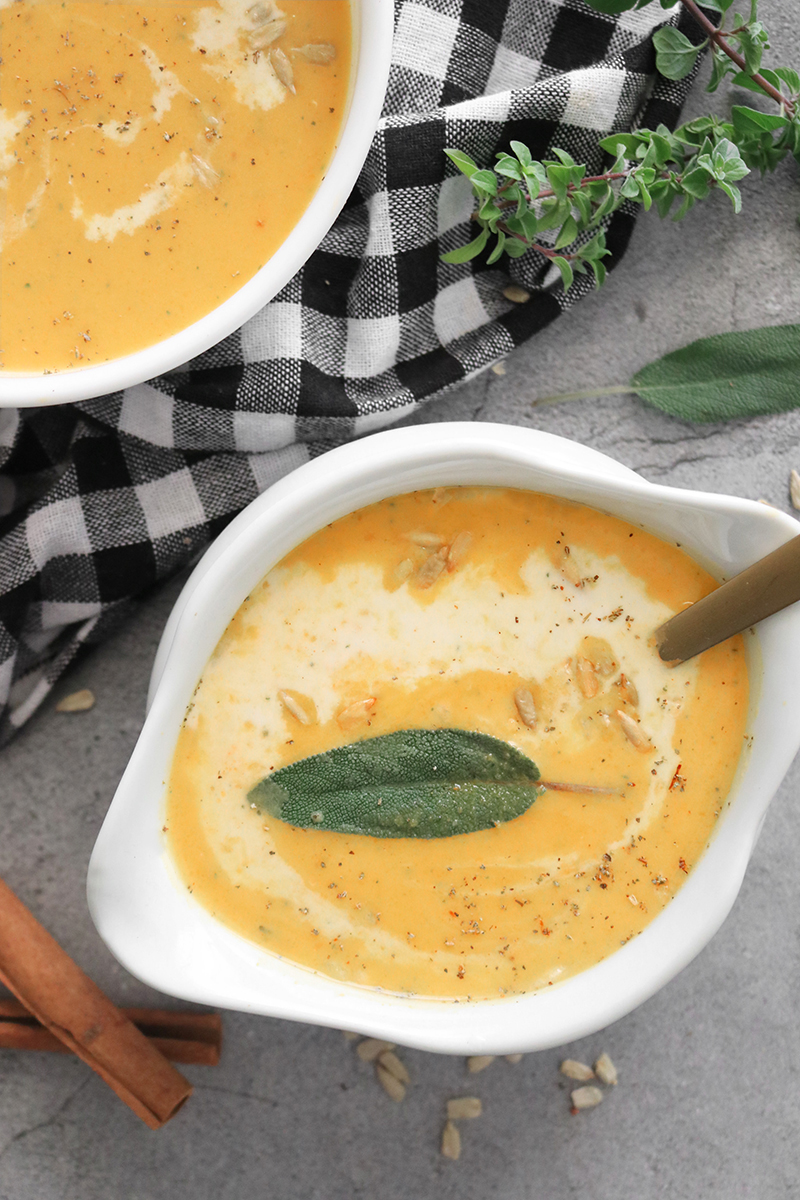 This is easily one of the most decadent butternut squash soup recipes you'll find. And perfect for chasing away those end-of-the-season blues.
This tantalizing soup starts with butternut squash roasted with pepper and cinnamon until perfectly tender. Add sage and onions, and swirl in some full-fat coconut milk to really seal in the comfort. Garnish with toppings of your choice, such as croutons, fresh herbs, pumpkin seeds, or hot sauce.
Potato Soup
Coconut milk is the yum-driving factor in this hearty potato soup, as well. That velvety smooth, rich flavor is complemented with starchy potatoes and savory onions, garlic, and thyme.
This soup can be easily tailored to fit your tastes and is delicious when served as is, with chunks of carrots and potatoes, or when blended into creamy perfection. However you choose to enjoy it, don't forget the toppings. Vegan sour cream, green onions, vegan cheese, and vegan bacon bits elevate this dish to something that even your non-plant-based friends won't be able to resist.
Lentil Soup
This delicious fall classic is packed with seasonal veggies and pantry staples, making it not only perfect for fall but pleasingly affordable to throw together. Cold-season greens and hearty root vegetables add to the texture, but what really defines this lentil soup is the seasoning. A dash of curry powder and a healthy squeeze of lemon turn this autumn recipe into a vibrant celebration of flavor and warmth.
Broccoli Cheese Soup
There is nothing like dipping your spoon into a thick, cheesy broccoli soup as the days begin to cool. But is it possible to mimic that feeling (and those flavors) with a vegan version? With this tasty broccoli cheese soup, the answer is yes, yes, yes!
The key to emulating that umami taste of traditional broccoli cheddar soup comes from an unlikely source in this recipe: dill. Dill brings that tangy, complex flavor that makes cheddar "sharp." And, when mixed with potatoes, cashews, and apple cider vinegar, it helps round out this hearty, healthy version of this classic fall treat.
Cream of Mushroom Soup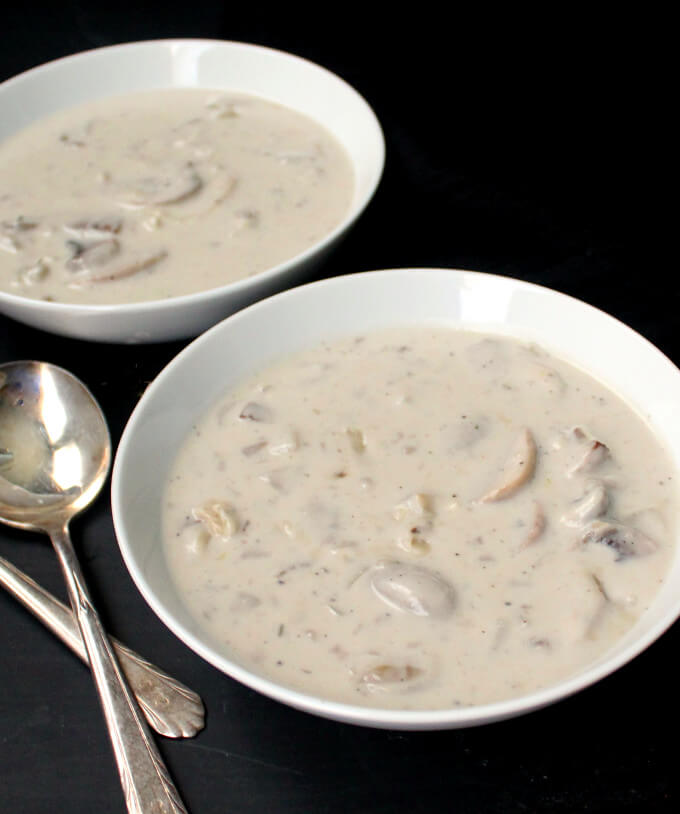 As its creator brags, this vegan cream of mushroom soup "hugs you with warmth and deliciousness." If that isn't the perfect way to step into autumn this year, I don't know what is!
Best of all, this recipe utilizes just a few simple ingredients and can be thrown together in a flash. Plus, with a few substitutions, it can be easily prepared oil-free and gluten-free. In any case, this dish brings that earthy flavor of any good mushroom soup while also delivering on the thick, creamy texture to keep you warm and content.
Split Pea Soup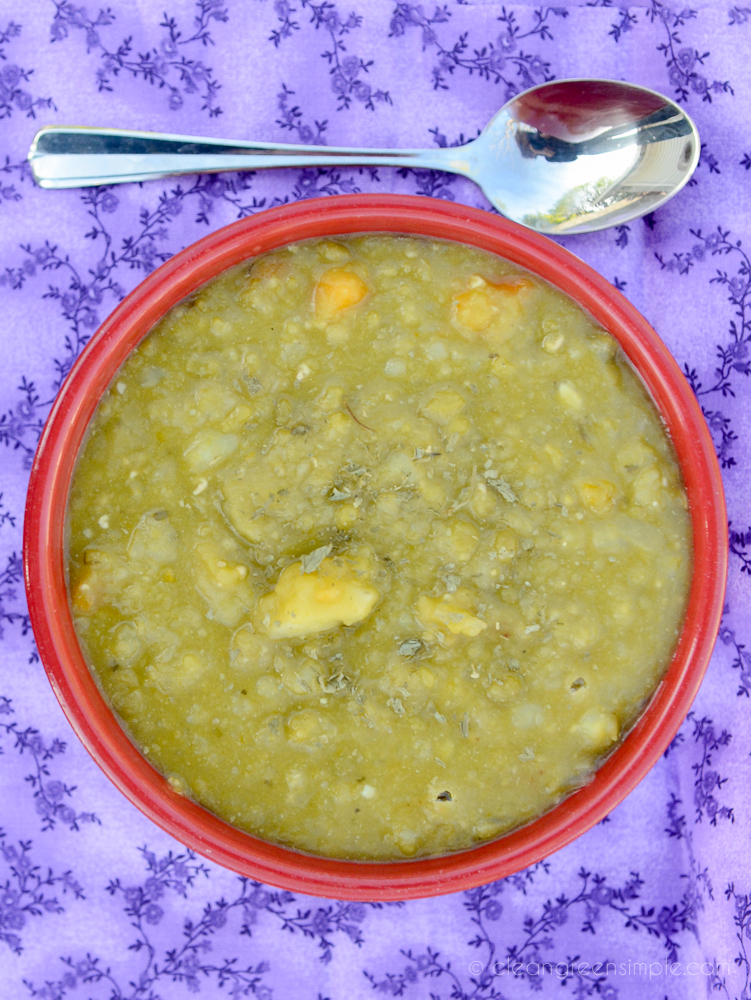 Looking for a simple recipe that delivers on flavor while also being guaranteed to fill you up? Our split pea soup is just what you need. Simply toss split peas, carrots, onions, celery, potatoes, and spices into a pot and let them simmer. By the time you're done raking the leaves or preparing your garden beds for their winter hibernation, this healthy, hearty one-pot soup will be ready to enjoy.
Creamy Tomato Soup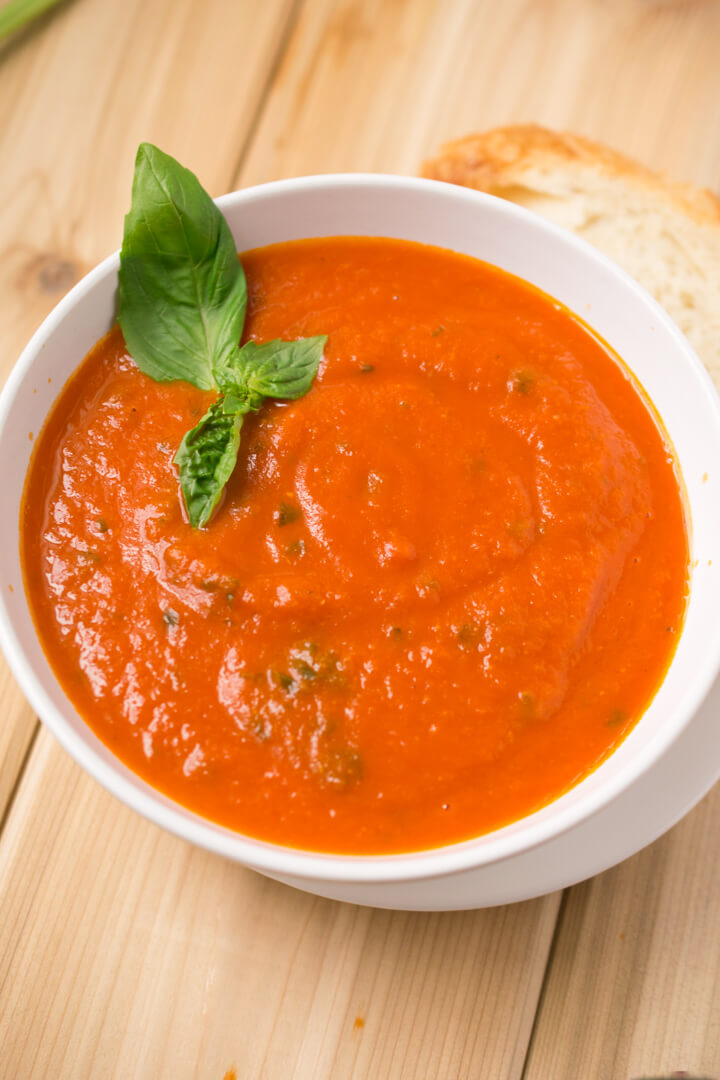 This thick and tasty creamy tomato soup uses a very different approach to obtain that hearty texture than other "cream" soups on this list. Instead of relying on coconut milk, which could easily overwhelm the delicate taste of tomato, or on plain plant-based milks that would dilute the flavor, this recipe relies simply on garlic and olive oil. When blended together, these two common ingredients create their own unique creamy texture that perfectly compliments the acidity and tang of the tomatoes.
Minestrone Soup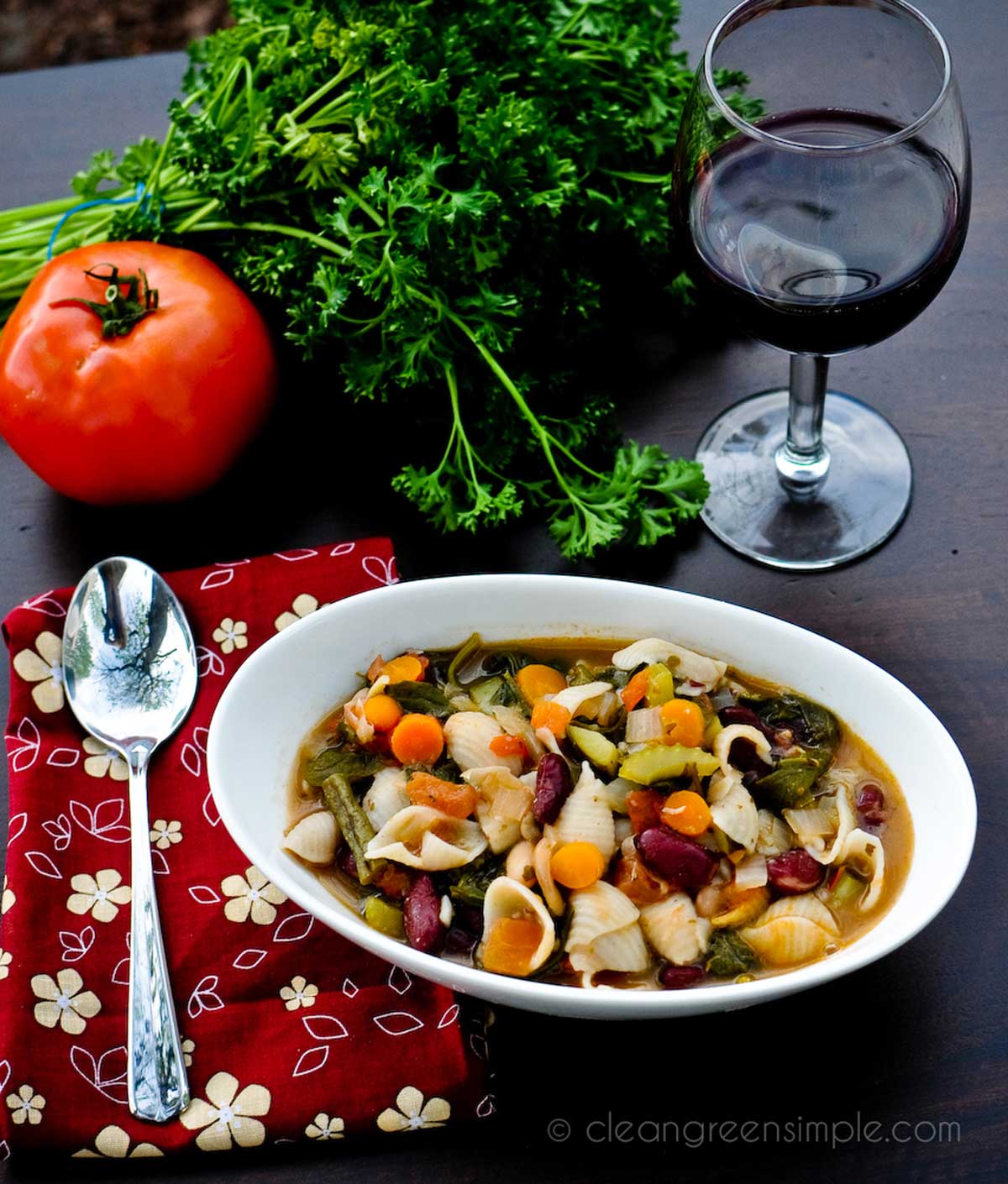 This veggie-packed minestrone soup is loaded with nutrition and still hearty without being heavy. Flavorful broth underwrites complex notes of basil, thyme, and red wine, while kidney beans and noodles leave you feeling perfectly satisfied. For the gardeners out there, this soup is perfect for using up the last of your summer harvest and can easily be frozen so you can enjoy home-grown vegetables all autumn long.
Cream of Asparagus Soup
Here is another great creamy soup that requires no dairy-free milks. The trick lies in the potatoes. When well-cooked and blended, these starchy vegetables mimic that delightful creamy texture of real asparagus soup without the added fat. Of course, what really makes this soup stand out is the earthy, complex flavors asparagus brings to the mix. Lemon and garlic round out the dish and bring a vibrancy to help brighten any fall day.
Cauliflower Soup
The best part about this cauliflower soup? It is highly customizable to fit your tastes and the contents of your pantry. You can use any oil you prefer and can add tasty ingredients like nutritional yeast, extra veggies, or extra spices to adjust the flavor to exactly what you want. You can even adjust the non-dairy milk content to make a thick, hearty soup, or a thinner, less-filling dish.
There are a lot of possibilities with this recipe. We recommend trying a few variations. Odds are, you'll find more than one that works for you.
Cuban Black Bean Soup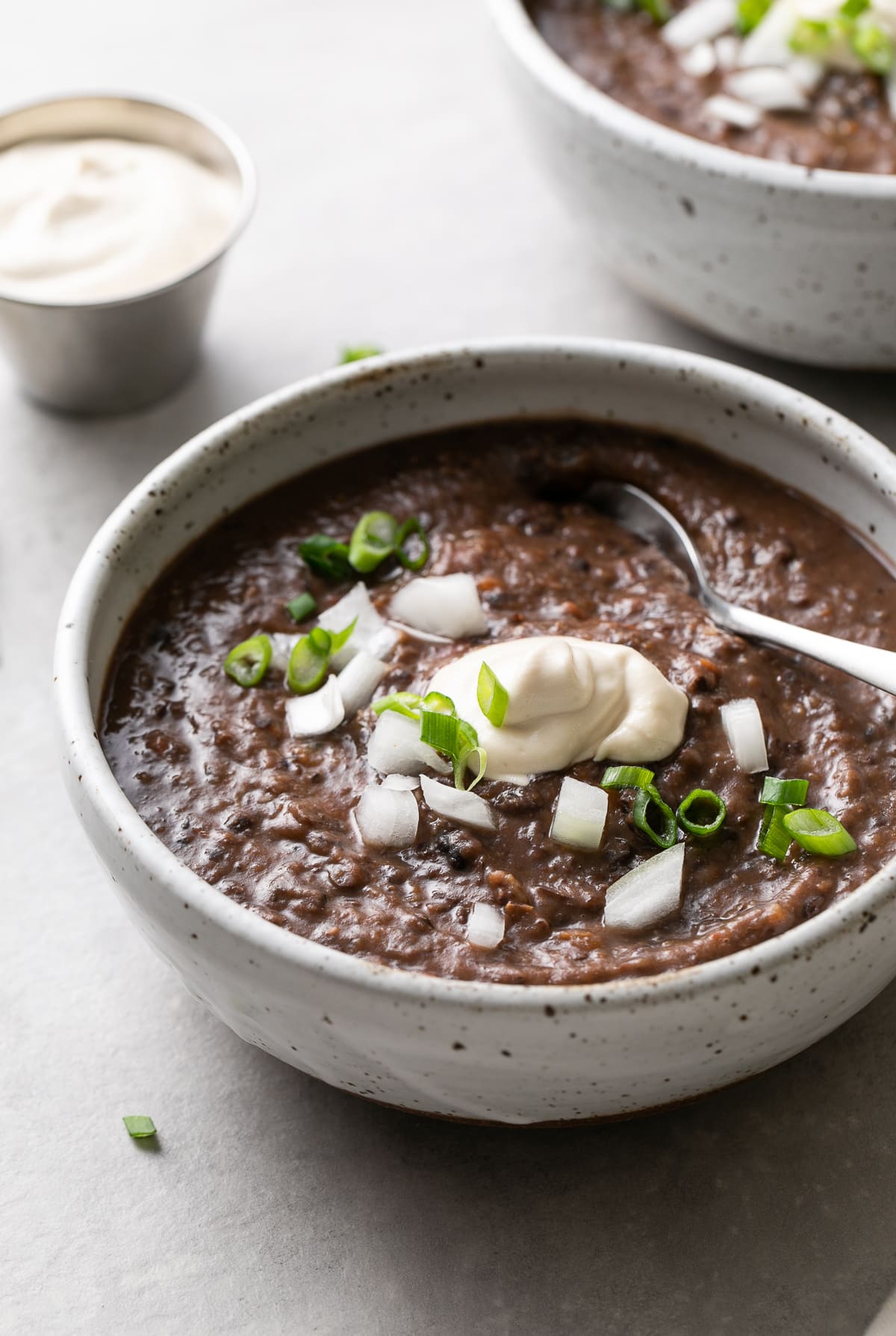 This delicious Cuban black bean soup is loaded with unexpected flavors like orange, smoked paprika, and bay. When combined with the thick, earthy taste of the black beans, everything comes together brilliantly for a truly unique autumn soup. But what I love most about this dish? It's filling without the need for extra oils and fat. So if you're craving a hearty meal as the weather turns but don't want the extra calories, give this soup a shot. You won't be disappointed!
Do you have a go-to soup recipe for when the weather begins to turn? Let us know by posting in the comments below!
Best Vegan Soup Recipes
We've compiled a list of our absolute favorite vegan soup recipes. From creamy to hearty to spicy and everything in between, these soups to warm you from the inside out. Vegan, dairy-free, & vegetarian.
Click stars below to rate, or leave a full review in the comments
Print
Pin Recipe
Ingredients
Butternut Squash

Potato

Lentil

Broccoli

Mushroom

Tomato

Asparagus

Cauliflower

Black Bean
Instructions
Pick out your favorite vegan soup recipe and enjoy!
Notes
All of these vegan soups can be customized to your tastes. Enjoy!