Mayonnaise is one of those versatile ingredients that you don't realize how often you use until you can no longer use it. If you've recently switched to a vegan diet, then you know exactly what I'm talking about.
Because one of the base ingredients in mayo is egg, it is not a suitable condiment for those following a strictly plant-based diet. Luckily, there are plenty of vegan mayo substitutes that you can use instead.
But not all these products are made—or taste—the same. That's why we've made this comprehensive list of the top vegan mayo brands of 2023, with one non-vegan exception. Not only do these plant-based mayo brands taste better than the rest, but they're made with better ingredients so you can feel good about adding a dollop to your plate.
1. Follow Your Heart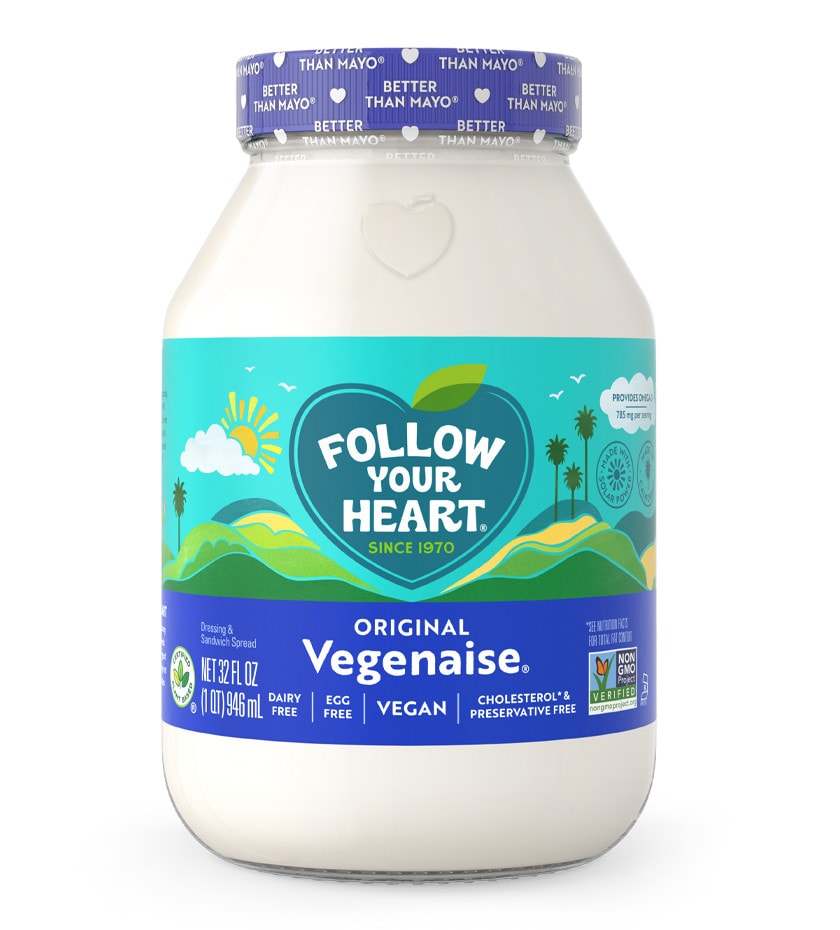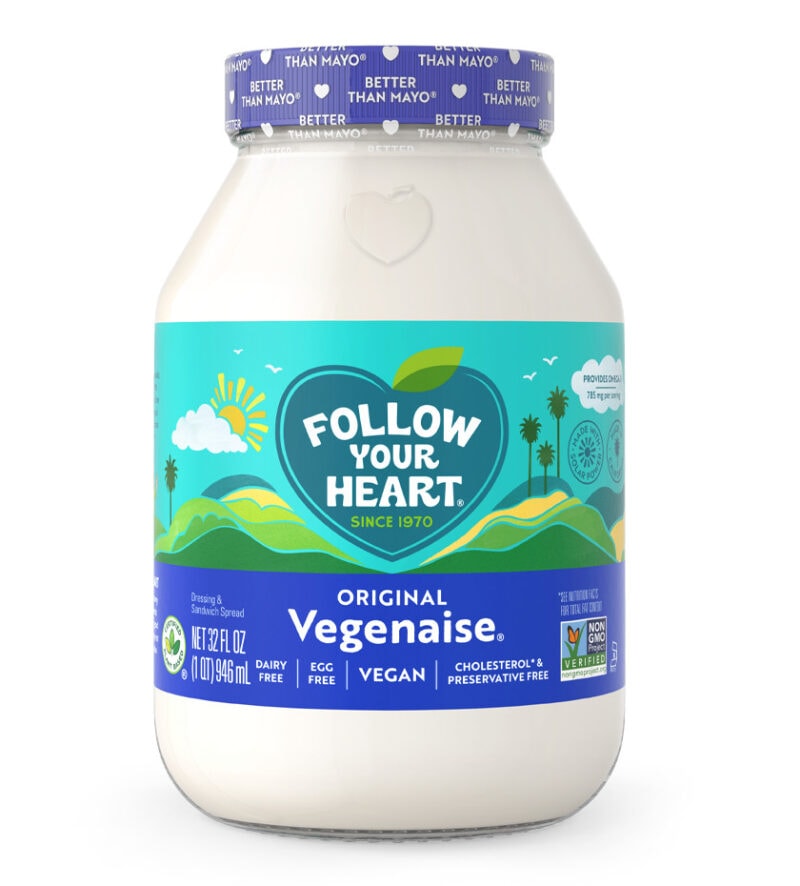 Follow Your Heart has designated their Veganaise product the OG of vegan mayo—and with good reason. This plant-based food company has been making vegan alternatives for nearly fifty years. Their original Vegainse plant-based mayo hit the market in the seventies and has enjoyed continued popularity ever since.
In addition to a commitment to animal-free products, Follow Your Heart is also committed to using only sustainable, earth-friendly ingredients that improve the lives of people and planet.
Their original flavor Vegenaise spread contains just eight simple, recognizable ingredients. These include canola oil, apple cider vinegar, and soy protein. This recipe gives the mayo a distinct mayonnaise-like flavor that vegans and non-vegans alike can get behind.
In addition to the original flavor, the company has a long line of mayos and mayo spreads with something for everyone. Organic, avocado, and soy-free plain options are all great standard mayo replacements, while flavored varieties like chipotle, pesto, and garlic will quickly elevate any sandwich.
Varieties: Original, avocado oil, soy-free, grapeseed oil, reduced-fat, organic, garlic aioli, chipotle, pesto, roasted garlic, and siracha
Base ingredients: Canola oil, avocado oil, high oleic safflower, and/or grapeseed oil
Calories per tbsp: 50 to 90
Find it at: Safeway, Natural Grocers, Walmart, Kroger, Whole Foods, and more
2. Primal Kitchen
Primal Kitchen has built its product line from one simple concept: whole food ingredients for a healthy life. Their founder, Mark Sisson, fell in love with the concept of "real food" after putting this simple diet practice to use in his own life. This led him to the creation of Primal Kitchen, a company focused on creating pantry staples in a healthier, whole-foodier light.
Along with a line of classic mayonnaise products, the company also has a small line of vegan spreads. Their original vegan mayo boasts one of the shortest ingredients lists we've seen with just five whole foods plus water. The result is an impressively convincing flavor and texture combination that could fool even non-vegans.
In addition to plain mayo, you can also get vegan versions of their jalapeno lime and garlic rosemary mayonnaise spreads. All are a little on the pricey side, but well worth it for a tasty plant-based mayo made with real gluten-free and soy-free ingredients.
Varieties: Vegan mayo, jalapeno lime vegan, and garlic rosemary vegan
Base ingredients: Avocado oil, vinegar, potato protein
Calories per tbsp: 90
Find it at: Safeway, Walmart, Kroger, Whole Foods, Ralphs, and more
3. Chosen Foods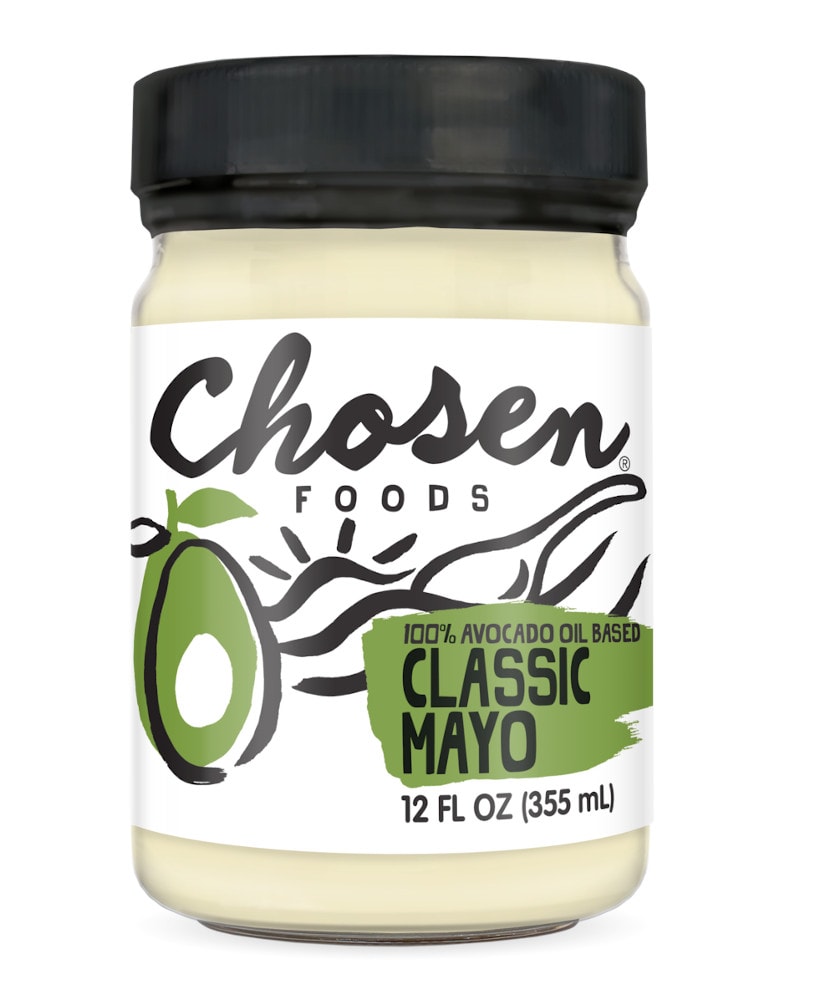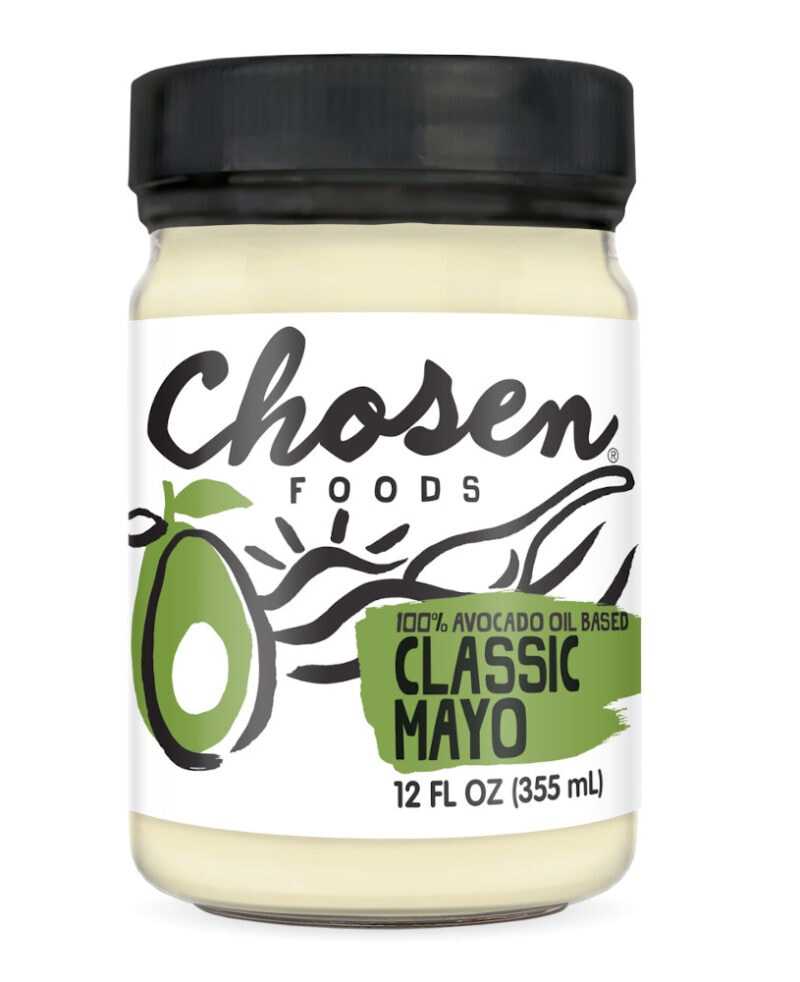 Chosen Foods isn't a vegan-centered brand, but rather an avocado-centric company. Founded by multi-generational avocado farmers from California and Mexico, this brand knows its way around this deliciously nutritious oil.
In addition to egg-based, avocado oil mayo, Chosen Foods has a vegan product made with avocado oil and aquafaba. More so than many others on this list, this product very much captures the typical texture of real mayo.
The flavor isn't as convincing as something like Follow Your Heart. There is a noticeable tang and "vegany" taste that is exaggerated by the deep flavor profile of avocado oil. But if you like avo-based spreads, you'll likely enjoy this one as well.
Varieties: Classic vegan mayo
Base ingredients: Avocado oil, aquafaba, distilled vinegar, faba bean protein powder
Calories per tbsp: 90
Find it at: Safeway, Walmart, Whole Foods, Target, Ralphs, and more
4. Sir Kensington's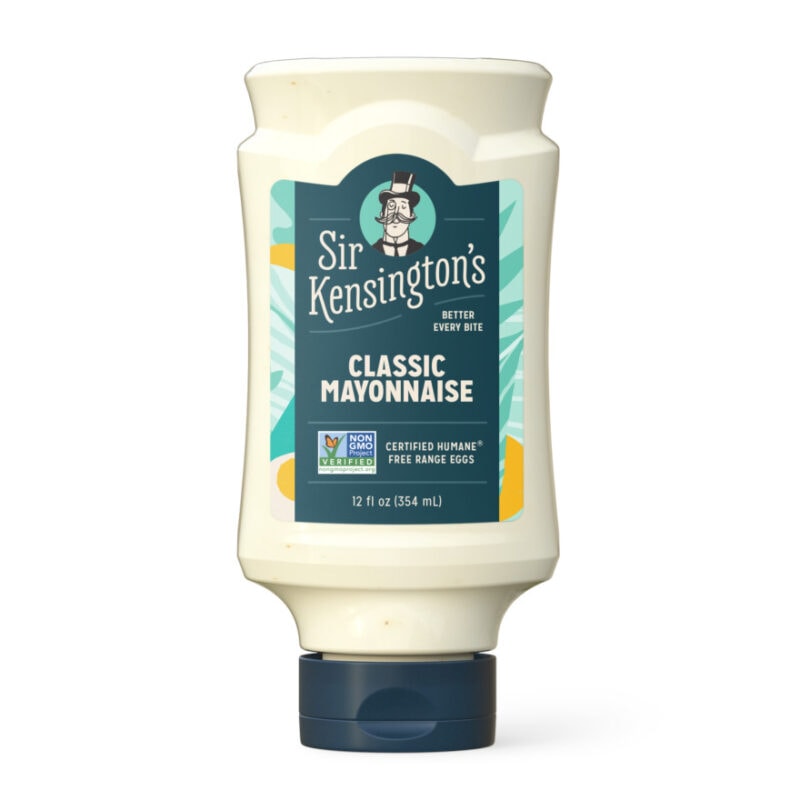 Sir Kensington's is another brand that makes a killer vegan mayo but isn't a full plant-based company. They are, however, a Certified B Corp with a focus on creating better products made from better, more humane ingredients. The eggs that go into their non-vegan mayonnaise are 100% Certified Humane Free-Range from organic farms.
Their egg-free classic vegan mayo is made with sunflower oil, aquafaba, and a short list of easily recognizable ingredients. This spread has a decadent taste that's a little richer than classic mayo. But the texture is spot on.
For those looking to get a little adventurous, this company also has a great line of flavored vegan mayo spreads. These include chipotle flavor and a zesty "special sauce" with crunchy pickles.
Varieties: Classic vegan mayo, avocado vegan mayo, vegan chipotle, and vegan special sauce
Base ingredients: Sunflower oil/avocado oil, aquafaba
Calories per tbsp: 90
Find it at: Safeway, Walmart, Kroger, Whole Foods, Ralphs, and more
5. Plant Perfect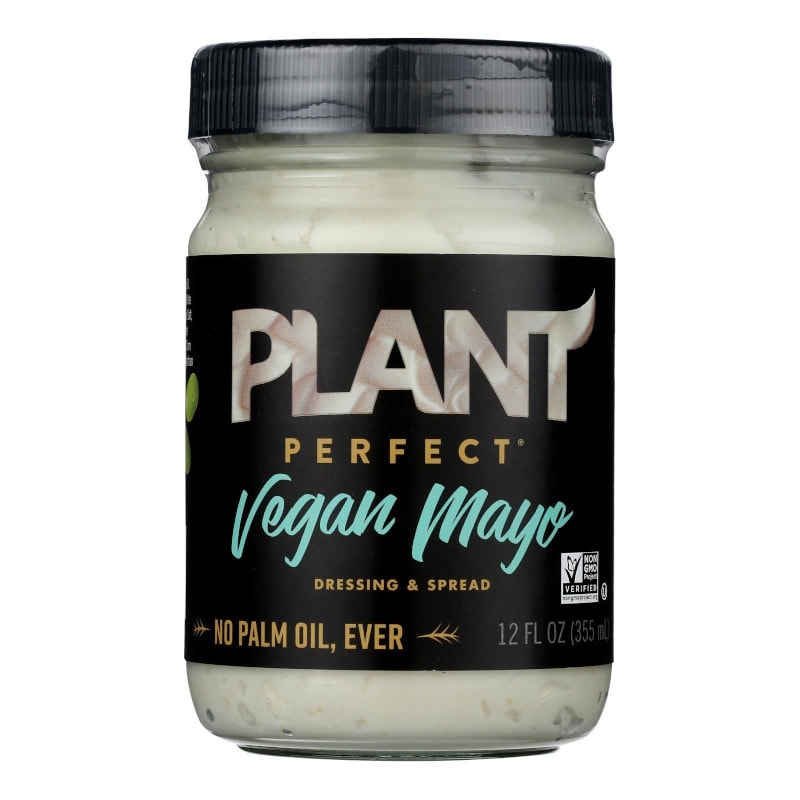 For those looking to support 100% vegan brands, we give you Plant Perfect mayonnaise. This company has made turning plant-based ingredients into tasty food their only goal in life. And they do it well!
All Plant Perfect foods are made with responsibly sourced vegan ingredients. They don't use palm oil or GMO foods and they don't compromise when it comes to flavor either.
In the vegan mayo department they make just one awesome product (because, when you do it right the first time, you don't have to do it again). This certified organic mayo is made with canola oil, distilled vinegar, and soy powder. It has a mild flavor that is more in line with real mayonnaise.
The texture isn't quite as convincing and at times can be a touch on the runny side. But if you are on a mission to find the perfect vegan mayo to fit your taste buds, this one is worth a try.
Varieties: Vegan mayo
Base ingredients: Canola oil, distilled vinegar, soy powder
Calories per tbsp: 90
Find it at: Safeway and Albertsons
Things to Look for
Not sure how to pick the best vegan mayonnaise brand to wow your taste buds? Here are a few tips on what to look for.
Base Ingredient
At the heart of every mayo jar, whether vegan or not, is oil. This fat is key to capturing the flavor, texture, and overall feel of mayonnaise.
Here are some of the more common oil bases you'll see:
Canola oil – this is a classic mayo starter that lends itself to a mild, easy flavor most people enjoy.
Avocado oil – healthier than many options, this oil has a richer flavor that some people love and some don't.
Sunflower/Safflower Oil – both these oils are high oleic oils which means they have a monounsaturated fat content that rivals avocado oil. They are smooth and rich but with a milder flavor.
Both plant-based and traditional mayo use the same types of oil in their ingredients. If you used to have a favorite mayo, look at the type of oil used and try to find a plant-based recipe that is similar.
Emulsifier
The second most important ingredient in mayonnaise is the emulsifier. This ingredient is key to pulling the oil, water, and vinegar ingredients together and creating that classic mayo texture.
In traditional mayonnaise, egg or egg whites are used as an emulsifier. In vegan mayonnaise, all sorts of alternatives have been added to fill this role, including:
Aquafaba – this popular egg substitute is basically just bean water, but it gets the job done, creating some of the best-textured mayo options we've found.
Protein Powder – soy, bean, and pea powder are all common vegan emulsifiers. These create an airy spread that's not usually as smooth as real mayo.
Gums and Starches – Ingredients like xanthan gum and potato starch are used in mayo to thicken the spread. Of all three options, these seem to create the least convincing texture overall.
Flavor Makers
When it comes to creating that classic mayo flavor, it doesn't take much. Vinegar, lemon, and salt are generally all you'll find in traditional mayo. Vegan mayo often includes some additions to offset the extraneous flavors introduced by plant-based emulsifiers. In our experience, those that stick closest to the original recipe are often the best.
Which Vegan Mayo Brand Is Best?
Two years ago, the designation of the best vegan mayo brand hands-down went to JUST mayo. Unfortunately—and for reasons that aren't entirely clear—the company has since stopped making their highly popular and freakishly good plant-based mayonnaise.
That has opened the stage for a new leader in the world of vegan mayo.
If you're after a vegan brand you can back that also happens to make one heck of a good mayo spread, then look no further than Follow Your Heart. This company has been doing vegan alternatives right for half a century and it shows. Plus they have tons of options from flavored to low-fat, so you can be sure to find exactly what you're after.
If you're on more of a whole-food kick, then Primal Kitchen has you covered with their vegan mayonnaise options. These spreads have short ingredients lists made up of only recognizable, whole foods.
But the truth is you can't go wrong with any of the great brands listed above.
If you'd like to try making your own vegan mayo, here's a easy recipe you can make at home in about 5 minutes. Or try our classic Simple Vegan Mayo recipe.
Homemade Vegan Mayo
There are many great options for vegan mayo brands to buy, but if you've got a few minutes to prepare this recipe at home you're going to love the results. Not to mention it's easy to modify the ingredients to your liking.
Click stars below to rate, or leave a full review in the comments
Print
Pin Recipe
Instructions
Combine soy milk, apple cider vinegar, garlic powder, salt, and mustard powder and stir.

Pour the mixture into a blender or food processor and add the avocado oil. Blend for 15 seconds and check for desired consistency. Blend for an additional 15 seconds if you want to make it a bit thicker.

Store in the fridge in an air tight container, which will help it thicken further. Your homemade vegan mayo will keep in the fridge for 2 to 3 weeks.
Nutrition
Calories:
83
kcal
|
Carbohydrates:
1
g
|
Protein:
1
g
|
Fat:
9
g
|
Saturated Fat:
1
g
|
Polyunsaturated Fat:
1
g
|
Monounsaturated Fat:
6
g
|
Sodium:
3
mg
|
Potassium:
8
mg
|
Fiber:
1
g
|
Sugar:
1
g
|
Vitamin A:
19
IU
|
Vitamin C:
1
mg
|
Calcium:
7
mg
|
Iron:
1
mg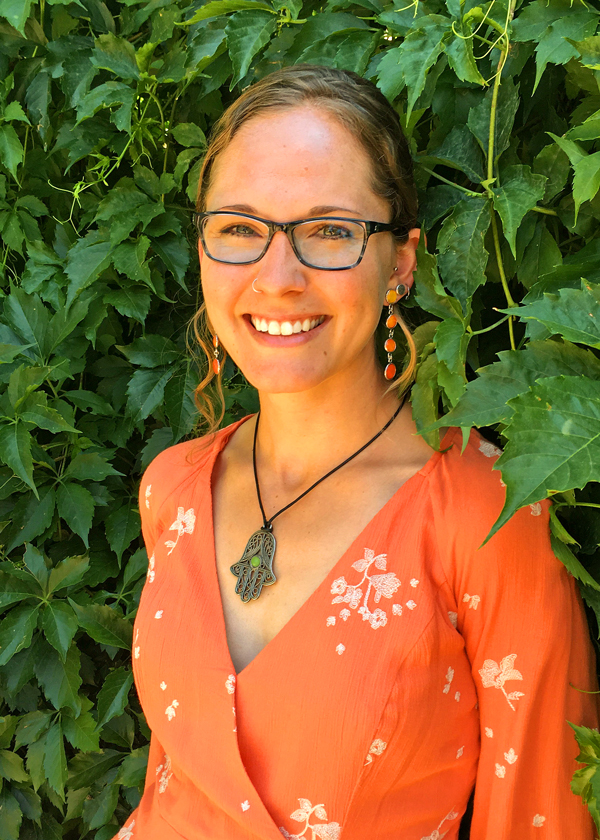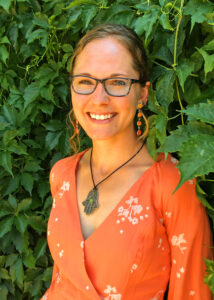 About the Author
Sara Seitz is a freelance writer living with type 1 diabetes. Her search for better health and better control of her blood sugars led her to a plant-based diet. When she isn't experimenting with new vegan recipes, she's helping spread the word about how plant-based is better for people and the planet. More articles by Sara.