Looking for a simple way to add protein or nutrients to your diet? Vegan peanut butter might be the answer! (most, but not all, peanut butter is vegan, by the way).
Delicious in Thai-style Spring Roll Bowls, stirred into Vegan Ice Cream, or simply eaten off a spoon, peanut butter is a versatile and delicious snack.
We've rounded up a list that includes the most natural vegan peanut butters, as well as those with extra ingredients added. Let us know what your favorites are!
When it comes to CB's Nuts, what's not to love? The peanut butter contains only one ingredient-USA grown, organic peanuts. Compared to other natural peanut butter, this brand is quite thick-which makes it perfect blended into thick, creamy smoothies or straight out of the jar.
"This peanut butter has spoiled me from all others! It is absolutely delicious, and I love it!"
Ingredients: Peanuts
Protein: 8g
Calories: 188
Fat: 16g
Look out vegan peanut butter lovers-this stuff is addictive! It's smooth, luscious and maybe best of all-does not require stirring! For those on the lookout for additives, this brand does add palm oil, sugar and salt to their list of ingredients, but if that's not a problem for you, we highly recommend trying this brand!
"This is the best peanut butter ever made by human hands. It is absolutely divine…Perfect on slightly salty crackers, a spoon, your finger, licking it out of the jar, very versatile. Needless to say I highly, highly recommend dumping all the mainstream grocery store brands and stocking up with this."
Ingredients: Peanuts, Palm Oil, Sugar, Salt
Protein: 7g
Calories: 190
Fat: 15g
If you're a peanut butter fanatic who needs to watch their caloric intake, this peanut butter might be for you! Simply add water to create a smooth emulsion for your sandwiches, or add a tablespoon of the powder to smoothies and shakes. It's worth noting that this doesn't *really* taste the same as regular peanut butter, but with about a third of the calories and much more protein than other vegan peanut butters, it might be a taste worth acquiring.
"I use it in smoothies most of the time, but when I have a jones for regular peanut butter, I mix the powder with a little water and have a low-calorie and close-to-the-real-thing peanut butter substitute. I find that it tastes better than the competing defatted products I've tried."
Ingredients: Peanuts, Sugar, Salt
Protein: 12g
Calories: 60
Fat: 6g
Delicious stirred into oatmeal or dolloped onto a banana, YumButter really stepped up the peanut butter game with the introduction of their on-the-go snack packs. Squeezable peanut butter? We're sold. As a bonus, try their other flavors, like the chocolate espresso peanut butter spread. If you prefer the jarred variety, just note that you'll need to stir this peanut butter each time you use, as it's quite runny.
"Wonderful stuff! Not only do they make it from organic peanuts, they include coconut sugar for both sweetness and smoothness. Better yet, Yumbutter has very little sodium: 35mg per 2 Tbsp serving. Most butters have about 3 times that much, which is definitely not healthy. Highly Recommended!"
Ingredients: Peanuts, Coconut Sugar, Salt, Palm Oil
Protein: 7g
Calories: 180
Fat: 15g
Naturally More is a great choice for those on a high protein diet-in addition to their regular peanut butter, they sell an "extra protein version" – higher in protein than most, but lower in calories. If you're nervous about added sugar, please note that this brand does contain added cane sugar and peanut oil. Otherwise, it's a great clean, simple way to add more protein into your diet without additional calories.
"This is literally the best peanut butter around. The crunchy one is the most delish. Recommend. Keeps you full because of the extra protein. I use it in my shakes every morning."
Ingredients: peanuts, sprouted brown rice protein, pea protein, peanut oil, evaporated cane sugar, flax seeds, sea salt, molasses powder
Protein: 10g
Calories: 170
Fat: 13g
Whole Foods does so many things well-and wholesome, natural peanut butter is one of them! Described as "fresh" by several reviewers, this is one of the most truly natural peanut butters on this list-there are no sodium or sugar additives, just peanuts. But if you're in the market for a clean peanut butter to treat your pooch, this might not be the brand for you-without those added ingredients, this peanut butter is too runny to fill a doggie kong. It's best drizzled on smoothie bowls or stirred into porridge.
"This product tastes amazing. So happy to find this product which contains ONLY peanuts. Also – no sodium – great for heart healthy diets. It does have oil pooled at the top when you first open it, but that is completely normal with nut products that do not contain additives. You will just need to mix it once in the beginning (for a couple minutes), and then I put this in the fridge to help it stay together. Highly recommend this product."
Ingredients: Dry Roasted Organic Peanuts
Protein: 8g
Calories: 200
Fat: 17g
Similar to 365 Everyday Value, Crazy Richard's Peanut Butter is made of 100% USA grown peanuts-but be forewarned that that pesky separation that comes with natural nut butters will be a problem with this brand. The fix is simple-just give the jar a good stir when you first open it, then store in the refrigerator until firm for a thick, spreadable consistency.
"Crazy Richard's Peanut Butter is one of the best peanut butter brands I've tasted. If you are use to Skippy, Peter Pan or Jif, you are going to be surprised. 100% peanut, rich peanut flavor, with no fillers like other major brands, very low sugar (1gram) is perfect for diabetics."
Ingredients:Peanuts
Protein: 8g
Calories: 190
Fat: 16g
Skippy's is a household name among vegan peanut butter lovers, and for good reason. More spreadable than the purely "peanut" peanut butters, Skippy's is great for sandwiches and baked goods-or eaten straight out of their individual serving cups with a spoon.
"Wow, this is fantastic peanut butter! I have tasted expensive gourmet peanut butters that weren't this good. I have been inspired to make peanut butter cookies (which I haven't made in years) because of the deliciousness of this peanut butter…I can't wait to taste them!"
Ingredients:roasted peanuts, sugar, palm oil, salt.
Protein: 7g
Calories: 190
Fat: 16g
Many vegans have experimented with making their own nut butters, but Kirkland's got them beat-reviewers described this brand as better than homemade. Best of all, it's thick enough to not require constant stirring-pick up a jar at your local Costco or in your next Amazon purchase!
"Best-tasting peanut butter I've ever eaten. I used to make my own in my food processor; this is better! I also like that the peanuts are supposedly grown in the southwest, not the southeast,so they are less likely to be susceptible to aflatoxin."
Ingredients: Peanuts, Salt
Protein: 8g
Calories: 200
Fat: 16g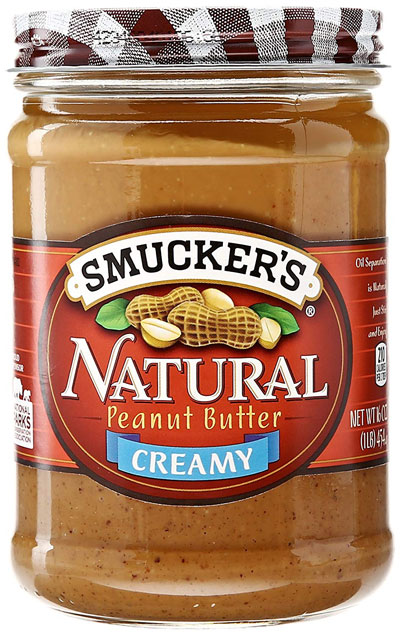 Another famed peanut butter producer, Smucker's lovers will be happy to know that the brand they've known and loved contains nothing but USDA-certified organic peanuts. The one drawback? You guessed it-it will require stirring.
"I wouldn't purchase anything else. Ingredients? Only peanuts! You simply stir the product when you first open it and savor the wonderful flavor without anything added. You will never go back to other brands of peanut butter, believe me! Natural is best!"
Ingredients:Peanuts
Protein: 8g
Calories: 190
Fat: 16g
Originating from a home bakery in California, this peanut butter is pure goodness in a jar! Spread the Love NAKED is creamy and rich, with no extra salt, oil, or sugar added. If you're not opposed to other clean ingredients like cinnamon, agave syrup, or cayenne in your peanut butter, try their other flavors-you're in for a treat! We recommend the cacao flavor for a slightly spicy, delicious dark chocolate snack.
"Spread the Love peanut butter is AMAZING! So rich and creamy without being salty. I will admit, it's a bit different if you're used to the commercial brands like Skippy or Jif since it's not as salty. But hey, with this being organic and low on sodium, you can indulge on some delicious peanut butter while still being health conscious! I definitely recommend it to anyone, especially if you love peanut butter!"
Ingredients: Peanuts
Protein: 7g
Calories: 180
Fat: 15g
If peanut-only peanut butter is too bland for you, this brand might be your saving grace-it's still clean, but has added salt for those looking for the salty punch! If you love the brand but need a quick, no stir option, and aren't concerned about some added oil, try their no-stir creamy peanut butter-just be aware that they've added palm oil and salt to get that consistency.
"We use a lot of this. Natural nut butters helps me control how much sugar the kids are getting in their sandwiches and it tastes great. It is a little hard to get used to if you're leaving super processed nut butters behind but I love it!"
Ingredients: Peanuts, Salt
Protein: 7g
Calories: 200
Fat: 16g
So which brand is the cleanest, greenest, simplest vegan peanut butter?
Our vote for the overall cleanest brand is Crazy Richard's Peanut Butter Co. While several brands on this list were clean, one-ingredient peanut butters, Crazy Richard's has one of the best consistencies, has a great creamy texture and satisfying taste, and is an affordable price: each jar rings in at less than $5. They also make a great powdered version (also made from just peanuts) that's a great on-the-go or smoothie option. You'll find it at your local Walmart or Cub Foods. Clean, green, and simple to find!

How about you? What clean vegan peanut butter brands are you loving?