Some of the links below are affiliate links, meaning we may earn a commission (at no additional cost to you) if you click through an make a purchase. Learn more.
On the road with no snacks packed? You're in luck. We've rounded up 21 accidentally vegan snacks you can find at a truck stop or gas station during your next road trip. And since most of the options aren't the healthiest, we've ordered them by Most Healthy, Not As Healthy, and Definitely Not Healthy.
You'll want to stick to healthier snacks, but sometimes it's fun to indulge (and keep the kids happy) when you're stuck in traffic and have hours left of highway time ahead of you.
And keep in mind: This list is intended to help you identify vegan snacks when there are limited options available. But that doesn't mean everything here is completely ethical. Several contain Red 40, for example. While Red 40 is not an animal product, it could be tested on animals, so use your own judgment. From our perspective, veganism isn't about always being perfect — it's about making the effort and doing your best, even in a pinch.
Healthiest Vegan Road Snacks
No one associates a fun road trip with health food, but for what it's worth, here are some healthy vegan snack choices you can grab next time you gas up.

Fruit and Veggies (if you can find them)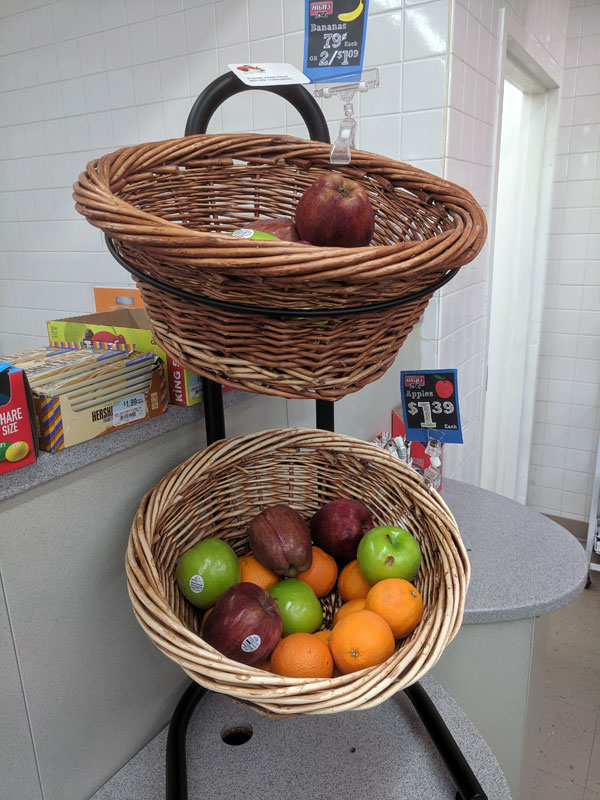 They're not glamorous, but they're a vegan staple on the road. Bananas, apples, and sometimes oranges are usually available in a free-standing basket near the food aisles, or you might find veggie sticks or pre-cut fruit in small containers in the refrigerated section. Another great option is dried fruit like banana or apple chips.

Sabra Classic Hummus with Pretzels
This goes great with the veggies you'll find in the fridge, or with that bag of rice cakes or pretzels you've been eyeing.

Fruit and Granola Bars
Clif bars will satisfy hunger as well as that sweet-salty craving you developed along Route 66. If you're lucky and the truck stop carries it, opt for the nut-butter filled flavors like Coconut Almond Butter or Blueberry Almond Butter for an extra protein punch. Other vegan options include Kashi GOLEAN, Luna Bars, Nature's Bakery Fig Bars, and Larabars, but not all energy and granola bars are created equal, so be sure to read the packaging!

Plantars Mixed Nuts
Pretty much any mixed nut brand you find will fit the vegan bill, but Plantars is a fantastic choice that's frequently found at truck stops. Stay away from the mixes with too many add-ins like chocolate or candy, as these will contain dairy.

Justin's Nut Butter Squeeze Packs
These aren't as common in gas stations, but if you hit a high-end road stop you might get lucky. Great on their own or spread on a piece of fruit, these will tide you over to your next meal with the high protein content. For other nut butter ideas you can bring on the road, see our Vegan Peanut Butter list.

Not As Healthy
We ranked these snacks as not quite healthy but not quite terrible for you, either. And after all, what's life without some fun?

Veggie Straws
Potato chips are always great, but Veggie Straws contain 30% less fat and slightly less guilt, with all the salty crunchy goodness.

Popcorn & Kettlecorn
Boom Chicka Pop and Earth Balance are great brands to try-Boom Chicka Pop is known for its low calorie count (try the Salted Caramel, Lightly Sweet, and Sea Salt vegan flavors) and Earth Balance makes a mean Vegan White Cheddar flavor that even non vegan passengers will love!

Vegan Jerky
Alright, alright, you probably won't find this in most gas stations (yet!), but if you have advance road trip warning, it might be worth picking up a bag of Stonewall's Jerquee or other vegan jerkies just to have this classic, salty road trip snack at your side.

Chips and Salsa
Santitas is a great vegan brand you'll find in most gas stations – just don't try to dip chips while driving. Don't ask us how we know.

SunChips, Fritos, and Pringles
On a scale from "healthy" to "worth it!" these definitely rank somewhere in the middle, but these crunchy salty snacks might make counting highway miles a bit more fun. Avoid the cheddar flavors, as those contain dairy products.

Starbucks Iced Coffee
Bottled Starbucks drinks can be a godsend late at night with no joe available and hours until your next stop, but many have dairy additives. Try the iced teas, the plain cold brews, or the Almond Milk Frappuccinos, available in Mocha and Vanilla flavors.

Corn Nuts
Needing crunch to keep you awake? Corn nuts contain only corn, corn oil, and salt. If you're feeling adventurous, try their Chile Picante con Limon flavor for a fun "crunch meets spice" twist on the classic.

Definitely Not Healthy.
We're not going to sugar coat it-most snacks you'll find along the interstate are sugar coated. But if ever there was a time to indulge or distract yourself with fun snacks, it's gotta be sometime between "Are we there yet?" and "I can't feel my legs" and "Mom, he's on my side again!" Here's a list that's still vegan, but definitely not health food. You'll see the worst ingredient listed next to each option, so you'll have an idea of what snacks you want to grab and can balance your next meal accordingly.

Sour Patch Kids
What's a road trip without candy? Grab a Blueberry or Lime flavor the next time you see these on the road to satisfy that sugar craving you've been having-other popular flavors include Raspberry Lemonade Rush.
Worst Ingredient: Sugar

Poptarts
Since the frosting contains milk, you'll need to stay away from the frosted flavors, but Blueberry, Brown Sugar Cinnamon, and Strawberry flavors all have unfrosted versions and are 100% road trip friendly.
Worst Ingredient: High Fructose Corn Syrup

Airheads
Blue Raspberry and Watermelon are always safe choices, but try White Mystery to add a sense of mystique to your car ride. The company changes the flavor every batch, or mixes flavors left over from previous batches, so you might keep yourself or the kids busy trying to guess which flavor combination you got.
Worst Ingredient: Corn Syrup

Lay's Potato Chips
Always a classic choice, but always messy. Napkins recommended.
Worst Ingredient: Palm Oil (some are made with sunflower, corn, and/or canola oil, so look at the label)

Oreos
While technically considered "vegan friendly" because they don't contain any animal products, those with allergies might want to avoid these addicting treats as the company does warn about cross contamination with dairy products.
Worst Ingredient: High Fructose Corn Syrup

Skittles
They're not #basic, they're classic! And luckily, they're available at just about every gas station in America.
Worst Ingredient: Sugar

Swedish Fish
Feeling nostalgic? Dying of boredom? Since you can't stretch your legs, stretch your brain and have a passenger read this Brief History of Swedish Fish-you might learn something, or at the very least, kill 20 minutes.
Worst Ingredient: Sugar

Vegan Ice Cream
A little messy if you're alone in the car, but if you're lucky enough to have an adult co-pilot who can spoon feed you, you might be able to pull this off. See our list of the 10 Best Dairy Free Ice Cream Brands for 2019 for inspiration.
Worst Ingredient: Sugar

Red Vines and Twizzlers
If you're looking for entertainment, ask the kids in the back seat how many of these stringy treats they can tie together. For the adult passengers, start a poll about which candy is better-you might spark a hot debate that keeps everyone's mind off the long hours stuffed in the car!
Worst Ingredient: Corn Syrup

What vegan snacks keep you sane while driving? Share below!

Feature photo credit: "Truck Stop Love" © Notley Hawkins Photography, used with permission