Hey! Are you vegetarian/vegan/avoiding meat for some reason?
Have you heard about Jackfruit?
No?
Duuuude. I'm so about to rock your world.
There's this restaurant in LA called Pure Luck. It happens to be owned by a friend of a friend of mine, but it's also just an awesome vegan place with a great menu. Sadly, they are going to be closing soon. Happily, they introduced me to the magical world that is the Jackfruit. It's this crazy Asian fruit that looks like this:
[source]
But if you prepare it properly (and don't worry, it's available in cans, which are much less intimidating), it can look like this: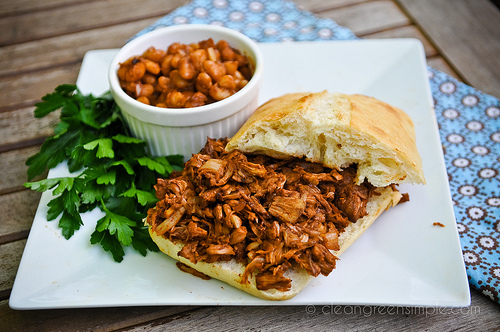 Yeah – that's not pork. It's…fruit. I know, I know – I can see how it might be hard to believe that fruit could look like, much less taste like, pork. But trust me when I tell you that not only does it look like meat, it really does pass quite well for a fall-off-the-bone, melt-in-your-mouth, pulled pork.
Related Recipe: Jackfruit Tacos with Avocado Lime Sauce
Sadly, I haven't found a great online resource to buy it – if you google "Jackfruit in brine" you can find a couple of places that sell it, but I would recommend just looking at your local Asian market (if you're in the Los Angeles area, 99 Ranch has it) and making sure you buy the kind that comes in brine, not syrup.
If you can manage to get your hands on some, it's really fun to experiment with. Pure Luck, the restaurant I mentioned above, uses it for pulled pork and for Mexican carnitas (be sure to check out my Jackfruit Caritas recipe) and it's excellent in both dishes.
And now I will stop going on about it and get to the jackfruit pulled pork recipe already! Crack open your can of jackfruit and rinse it really well (if you get the kind that's in brine, it will have a slight vinegary taste which you want to rinse off as much as possible), and you'll have something that looks like this:
What? That doesn't look exactly like pulled pork to you? Huh. Well…we'll get there. Take each chunk and cut off the center piece, like so:
You should be left with just the stringy bits, which we're going to coat in our nice dry rub. This is just a mixture of various spices that you can combine and then pour all over your jackfruit. Heat it all in a medium pot over medium heat until everything is nice and toasty – maybe about five minutes.
While the spices are toasting, mix together the wet part of your seasoning, which is just a blend of various standard ingredients like maple syrup, tomato paste, and spices. You can also add tamarind paste (which, if you made my baked beans from yesterday, you already have out) to make this whole thing super awesome. Pour your mix over the toasted jackfruit and let it all simmer for maybe 30 minutes, up to an hour or so. While that's simmering you can throw some chopped onion in a skillet over medium low and let it caramelize until it's a nice, dark brown. Again, this recipe goes very well with yesterday's baked beans – you can prepare the onions for both in the same skillet and then just roughly divide them in half when you're done.
Once your "pork" has simmered for a while, use a fork to sort of rip apart the jackfruit pieces into stringy bits and spread this mixture out on a cookie sheet and roast it at 400 degrees for about 10-15 minutes. You don't have to do this step, it's delicious straight out of the pot, but it makes it a little less soft and a little more firm/chewy if you're going for a realistic meat texture.
Then just load up some sandwich bread or a roll (I used ciabatta bread, but honestly that was a little too much bread – I'd recommend just regular sandwich slices. If you use gluten free bread the whole recipe is gluten free) and go to town!
As written, this recipe is fairly spicy – if you want it to have a little less of a kick, cut back on the cayenne and red chili flakes.
So how fun is that? I love how much it looks like pulled pork. The jackfruit itself has a pretty neutral flavor so as long as you season it with some nice strong spices, it just kind of picks up that flavor.
Have any of you heard of or had Jackfruit before? Any other ways to use it I should try?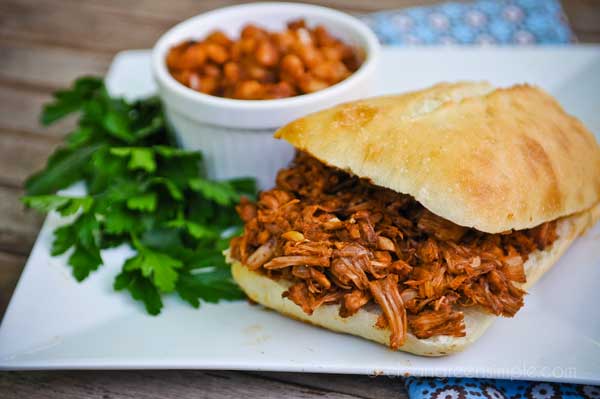 Jackfruit Pulled "Pork" Sandwich, Carolina Style
Vegan, Gluten free if you use GF bread, Low Fat, Refined Sugar Free, Soy Free
Click stars below to rate, or leave a full review in the comments
Print
Rate it Now
Pin Recipe
Ingredients
1

can jackfruit in brine

drained and rinsed well with the solid center pieces removed (as shown above)

½

onion

minced

2

cloves

garlic

minced

Sandwich bread or rolls
For the dry rub:
¼

tsp

red pepper flakes

1

tsp

paprika

½

tsp

cayenne pepper

½

tsp

ground mustard

½

tsp

black pepper

pinch

garlic powder

pinch

onion powder

1

tsp

salt
For the wet sauce:
3

Tbsp

tomato paste

1

tsp

apple cider vinegar

1

tsp

canola or other neutral oil

½

tsp

tamarind paste

¼

c.

water

2

tsp

maple syrup
Instructions
Preheat oven to 400 degrees. Add onion to a skillet over medium low and heat until it is caramelized and browned. Add garlic for the last minute or so, until fragrant.

Mix together dry rub spices and toss jackfruit pieces in mixture until coated. Add to a medium saucepan and heat over medium heat for about five minutes to toast spices.

Mix together wet sauce ingredients and add to saucepan, along with onion and garlic. Simmer jackfruit in sauce for 15-30 minutes until well heated and softened. Using a fork, shred the jackfruit pieces into small stringy bits.

Optional: Spread mixture evenly on a cookie sheet and bake for 15 minutes until slightly dried out and toughened for improved texture.

Divide evenly amongst your bread or rolls and serve!