The cabbage soup diet is all the rage right now. This trendy 7-day diet promises to help you lose 10 pounds by the end of the week.
We can't say how attainable that goal is with this diet, but we can speak to the health benefits of cabbage.
This superfood is loaded with antioxidants, it has been proven to reduce inflammation, and it may even help prevent heart disease. Plus it's very low in calories and absolutely delicious.
So whether you're looking to shed a few pounds, have committed to a week of cabbage soup for every meal, or simply want to enjoy this delicious veggie, we've got you covered. Here are our nine favorite vegan cabbage soup recipes plus one bonus recipe you'll only find right here.
1. Chunky Vegan Cabbage Soup
Vegan, Vegetarian, Gluten-free, Dairy-free | Total time: 40 minutes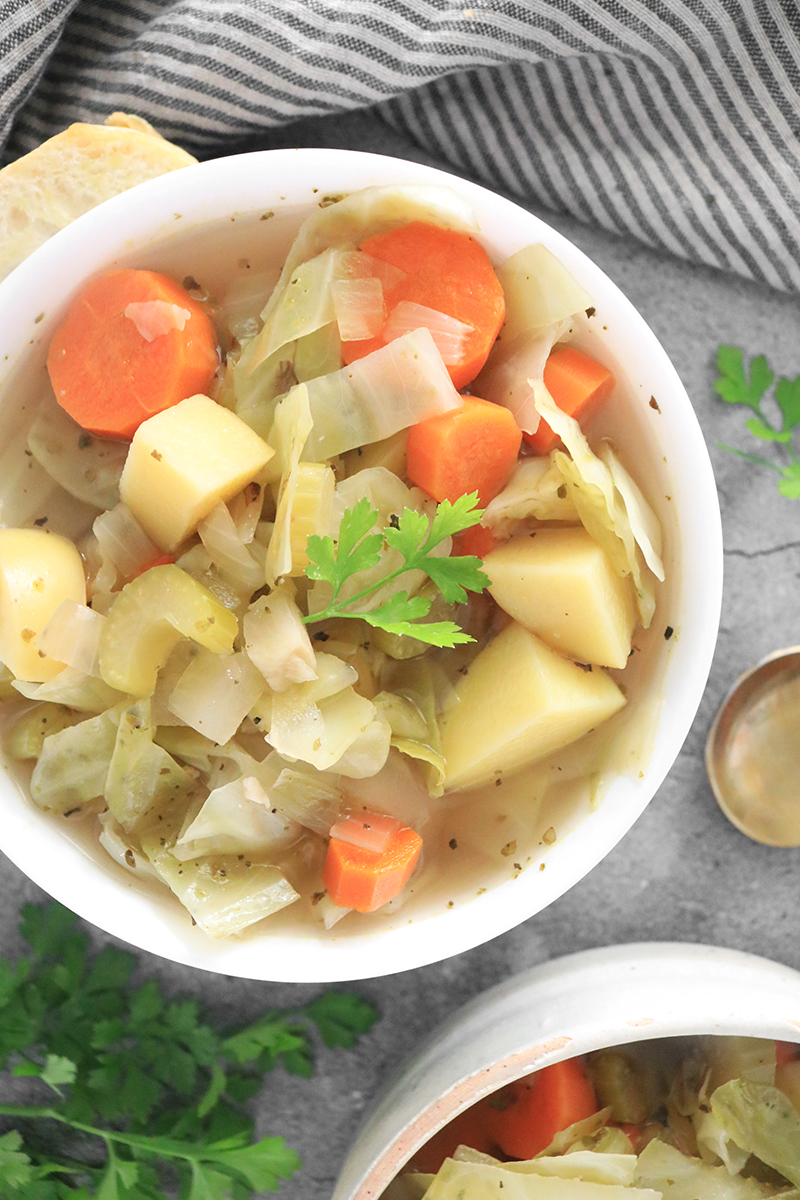 This chunky cabbage soup recipe features hearty tomatoes and flavorful spices like garlic, bay leaf, fresh parsley, and Italian seasoning. There is a fair amount of chopping to do, but the soup only takes 30 minutes to cook, making this a great choice for weeknight dinners.
2. Cabbage Soup
Vegan, Vegetarian, Gluten-free, Dairy-free | Total time: 30 minutes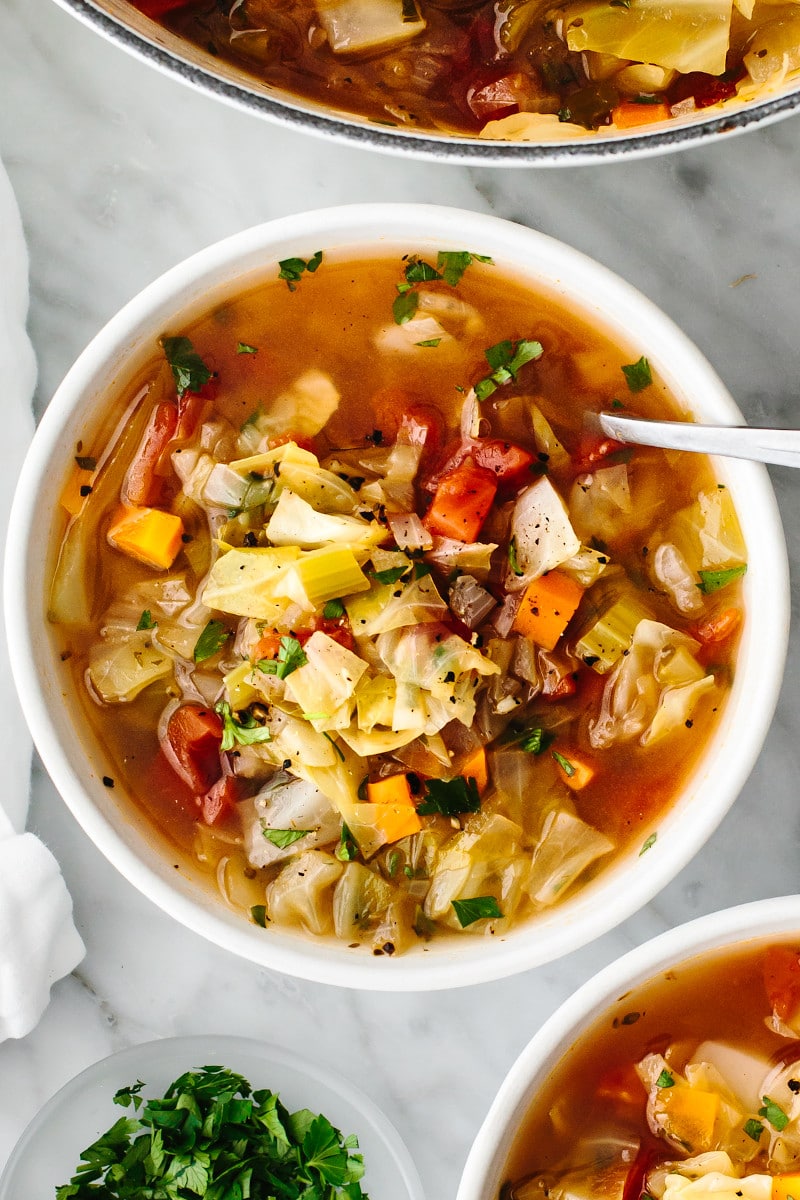 Cabbage soups have a tendency to look a little bland. But not this tasty recipe! Diced tomatoes give it a bold look and combine with zesty spices and nutrient-dense vegetables to create a powerhouse of flavor. For an even more flavor-packed experience, try substituting fire-roasted tomatoes and extra garlic.
3. Vegan Cabbage Soup with Sausages
Vegan, Vegetarian, Gluten-free, Dairy-free | Total time: 1 hour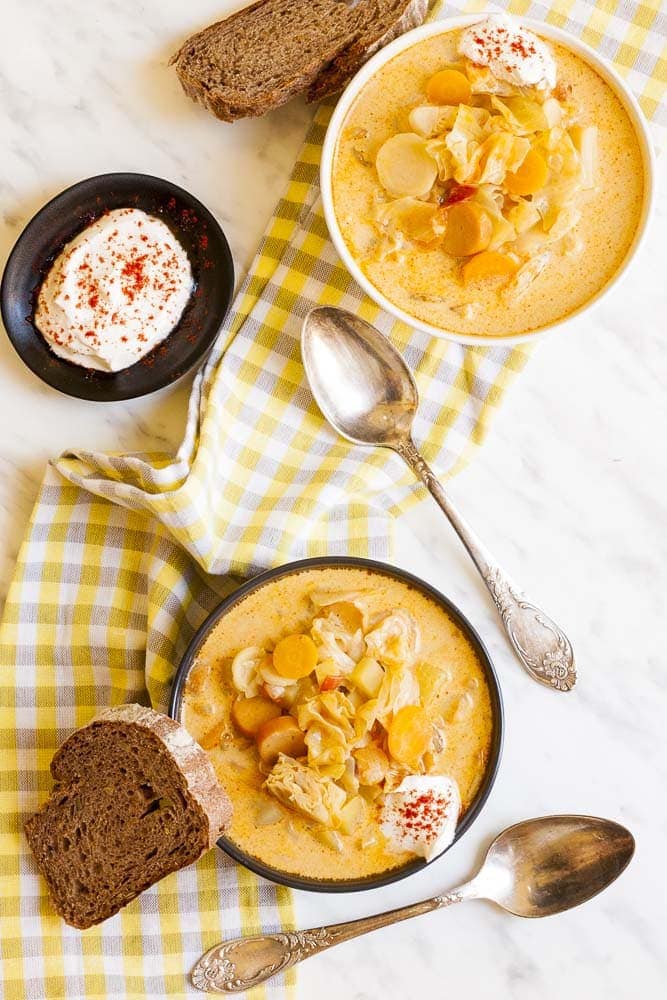 If you are doing the cabbage soup diet, you'll have to skip the vegan sour cream and meatless sausages. But if you're after a little comfort food, then we highly recommend making it just as the recipe says. This tasty German cabbage soup is sure to leave you feeling satisfied!
4. Easy Vegan Cabbage Soup
Vegan, Vegetarian, Gluten-free, Dairy-free, Oil-free | Total time: 1 hour 10 minutes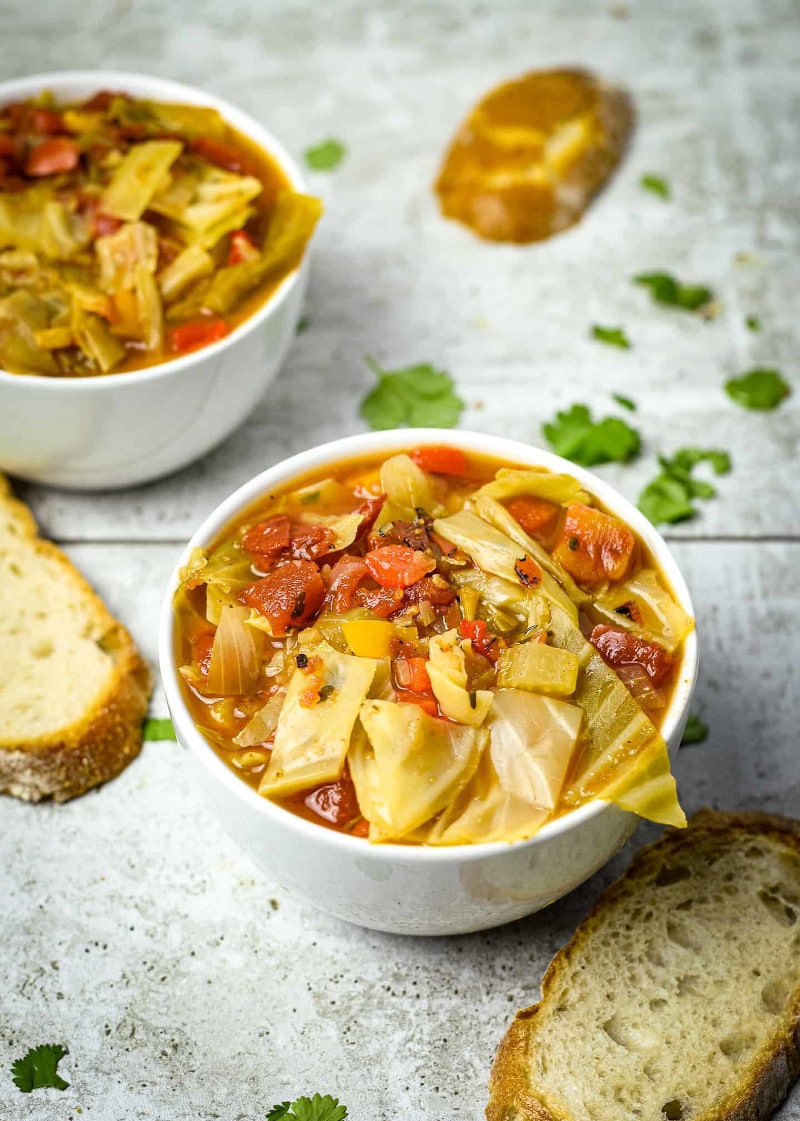 This slow-cooking easy cabbage soup is as delicious as it is beautiful. A unique blend of spices gives it a flavor similar to onion soup but with bold veggies like bell peppers and diced tomato. This one may take a little longer to cook, but it is well worth the wait.
5. Vegan Hungarian Cabbage Soup
Vegan, Vegetarian, Gluten-free, Dairy-free | Total time: 45 minutes
Don't be put off by that long, long list of ingredients. This cabbage soup is not nearly as hard to make as it looks. And it is definitely well worth the effort. Unique inclusions like condensed tomato soup, paprika, and cayenne pepper give this cabbage soup a taste like no other.
6. Napa Cabbage And Bean Soup
Vegan, Vegetarian, Gluten-free, Dairy-free | Total time: 30 minutes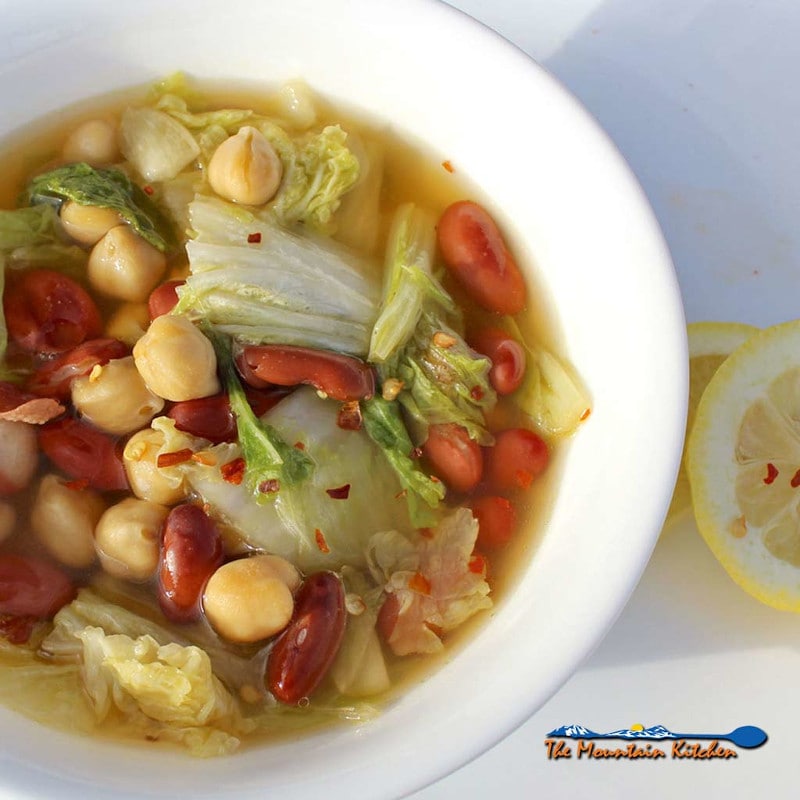 Most cabbage soup recipes are made to be low in macronutrients in order to keep the calories down. This recipe takes a decidedly different approach and heaps on the protein for a meal that will leave you feeling satiated and ready to take on anything. Two types of beans and Napa cabbage provide plenty of texture while a handful of spices deliver on the flavor in this recipe.
7. Slow Cooker Cabbage Soup
Vegan, Vegetarian, Gluten-free, Dairy-free | Total time: 5 hours and 15 minutes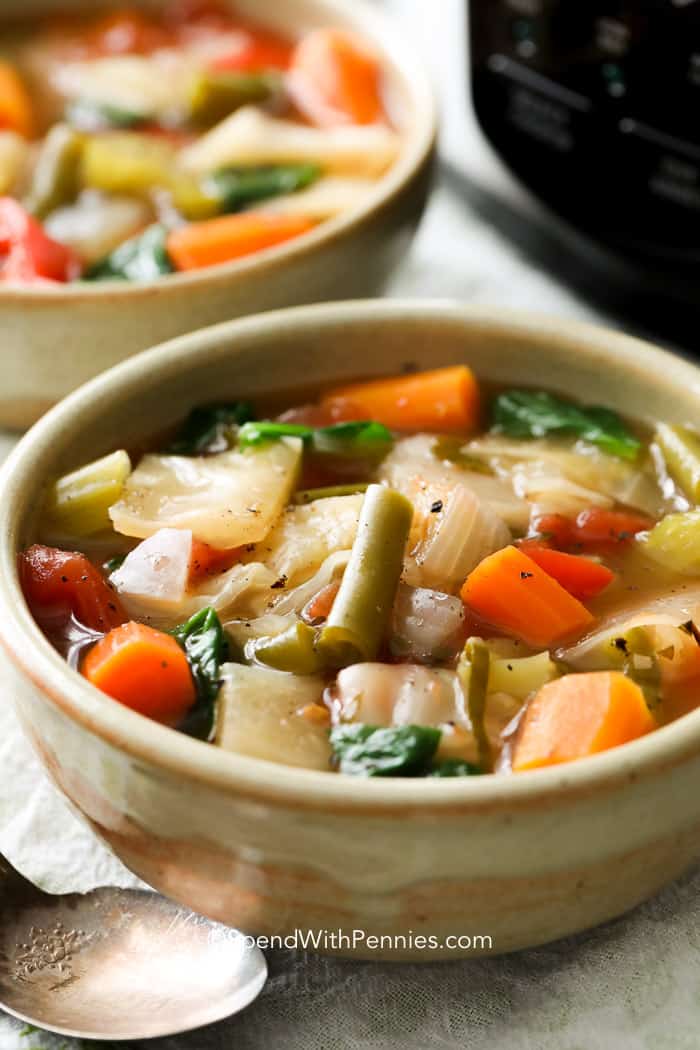 I love the addition of green beans and chopped spinach in this cabbage soup recipe. But my favorite part may be the fix it and forget it style of cooking. This soup takes only 15 minutes to prep before being slow-cooked over 5 hours to help bring out the full flavor of every ingredient.
8. Vegetarian Stuffed Cabbage Soup
Vegan, Vegetarian, Gluten-free, Dairy-free | Total time: 1 hour 10 minutes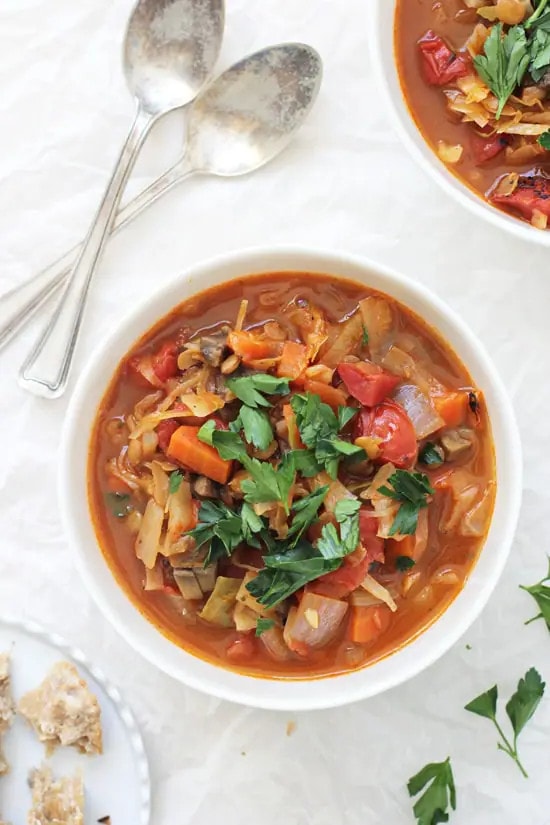 If I have a busy week planned, this is the soup I make in bulk on Sunday night. Not only is it brimming with unique flavors like mushroom, fire-roasted tomatoes, and sweet paprika, but those flavors only grow bolder as the soup sits in the fridge. Plus, this recipe contains lentils, which really hit the spot after a long day at work.
9. Chinese Cabbage Soup
Vegan/vegetarian (with modifications), Gluten-free, Dairy-free, Oil-free | Total time: 30 minutes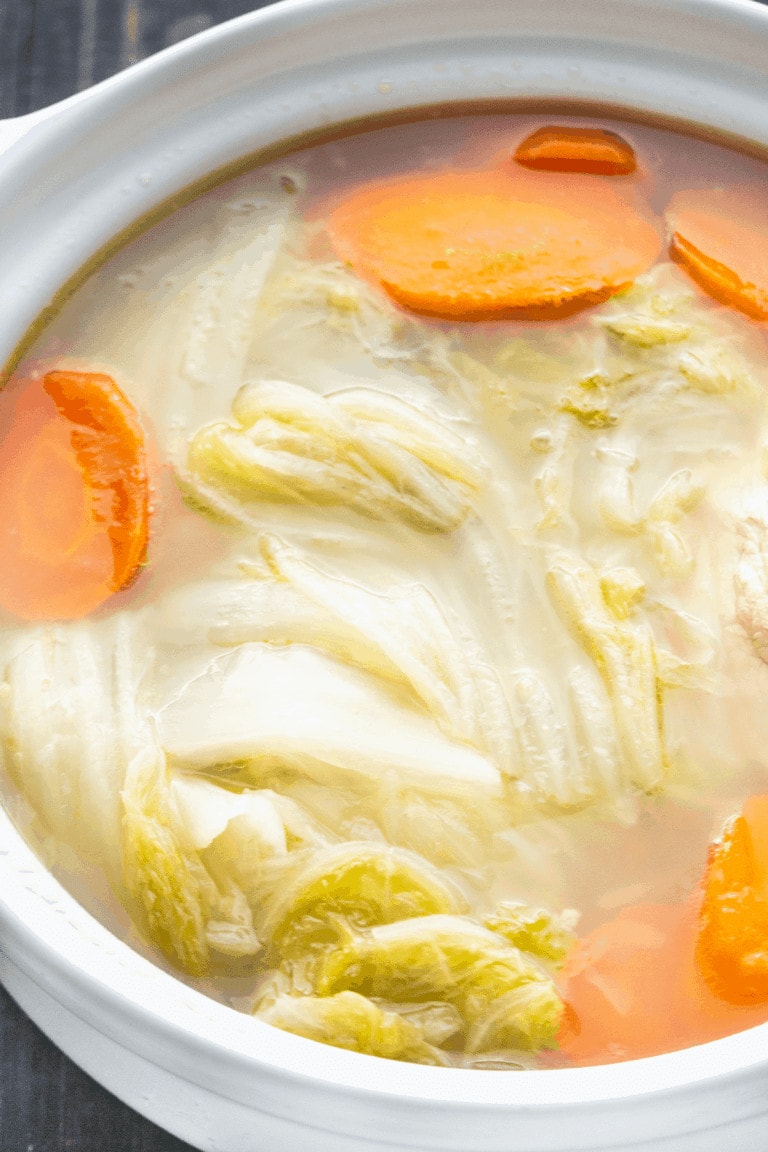 This simple recipe uses just 5 ingredients and is the perfect go-to for those busy weeknights when the fridge is nearly empty. It has an understated flavor that works well on its own or as a side to bolder meals. The original recipe calls for animal ingredients, but it's best to adapt from an authentic Chinese recipe; you can easily make this dish vegan by substituting vegetable broth and vegetable bouillon. 
Bonus Recipe: Best Vegan Cabbage Soup
You can't go wrong with any of the cabbage soup recipes above, but this one is our favorite. It's an adaptation of our classic chunky vegan cabbage soup that includes stewed tomatoes for a heartier, thicker version. Enjoy!
9 Vegan Cabbage Soup Recipes: Our Best Recipe
Cabbage is a low-calorie, nutritious veggie that makes the perfect soup ingredient for those looking to detox, lose weight, and eat better in general. Below is the best vegan cabbage soup recipe we've found. Enjoy!
Click stars below to rate, or leave a full review in the comments
Print
Pin Recipe
Ingredients
1

onion

medium yellow, diced

½

cabbage

small head, shredded or sliced

3

carrots

peeled and sliced

3

celery stalks

sliced

½

pound

baby potatoes

diced

14.5

oz

stewed tomatoes

1

teaspoon

garlic

2

teaspoons

Italian seasoning

6

cups

vegetable broth

2

cups

water

or more broth

2

tbsp

olive oil

1

tsp

kosher salt

1

bay leaf

pepper

fresh parsley
Instructions
In a large pot over medium heat, warm about 2 tablespoons oil. Add the onion, carrots, and celery. Cook for 5 to 7 minutes, or until the onions are tender. Add the garlic and cook for 30 seconds.

Add the cabbage and cook for 2 to 3 minutes. Add the vegetable broth, water, potatoes, tomatoes, Italian seasoning, salt, pepper, and bay leaf.

Simmer for 20 minutes, or until the potatoes are tender and easily pierced with a fork. The cabbage should also be wilted. Discard the bay leaf. Taste and add more spices as necessary. Garnish with fresh parsley, if desired. Serve with toasted bread, croutons, or crackers.
Nutrition
Calories:
142
kcal
|
Carbohydrates:
24
g
|
Protein:
3
g
|
Fat:
5
g
|
Saturated Fat:
1
g
|
Polyunsaturated Fat:
1
g
|
Monounsaturated Fat:
3
g
|
Sodium:
1523
mg
|
Potassium:
570
mg
|
Fiber:
5
g
|
Sugar:
9
g
|
Vitamin A:
5810
IU
|
Vitamin C:
44
mg
|
Calcium:
88
mg
|
Iron:
2
mg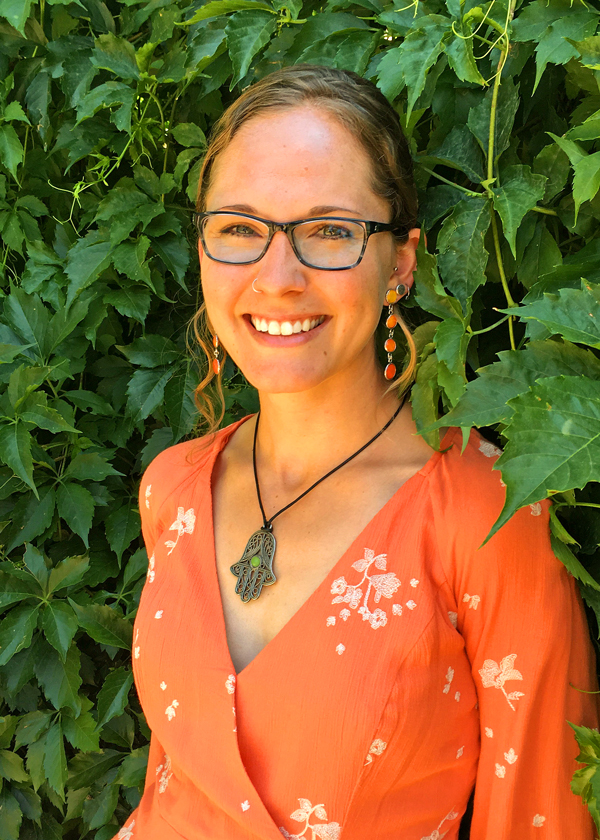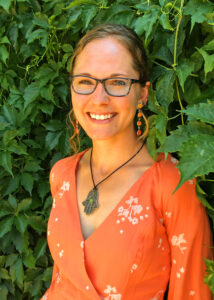 About the Author
Sara Seitz is a freelance writer living with type 1 diabetes. Her search for better health and better control of her blood sugars led her to a plant-based diet. When she isn't experimenting with new vegan recipes, she's helping spread the word about how plant-based is better for people and the planet. More articles by Sara.